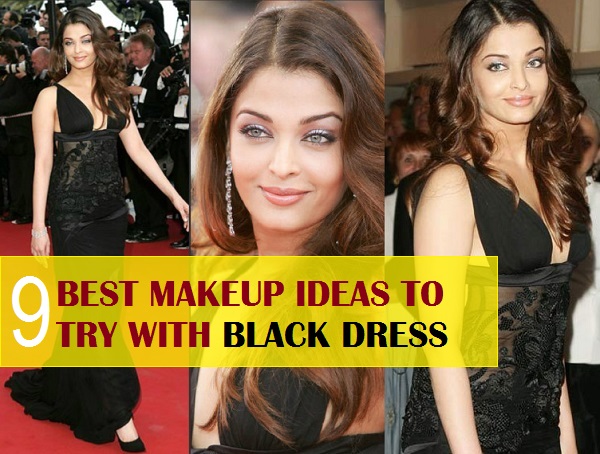 Black is a universal color that looks gorgeous and complementing on almost all the skin colors. Have you decided to wear a lovely black dress, but do not know what makeup to try with black dress? Don't worry girls!! We are there for you. Black dress can be a simple plain black or a sequined one with detailing of gold etc. Black is black but the makeup for black dress should be done according to the time and the event you are going for. A lot of times, when we are not sure what to wear then black is the safest option. Even when you are struggling losing those extra inches off the body, then too black dresses will save you. Black makes you look slimmer and gorgeous, So let's check out the makeup tips to try when you are wearing black dress.
Best Makeup Tips to go with Black Dress
Read on to find out how to try the best makeup for black dress for party prom, wedding etc.
1. Go Neutral with Black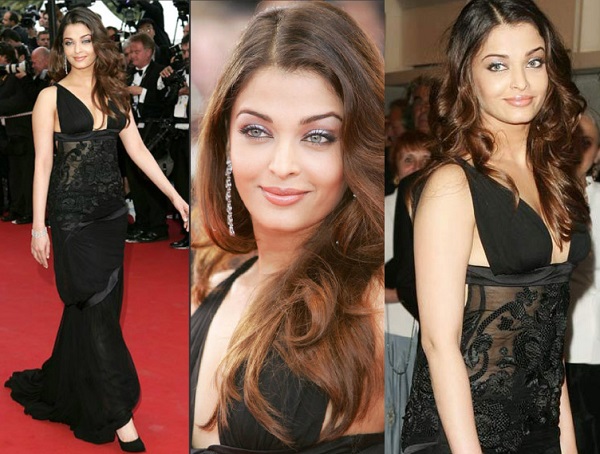 Neutral makeup is the one that involves selecting neutral and earthy colors. A neutral makeup goes well with every dress color but with black dress, it looks lovely and put focus on your beautiful features and skin. Therefore, when trying earthy neutral makeup for black dress, day time is the best. But make sure you create a smooth base for the face.  Using products like a sheer foundation and a good concealer to conceal flaws will help to create an impression of good skin.
For the eyes: Use eye shadow colors like gold, browns etc or even reddish brown, if you have medium skin tone. Apply eyeliner and mascara. This makeup can be paired with black dress which is stylish and simple.
For the lips: A peachy or light pink lip gloss or lipstick can look lovely.
2. Bold Red Makeup with black dress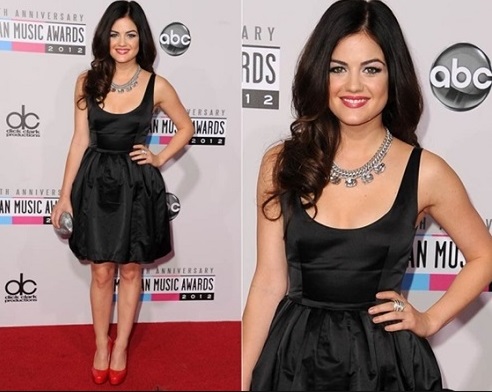 The bold red lips with neutral smokey eyes is the classy combination that looks brilliant with black dress.. This is an evening appropriate makeup for your black dress. It can certainly transform you into a diva. So, how can you do this makeup with your black dress? Let's check the steps:
Face: First of all, apply a foundation of your choice that can give you a smooth and even toned skin. Then set the foundation with some loose powder.
For the eyes: You should try neutral eye shadows like gold, bronze, copper, taupe, brown, grey, black etc. You can just apply a single color on the eyes or go for a dramatic eye makeup with 2-3 colors. For multiple eye shadow, you can use like a lighter neutral shade on the eyelids, a darker on the crease and a highlighting color on the inner corners of the eyes. Finish this off with eyeliner and mascara.
For the lips: As we are heading for a bold look, deep reds will work. Choose lipstick shades like red, maroon, oxblood, marsala, coral etc with your black dress. You can also try lip colors like hot pink, orange and magenta as well. Lipstick colors like these look really beautiful when paired with black dress for the evening party makeup looks. You can also pair the similar makeup idea with red dress as well.
3. Try Colors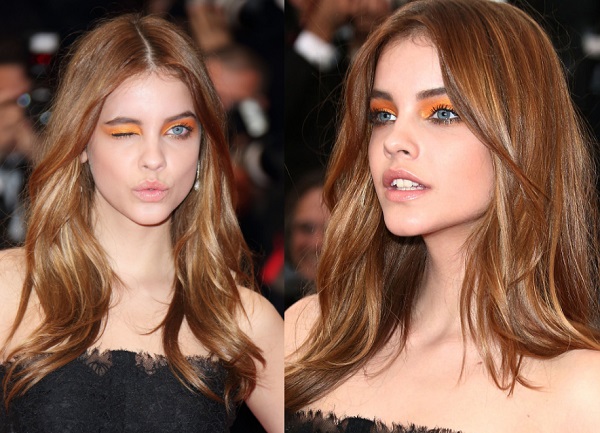 For young girls, playing with eye shadows is not new. The younger lot can try funky colors on their eyelids which adds youthfulness and quirkiness. Just like the model Barbara here. You can add colors like blue, green, pinks on the eyelids and keep the lips subtle. This will make the eye shadow shades pop up. This eye makeup with black dress looks lovely when you are going for a beach wedding, destination wedding or would just want to get the attention. Which we are sure each one of us loves!!
4. Smokey Eyes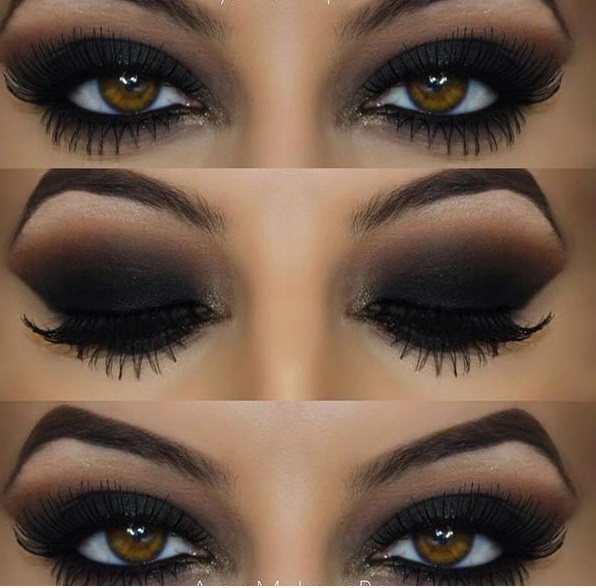 This is by way the most sultry and sexy makeup idea that goes well with black dress. In fact, smokey black eyes is the cult classic that complements several dresses like a blue dress, yellow dress, gold dress, red dress etc. So, when you are in doubt, try the evergreen black eye makeup.
For this eye makeup, follow these steps:
Apply an eye shadow primer or eye base on the eyelids, lower lids and brow bone.

Then pat some black or grey eye shadow of your choice on the lids. You can also try a brown if you wish.

Now that we have used a black on the lids, we will take a dark brown for the crease to blend and soften the harsh edges of black shadow.

Taking a brown eye shadow blend the crease area so that the black and brown makes a gradient where they meet and there should not be any harsh edges etc.

There is no need for the eyeliner so, skip that.

Apply the same eye shadow in the lower lids as well, to complete the look. Then apply mascara.
Lips: For such eye makeup, you should keep the lips subtle and neutral. This is why lipstick shades like peaches, pinks, pale oranges works the best. Instead of lipsticks, try glosses to also add some shine on the lips.
Do check:
What Makeup to try with yellow dress
Celebrity makeup looks for black dresses
Now take some makeup inspiration from the beautiful actresses who have donned black dresses.
5. Cara Delevenge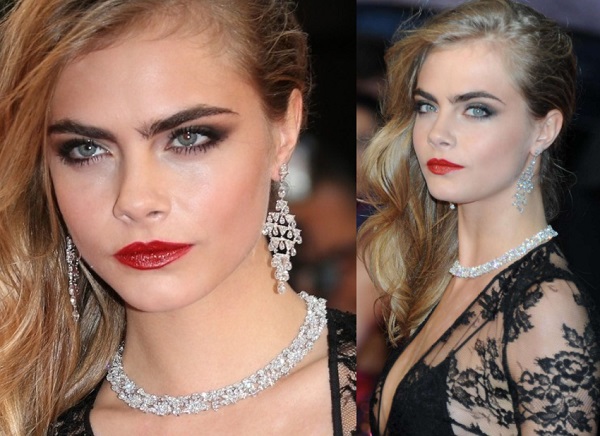 She looks smoking hot in this bold makeup where the glossy red lips are paired with the kohl rimmed eyes. The thick bold eyebrows also play a part in making her look stunningly hot.
6. Kendell Jenner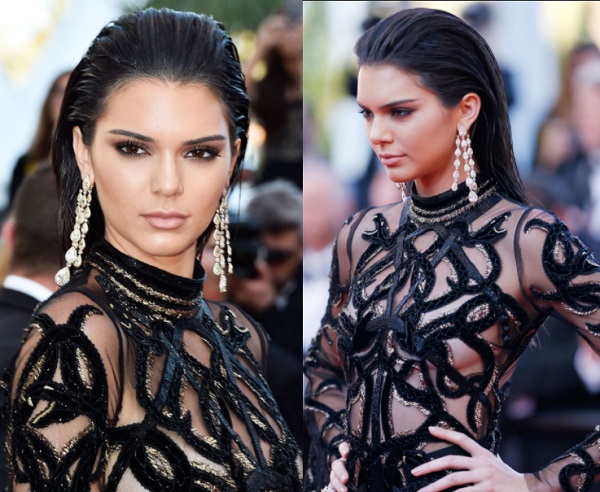 She looks jaw dropping hot with her hair pulled back and that transparent lacey black dress. Her eye makeup with almost no lipcolor makes her look like a million dollar here.  You can try something like this when wearing a black sexy dress for a party or event.
7. Amla Clooney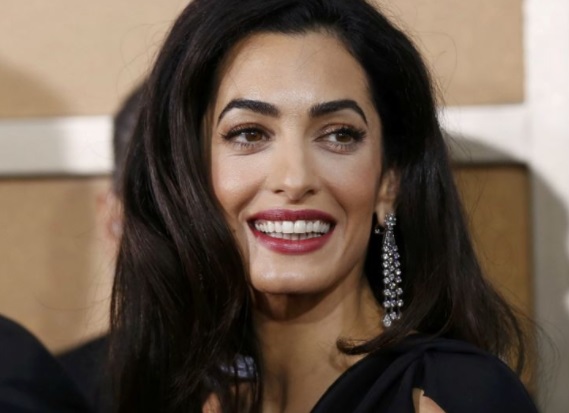 Amla has a soft eye makeup with a berry colored lipstick. When you are heading for a day time event, the makeup can be kept this simple. It will not just make you look pretty but will not be too dramatic. Makeup like this can be worn with corporate attire and for formal office functions.
8. Nina Dobrev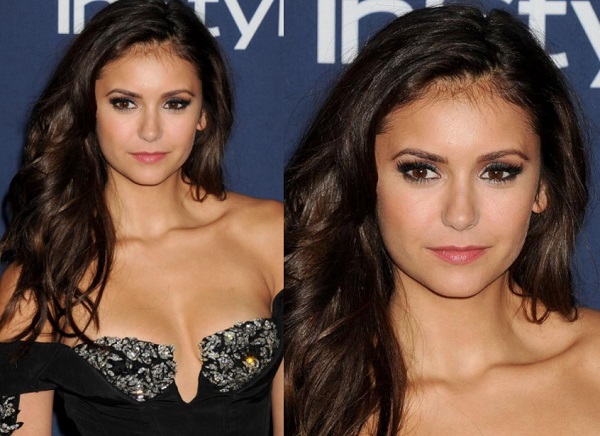 Nina has soft peachy lips with bold eye makeup and falsies. It is a very day and night appropriate makeup look.
9. Aishwarya Rai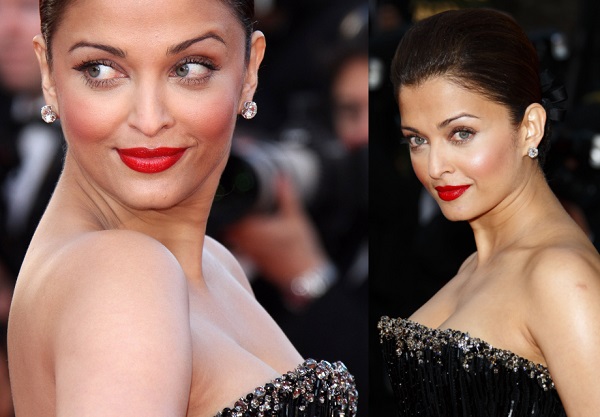 When you have good skin like hers,you can simply try a hot red lipstick and a soft minimal eye makeup. The eyes are coated with light eye shadow and no eyeliner. But the lips are red which makes her look gorgeous.
So, girls, what are you wearing today? A black dress? If yes, then definitely try one of these makeup with black dress to look your best. Try the shades as per your skin tone and you can just make the heads turn. We are sure, now, you aren't anymore confused on what makeup to do with black dress?