How to do Diamond Facial at Home: Procedure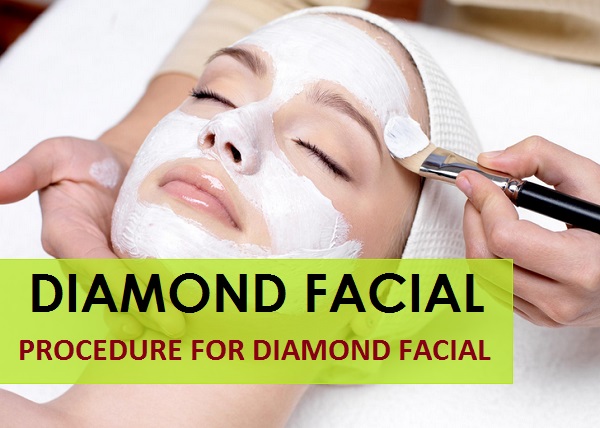 Facials can uplift the skin youthfulness and provides your skin with nutrients o get inner glow. There are several kinds of facials like fruit facial, gold facial, pearl facial, oxygen facial and the most expensive diamond facial. These days the mini kits are available in market like VLCC diamond facial kit that you can get for less that 250 rupees and do that at home yourself. If you visit a salon, there diamond facial can cost more than 2 thousand bucks when you can do diamond facial yourself at home with the kit.
Earlier, we had shared how to do gold facial at home. Now, we will tell you how you can do the diamond facial using the facial kit. Procedure is pretty simple though! You can get any diamond facial kit from any brand but it is necessary that you choose a well known brand like Nature's Essence, Nutriglow, Aroma Magic, VLCC, Richfeel etc rest depends you. I had used VLCC diamond facial kit earlier, you can check out if you want to know how's the product. Let's know what are the benefits of diamond facials.
Benefits of Using Diamond Facial
Diamond facial will improve the skin's blood circulation and skin appear smoother
This also gives anti aging benefits and skin look younger.
When we have patchy skin or pigmentation then too diamond facial can help.
The fine lines that we get with the onset of aging that can also be decreased by using diamond facial kits.
Lifeless and dull looking skin becomes softer and polished
Procedure and steps of Diamond Facial with kit at home
Here is the step by step method to do with the best diamond home facial kit.
1. Diamond Cleanser:
Any facial begins with proper cleansing of the skin. So, if your skin is oily, dry or sensitive then too cleansing will take care of the skin in the first step itself.
To start the diamond home facial, you will have to take the diamond cleanser on the palm of your hand.

Around a coin sized cleanser is okay. Massage that cleanser on the face.

Gently rub and let it work for 20-30 seconds then wash this off the face.
This cleanser is ideal for eliminating the deep seated impurities, pollutants etc from the face. At times  in few facial kit the cleanser is missing as for those kit the step no 1 is face scrubbing so that is also okay.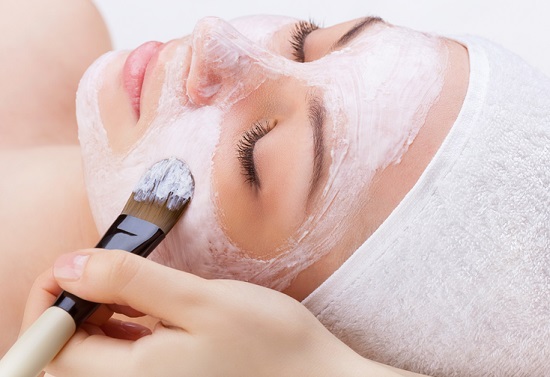 2. Diamond Scrub:
Diamond scrub contains tiny small granules of crystal and specs of diamond. These granules are very good to exfoliate the face. Mostly such diamond scrubs will be gel like or have translucent texture and color.
Just take a coin sized amount in the palm and apply on the cheeks, forehead, chin and nose.

Now using light movements of the finger pads, rub the face in upwards and circular motions.

Massage and exfoliate for at least 2-3 minutes to get rid of the dead skin cells, debris, dust etc thoroughly.
Scrubbing is an important step in every facial since when we do scrubbing dead skin cells are removed and the skin pores gets dirt free. This will allow the absorption of the skin creams and gels better to bring glow and proper nourishment.
Nature's Essence Diamond Bleach Cream Review
3. Diamond Massage gel:
Facials are known for massaging only since we can do scrubbing or apply face packs otherwise as well. Right? But this is massaging that makes the facial procedure long and effective. In many diamond facial home kits, you will have a massage gel and a massage cream both. Even if you have any one of them then also the procedure is the same.
Take a spoonful of massage gel and apply that on the face.

Using light pressure of the palms, apply the gel and keep massaging.

Massaging increases your skin's blood circulation and boost the glow thereafter.

You can give massaging step at least 20 minutes.

So, if you have both the gel and cream then divide that like 10 minutes of massaging with gel and 10 minutes of face massaging with diamond cream.
But if in your Diamond facial kit there is only gel or cream then you should massage the face for at least 20 minutes.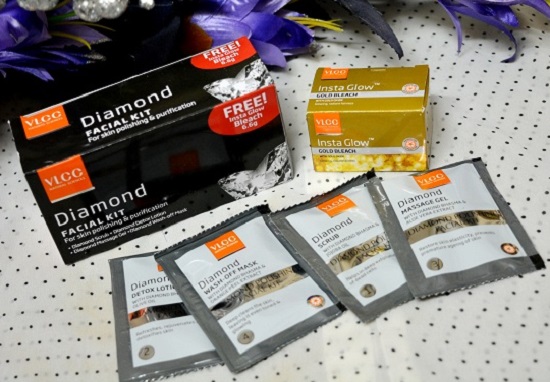 4. Diamond Massage cream:
The same way you have to use the diamond gel similarly.
You need to take around a teaspoonful of diamond cream and apply that on the face to massage it.

You should keep massaging till the entire cream gets absorbed in the skin and there is nothing left.

To massage when the creams gets dry, add little bit of rose water drops to make the hands glide smoothly over the facial contours and skin.

Massage for at least 10-15 minutes.

This will boost the blood circulation in the skin.
5. Diamond Face Pack:
Face pack application is the crucial step in any facial. Face pack or face mask step is generally done at the end of the facial massaging.
You need to take some diamond face pack/mask and apply that evenly on the face.

You can either use a face pack brush or your fingers to apply the product on the skin.

Let this get dry for around 15-20 minutes. Then wash the face.

You can also take a sponge, dip this in the water and squeeze it then clean the face with this.

This is also very effective to boost the skin complexion and to reduce the skin pores.

This will also improve your skin's natural texture
Diamond Serum (optional):
In some facial kits you will also receive additional product like a face serum. This face serum is used after the face pack step. The main benefit of using serum after the face pack is to ensure that the skin stays hydrated and doesn't get dry. Serum is not greasier hence even for oily skin serums are good. In anyways, whenever you use face pack it is advisable to try using a mild moisturizer or serum.
So, this is how you can do diamond facial using the home facial kits.
It is advisable to use diamond facials at home in the evening. So, that at night your skin gets proper rest. If you are doing facials in the day time then always make sure to use a sunscreen to protect the skin from tanning.