How To Do Glowing Skin makeup: Women try a lot of tips and tricks to get a glowing and healthy looking skin. We all yearn for that glowing skin that we saw on the T.V., ramp walk or magazine. Though it can be achieved by keeping a healthy routine with little skin care regimen which would be helpful in the long run and prevents skin damages as well. But, don't be disheartened if you do not have a glowing skin as it can be achieved by makeup tricks.
How To Do Makeup For Glowing Skin Easily
Preping and Priming for glowing skin makeup: First we need a clear skin to proceed further. Just wash your face with face wash or face bars depending on the climate. If required scrub your face to get rid of the dead skin and get a polished skin.
Apply the toner or rub your skin with ice cubes to close the open pores. Now, apply a moisturizer depending on your skin type or just skip it if you have oily or acne prone skin. Massage it gently till it gets absorbed in the skin and let it stay for a minute.
After that apply a primer though you can skip it if you do not have it. Apply it on your forehead, nose and chin area then, massage gently wait for 2 minutes and let it sink in your skin. Apply an under eye cream or gel as it helps in smooth application while applying the concealer. See: Best Lakme products for bridal makeup kit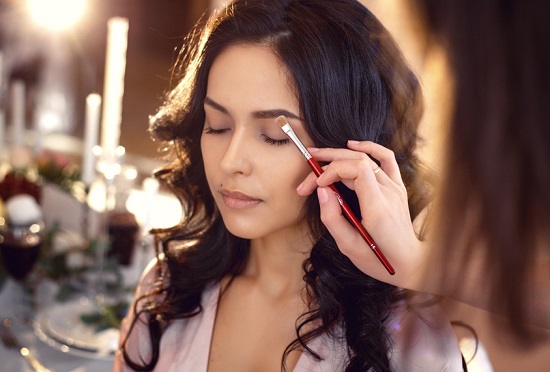 Concealer: After this apply the concealer under your eyes. You can skip it if you do not have dark circles. Apply, it with the help of your ring finger and cover the dark circles smoothly. Also, apply in on the dark areas or spots on face which needs to be concealed. Dab a little on the dark spots and dark areas around the mouth and blend it really well. A concealer helps to brighten up your skin and cover the problematic areas, use the one which is little lighter than your skin.
Face Makeup: Now, apply a foundation which is again lighter than your skin shade. Dab some foundation on your nose and chin and apply it in dotted form on forehead, chin and cheeks. If you have a clear skin, you can skip the foundation and go for BB creams or tinted moisturizer. Apply a translucent powder to set the foundation on your skin and it will also create a good base to apply the glowing skin makeup.
Highlighters: Highlighters are great for aching a glowing skin makeup. Since highlighters have finely milled shimmers particles that they will make the skin look glowy and radiant. Now, apply the highlighter to add that instant glow to your face. A highlighter comes in a liquid, cream or powder form. Apply it on your cheekbones, eye corners, dip of your lip, below your eyebrows and on the bridge of your nose blend it really so, that it settle down easily.
Eye makeup: Now, define your eyes by applying light colored eye shadows which will go really well with the look. Curl your lashes and apply your favorite mascara.
Blush: Complete the look by applying a blush on your cheeks and a lip gloss for luscious lips. Tada! You're done with the glowing makeup look.
Makeup tricks are always helpful to create different looks and even glowing skin makeup is not that difficult unless you know the right tips and tricks. But, one should always make sure they have a good routine with a healthy diet which includes fresh fruits and vegetables, stay hydrated by drinking enough amounts of water and fruit juices.
A good 8 hour sleep is a must. Follow a CTM for your skin, try to avoid makeup whenever you can, let your skin breathe and nourish it face packs or masks. Buy the makeup and skin care products which are meant for your skin. It is also good to remove makeup before sleeping as it will give beautiful skin.