How to do quick Makeup for College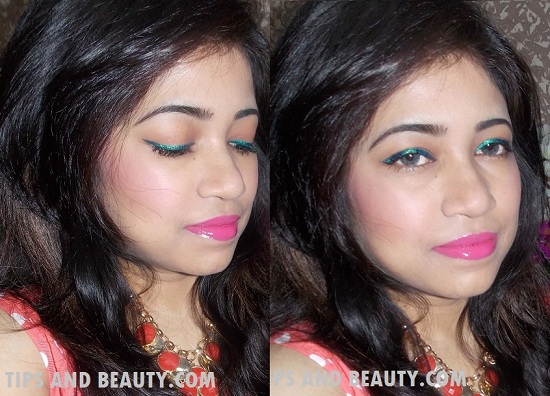 Hello girls! You know, when I was in college I use to love wearing colored eyeliners and still do. So, this was a look that I did a while ago where I have used a colored eyeliner with soft pink gloss. I loved this fresh makeup look for college or even for a day or night time date or dinner date. This can also be sported for college fests. We girls, just love to apply makeup aren't we? I am sure you will also like to apply colored eyeliners but do you know friends, we should choose the color of the eyeliner carefully like if you are darker in skin then a navy blue look extremely beautiful on you. Or if your skin color is fair wheatish like mine then most of the colors look good like green blue brown, purple etc. For very fair girls, the bright colors will look even brighter so, they should use little darker colors. This is what I think rest depends on person to person.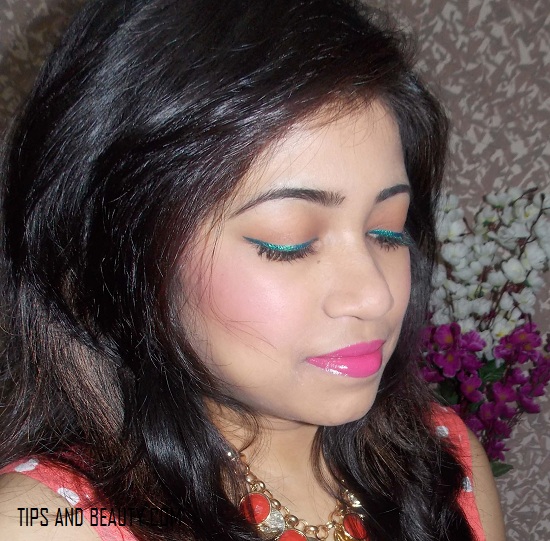 Anyways, girls, so let's get to know how I did this easy fresh makeup look.
Makeup for college and day time , date etc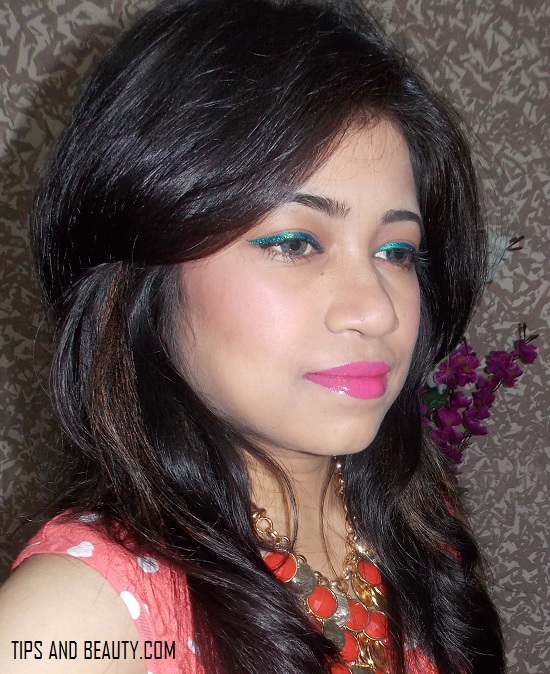 1. Face Makeup
I started with applying my favorite and reliable face primer, Nyx photo loving face primer. I will not apply primer on my entire face but where the large pores are like my nose. These large pores are due to the over active sebaceous glands, which secrete oils. Bleah.. I know oily face is hard to manage.
Then I used L'Oreal Paris Nudei Magic Foundation which is really good for oily skin as it glides so flawlessly on the skin. This has a very runny formula that blends like a satiny powder on the face. Now enough of the praises about this product, I will soon do a full review on this product.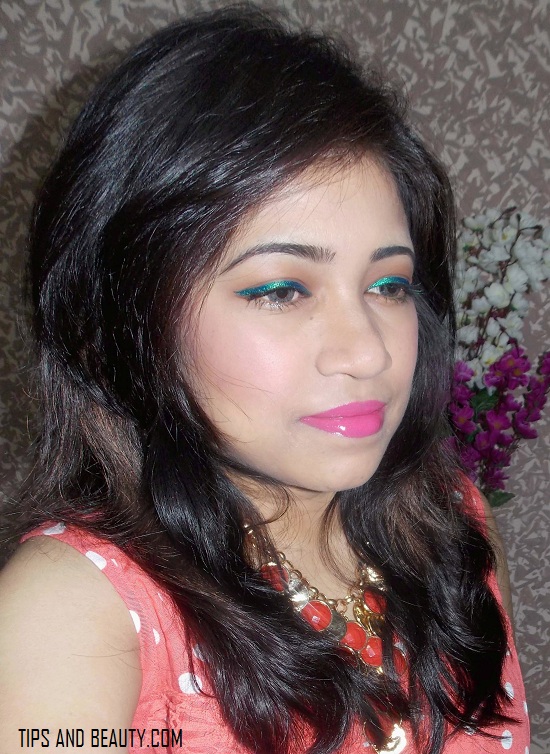 Then I used my Sleek face contouring kit on the side of my cheeks to give them a slimmer look. Yeah, I have chubby cheeks and in photos they will look huge. But if you are doing this look for day time like for college or date then skip the contouring as I feel that we should keep the makeup simple for college or day time.
After that I have applied my Maybelline blush in peachy sweetie. This is a very fresh looking color for the day time for teenager girls or young girls for college.
2. Eye Makeup
I start my eye makeup by filling my brows. For that, I will just take some dark grey powder on an angled brush and then lightly fill it. I didn't over do it else this look so unnaturally. We don't want unnatural looking eyebrows. Right my friends?
I used the foundation on the eyelids so that the reddish or darkness can be even toned.Then I applied a medium brown matte eye shadow on my crease, this step actually makes the eyes look deep seated and pretty.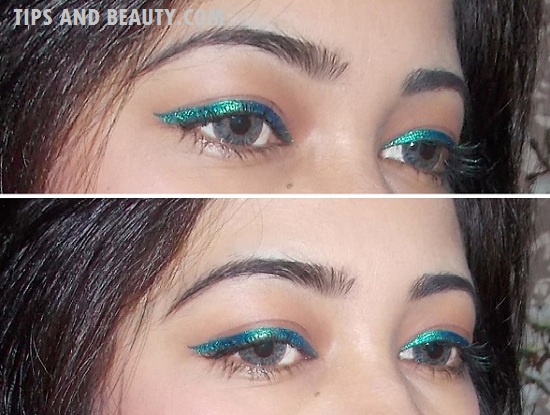 Then I used this beautiful eyeliner from Maybelline in Lazer Green. This is such a gorgeous eyeliner color. This has a bluish green tone hue with fine gold shimmer. Truly stunning color. If you love green eyeliner, I will highly recommend you to try this. If you want to read the full review of this eyeliner then read it here, I am sure you will like this product.
Lastly, I used my mascara and I am ready!! No wait lips are left. :)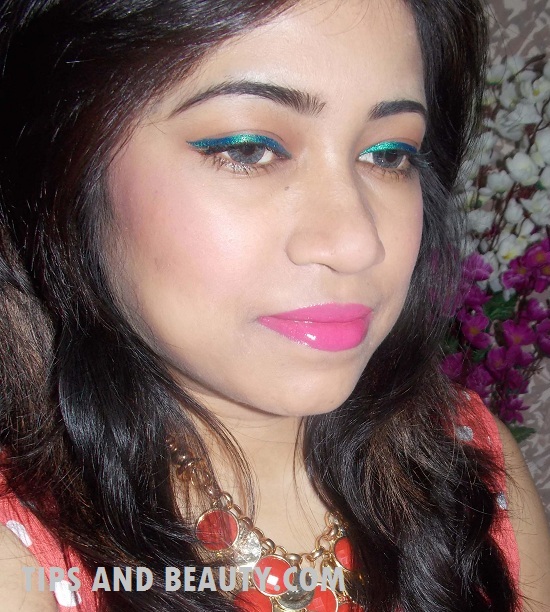 3. Lip makeup
For my Lips, I have used Faces Lip color  Pink-o-Colada, which is a lovely hot pink color with slight neon undertones. If your skin color is dusky then use warm pink as such a pink color can look too light against the darker skin color. Or Else try a peachy lip color. That too will look lovely for the day makeup for college or dinner date may be.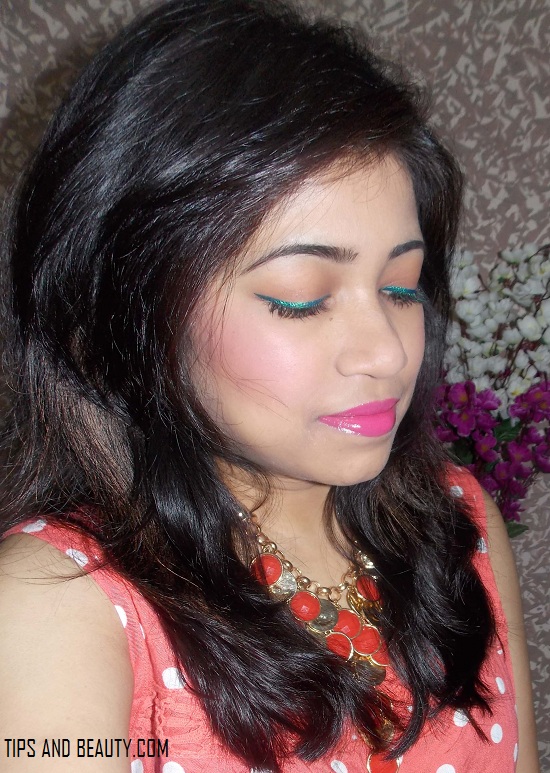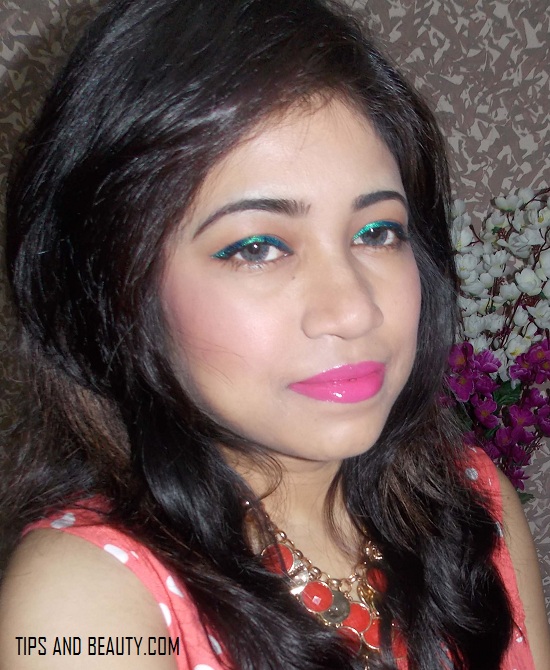 So, this is how I did it. Did you notice beauties that my hair is shorter and more layered in these photos, I actually did this long ago and also have this copper colored hair chalk on the side pieces of hair. If you wish to add some temporary color then try hair chalk services. I wanted to try pink but afraid that my mum will scold so, did this copper one. :)