How to get clear face faster at home naturally
Hey everyone? How often you see yourself in the mirror and think I wish I should have clear face. There are a couple of things that can make the face look unclear and blemishes. There can be acne and pimples. When we have acne and pimples then the face looks far from clear and smooth. Secondly the marks left behind by those ugly pimples are also bothersome which makes us cringe. Fine lines and wrinkles and also makes the skin look not so clear. Then lastly hyper pigmentation and uneven skin tone is also our problem that will not let the skin to stay clear. So what can be done to get clear face without spending much. For that we can try some easy and natural home remedies. These natural beauty tips will help to give your face clarity and smoothness.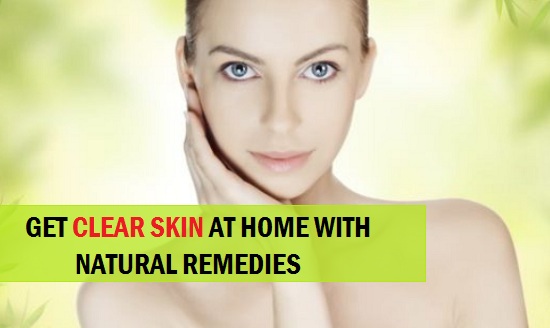 Home remedies to get Clear face faster at home
I always prefer natural remedies for clear skin since they are without any side effects and give us results that last long. So, In this post we will share remedies that will target all the skin problems like acne, pimples, whiteheads, fine lines, uneven skin tone and pigmentation. So when these skin problems are treated your skin looks clear.
1. Baking soda and water clear face
This remedy will eliminate the topmost dead skin layer due to which the pores get cleared and skin starts to become clear so soon you get clear face. Here is the recipe.
Take 1 teaspoonful of baking soda and mix this with some water.

Apply this paste on the face and gently massage the face.

This will mildly give a polishing effect on the skin.
2. Neem pack for clear face from pimples
This remedy is for treating the pimples on the face so that once they get clear. Face starts to look clear and smoother. Here's how to make this pack.
Take some fresh neem leaves and grind with some water.

Add 2 pinches of turmeric powder (haldi) in it.

Apply this on the face and wash after 30 minutes.

Do this daily this will show good results.

Neem oil will kill the pimple causing bacteria on the skin.
3. Banana and honey for clear face from lines
When the skin starts to age the lines and wrinkles starts to show up hence this face masks will help cure that.
Take a small piece of banana and mash it well.

Mix 1 teaspoonful of honey in this. Mix again and apply evenly on the face.

This is excellent facial pack for dry skin. This eliminates the fine lines and gives the skin hydration.
4. Rice flour face scrub for clear face from blackheads, whitehead on skin
Take 1 teaspoonful of rice powder. Add some honey in this. Taking both of them in equal amount will be enough. Apply this on the face and scrub the skin. This will exfoliate the skin. This frees the pores from debris and sebum, hence will soon clear the whiteheads and uproot the blackheads,. This should be tried 3 times in a week so you can grind a cup of rice powder at one time and store that in an air tight container. Then use this when needed for exfoliation for clear face.
5. Natural treatments for clear face from marks and black spots
Once your pimples are healed, the marks are left behind. So, to remove them we need to do some herbal treatments. I will share 2 easy treatments to remove the marks from the face naturally. Here they are:
Lemon and turmeric for marks removal
Take 1 teaspoonful of lemon juice and add 2 pinches of turmeric in this. Apply on the face at night. Then wash in the morning. This will leave yellow stain so you can wash with face wash in the morning. For boys use only lemon juice with some rose water.
Tomato juice with curd pack for pimple marks
Take 2 teaspoonful of tomato juice and mix 1 teaspoonful of honey in this. Mix and smear all over the face. Keep this for 30 minutes then wash off. Do this daily to get rid of the black spots, marks, acne scar etc after at home for clear facial skin.
So, these were the natural ways to get a clear face faster at home and to get rid of the various skin problems that keep the skin blemished looking. These will soon give you clear face and you will notice the results within 2 weeks but you have to be regular in doing these treatments.