Home Remedies for Dry Skin on Face and Body
Dry skin and skin patchiness is one of the problems that many people struggle during winters. But there are a lot of people who face the same problem in summers as well. This because they have extremely dry skin. Dry skin is caused by certain medications, illness, hormonal, seasonal, not taking enough care of the skin etc. At time, it is hereditary, like of your mom has dry skin, you too will face the dry skin. Treating dry skin in time is crucial else the skin can get parched and it also gets flaky. Hence, it is also important to take care of the skin dryness and treat that in time. Those terrible looking dry patches will make you conscious and feel unattractive. Dryness can also make the skin to get wrinkled faster.
During the winter season, men and women who have got dry skin already may feel dryness as winters will make the skin more dry. Here we have shared the best home remedies that can help you combat the skin dryness. These natural ways are good for making the skin feel supple and nourished. The moisturized skin with the proper moisture looks attractive.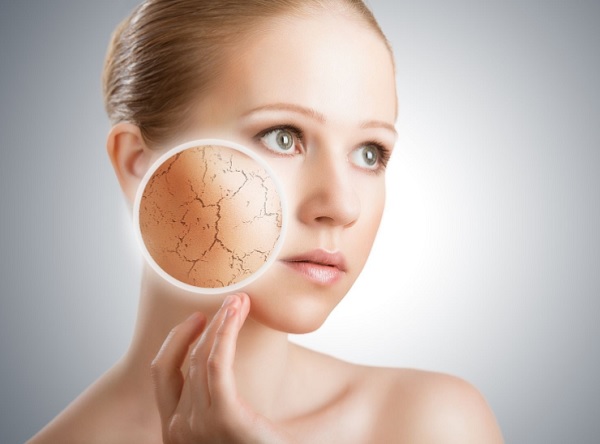 Main Causes of Dry skin
There is not just one but several things that can cause the dry skin problem. This is not just seen in women but even men and children suffer from skin dryness. So, what is the thing that you will do to cure the dry skin. Know the reasons first; Dryness of your skin can be due to the skin aging, over exfoliation, medications, hormonal imbalance etc. All these can lead to dryness of the skin. When there is hormonal imbalance in the body then too dryness, patchiness and stretchiness of the skin is seen.
Therefore, you can certainly fight the dry skin problem with the proper diet, good skin care routine and using the remedies which heals the dry skin.
We have got some very dry season in the country and this is why a lot of people suffer from dry stretchy skin. Therefore, to combat that adequate moisturization is necessary. It's not just that we experience dry skin in winters but when the skin is dry we may face the dryness all around the year.
Let's first see the natural methods to treat dry skin at the comfort of the home.
Washing
Your skin care literally starts with cleansing. If the skin is dry then proper cleansers to wash it are must have. A cleanser which is not excessively foaming in nature is good. Otherwise, cleansers with essential oils, natural products are also considered good for dry skin. Do not wash the dry skin more than 2 times in a day. Doing so can strip your skin's natural oils, thereby further irritating the glands.
Moisturization
Skin moisturization is considered as the key for the people who want dewy skin. Dry skin can be cured by proper moisturization. Therefore always apply enough skin creams and lotions on the skin. You can also hydrate the dry skin using the home based natural ingredients which we will tell later in the article.
Right Sunscreen
Sun protection is not during the summers but when the skin is dry, it asks for sun protection even in the winters or any day when you step out in the day time. Do not think that the weather is cloudy, so one can skip the sunscreen. No!! sun will  still create havoc for the dry skin. For dry skin sunscreens with enough emollients will be suitable. In winters, while you are on a beach then do try the sunscreen sprays to protect the skin.
Skin care products
Do you know that there are some skin care products which are not suitable for dry skin and there are some for oily skin. This is true as everyone's skin type is different and therefore brands make products based on the skin types. Always choose your skin care products for dry skin with care. Do not go for every other product that is there in the market as this can further worsen your situation.
Home Remedies to Cure Dry Skin Overnight
Coconut oil: It is rich in the moisturization and skin emollients therefore, use coconut oil every night to moisturize your dry skin.
Shea better: It is one of the most used ingredients in the skin care products like body lotions, skin creams etc. Apply some she butter on the body once you go for the shower. It will deeply nourish the skin.
Honey: It is also considered as effective as coconut oil for dry skin. To cure the dry skin with honey easily, you can definitely try honey. Take 2 teaspoonfuls of honey and apply that on the face. Wash after 30 minutes. It will seal the lost moisture and skin appears healthy.
Almond oil: Pure almond oil can also be used to uplift the skin moisturization and or even the further dryness in summer season. Take few drops of extra virgin almond oil and apply on the face. The same can also be used on the body skin. Keeping it overnight is good.
Homemade Masks and Face Packs for Dry Skin Treatment
Face packs and masks are considered suitable for treating the dry skin. Hence, you too can try these packs. So that the dryness is cured. To get rid of the dry skin, you can apply these 2 times in a week.
Yoghurt Face Pack
It is good for dryness care. Take 2 teaspoonful of yogurt and apply evenly. Wait for 30 minutes, and then wash the face. You can apply yoghurt on the body skin as well while you are in shower. It works wonders for the parched skin. Moreover, the skin itching can also be relieved with curd.
Banana
Banana is highly nourishing in its texture and moisturization. You can easily get rid of the dry skin with banana. Just take a small piece of banana and mash it with the spoon. Add 2 teaspoonful of honey in it and apply all over the face. Let this work for 20 minutes then wash it with plain water.
Another recipe that can be tried is banana and papaya. Take one chunk each of banana and papaya. Then grind them in the blender to achieve a smooth lump free paste. Apply this paste on the face. Allow it to get dry for 30 minutes. Wash with cold water and pat dry the skin. This pack will also give skin whitening effects and also reduces the marks etc on the face.
Rose Face pack
Roses are rich in rose oil that lightens the skin and also heals the dry patches. So, you can try this pack to instantly improve the skin glow and to make the dry skin look attractive. Rose is a wonderful treatment for dry skin. Take 2-3 Rose flower and pluck the petals from the flower.  You can then these rose petals in the grinder and add some milk and 1 teaspoonful of honey in it. Grind the petals and get a smooth pulp or paste. Apply it on the clean face and rinse the skin after 30 minutes using normal water.
Butter Pack
Butter or even the ghee which is called as the clarified butter in India is useful in treating the dry skin. Take 2 teaspoonful of ghee or butter in a bowl. Add little bit of honey in it. Apply this on the dry skin and leave for 30 minutes. Then wash with normal water. You can surely get rid of the dry skin using this.
Butter Milk or Chaach
Buttermilk is used a lot in Indian homes and people will drink it just like that. It is very good for digestive tract and also for the health. But buttermilk can also cure the dry skin. Yes it does!! The moisturizing and healing properties of buttermilk are widely known. You can apply buttermilk on the face and give t a rinse after 30 minutes. This is excellent remedy to cure dryness and to exfoliate the flaky skin.
Glycerin
To get the skin moisturized you must try vegetable glycerin. This product is used a lot in skin care products. You can apply the plain vegetable glycerin on the face and body to fetch its moisturizing benefits. Glycerin works just like the honey and is a moisture absorbing thing. When we use glycerin on the skin, it will seal the lost moisture back on the skin thereby minimizes the skin dryness easily. 
Aloe Vera gel
Aleo vera gel cures dry skin and pimples as well. This magical plant should be a must have in your house. To get away with the dryness just take a small chunk of aloe leaf and cut it to scoop out the gel. Apply this gel daily at night and wash the next day. It will help you immensely in fighting the dry skin. Other than that, it will also give you softer and glowing skin.
Essential Oils for Dry skin Treatment
Essential oils and natural oils are also adequate for the treatment for the dry skin. These oils are suitable to make the dry skin attractive and supple.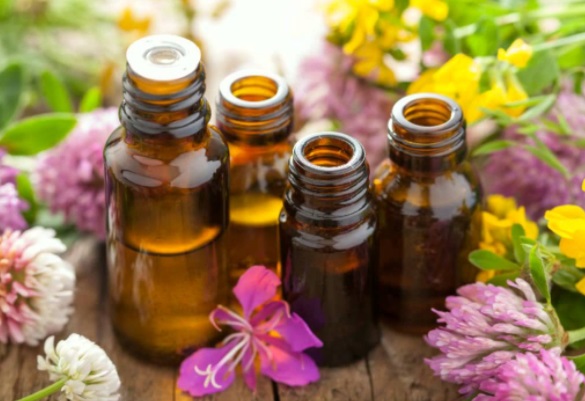 Jojoba oil
Essential oils like jojoba oil are good for skin and hair. This oil has the power of healing the dull and chapped skin. Daily application of jojoba oil on the face and body will create a smooth and glowing skin. You can also mix some jojoba oil with almond oil to boost the results.
Lavender Oil
Lavender oil is used to calm and sooth the dry itchy skin. If your skin is flaky and constant itchiness is your key problem then do try lavender oil. Apply lavender oil on the face by mixing this with some coconut oil. This oil also boost the micro circulation therefore, it will also give glowing skin.
Ying Ylang oil
Try suing this oil along with few drops of water. Apply and rub on the skin to massage the face and body skin. Every night application will results in dryness free hydrated skin.
Always make sure to use a drop of essential oil on the back of the ear to know if the oil suits you. At times, there are certain essential oils which do not suit or may cause itchy or irritation hence, the small test gets crucial.
Quick Remedies to Get Rid of Dry and Itchy Skin on Face, Legs and Hands
Just like your skin on face, the hands, legs and other body parts too get affected by the dryness. So, to minimize the dryness from body you can further try some more home remedies to cure the dryness .
Aloe vera and almond oil
Take 2 scoops of aloe vera gel. Fresh aloe Vera gel would be wonderful as this will heal the dry skin faster. So, to make this amazing dry skin lotion, you will also need the almond oil. Mix 2 teaspoonful of almond oil in aloe vera and then mix it well. After mixing this lotion, you can fill this in an air tight bottle. Now keep this on a cool and dry place. Apply twice in a day. If you wish you can also put some vitamin E oil. You can use vitamin E oil capsule for that.
Strawberry Mask
Strawberries are also great treating the dry skin. Take 2 strawberries and mash it so that you get smooth pulp. Add little bit of honey in it. Then apply this pack on the face and wait for 30 minutes. Wash off with plain water. Then pat dry and apply a little bit of moisturizer. This natural remedy will cure the dry skin.
Combat the Dry Skin with Right Skin Care
When you have dry skin, the first and foremost thing one should do is to follow a proper skin care routine. Skin care is different of different skin type. So, if the dry skin is your key problem then you must address that with proper routine. Use a cleanser for the dry skin which must not be over drying rather should be skin hydrating. Do check some of the best face was and cleansers for dry skin here. Then always try to apply skin toners. Skin toners are not made only for oily skin but for dry skin the hydrating toners will cure the flakes and boost the micro circulation. Lastly, apply a skin cream or moisturizer that suits the dry face.
The same goes for your body skin as well. Choose a body wash which is moisturizing. Soaps and alcohol loaded products should be avoided. Apply creams and body lotions for dry skin once you get out of the shower. Then repeat the application when you go to the bed. Doing these little tricks will certainly fight the dry skin.
We know that dry skin is flaky and roughness is also visible but that should not mean that you will over exfoliate the skin. Yes, try to be gentle and scrub the dry skin once in a week. Moisturize the skin soon after the scrubbing for best results and glow.
Always choose the appropriate products that are formulated for dry skin. If your skin is sensitive and dry then extra care is required.
Some Important Diet Tips to Cure Dry skin
Drinking more water is the key to get rid of the dryness. Your dry skin will love the suppleness which we get after including water in adequate quantity.
Take more green leafy vegetables and fresh fruits in your diet to make the skin glow and to keep the dryness away.
Nuts like almonds, peanut, walnut etc are rich in omega 3 fatty acids which has a good result on the dryness of the skin.
Also include eggs and other proteins in the diet.
Include Vitamin A, E, C and Vitamin B complex in your diet to get rid of the dry flakes of the skin.
So, these were the home remedies to get rid of the dry skin. Don't for get to read our other post on dry skin care:
Banana Face Packs and Masks for Dry Skin
10 Best Night Creams for Dry skin in India
Night Skin care routine for dry skin