Steps to Get soft smokey eyes with kajal
Smokey and sultry eyes look fabulous. Eyes are the most important feature that can make you look glamorous. When it comes to eye makeup, kajal or kohl is the most important product. But do you just apply your kajal on the waterline? There are multiple ways kajal can be used to beautify your eyes and one such way is to create smokey eyes. Smokey eyes look attractive and stunning, especially for the night time. You can wear a smokey eye makeup for the evening makeup for a party, date or for the makeup for Indian wear for wedding.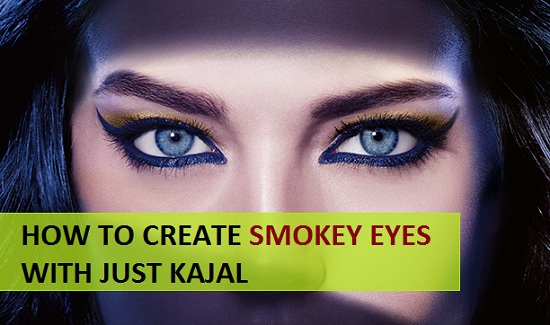 So, how one can create smokey eyes with kajal here are the steps. First of all, you will to pick up things that will be required. Don't worry you will just need three things.

You will need:
A Smudge proof kajal (like Maybelline colossal kohl, Lakme Eyeconic, faces Canada Eyeliner pencil etc)

Smudger brush or a Q tip ( if you don't have a smudger brush)

Mascara
How to get smokey eyes with kajal
Concealer: First of all, apply some concealer if you have dark circles or darkness under the eyes else the darkness under the eyes will ruin the entire look. To apply the concealer you will just have to apply the concealer under the eyes and then using the ring finger gently pat and blend the concealer. This step will brighten the dark under eye area.

Kajal Application: Start by applying the kajal perfectly on the waterline. You can put a finger under the eyes and pull the waterline a little bit down so that you can easily apply the kajal. Apply the kajal from the outer corner to the inner corner of the eyes. Apply one more time if required.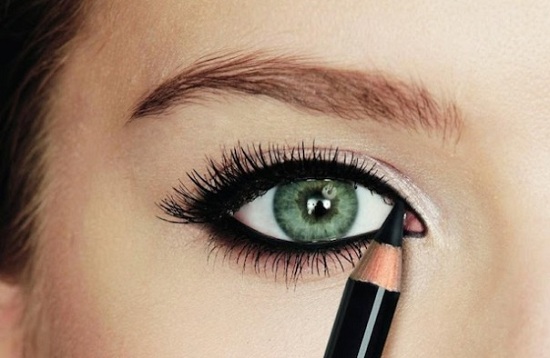 Smudging: Now, it's time to do some smudging for a Smokey eye makeup. Rub the tip of the brush over the kajal so that it get loaded with kajal. Gently swipe this brush close to the waterline but underneath it. You will notice that it will create a soft smokey look. Do not take it too low keep it near the lower lash line. Keep swiping and stop when you reach the outer corner.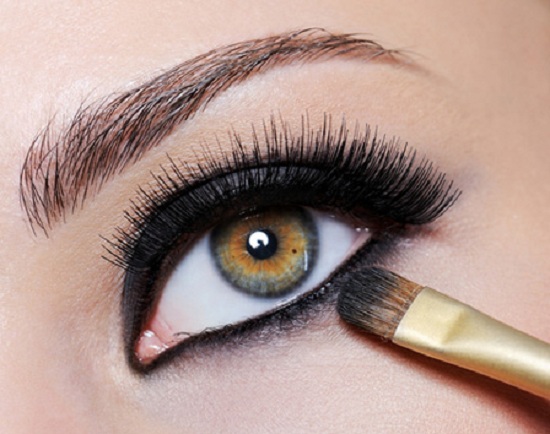 Finishing: To complete the look you can then swipe the same brush over the upper lash line to give your eyes extra smokiness and attractiveness. Repeat this on the other eye. Apply 2-3 coats of mascara for thicker and longer lashes like I have done in the picture below. I have drawn a thick eyeliner but you can make a thin line if you wish. I have also used an eyeshadow but that is up to your liking.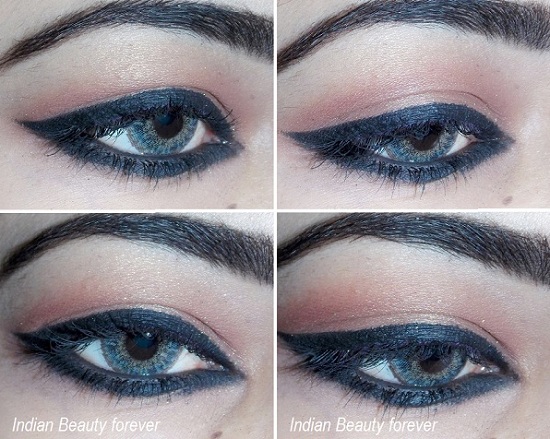 You are done. One last thing, you can also fill your eyebrows for a more groomed and polished look. Read the tutorial here on how to fill the eyebrows step by step.

How to do Makeup with soft smokey eyes
Now that you have created sultry and smokey eyes using just the kajal, it's time to complete the rest of the makeup. With the smokey eyes, you can try a neutral lip color like the ones that matches the natural color of the lips. You can just apply a lip balm or a gloss. For the evening time, you can try a bold lip color like orange, red, hot pink, coral etc. Keep the blush very soft too much blush will ruin the entire makeup look. If you want to know about Inexpensive makeup products in India then read here Affordable makeup products in India