How to hide Under Eye Dark Circles with Makeup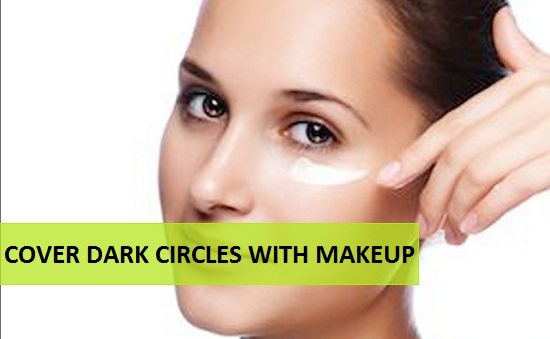 Not taking enough sleep and due to several other factors the ugly dark circles can creep up. We have earlier share some beneficial home remedies to reduce the dark circles under the eyes. But the point is till the time the remedies are working and the dark circles are still there, you don't want them to make you look sleepy or tired. Right? so girls, then our weapon can be makeup which will help to reduce the dark circles and cover them up. So, during the day time cover the dark circles with makeup and then at night try the natural remedies to reduce them. Sounds good right? So, let's so how one can hide or cover the dark circles under the eyes using makeup.
How to hide the dark circles with makeup
You will need three things for this:
Concealer (at least 2 shades lighter than the skin complexion)

Some loose powder

A small blending brush (make sure that is clean)
Procedure to cover the dark circles with concealer
First of all apply some concealer under the eyes, not like an inverted semi circular but a little below the eyes as well.

Now with the ring finger gently blend the concealer in. Use the brush you find difficulty in blending with the fingers.

Wait for 30 seconds then take some loose powder on the brush and gently dab it over the area where you have applied concealer.

The concealer that you have applied will cover the dark circles and the loose powder that you have applied over the concealer will do 2 things. This will set the concealer in place and this will also help in preventing the creasing of the concealer.
So, this was a simple makeup trick that you should learn if you don't want the bad dark circles ruining your beautiful eyes and face.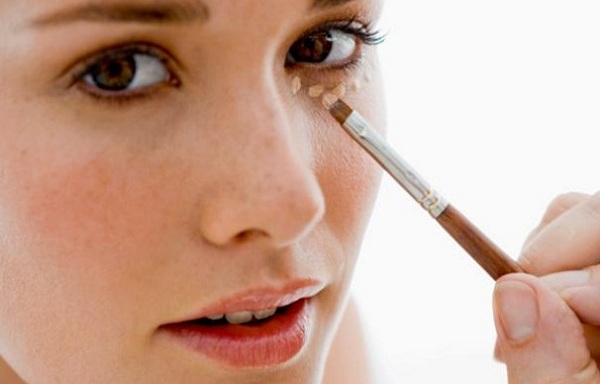 This may not be as good in the first go since with practice you will be definitely able to master the art of concealing the dark circles, but don't forget to try the home remedies as this will treat them and they will be gone, hence no makeup covering up is required. Wow that will be great!! :)

Let us give you a bonus tip girls: To get the attention away from the eyes, you can try using a bright colored lipstick as that will draw attention towards the lips or you can also try wearing statement earrings. These illusions work well too. Try them out!