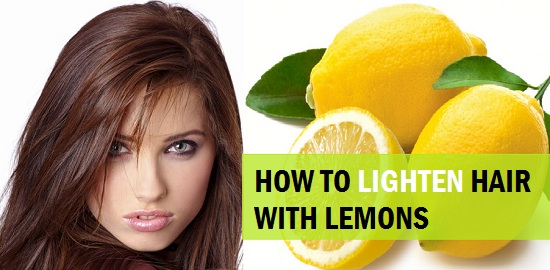 Lighten the hair color with lemon juice
How many times you wish to have the sun kissed steaks or highlights. Well, one can easily go for the highlights at a salon but what if you girls can do that naturally at home. Sounds Interesting. Right? Yes, girls, we can lighten/remove the hair color by a couple of shade with the help of a very easy to procure product from your kitchen and that is none other than the lemon. Lemons are a rich source of vitamin C that help to natural lighten the hair. Whether you use that for the entire hair stands or just on few streaks. It is entirely your choice but first let's check out how you can try this quick recipe with lemon to lighten or highlight the hair color.
How to lighten the hair color with lemon juice
You will need:
Just a lemon though quantity may increase as per your requirement.
Method to use this recipe:
Cut a lemon and squeeze it out to extract the juice from it. You can take as many lemons you need which actually depends on your hair length volume and how many streaks you wish to highlight. By the way: You can also read more on Types of air Highlights.

Now take a piece of hair strands that you wish to lighten or highlight. Then put the lemon juice over it in a manner that the entire hair piece gets soaked up in the juice of lemon.
You can either use your finger to apply that or even a henna/hair color applicator will also work the best for this purpose.
Now you need to go and get some sun light. But remember to apply some sunscreen on the face and exposed body parts and relax in the sun.
You should get the sun light on the hair strands where you have applied the lemon juice for at least 30 minutes.
After that you can come back and take shower.
Shampoo the hair and scalp and don't forget to use hair conditioner. Hair conditioner is important since lemon juice has a drying nature when applied on the hair so apply conditioner to combat the dryness. Looking for some homemade hair conditioners for dry hair check here.

You should try this lemon juice highlighting treatment 2 times in a week and soon after a month that mean after 7-8 times you will see noticeable result. But do keep in mind the below mentioned precautions.

Extra hair care tips with hair highlighting
Make sure that the lemon juice is properly covering all the hair pieces you wish to lighten.
Wearing sunscreen is a MUST since you don't want sun darkening and sun damage. Right?

Application of hair conditioner is also a must as lemon juice will dry the hair.
Try hot oil massaging once in a week to protect or reverse from sun damage that may have happened during this treatment.
By the way girls, you can also read a post that I have done on How to choose the sunscreen as per the skin type.