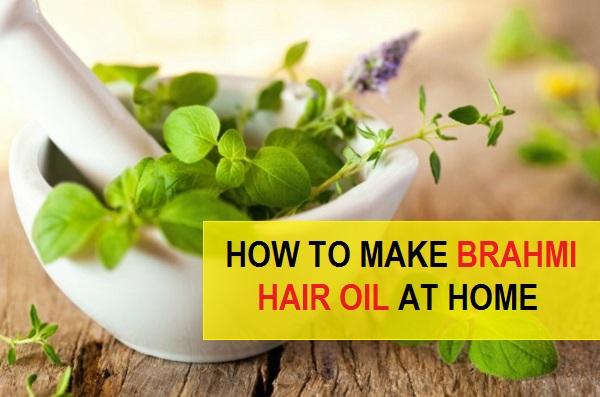 Homemade Brahmi Hair Oil at Home and Benefits
In Ayurveda, Brahmi is considered as one of the revitalizing herb. Indians have been using this herb since thousands of years. In Vedic time our Rishis have used this herb due to its mind enhancing and memory stimulating properties to memorise the hymns and shlokas. In Sanskrit, it means as a feminine essence of universal consciousness. We have been blessed with many such wonderful herbs which are natural with so many benefits. Nowadays, lifestyle has become more stressful and busy. One doesn't get time to eat properly and take care of their health. But, there is some solution available to us. We can add such herbs to our daily routine and enjoy the benefits. Brahmi is used to treat various diseases like dandruff and dry scalp, insomnia, anxiety, ulcer, joint pain, alzheimer's etc. Mainly it is known to improve memory, stimulated the mind and fights stress.
Recipe  to make Brahmi Hair oil at home
We use a lot of hair products to make our hair healthy and beautiful. Hair oil is the main product to nourish our hair. Today, we will know how to make Brahmi hair oil and what are the benefits of using it-
Ingredients that we need are Sesame oil, Almond oil, Coconut oil and fresh Brahmi leaves or Brahmi powder. You can also add your favorite oil to make this brahmi hair oil.
Take each of the oil in equal amount in a container and keep it on the gas on low flame.
Let it come to the boil, when it start boiling add the fresh Brahmi leaves or the Brahmi powder to it slowly and give it a stir to mix all together.
Keep it on the low flame and let it get mixed with the oil for few minutes, while doing this make sure the leaves or the powder doesn't get burnt in the process.
Switch off the flame and let the oil come to the room temperature.
Now strain this and store it in the glass bottle.
Finally, your Brahmi hair oil is ready to use. If you're using the powder then, make sure you buy the organic Brahmi powder. You can use this oil before going to bath. Apply it on your hair using your fingers and do a gentle massage and keep it for few minutes or half an hour before washing your hair.
Benefits of Brahmi Hair oil
Regular massage with this oil helps in relaxing the mind and keeps the stress away.
You can warm this oil little bit and massage your hair before going to bed for a good sleep. It also helps in treating insomnia.
Brahmi hair oil massage also known to enhance the concentration power, if used regularly.
It also works on the hair loss problems and nourishes the hair roots and makes them soft and shiny.
Also, helps in treating the dry scalp problems and split ends.
You can also make your own herbal concoction to enjoy maximum benefits by adding fenugreek seeds, Amla or Shikakai.
By getting in touch Ayurveda practitioner, one can start having Brahmi Tablets, Capsules or tonics as well. For children, Brahmi is recommended as it strengthens the memory and intelligence. One can use Brahmi oil to alleviate the headache, back pain or joint pain. You can give a gentle massage to your belly in case of gastric pain or upset stomachache problems. It is considered as one of the spiritual herb because, of its calming effect on the mind. Apart from these problems it is also used to treat fever, anemia, skin diseases, asthma or any other respiratory problems, psychiatric disorder, ADHD i.e. attention deficit hyperactive disorder which is found in children.