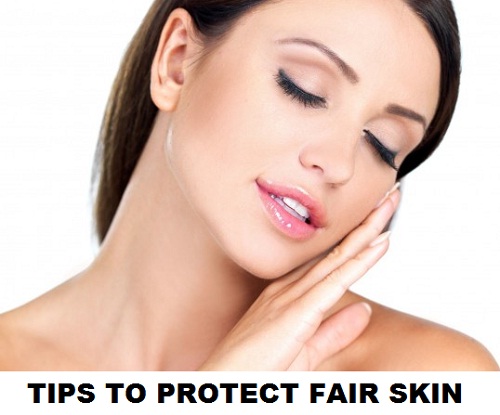 How to protect the fair skin: some beauty tips and remedies
Fair skin is what we want (most of us) when we don't have and for that we try various fairness creams, lotions and fairness face packs to get fair but achieving a fair skin is not enough, you need to maintain it. If, you already have fair skin then you need to take steps to protect the fairness since these days pollution, stress, sun damage are some of the reasons that can take the fairness away leaving your skin dull, damaged and dark so, if you are thinking how to protect your fair skin then here are some measures, steps, beauty tips that can help you achieve the same.
Beauty tips to protect the fair skin
1. Protect the fair skin from sun damage
Sun damage not only takes away the skin fairness but long exposure in sun also causes premature aging which can be seen in the form of lines, wrinkles, patchiness and dull skin. To protect the fair skin or skin in general makes sure that you apply sunscreen whenever you step out of home. Sun rays are harsh and strong during 12 to 3pm so, don't forget to use sunscreens on your face and body.
[Also Read: 6 Tips for Anti Aging Skin Care]
2. Anti tan face packs and lotions
When your skin is exposed to sun for long, you may notice that the skin looks darker and tanned. To protect your fair skin against the tanning, use an anti tan face pack. Here's is the recipe for that. Take one teaspoonful of yogurt and add 2 pinches of turmeric powder in it. Mix is well and apply on the face. Let it dry for 20 minutes. Rinse your face with tepid water.
This anti tan face pack protects the fair skin from getting darker and appears tanned unless you deliberately want to sport a tanned look. You can also use some readymade anti tan gels available in the market.
[Also Read: 10 Best Fairness creams in India]

3. Use Umbrellas in sun
While going out in the sun use umbrella to minimize the sun rays hitting your skin. They don't give complete protection but reduces the damage that the sun's ultra violet rays can do for the skin.
4. Sesame oil as a natural sunscreen to protect the fair skin
Sesame oil has the natural sunscreen like properties and that is why it is regarded as a natural sunscreen. Use sesame oil on the body to protect from the sun. It is loaded with Vitamin E which is a wonderful antioxidant which wards off the skin damaging free radicals.
[Also Read: 7 Natural bleach for the skin]
5. Aloe vera gel to soothe the sun damaged skin
When you come home after being exposed to long hours in sun, you may notice that the skin gets red, blistered at times or rashes are seen thus to make them go away fast, pure fresh aloe vera gel is excellent remedy. Use aloe vera gel on the face. Massage it and leave it. Aloe vera is soothing and healing which brings back the skin's normal color and cures the rashes. This aloe vera beauty tips is simple yet effective in protecting fair skin from sun damage.
6. Cucumber to sooth the rashes from the sun damage
In the same way mentioned above cucumber and rose water can also be used to treat the rashes on the face and body due to sun damage. You know cucumber actually lightens the skin complexion and helps remove the tan also which makes it good to protect fair skin and maintain it like that.
Apart from the face and body don't ignore your lips too. Use lip balms with SPF and eye creams to keep the sun damage away along with the tips mentioned. If you are wondering how to remove sun tan naturally then read this post.