How to Remove Hair Color from the Skin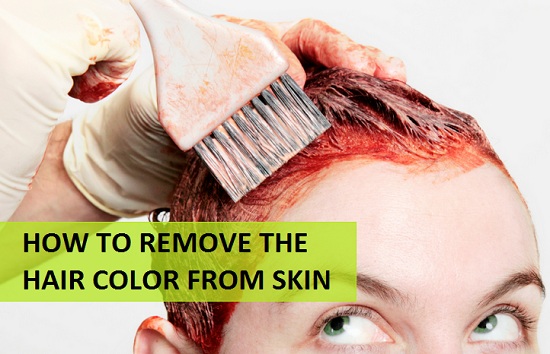 Hair coloring is very much in trend. Some of us like to stay in trend and some use hair coloring to hide the grey hairs. Now whatever can be your reasons but a lot of us try to color the hair at home. So, when we color the hair at home, one thing that really bothers us is the hair color that gets on to the skin. The stain over the skin is hard to get rid of. We mean not that hard but it takes time. What if you have to rush for a meeting or work. You can't go with a stain over the forehead edges or near the ears. Here we will share how you can remove the hair color, hair dye or even henna stain from the skin with natural ways at home
How to Prevent the Skin from Getting Stain
Make sure that when you are about to color the hair, you apply a fine layer of baby oil over the skin that is near to the hair like the top skin area of forehead, temples, ears and below that.

You can also make sure to use a brush that will only apply the color on the hair and gives us more control by not accidentally applying the hair dye / color over the skin directly.

If you do not have baby oil then applying some hair oil also works to prevent the staining of hair color over the skin.

You can also apply some Vaseline over the skin to protect that from getting stained with the color or dye.
See: Hair Coloring Idea for Indian Skin Tones
See: Remove Hair Color with Baking Soda
How to get rid and remove hair color on the skin
Make a loose paste of some baking soda with water and using a cotton ball apply that on the stained skin. Keep that for about 5 minutes then wipe off and rinse. This will minimize the stain.
Using some lemon juice on the hands where the stain of color is left or over the skin near the hair is also a tried and tested way to deal with the hair color on the skin.
Make some Epsom salt paste with water. Apply that over the stained skin area and leave for 10 minutes. Then rinse with clean water.
You can also use some Apple cider vinegar which also good to cleanse off the stain left behind by the hair dye or hair colors.