How to remove makeup from the face properly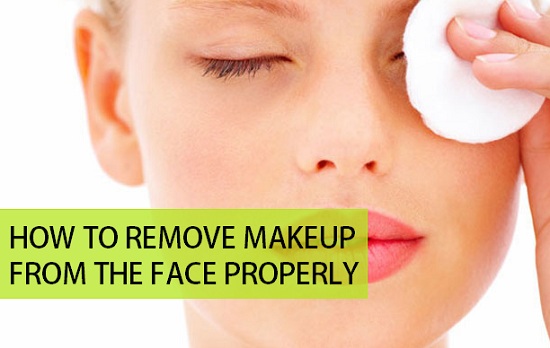 Make up like a must have for women. Even if a women is really simple with her makeup. Or if she will use just a sheer BB cream with some kohl still makeup is essential. Some girls like to keep the makeup really advanced with primers, foundation, contouring, highlighting, blushes etc. But, it should not matter how much makeup a girls uses, the important question is how to properly remove the makeup. You know girls, when you do not take off the makeup properly then the chances of getting skin problems, skin damage can go up. You can read here on the benefits of taking off the makeup before you sleep, to get some motivation if you are not doing that already. So, coming back to how to remove makeup. let's get to know about the steps and technique.
How to remove makeup correctly in proper way

Things you will need:
A Makeup remover
1-2 Cotton pad
Procedure: Shake the bottle of the makeup remover and take some on the cotton pad. Then swipe this pad all over the face and neck. Removing the makeup from the neck is also very important as that also have some foundation etc that needs to be cleaned.
Also See: How can you use Jojoba oil as makeup Remover

Quick Morningmakeup Tips for Girls
Steps to Remove Makeup from Eyes and Lips
Once you have wiped the face. It's time to get rid of the makeup traces from the eyes and lips. Eyes and lips both have delicate skin. Therefore, care should be taken and they should not be rubbed too hard or vigorously.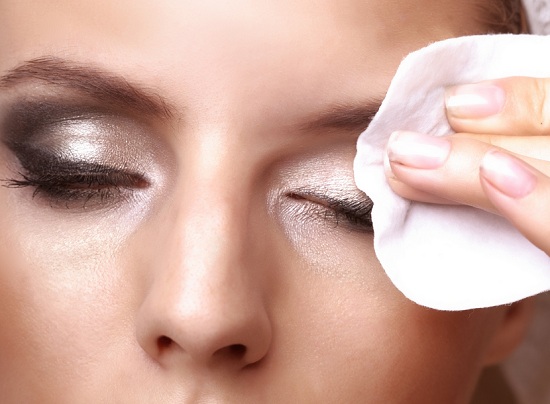 Procedure to remove eye or lip makeup:
Take one more cotton pad and take makeup remover on that.

Close your eyes and then put the cotton pad which you have soaked with the makeup remover.

Keep the cotton pad over the eyes for 10 seconds. We do this so that all the waterproof mascara, eye shadow, waterproof eyeliner etc that you have applied, gets loosen up thus, they can be removed in a gentle manner without tugging the skin too much, considering that our eyes have delicate skin.

So after 10 seconds wipe off the eyelids and under eye area. Do this on both the eyes.

Use either the same pad over the lips or take a small cotton wool for the lips makeup removal.
Things to do after removing makeup from face

So, now that you have removed the makeup from the face, eyes and lips. It's time to wash the face. You must be asking why we are washing the face this is because that doesn't matter how well you have wiped the makeup, we still need to pour some water. So take a mild cleanser and cleanse your face. You will see some more makeup particles will be removed. After the facial cleansing with face wash and water, your skin will be thoroughly cleansed.
Now you can go ahead and apply some face toner and light night cream and get ready to take your beauty sleep.
By the way do you struggle with makeup getting patchy then you should definitely read about how you can keep the makeup Smudge Proof All day.