Style Crop Tops with Pants, Jeans and Skirts
Few years ago, crop tops were disappeared from the fashion area but now they are back with a bang! And they are here to stay. They look chic, stylish and can be paired with trouser, pencil skirt, palazzos, jeans and some other piece of clothing. Yeah, all that can be done with crop tops without being over the top. Crop tops can actually make the waist to look smaller as well when you pair them with high waisted bottoms like skirt or pants. They even make your legs look elongated. Just a little skin show between the crop top and the high waisted bottom can look quite glamorous. Crops tops can be worn with a blazer or jacket to show just a hint of the skin.
1. Crop top with high waisted trousers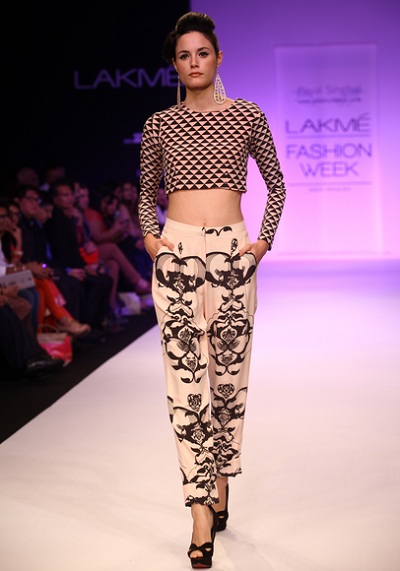 Image credit: Pinterest
A geometric printed crop top with full sleeves looks stylish when paired with printed trousers. The print on the pants is breathtaking and the base color compliments the top. Crop tops looks excellent when they are paired with the cigarette pants, trousers etc.
2. Crop top with mid length skirt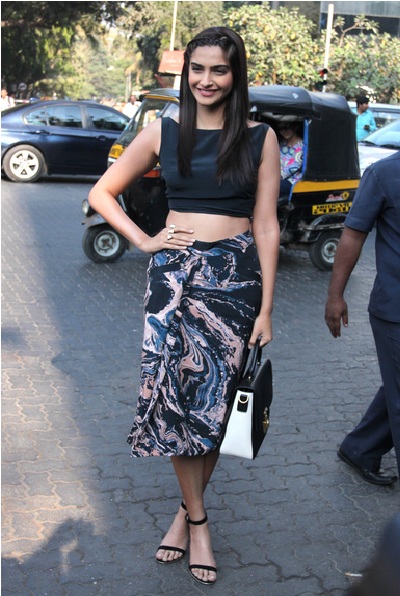 Image credit: A fashionistasdiary.com
We loved how Sonam Kapoor has paired this black vintage neckline crop top with a printed skirt. The middy skirts look good with such tops but only when you do not have bulky hips or thighs. Bulky lower body does not go well with such skirts, longer skirts with ample flare would be better when you have healthier lower body with crop tops.
3. Cropped Jacket with rivets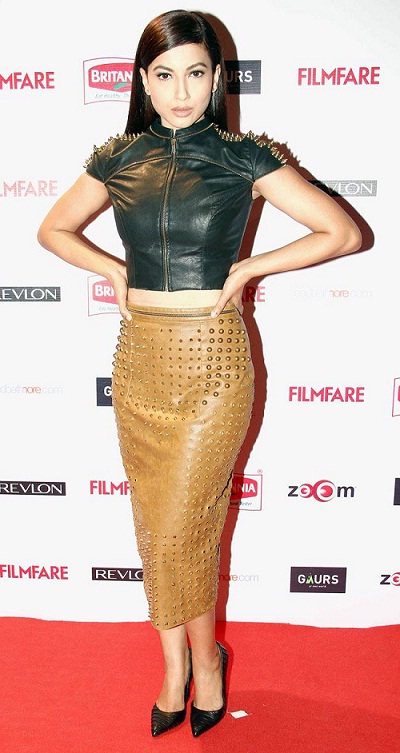 Image credit: Pinterest
Gauhar khan sported this rivet studded cropped jacket with a pencil skirt. There seems to be an overdose of the rivets and the leather like fabric but yet looks nice.
4. Crop top with pencil skirt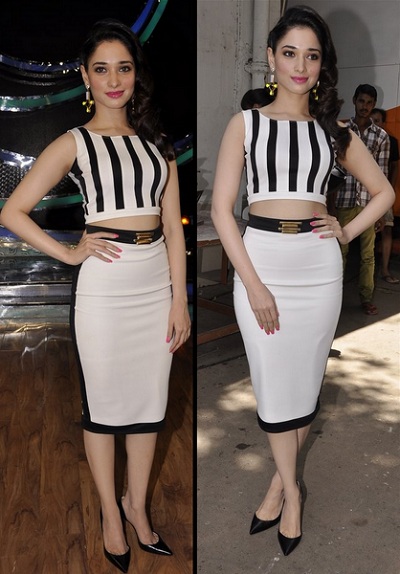 Image credit: Pinkvilla.com
This is one of our favorite ways to style a crop top in this monotone outfit. A sleeveless striped crop top paired with pencil skirt looks stunning and gains full points. The dress is paired with black pumps which make goes really well with the outfit.
Also see: How to style pencil skirts

5. T- Shirt style Crop top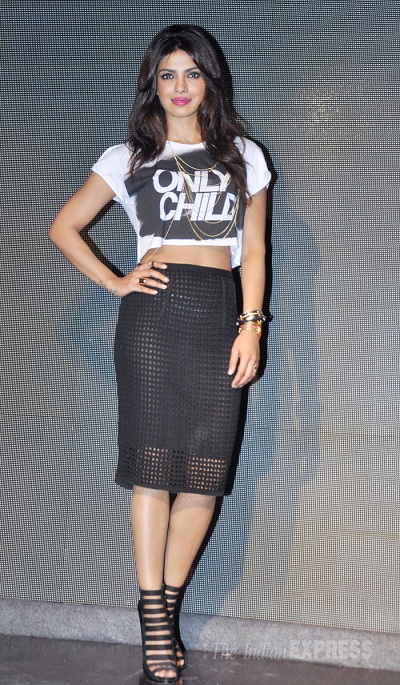 Image credit: TheIndianExpress.com
Priyanka sported this more like a cropped T shirt top with her netted pencil skirt which was quite a see through when all the glaring flashlights fell on her. But we liked the cropped top that can be paired with a pair of jeans or trousers.
6. Crop top with polka dotted pants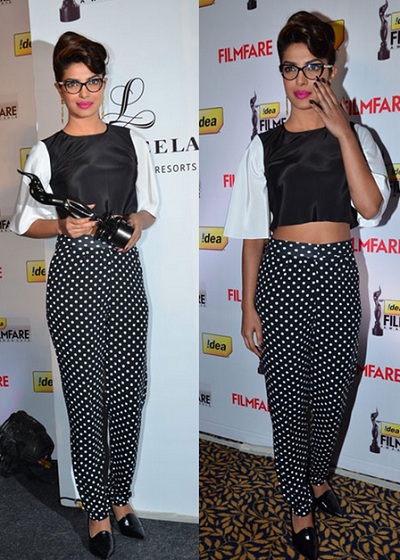 This next outfit shows Priyanka in a chic looking outfit with nerdy glasses but no ways the glasses make her look like one. She look uber cool in them. Here she has styled the flared up sleeved crop top with a pair of polka dotted pants. Isn't she looking great?
7. Crop top for casual day out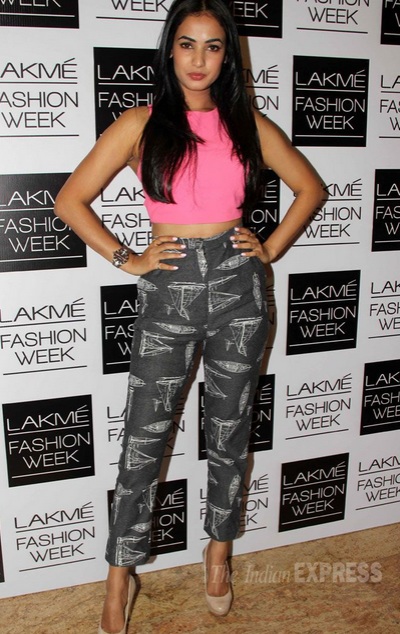 Image credit: TheIndianExpress.com
A printed high waisted pants with a contrasting cropped top can be paired like the way Sonal Chauhan has done here. It looks more like a outfit for a causal day out! What you say girls?
8. Matching Crop Top dress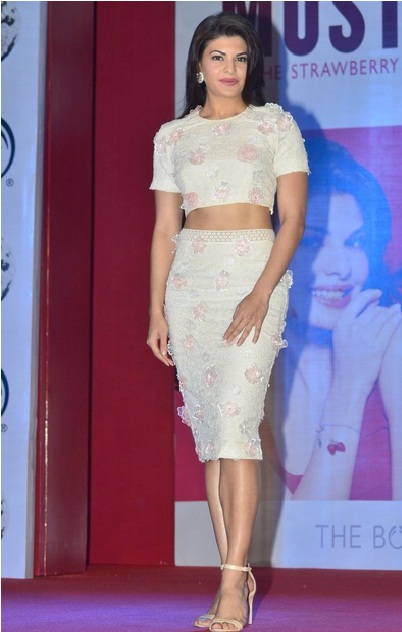 Image credit: Pinterest
Jacqueline looks gorgeous here. She always does! We think that this sought of outfit is a good choice for a romantic date night. The floral detailing on this cream dress imparts it a delicate and feminine feel. This also makes the waist look narrow.

9. Crop top with long skirt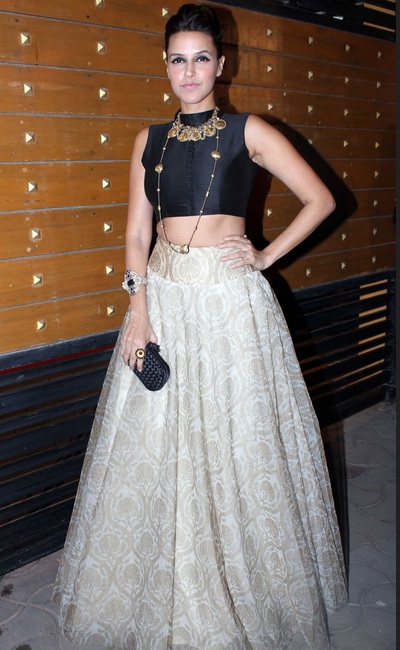 Image credit: TheIndianExpress.com
A long circle skirt with volume can be style with crop top like the way Neha Dhupia has done here. The dark top actually play a role in shifting the attention towards the skirt which has a delicate material with beautiful texture. So, if you wish to style your skirt with a cropped top then take a note from this outfit of hers. This is what we were talking about whne you ahve bigger butt or big wloer body tehn such skirts can do wonders to hide it and give you a slender apperance,
10. Crop top with contrasting pencil skirt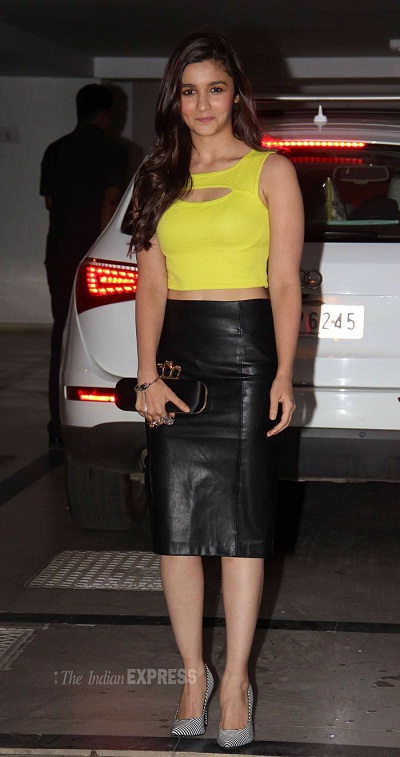 Image credit: TheIndianExpress.com
Alia Bhatt is quite a fashionista and her fashion style attracts most of the teenagers and young ladies. Here she rocked this color blocked yellow and black outfit which is great for a night out.
11. Crop top with hot pants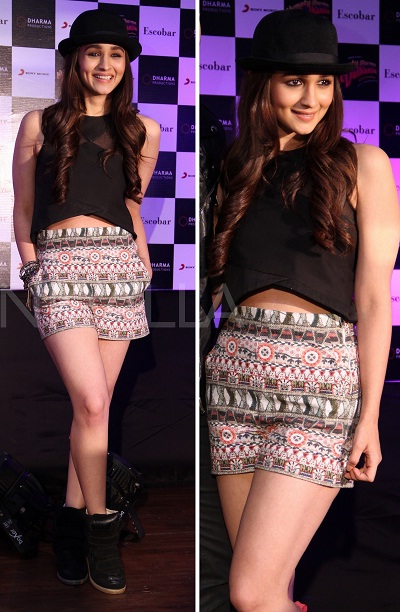 Image credit: Pinkvilla.com
It's Alia Bhatt again though here she has sported a rather loose cropped top with a pair of Aztec printed bottoms. Combination of the two colors is great and brings out the quirkiness. This style is very girly and younger lot will love to flaunt it.
So, have you been thinking of styling a crop top with that favorite pair of jeans or pants or that midi skirt, pencil skirt that you love? Then go ahead and start styling up and keep up with the trend!