Style pencil skirt like the Bollywood divas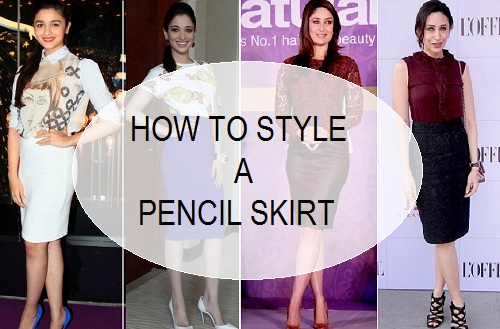 How to Style pencil Skirts
Pencil Skirts are very stylish and versatile piece of clothing that can work in everyone's favor if done the right way. A pencil skirt can be your best mate for office or for casual hangouts to a dinner date. The length of the skirt and the slit can vary as per the requirement and occasion. Right styling of the pencil skirt can make them look trendy and hot. Pencil skirt suit most of the body types and it also helps to enhance the body curves if you are curvy then the right styling of pencil skirt may also helps the hide the flaw and excess bulk. Pencils skirts are quite relaxing for spring and summer. Our Bollywood actresses and divas have been seen sporting pencil skirts a lot and we have picked up some images which can very well help you to get the styling right by taking some notes from the celebs. So, here's how you can style the pencil skirt the Bollywood actresses way!
Best Styling Tips for Pencil Skirts
You can style a pencil skirt with blouses, tops, crop tops, even a T shirt or a lacy number.
Blazer and jackets give a very sophisticated look and they do make you look slimmer.
High waisted pencil skirt gives an illusion of longer legs and also tones down the bulk on the thighs.
If you will notice pencil, skirt will stay in fashion throughout the year and they can be styled or teamed up with trendy upper piece of clothing to look your best.
A high waited pencil skirt works well with high heels to give the illusion of long legs and height as well.
How to Style Pencil Skirts like Bollywood Actresses and TV Celebs
So, here are our Bollywood divas and Tv actresses who have donned pencil skirts beautifully and looks so much in ease. This trend is classy and is suitable for bulkier or healthier women as well. Let us check out how these beauties have paired these looks.
1. Kritika Kamra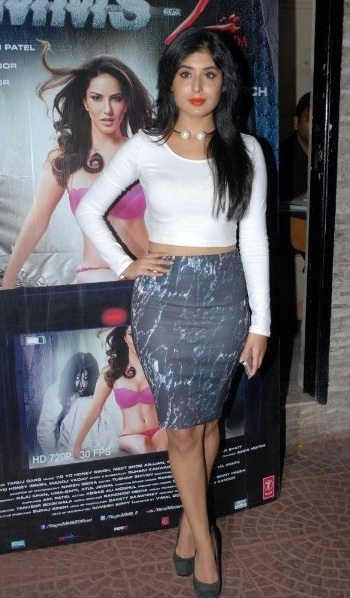 A printed pencil skirt with a crop top look stylish and accentuate the curves. Kritika Kamra has paired this grey pencil fitted skirt with a white full sleeved top. The necklace is also very trendy and stylish looking. You should definitely try a look like this.
2. Alia Bhatt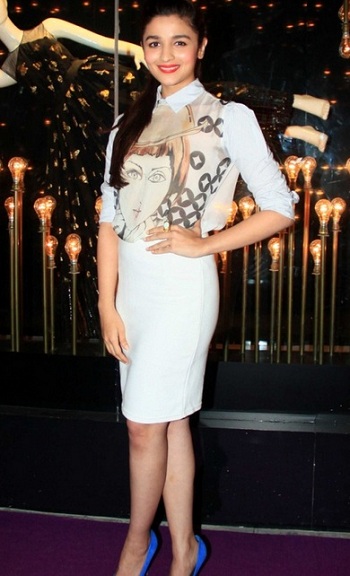 Alia Bhatt styled this pencil skirt with a printed button up blouse shirt. The sheer blouse top is printed and looks so pretty. The collared top is amazing refreshing and is ideal for younger brigade. She had paired this look with blue bold pumps. The contrasting shoes look compliment and gives a spice to this white outfit.
3. Bipasha Basu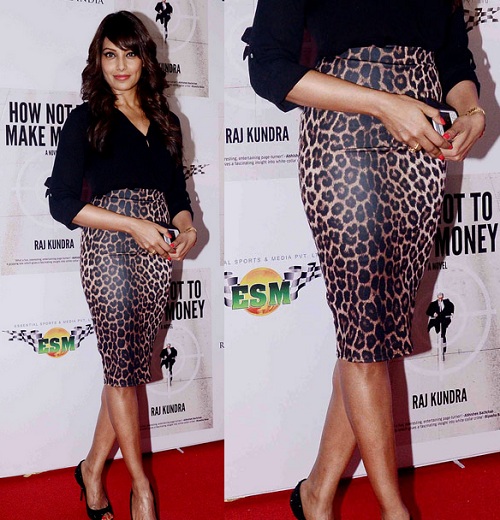 Bipasha looks great in this animal printed pencil skirt styled with black blouse with button up sleeves. If crop top and skirt is not your choice or if your midriff is not as toned then tucking the shirt inside will do good. This style looks amazing on bulkier women or girls. Young girls too can wear this for college or even your office. The length of the skirt can be of your preference.
4. Kalki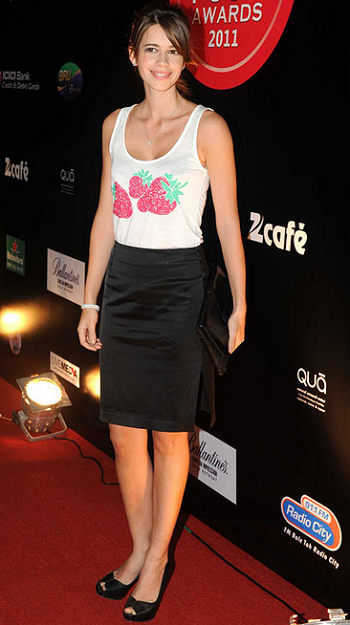 Kalki is a pretty woman who looks good in anything that she wears. It's her confidence and ease that makes the clothes look good on her. Kalki has styled this solid colored pencil skirt with a tank top. Tank top looks godo for summers and are very much in style when you have toned arms.
5. Kareena Kapoor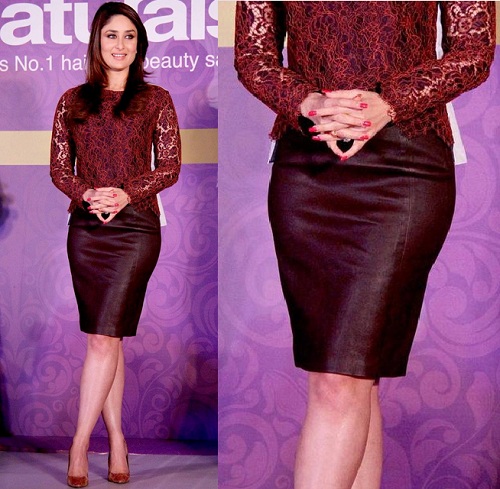 Kareena is a stunner and a true diva. She paired this full sleeved lacey top which compliments the dark brown pencil skirt with pumps. This style is extremely classy and is suitable for everyone. Young girls or mature women, everyone can get help from this style easily and can looks amazing. The lacey top is beautiful and looks good with that wine skirt.
6. Karishma Kapoor
Another Kapoor on the list who looks absolutely stunning. Karishma has styled her lacey black pencil skirt stunningly with this sleeveless maroon cascading ruffled top. The color of the top so gorgeous and looks good on most of the skin complexions. She looks so young and vivacious.
7. Shilpa Shetty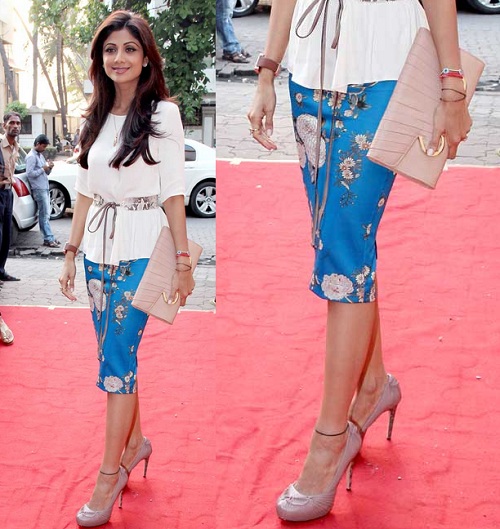 Shilpa undoubtedly has the best body in the industry. She is tall, slender and has a fit body. Shilpa looks great in this printed skirt and an umpire line white blouse with a cinched waist belt and pumps.
8. Sonakshi Sinha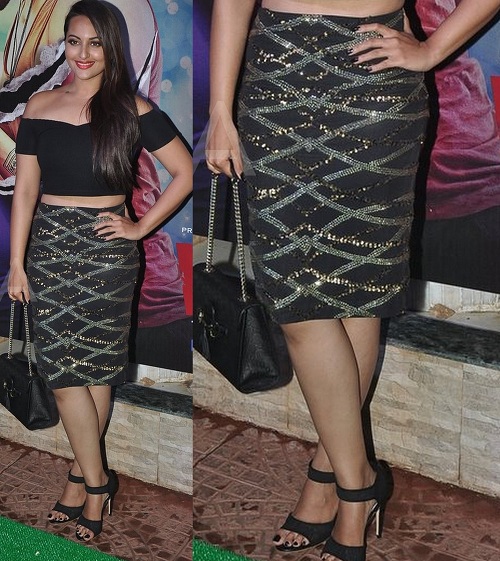 A sequined pencil skirt has been style with off shoulder crop top by Sonakshi which actually makes her look slimmer than she is. The black sandals though could have been chosen well. Pumps would have looked good as these sandals with that nail paint looks outdated. She is looking beautiful but not classy to be honest.
9. Tamanna Bhatia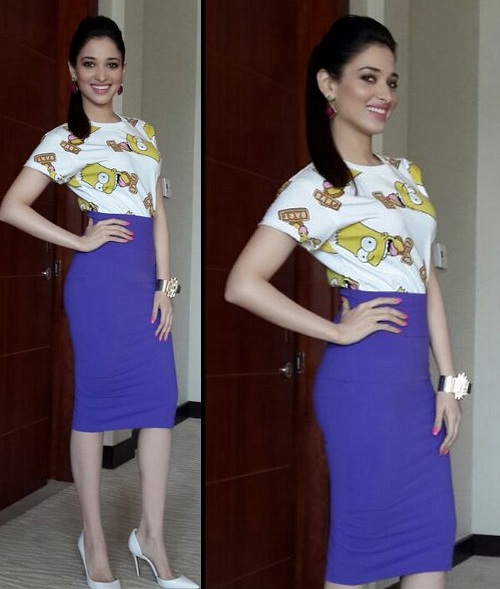 Tamanna is a beautiful girl who has got the looks and body. She looks gorgeous in her solid blue pencil shirt with a printed Simpson T shirt which makes this outfit perfect for casual hangout or lunch.The white pumps makes this outfit look elegant and classy.
10. Shilpa Shetty Kundra
Here is an example of how horizontal stripes can make the bottom look wider but as she is already tall with a perfect slim figure the pattern of the skirt actually works in her favor. Shilpa is a true stunner who knows how to dress accordingly and stylishly. 
So, these were the inspirational pictures that can help you look gorgeous and fashionable. Have you tried pencil skirts yet? Which is your favorite piece to pair with pencil skirt. You can read these posts too:
Bollywood Actresses in Sunglasses
Kangana Ranaut Beauty Secrets and Diet Tips