Readers Query: How to treat Dry Damaged hair in a week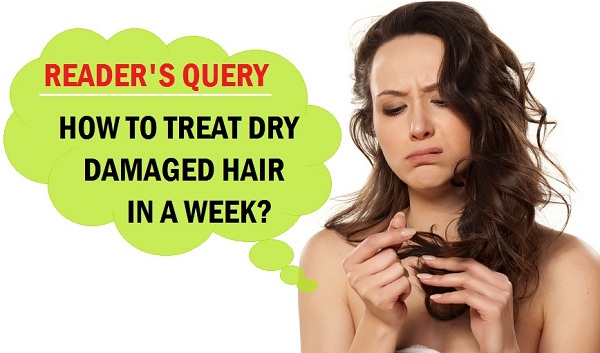 Dry and damaged hair look terrible and ruins your entire look. Dry and damaged hair is also really hard to manage. Dry rough hair gets messy and frizzy when the season changes so what can we do. This is the query that one of our readers asked us recently. So, today in our Reader's Query section, we will share a home remedy to treat the dry and damaged hair within a week or at least to minimize the dryness.
How to treat Dry Damaged hair in a week
1. Hot oil massaging to treat dryness
Hot oil massaging is miraculous when it comes to treating the dryness, frizziness and to repair the damage of the hair. This also cures the split ends. Just take 2-3 oils.
The best oils to massage the hair are Olive oil, coconut oil and almond oil. Mix them by taking them in equal quantities. Then warm them up slightly.
Warm oils are easier to get properly absorbed in the scalp. Massage the hair and scalp with this oil concoction and leave for overnight.
You can make a bun or braid which will seal the oil in.
Then the next day wash the hair will mild shampoo and apply some hair conditioner on the hair for 3-5 minutes then wash off.
You should try this oil massaging remedy followed by the shampoo and hair conditioning once in a week.
See: Homemade conditioners for dry hair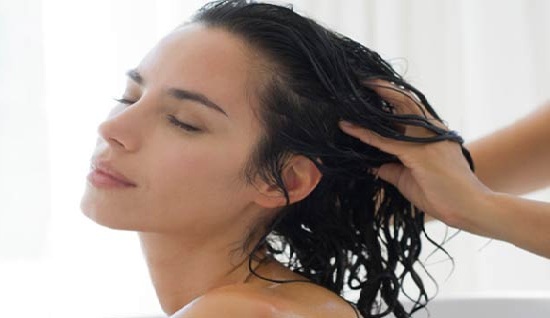 Benefits of oiling for dry hair
Oiling deeply nourishes and moisturizes the hair.

Oiling will give the nutrients to the scalp present in the oils like almond oil is fortified with vitamin E, A and minerals like copper, iron, selenium etc.

Olive oil too have very hydrating nature which goes in the dry scalp and treat the dryness.Read more how to use Olive oil for dry hair


Coconut oil makes a layer over the hair strands thus the hair gets conditioned and the moisture locks in there.
2. Hair pack for dry and damaged hair
Using a hair pack which is nourishing and deep condition is also great to treat the dryness.
You will need 2 things some honey and curd. Mix honey and curd in equal quantity and apply that on the dry hair like a hair mask.
Leave this for 2 hours then shampoo the hair and apply the hair conditioner.
These 2 treatments when some in a week will definitely help you to treat and massage the dry damaged hair efficiently. You can also read more on home remedies to treat Dry Rough hair at home.