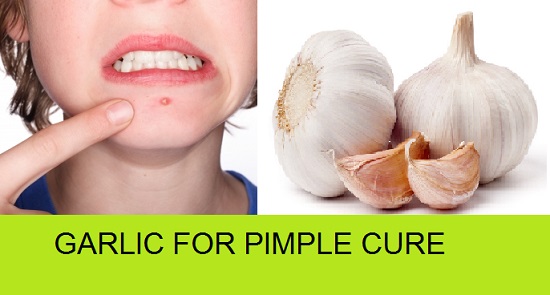 How to use garlic for pimples and acne: Acne and pimple is a skin issue that is common experienced with oily and sensitive skin people. It is nothing but a consequence of excessive oil production, dust and impurities in the skin. You may find it easier to apply makeup to hide those scars and blemishes, this is a temporary process which may lead to higher bacterial infection and other side effects. The chemicals used in cosmetic and beauty goodies include alcohol and sulfate that are not good for your skin and its health. Hence, to get rid of pimples and acne naturally without any harmful outcomes, try these garlic made remedies and see quick results. Garlic is good for the elimination of the pimple causing bacteria hence this is a great ingredient to treat your pimples at home.
Recipes and Methods to use

garlic for pimples and acne
Garlic juice with turmeric powder for Pimple Cure:
Garlic consists anti-bacterial and anti-septic properties that heal acne and helps in removing its scars naturally. So, when we mix garlic with the turmeric then this combination become extremely effective. Turmeric is a healing agent that treats all kinds of skin infections. This very natural remedy will also give glow and radiance to the skin instantly. But you have to make sure that you try this regularly. See: Turmeric facial packs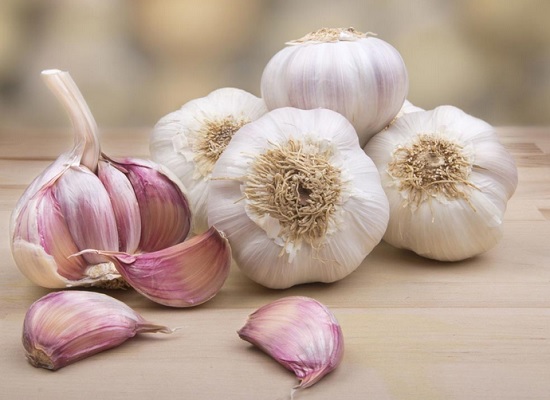 Ingredients
5-6 garlic cloves (according to the acne prone area)

¼ th spoon of turmeric powder

1 teaspoonful of honey
Procedure
Dice all the garlic cloves and crush them properly

Now separate the garlic mashed pieces in a bowl

Add the turmeric powder in it and add the honey in it.

Now make a smooth paste

Evenly apply this pack to the face by using a brush or fingers

Wash it with cold water after 20 minutes

You need to try this 2 times in a week or everyday for best results.
Garlic juice and yoghurt:
Garlic contains allicin that kills the bacteria who clog the pores and cause acne breakout and patches. Yoghurt is very beneficial for acne treatments, it increases the firmness in the skin and develops softness and smoothness in it. Yoghurt is basically rich in essential fatty acids that protect the skin against pollution and dust. Hence, this will not just cure your pimple and acne but will give you a better looking skin. See: Best Vegetable face packs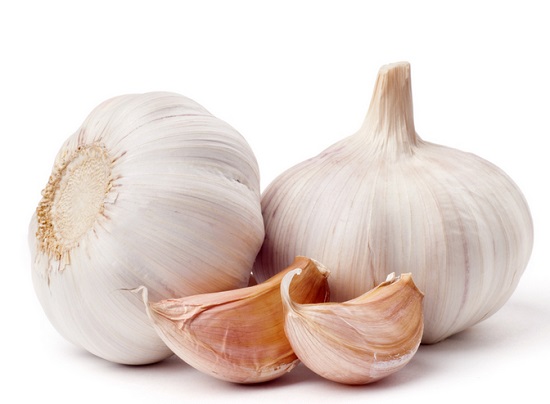 Ingredients:
2 spoons of of curd

2 spoons of garlic juice or garlic paste
Procedure:
Mix all the ingredients well in a bowl. Cleanse your face with a mild natural cleanser.

Now apply this acne face pack onto your face and massage it for 10 minutes on the acne prone area first and then on the entire face.

Let it dry for next 15 minutes. In the end, rinse it off with chilled water. Also see: yoghurt face masks for acne and pimple cure

Garlic with lemon juice:
Lemon, a citrus fruit which is rich in vitamin-c works great for treating acne and other skin issues. It induces skin color and gives a sparkling glow onto the face. Garlic helps in controlling oil production and removes acne scars after a few uses. So,this is not only for your pimple treatment but this will also cure the marks and scars that we face because of the pimples. You can also see the other natural kitchen products for acne pimple free skin

Ingredients:
5 garlic cloves, finely crushed and diced

1 spoon of lemon juice of fresh lemons
Procedure:
Take out the garlic juice in a blender and pour it in a small cup or bowl

You can preserve this juice in refrigerator under cold temperature for a week

Now add 1 spoon of lemon juice in it and mix both the things really well.

Now this face pack is ready to use, apply it onto the acne and other skin areas gently

Massage it slowly for 5 minutes. Do not rub it the skin

Lastly, leave it for the next 20 minutes to start its work against acne

Rinse it off with lukewarm or cold water
Garlic juice with honey and neem (Anti-Pimple Paste):
This remedy is a perfect combination for acne removal therapy suitable for all skin types. Neem is known to cure acne and all types of skin infections. Honey adds moisture to the skin and works against breakouts and patches caused by acne. Honey is also a great anti bacterial ingredient that we frequently use in our home remedies. You know friends, honey is good to adds moisture and protection to the oily acne prone skin type. In anyways, one can apply just the honey to keep the skin beautiful.

Ingredients:
2 spoons of garlic juice

1 spoon of Neem paste

¼ th spoon of honey
Procedure:
Mix all the ingredients and make a paste for acne treatment

Now apply it to the skin using a brush

Leave it for 30 minutes and rinse off with cold water.
So, friends use the above mentioned remedies that is great for the acne and pimples. Hence, with the regular use your pimples will be greatly reduced and minimize in size. Also the redness and inflammation that we experience due to infection will also be healed.
 By Ratna Balani