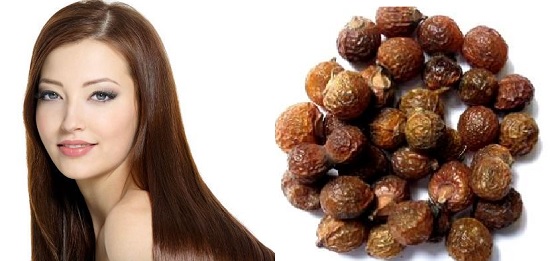 By Ratna Balani
How to use Reetha for shiny hair: Shiny and smooth hairs are a dream for all sensation young females. You purchase various professional hair products that claim high results but do not do so. Reetha is a best natural therapy for all the hair troubles. This single material is used in many Ayurvedic treatments and medicines. It removes excessive oil from the scalp, induces hair growth, cleanses the hair properly and controls premature graying of hair very fast. Hair loss, dull hair, dry hair all such hair problems can be solved with this one powerful remedy. Now you can also get the desired shinier hair by using some natural things like reetha at home.. Don't believe me? Go on reading because today I have some all new soapnuts benefits for the dull and dry hair.
Methods and Remedies to use reetha for shinier hair at home
Reetha with shikakai
Girls now, if you want to remove that extra oiliness from the hair and want shiny and smooth hair then this remedy will fulfill your desire. Reetha combined with shikakai can be used as a hair cleanser as well conditioner. Reetha consist cleaning properties that can help you in creating your own natural shampoo.
Recipe: Heat a pan and add 2 cups of water in it. Now put reetha (soapnut) and shikakai in the pan. Give it a boil for 5-10 minutes. Now this cleanser is ready to use. Damp your hair with water and pour this liquid on your scalp. Massage it onto your scalp and follow through tips and ends. Lastly, rinse off with cold or lukewarm water.
Reetha and Lemon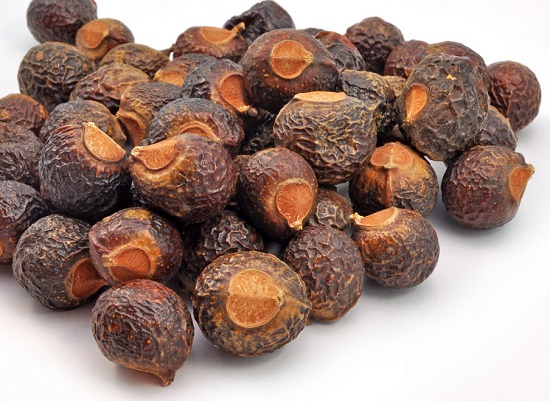 These dual natural products will induce the hair shine and its overall health. Lemon is a great anti-septic which protects the scalp against all types of bacteria and fungus. It aids in hair shine and smoothness. Like reetha, lemon also cleanse the scalp and gives a new look to your hair strands with a pleasant smell.
Recipe: Take some reetha powder and soak it in 1 ½ cup of water for 2 hours. Add 2 spoons of lemon juice in it and mix it properly. Now massage this remedy onto your scalp and hairs. Keep it for 5-10 minutes and wash it off with cold water. You can also read how to wash the hair with reetha

Reetha and Amla
A juicy and rich in vitamin-C, amla is a one of the best remedy for hair. It induces hair strength, shine, color and softness too. You should use fresh amla to get those perfect locks in a few minutes. Reetha or soapnut  and amla which is also known as Indian Gooseberry are wonderful for shine and cure of the hair. Here is how you can sue these two for shinier hair.
Recipe: Buy 4 pieces of Reetha and 2-4 Amla's from your nearest grocery store. Now heat a pan and add water in it. Now Put reetha and amla in the water and give it a boil for 5 minutes. Let it cool for an hour and then it is ready to use. Pour it on the wet hairs, and massage it properly. Slowly go through the middle and the end of your hair and then rinse off with cold water.
More Reetha remedies for shiny hair
Reetha and Apple Cider Vinegar
Apple cider vinegar or ACV helps in treating dull and dry hairs. It is a natural hair conditioner which also gives a mirror like shine to the hair strands. You can see instant results in shine and smoothness after using this remedy for the hairs. Reetha combined with vinegar can give naturally shiny and healthy hairs if used on a regular basis. Apple Cider Vinegar is a natural source of vitamin C and other nutrient that brings shine and boost of vitality to the hair strands.
Recipe: Take 5 spoons of reetha powder and 2 full spoons of vinegar rinse in a small bowl or cup. Let it sit for 30minutes and then wash your hairs with water immediately. This is a shampoo conditioner solution that gives extremely useful benefits.
Other benefits of Reetha for hair
Reetha is wonderful in curing the hair fall, hair loss and other hair related problems.
Reetha will make the hair shinier and supple with rejuvenation
This will also reduce the hair breakage as reetha also acts as a natural hair cleanser that will improve the hair strands and cuticle quality.
Not just the shine but reetha also makes the dull hair bouncy and full of life.
Reetha cleanses the hair gently and effectively hence people with sensitive scalp and itchy scalp can also get benefits by using reetha as a hair cleansing remedy.