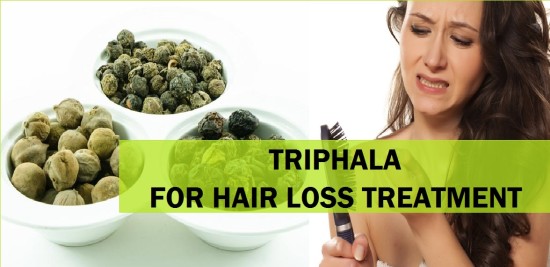 Triphala for Curing Hair Loss and Hair Fall In Men and Women
Hair loss is becoming a very common problem that is being faced by young people. A lot of people who are even in their 20s can have hair loss with receding hairline. We all try to save the hair from shedding and in that we spend a lot of money by buying products like hair tonic, oils, shampoos etc. But nature has given us so many things that one can try. One such natural ingredient is triphala. Triphala is a mix of three Ayurvedic herbs like Amla (Indian Gooseberry), Haritaki and Vibhitaki. These three herbs when taken in equal amount is known as triphala. We has shared some great health benefit of Triphala earlier but triphala is not just for keeping the health in good state but this can also be used to treat the hair loss and get excellent relief in the hair fall. By the way, did you read our recent post where we shared how you can use onion juice for hair loss and hair fall.
Triphala is sold in the market as triphala juice, triphala powder or in the tablet and capsule form as well. But here we need triphala in  powder form to prepare a herbal recipe to combat the hair loss. You can consume triphala powder as well like half teaspoonful in the morning and half teaspoonful in the evening for good health and digestive system.
Also See: Ayurvedic homemade shampoo for hair fall
Methods to use Triphala For Hair Loss and Hair Fall
So, here's how to use Triphala for hair loss treatment.
Take around 4 teaspoonfuls of triphala powder and add one cup of water in it.

Take all this in a boiling bowl or pan.

Then boil this well and keep boiling for the next 5 minutes.

Stop boiling after 5 minutes and allow the mixture to cool down.

Apply this on the hair like a herbal hair pack.

Gently massage the scalp and hair with this but do not rub too vigorously.

Let this get dry for 2 hours.

In the meantime, you can make a bun and put a towel on the nape and shoulders to get a mess free experience. 

After that rinse your hair well and remove this triphala hair pack.

Hair rinsing should be through else the residue will still be sticking on teh scalp. 

Then you can shampoo the hair and use a hair conditioner after that.

This needs to be tried 2 times in a week for good results.
Benefits:
Triphala will cure the itchy scalp and dandruff, because of the fact that it contains amla, Indian gooseberry which is potential in curing dandruff infection and itching that comes with it.
This herbal mixture containing three quite effective ingredients also combats the hair fall and hair loss.
When hair fall is reduced the hair loss can be compensated as new hair growth takes place.
The triphala hair pack also effectively works on the rough and dry hair strands to make them shinier, smoother and a lot healthier since the three ingredients are highly nutritive and rich in vitamin C.
You can also check out our post on best 4 natural oils to treat hair problems at home.
Triphala powder has always been known for its rich Vitamin C content and as a great source of antioxidants. This is also has great antifungal properties. Triphala has these efficient qualities to strengthen the hair from the roots and prevent hair loss. It also eliminates the hair loss because of the dandruff flakes. Triphala powder when taken along with some water rather than applying on the hair topically and physically, also helps in giving great results to reduce the hair fall.
Triphala is a potential hair tonic that works wonderfully for hair by stimulating the follicles of the hair. Therefore, it surely promotes the hair growth. Now if you are wondering, if you can apply Triphala hair pack regularly on your scalp or you should give it a break once you see some results. We would advise you to use this pack once in a week at least and even when you get relief in the hair fall, keep using it once in 15 days.
This is a wonderful remedy to cure hair loss and to initiate the growth of new hair follicles. It restores the pH balance of the scalp that further helps to maintain healthy and thicker hair on the scalp. As it is packed with antioxidants and antifungal properties, it will definitely keep your hair loss due to dandruff away. This prevents hair loss by strengthening the hair shaft by using this triphala pack. 
Moreover, Triphala also helps to keep your hair frizz free and smooth. Adding shine on to your hair, this powder is a miracle product for getting good hair. This powder is available online and on the shopping sites and you can also buy it from your local store.
Additionally, you can also take biotin capsules or supplements that help in hair growth further. Hair growth is managed by different vitamins and minerals. And biotin or vitamin B7 is one of them. Biotin is an extremely essential vitamin to improve the growth of the hair, most importantly this vitamin is also used to reduce the hair fall. Therefore, along with the Triphala powder hair pack you should also take a balanced diet and biotin supplements.