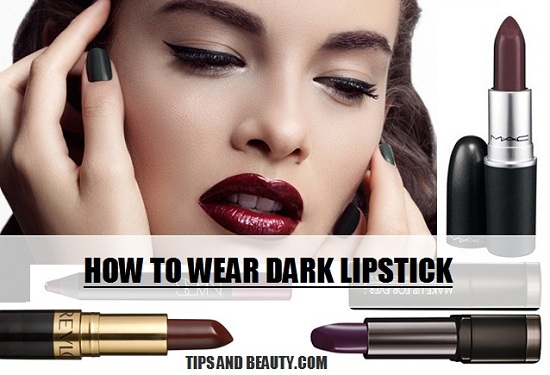 Apply Dark Lipstick perfectly
Dark lipsticks like oxblood, deep wine reds, plums, dark chocolate browns etc are pretty good for mature ladies in India, This is what we think. But such colors not only looks good on them but the younger lot can also try to glam up their style quotient with dark deep colors. Dark lip colors give an extra sophisticated and suave look but honestly it isn't always that easy since such dark shades require suitable hairstyle, complementary makeup etc. These darker lipstick shades may not before everyone but if you love to sport then worry not we at Tips and Beauty, will tell you how to wear the dark lipstick perfectly to look your best!
Tips to wear dark lipsticks
Dark lipsticks are mostly chosen for the night time though which color you will choose depends on the dress that you will be wearing.
1. Finding the right texture:
Texture of the dark lipstick that you will be wearing is also be to looked at. For mature women, with thin lips, glossy lipsticks or glosses will wok the best as they give the illusion of slightly fuller lips, While those who already have lump lips then can go for matte and creamy shades. Rest depends on your personal preference too. It is always good to choose lipstick formula that will not feather since dark lipsticks when they feather are very easily spotted.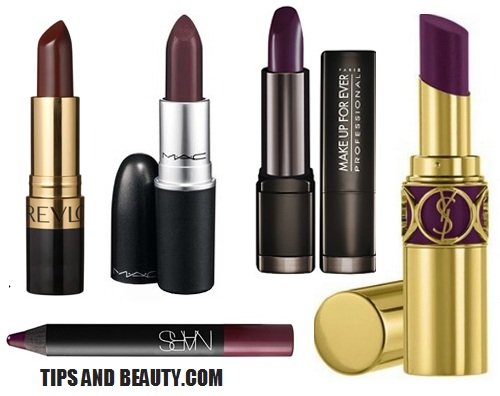 2. Preping the lips
Rough and peeling lips are not flattering for any lip color. Thus, it is always good to make the lips smoother before applying dark lipstick. If you have flaky dry lips then try a Vaseline and sugar scrub which will help to exfoliate the lips and they become smoother instantly. Or you can try this method. Take an old toothbrush and put some Vaseline on it. Now, scrub the lips.

Read: Tips to make lips smoother and softer
3. Application of dark lip color
Dark lipstick tends to be visible more than any other color if they bleed, hence it will be better if you line the lips with a matching lip liner which helps to make the lipstick stay longer and also avoids patchiness. Lining the lips will prevent the dark lipstick from bleeding. You can apply directly or use a lip brush to give the proper application.
4. Post Application of lipstick
After the application of the dark lipstick. It is always good to bloat it and reapply. This will help your lipstick to last longer and it also does one very important thing,  which is to prevent the lipstick from smudging on the lips. To bloat the lipstick, take a tissue paper and press it between both the lips. Reapply the lipstick and gently press the tissue only on the inner part of the lips.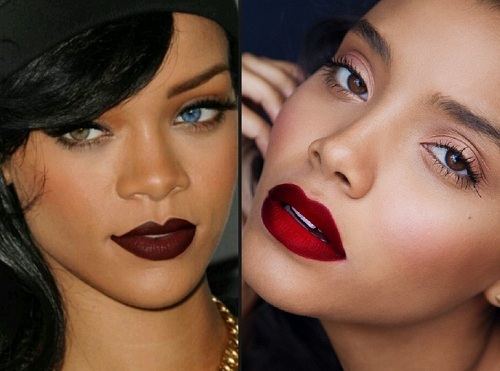 Image credit: Pinterest
Now that you know how to wear and apply dark lipstick properly, it time to move on to the eye makeup. By the way, you can also read about finding the perfect red lipstick according to your skin tone.

5. Eye makeup
Eye makeup with the dark lip colors should be subtle and minimal else that will look gawdy and made up. Just a dash of eyeliner and mascara should be enough. Or you can lightly swipe of neutral eye shadow like bronze, copper, gold brown etc over the eyelids but very slightly for the soft effect.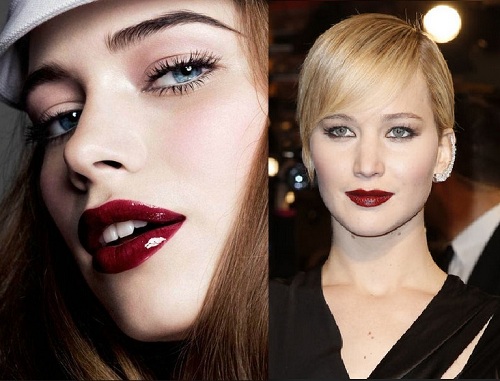 Other than that you should be really careful about the blush and bronzer that you're wearing as that can also make you look unflattering, therefore, try a soft earthy toned blush and gently swipe on the cheekbones. For the night time, apply a light blush and some pale gold highlighter over the cheekbones. It looks the best on all the skin complexions and your skin glows to make you party perfect!

So, what is your favorite dark lipstick shade? Do you like dark colors or just the regular neutral ones?