Is Indulekha bringha hair oil good for hair loss? Does this cure the hair loss and hair fall? What are the possible benefits? If these are your concerns regarding this hair oil, then this post can be helpful.
I will share Indulekha bringha hair oil review which I got around a month ago. This oil is manufactured by Moson extractions. I got to know about this Ayurvedic oil after watching a clipping where Actress Urmila Matondkar was sharing her experience with this oil. She shared that how this Indulekha bringha hair oil has made her hair fall under control and hair stronger.
I too was facing hair strand fall so, I bought this Indulekha oil selfie bottle for me. This self help bottle helps a lot in applying the oil to your own hair thoroughly. So, read on to know more about the review of this herbal hair oil. I will also answer the most asked questions like how to apply this bringha hair oil? Does it really work? Or does it has any side effects?
Price of Indulekha bringha Hair oil In India:
This oil is for 432 rupees for 100ml (Online it's available at discount)
Brand claims:
Indulekha Bringha hair oil, is a Ayurvedic solution to the all hair care problems. Indulekha Bringha Oil is made up of 100% natural herbal ingredients that are made in pure virgin coconut oil base. Now it comes in an uniquely designed Selfie bottle.
Applying oil on your own has been made super easy by this Indulekha Selfie Bottle. The special feature of the bottle is that it has a special attachment on the top of the bottle. It has 6 cm wide and has got ten needles with holes at the ends. This attachment help to spread the oil on the entire scalp and makes sure that the oil is distributed easily all over the scalp.
List of the best Hair Growth Hair Oils in India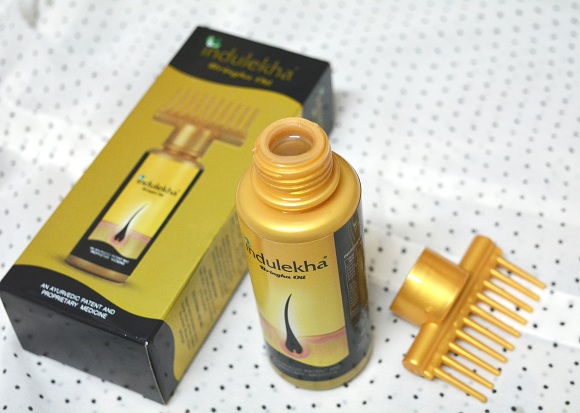 Ingredients of Indulekha bringha Hair Oil: 
This Indulekha bringha oil has the ingredients like Bringha, Aloe, Nimba, Karpura, Yashti, Amalaki, Draksha and some other herbal ingredients. These ingredients like bhringraj are made to get the super softer hair and also known to cure the hair problems that we suffer from like white hair, dandruff, baldness, alopecia and weak roots. Along with know about the best Bhringraj oils in India that can further help you.
Why I got this Indulekha bringha Hair Oil?
I got this Indulekha Bringha hair oil with the self help bottle. I liked the concept of this selfie bottle as it makes the application of the oil very easy. The oil is in the regular 100 ml bottle and there comes this separate attachment with needles like comb which lets the oil to come out and get smeared on the scalp easily. Once you have used this then it becomes extremely easy to apply the hair oil at night. While you do not have anyone at your home then you can try bottle with the comb like appearance.
Experience with Indulekha Bringha Oil (Selfie bottle)
I bought this oil after reading some very positive reviews. I was not sure if the reviews and the actual results are the exact one, but yet I felt that this is going to at least make my hair feel thicker and stronger. But why I thought the product is helpful and will fetch in relief in my hair fall? Actually the ingredients were quite enticing. It is the herbal ingredients that can make them stronger and thicker. At times, I apply such herbal packs and Ayurvedic treatments on my hair.
I am talking about the Ayurvedic solutions and treatments like the amla pack, bhringraj homemade oil, shikakai and reetha scalp cleanser etc. But honestly, these treatments and remedies are very time consuming. In today's life, time is the thing that most of us do not have so, while time is always less with us using hair oils which are loaded in all such Ayurvedic ingredients can do two benefits for us. Like we can get the benefits of herbal ingredients and that too without wasting much time.
The oil can be kept overnight which further gives multiple benefits. Do you know guys, when we keep our hair oils for the entire night then, we get the maximum benefits of the oils. The oil seeps much deeper in the scalp layer and hair also becomes bouncier. So, this was all my story of getting this hair oil for me.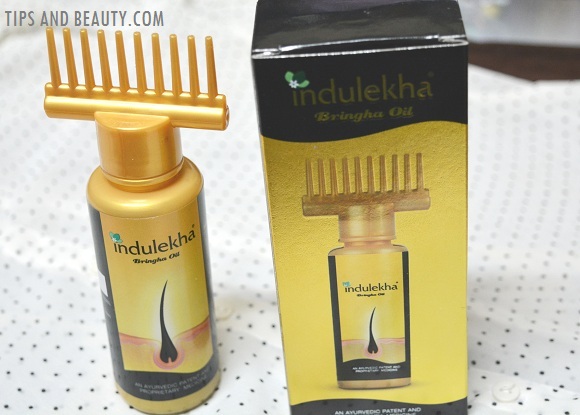 What I received in this box of Indulekha oil?
In the box, I received couple of products like a selfie bottle, an applicator which has the comb like hollow thin pipes and a handy guide. The pack of this oil contains the ingredients list like what this hair oil contains?
Advantage of this selfie bottle
The selfie bottle is designed to ensure that while you do not have anyone near you who can help in giving a nice champi then hair oil like this can help you. The selfie bottle as they have named it, is a uniquely designed applicator. The comb like bristles are wonderful in the oil application. You can also apply any other oil with this applicator. The pipe like bristles make the oil seep in to scalp more effectively. Taking the oils out is very easy just invert the bottle and squeeze it gently. I like this aspect of this bottle and hair oil very much. After all, it makes the hair oil application much easier.
How man times to use this Hair oil?
This hair oil can be used 2-3 times in a week so that the maximum benefits can be achieved. After the application, you can keep this for overnight or try to keep for 2 hours minimum. It won't be good if you apply oils daily and 2-3 times is more than sufficient.
Color and texture of the Indulekha oil
This Indulekha Bringha hair oil is dark brownish colored hair oil which smells very strong due to bringha and other herbs in it. This oil is not too thick and easy to massage the scalp. I have used this around 7 – 8 times in one month, which is like 2 times in a week approximately. The smell of this product as I said can be quite strong for a lot of you. So, many people will find it pungent but if a hair oil is suitable then you can surely overlook that point. Now, coming to how I applied it and what are the results that I got. With my review of this Indulekha Bringha hair, you can certainly make up your mind whether to buy this oil or not.
How I Use Indulekha Bringha Hair Oil
Now, I am telling you how I apply this hair oil on my scalp and hair to get the maximum benefits in my hair loss and roughness of the hair. This is the step by step procedure by which you can easily get help to apply this bringha oil.
Step 1: First of all, you have to remove the upper cap. Down inside there is this protective cap, in which you have to pierce a hole. You can use anything that can pierce a hole. The hole should not be very big as that will make the oil come at a faster rate. Doing so, can end up make the more than the required amount squeezed on your scalp.
Step 2: Once you have made the hole then put the applicator back on the mouth of the bottle. Make sure that the bottle and the cap are tightly shut as you do not want the mess while using the oil.
Step 3: Once I have done that, I use a comb and detangle all my hair. Now, what is the need of coming the hair before using this oil. Actually when we do oil massage then the hair can get more tangled. Hence, it is always better than you comb the hair first.
Step 4: Now apply the oil or simply use the applicator comb to combing the hair from top on the scalp only. You will feel the oil soaking the scalp nicely. When the oil is not combing then gently squeeze the bottle. This makes the oil flow on the scalp.
Step 5: Now that, the entire scalp is smeared with the oil, then you can massage the oil with your finger to make the oils seep deeper in the scalp.
Step 6: After the massaging is done, you can tie the hair in a bun. Men too can try this Indulekha bringha hair oil. It is always better to leave the oil overnight.
You can also watch this video to see how this oil can be applied on the scalp and hair properly.
So, this is how we can apply this Indulekha bringha hair oil on your hair and scalp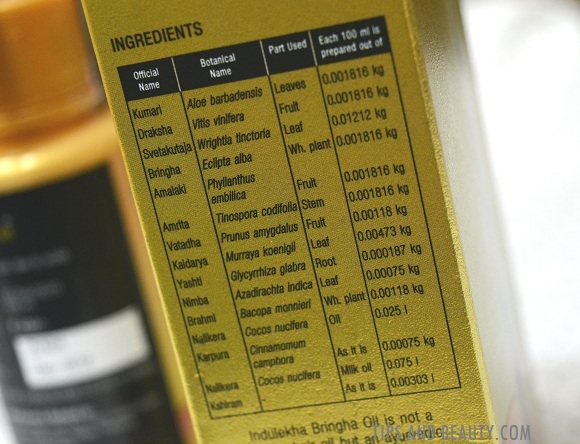 Indulekha bringha Hair Oil Results and what I expected
I was suffering from moderate hair fall before using this hair oil and my hair condition was okay. Only had some dry damaged hair ends and rest of my hair very in good state. I would massage the oil and leave it for the entire night. I wash the hair with shampoo the next morning. This oil is not difficult to remove from the scalp unlike some of the oil which will take a lot of time to get completely rinsed off.
After using this Indulekha Bringha Hair oil for so many times, I have seen positive changes in the condition of the hair. My hair is a lot more bouncier and shinier. The dry rough hair ends that was one of my problems, that too was solved and this hair oil has made my locks smoother. This is due to the so many Ayurvedic ingredients in this Indulekha Bringha hair oil. I would also like to state that to get the hair loss in check you can try some of these hair loss remedies easily.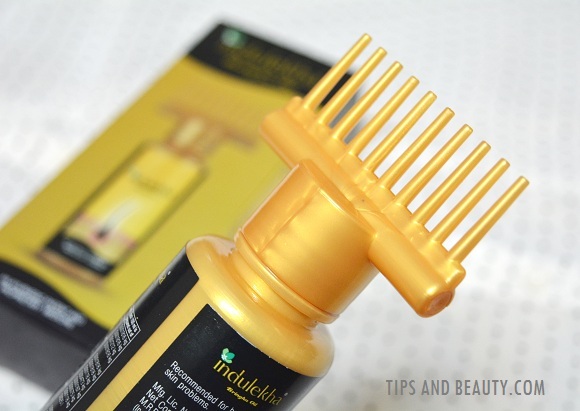 Now comes the most important question. Does this Indulekha hair oil stop hair fall? I will say in my case I have seen some improvement though not completely. My hair fall was reduced but I would also like to tell you that along with using this oil, I also kept the stress levels down and taken care of my diet. I took some vitamin and biotin supplements and had good protein rich diet so I cannot credit this Indulekha Bringha oil alone to reduce my hair fall.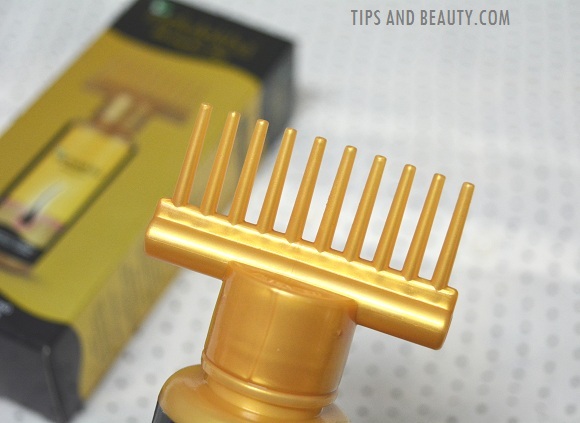 Moreover, I also find this Indulekha oil to be expensive for 432 rupees for 100 ml bottle. The price is my main complaint from this oil. I have used a lot of Ayurvedic hair oils but this was the costliest of them all. I liked that it has made my hair texture better and shinier and the self help bottle too is good but If I think again, I will say that I could get the same benefits by using Sesa herbal hair oil which too has some great Ayurvedic ingredients. So, I will recommend this oil to you if you do not mind spending that much on this oil as it really does improves the hair condition and texture.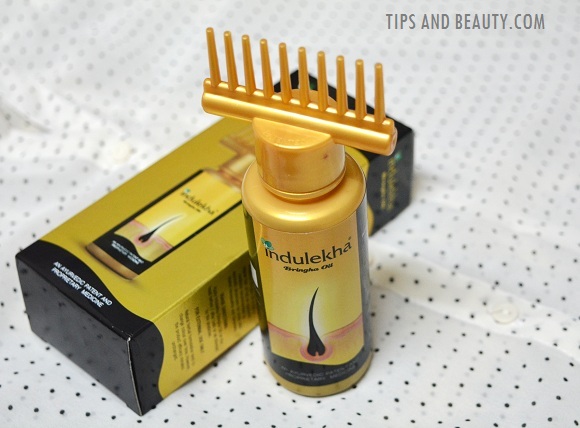 Are there any Side Effects of Indulekha Bringha Oil?
A lot of products for skin and hair can have side effects for some people. So, does this Indulekha Hair oil has some downside or allergies that it can cause. Honestly, I have not faced any side effects after using this Indulekha bringha oil. The Ayurvedic preparation is very safe and herbal. The oil has some rich Ayurvedic ingredients as I have stated above. These are pretty safe for most of the people but if you have some allergies with any of the ingredients then I can't say. You should thoroughly read the list of the products that are in there. This makes you know about its ingredients and you can asses if anything is there that can make your scalp itchy, red or filled with rashes.
I have not faced any problems with this oil. But to get the results, you should give time to such herbal preparations.
Pros of Indulekha Hair Oil
The hair is rich in the natural herbal ingredients that are valuable for the hair problems like hair fall, hair loss, dry hair, rough hair etc.
Most of the herbal ingredients are good to cure the hair roughness and dryness. Bhringraj is a natural ingredient that is wonderful for the cure of the balding and hair loss.
The liked the selfie bottle and it is fun to use that. Honestly, the bottle is very user friendly and gives ease to apply the oil. Moreover, it makes the hot massaging very easy and quicker rather than when you apply using your finger.
With regular use the hair have become shinier and a lot bouncier
It makes my hair texture smoother and softer, I like the smoothness that the hair has provided me with it regular usage.
Hair looks shinier and I am sure, men also love the hair product when it makes the hair shinier.
It also cures the dandruff and hair looks shinier and free of dandruff.
Cons of Indulekha Bringha Hair Oil
The smell is pretty strong but on the other hand, it also says a lot about the Ayurvedic ingredients in it.
Indulekha bringha oil is expensive  for a lot of people
It does not control the hair fall too effectively. The oil does show some results but that is not as we expect. Though miracles cannot happen. You have to be regular in using this oil.
Rating: 3.5 out of 5
If you do not mind the price and wants to improve the condition of the hair then do try this Indulekha Bringha hair oil but when it comes to hair fall, it is not miracle oil. It may help you reduce it but you may know that it depends from person to person. I will suggest you to take good diet along with using hair oils and hair care products.
Recommended Articles: