Joy Almond and Honey Nourishing Skin Cream review and Price
I will review Joy Almond and Honey Nourishing Skin Cream which has the goodness of almond and honey. This cream is basically a skin cream for face and body and can also be used as a facial massage cream. Read on to know more about this cream.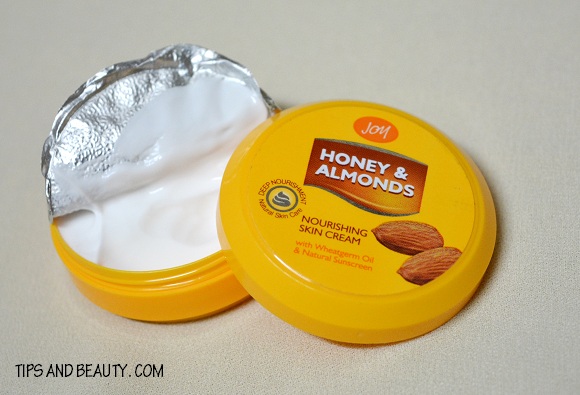 Price of Joy Almond and Honey Nourishing Skin Cream: This cream is priced at 60 Rupees for the 80 ml tub and small packs for 15 ml are also available that can be carried in small bags.
Review of Joy Almond and Honey Nourishing Skin Cream
This cream comes in a cute looking tub pack and I got this small pack which is very good to be kept in my bag. Smaller sized products are always good as they can be easily carried and used when needed. This cream only has the key ingredients almond and honey mentioned on the pack but that would have been better if they would have mentioned the complete list of ingredients as I could not find the list of ingredients for this skin cream anywhere. This cream is also available in other two variants like aloe vera and skin fruit cream. I have used this cream as a body massage cream. It has some very mild fragrance and smells good. It is not too thick or heavy and with gentle massaging gets fully absorbed into my skin. This skin cream is good to massage the hands, legs and body. It moisturizes and nourished the skin amazingly with its moisturizing formula.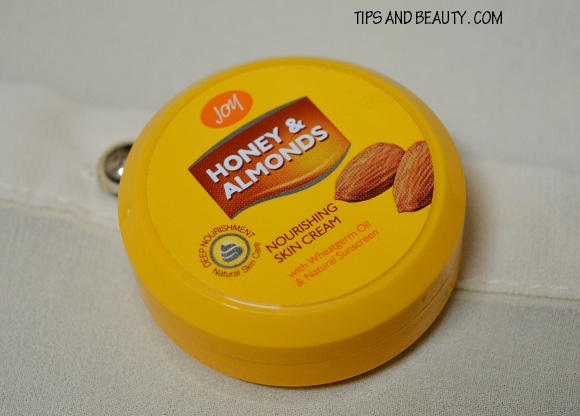 My skin is more on the combination and oily side even in winters therefore I can't use this cream on the face but my relatives who have dry skin can use this for the face and it very well hydrates their dry skin. It nourished and heals the dry skin positively. My cousin have very dry skin and most of the skin creams that she uses will make her dry skin moisturized only for some time. After that she has to reapply the cream but this nourishing cream is better than most of that skin creams as it is greasy and keeps the dry skin well hydrated for a long duration.
This Joy Almond and Honey Nourishing Skin Cream can be used for the body as more like a body butter . Its greasy nature and formula hydrates the skin up to 5 plus hours which is good for a skin cream that cheap and inexpensive.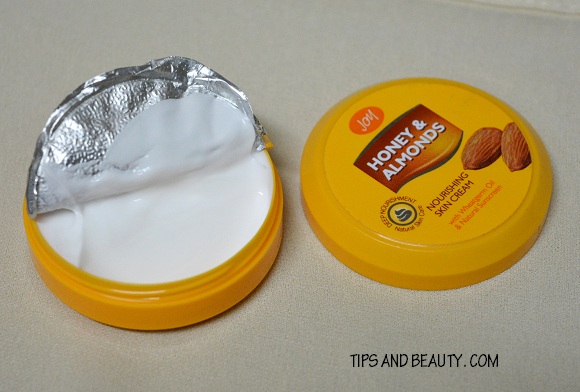 Good things about Joy Almond and Honey Nourishing Skin Cream
It is not expensive

Packaging is good

Good as body massage and hand cream

It is good as face cream for dry skin

Keeps the skin moisturized for 5 plus hours

Can also be face massage cream for the facial

Has the goodness of almonds and honey
Not so good on Joy Almond and Honey Nourishing Skin Cream
Not for oily skin as face cream

Full list of ingredients is not there

Availability can be an issue at some places
Rating for Joy Almond and Honey Skin Cream: 3.75 out of 5
This Joy Almond and Honey Skin Cream is very inexpensive and can be used as both as face cream and body moisturizer but not on the face when your skin is oily otherwise for the normal to dry skin this cream is good for facial massage and body cream. It would have been good if they would have shown the full list of the ingredients used in preparing this cream.