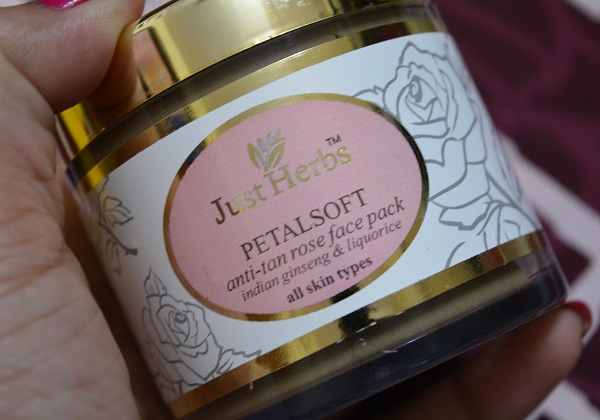 Just Herbs Anti Tan Rose Face Pack Review and How to Use this pack. Hello everyone!! When summers come then there are skin problems like skin darkening, sun tanning, sun brands etc. These problems will enhance if not taken care of in time. I will review Just Herbs Anti Tan Rose Face Pack which I got long ago and I have already finished it up. The face pack is rich in the tan removal properties as this has been enriched with the natural ingredients. So, let' know more about it in my Just Herbs PetalSoft Anti Tan Rose Face Pack review. By the way friends, do you know that when the sun tanning is not taken care of in time, that can also result in the permanent type of skin darkening. This is why, I always check that I use the anti tan products which can lighten the tan and help me in getting back my original complexion.
Price of Just Herbs Anti Tan Rose Face Pack:
375 rupees for 100g pack.
Experience with the Just Herbs Anti Tan Rose Face Pack
Just herbs is a herbal skin and hair care brand. I have used so many of their products so far. I actually got a kit long ago from winning some eye makeup contest so they has sent me this Just herbs kits and honestly friends, most of their products are really good. This is an Anti tan pack which mean that this pack can help you in getting the original skin complexion. When we stay a lot longer in the sun then skin can get darker and wrinkling can also happens. This is also true that we just cannot avoid the sun at all as if you are a college student then you have to travel and during college hours too, we have to spend some time under the sun. Same is applicable to the working women as well. Even for the housewives who stay at home, have to go out in the sun for shopping etc. So, the best cure is to using products that can help combat the tanning and not letting the skin get permanently tanned. When we neglect the tan and do not remove that on time, that that can get accumulated and become permanent like pigmentation. Therefore this is crucial you get rid of the tanning. We have shared some effective home remedies for sun tan earlier, you can also read those.
Now coming back to the Just Herbs Anti Tan Rose Face Pack, the pack is packaging in a plastic wide tub with a  metallic like lid. The packaging is good but I just wish if it was in a tube packet application would have been a lot easier. Anyways, the face pack is light brown in color and is very thick like mutani mitti. I have noticed that a lot of anti tan face packs have multani mitti as a base as fuller's earth helps remove the tan efficiently. Check out our best homemade multani mitti packs
How to use this:
Just like all the other face packs and masks this has to be applied on the cleansed skin. I will first of all clean my skin with a face wash or with a cleansing milk. I then take some of this, around a teaspoonful of this Just Herbs Anti Tan Rose Face Pack and would apply this all over my face and neck as well. This is very thick so, you must splash the face with some water. It will help the pack to get smeared evenly on the face.
After the application, I wait for this pack to get fully dry. It does get dry within 20-25 minutes depending on the season. After that it's time to remove the pack. The pack is very thick so to remove it takes a little extra time. Finally when I am done removing it and rinsing the pack off the skin, I will pat dry my face.
Results:
My skin feels a lot clearer and softer after using this Just Herbs Anti Tan Rose Face Pack which I liked and The tanning that I had on my skin that too has been reduced. So, after using this anti tan pack for 3-4 times, I have seen positive changes, like the skin looks supple, softer and even toned. Moreover, the skin also become tighter since multani mitti tightens the face too.
This pack has multani mitti, rose, holy basil that we call as tulsi and licorice which is mulethi. Licorice is suitable for improving the skin tone and texture of the skin while tulsi cures the acne. Also go through our post on how to use mulethi for fairness
After using this pack for several times, I have not faced any irritations. Itching etc on my skin and I feel this can be tried by everyone and all skin types. If your skin is dry and you feel that they is some stretching of the skin then apply a light moisturizer.
Pros of Just Herbs Anti Tan Rose Face Pack
Has nourishing ingredients
Helps reduce the tan and brightens the skin complexion
Easy to apply but little messy to remove
No parabens and 100% chemical free pack
Pack is good as a Travel friendly pack
Pleasant fragrance of roses and mild subtle scent of multani mitti
Makes the skin soft and supple
Cons of Just Herbs Anti Tan Rose Face Pack
Availability is not widespread
May be a tube packaging would have been better as the tub pack is unhygienic as per me
Dry skin may feel tad dry due to multani mitti that absorbs the oils but moisturizers can be applied
Rating for Just Herbs Anti Tan Rose Face Pack: 4 out of 5
Just Herbs Anti Tan Rose Face Pack is a good tan removal facial pack for oily skin that is made with organic ingredients that aids in the removal of tanning. It brightens the skin complexion and also nourishes the skin. The skin appears bright and glowing after using this. Using this once in a week can keep the skin in good state for sure.
So, this was the Just Herbs Anti Tan Rose Face Pack review! How did you like it? Have you tried it yet?