Kareena Kapoor Eye Makeup Inspirations and How to do
Kareena Kapoor is a stunning beauty who loves to sport beautiful eye makeup. Her eye makeup looks are easy yet give a smokey effect and makes her eyes look mesmerizing. We have compiled Kareena Kapoor's eye makeup look with some explanation on how to get the eye makeup like Kareena Kapoor. She has sported variety of different eye makeups in her films and the best one that suits her is the kohl rimmed smokey eye look. 
1. Soft Smokey Eye Makeup

This makeup look can be paired with a red lipstick like she has here or can also be paired with coral, wine, or oxblood shade of lip colors. Here is how to achieve this Kareena kapoor eye makeup for yourself.
In this eye makeup, she has a grayish eye shadow on the eyelids.

So, apply a dark grey eye shadow and same dark grey near the lash line as well.

Apply that in a diffused state so that the underneath the eyes there is very subtle brown eye shadow.

You can also wear false eyelashes are here and with loads of mascara.
2. Kareena's Smokey Eyes with Neutral Lips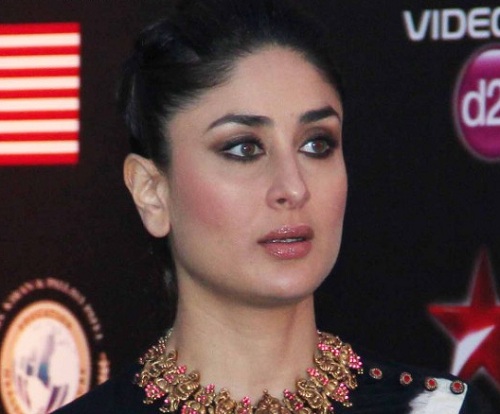 In this makeup look, she has this gorgeous smokey eye makeup.

There is a dark brown eye shadow on the eyelids and eyeliner drawn out with a pencil instead of the regular liquid or gel eyeliner.

Using a pencil to line the eyes gives a more subtle and softer look without the harsh edges.

The same pencil or black eye shadow has been used on the bottom of the eyes as well.

This look is paired with a neutral lip color and she looks breath taking.

The same can be tried with an oxblood or red lipstick.
This eye look can be also be paired with red lips for Indian outfits for wedding or pre-wedding functions. You can also change the base eye shadow color, like a light pink or orange or even blue and greens.
3. Kareena's Day Time Fresh Makeup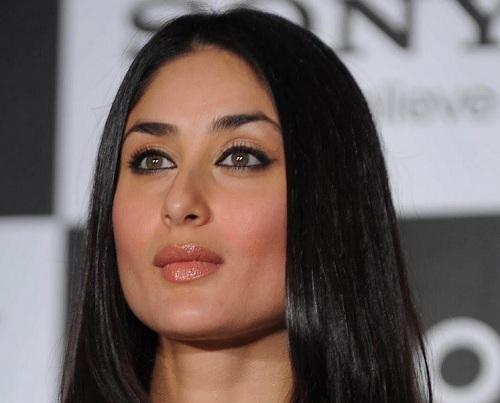 This makeup look is appropriate for the day time or for the date night. It can be a good everyday makeup for work or office even for college as this is not over the top and loud.
All you need to do is to apply a golden eye shadow on the eyelids.

Apply eyeliner with a pencil and then put kajal on the waterline.

Take an angled brush, take some dark brown eye shadow on that and gently swipe that under the eyes.

Apply full 2-3 costs of mascara.

This eye makeup can be paired with peachy or neutral gloss.
4. Eye Makeup for Indian wear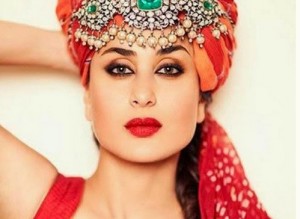 This makeup looks absolutely beautiful and she looks great. This makeup will look great on the Indian traditional wear like saree, lehenga, salwar kameez etc. To get this eye makeup like Kareena Kapoor follow the tips and steps here.
Start by applying a gold shade on the lids. Blend that nicely over the entire lids and brow bone as well, since gold is a color which highlights the brow-bone.

Take a matte black eye shadow and apply that on the outer corner of the eyes in a V shape. Blend that too so that the edges are blended seamlessly.

Apply an eyeliner with an angled brush with the help of a black eye shadow for a softer look. A liquid or cream eyeliner is not required here as that will have very stark edges and we need softer lines here for this look.

Apply kohl and use that same angled brush under the waterline to create a smokey eye look.

This look will be paired best with red lips with a cocktail dress or even when you are heading for a relative's or friend's wedding.
5. Smokey Brown Eye Makeup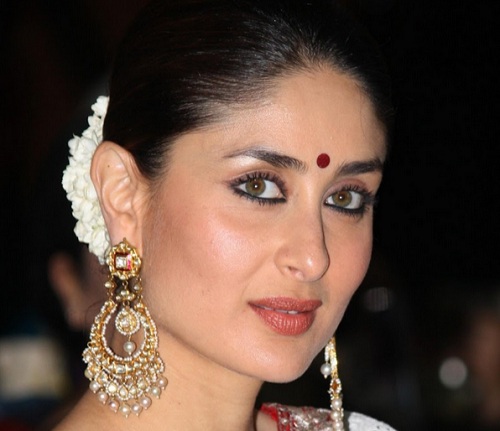 This is one of the best look that we like on Kareena. She looks gorgeous with that makeup. To replicate this beautiful eye look, you can do the following steps.
Apply kajal on the waterline and subtle brown eye shadow on the eyelids.

Soft brown shimmery shadow looks good as that goes well with the Indian skin complexion.

Moreover, such eye colors gives a nice very subtle smokiness to the eyes.  

Use a brown eye pencil on the lash line to line the lashes.

Swipe some black pencil under the waterline and finish off with mascara.
So, these were some of the timeless and gorgeous eye makeup that Kareena wore. You can can definitely try these and people should also try her classic kohl rimmed smokey eyes.
Also see these posts on what make up you can try when you wear a certain color dress.
How to do Makeup for Black Dress
Makeup Up Ideas for Green Dress