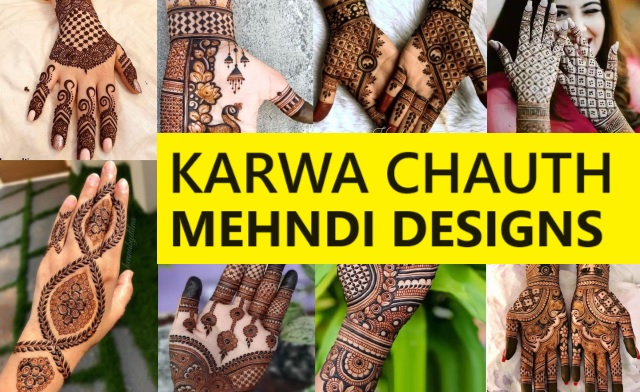 Karwa Chauth Mehndi Designs: Karwa Chauth is a traditional Hindu festival celebrated by married women, primarily in Northern India, where they fast from sunrise to moonrise for the well-being and longevity of their husbands. One of the key aspects of Karwa Chauth is the application of mehndi (henna) designs on the hands and feet of married women. Here are some popular Karwa Chauth mehndi designs:
Traditional Circular Mehndi Design:
A popular choice for Karwa Chauth is a circular design in the center of the palm, often featuring intricate patterns, paisleys, and mandalas.
Traditional motifs like peacocks, lotus flowers, and dholki (drum) are commonly incorporated.
The fingertips are usually filled with intricate designs and henna is applied to the lower part of the fingers.
Floral Mehndi Design:
Flowers and petals are an essential part of mehndi designs for Karwa Chauth.
You can have a central flower with intricate petals and vines extending to the fingertips.
Different types of flowers like lotus, roses, and marigolds can be included in the design.
Dulha-Dulhan (Bride and Groom) Design:
Some women also go for a Karwa Chauth mehndi design that includes a bride and groom, symbolizing the marital bond.
The bride and groom figures can be drawn on the palm, and you can add intricate patterns around them.
Moon and Star Mehndi Design:
As Karwa Chauth revolves around the sighting of the moon, a moon and star design is a fitting choice.
You can have a crescent moon with stars and patterns around it.
Peacock Mehndi Design:
The intriguing peacock is a symbol of beauty, passion and love. A peacock-themed mehndi design can be striking and colorful.
The peacock's feather can be extended from the wrist to the fingertips with intricate details.
Minimalist Mehndi Design:
If you prefer a simpler and more understated design, you can opt for minimalistic patterns.
Simple mandalas or geometric shapes can be applied on the palm and fingers for a subtle yet elegant look.
Remember that the choice of mehndi design can vary depending on your personal preferences and the skill of the mehndi artist. Some women also choose to have personalized elements like their husband's initials or special symbols that are meaningful to them. The application of mehndi is a beautiful tradition during Karwa Chauth and allows women to showcase their creativity and express their love for their husbands.
Mehndi designs, also known as henna designs, are popular across various cultures and occasions. They come in a wide range of styles and patterns. Here are some types of mehndi designs:
Traditional Indian Mehndi:
Traditional Indian mehndi designs are characterized by intricate and elaborate patterns.
They often include peacocks, paisleys, lotus flowers, and other intricate motifs.
These designs cover the palms, back of the hands, and may extend to the forearms.
Arabic Mehndi:
Arabic mehndi designs are popular and are known for their curvy bold and flowing patterns.
These designs often feature large floral motifs, leaves, buds and vines.
Arabic designs typically have less coverage on the hands and more negative space, creating a striking contrast.
Moroccan Mehndi:
Moroccan mehndi is inspired by Moroccan art and design elements.
These designs often include geometric shapes, such as triangles and diamonds.
They have a contemporary and unique look.
Sindhi Mehndi:
Sindhi mehndi designs are a blend of Indian and Arabic styles.
They are characterized by detailed patterns that cover the palms and extend to the fingertips.
Intricate shading and fine lines are commonly used in Sindhi mehndi.
Bridal Mehndi:
Bridal mehndi designs are typically more intricate and extensive, covering the hands and feet.
They often include the bride and groom's initials or hidden names within the design.
Bridal mehndi is an essential part of wedding ceremonies in many cultures.
Rajasthani Mehndi:
Rajasthani mehndi designs are traditional to the Indian state of Rajasthan.
They often feature motifs like camels, peacocks, and royal palaces.
The designs are intricate and reflect the rich culture of Rajasthan.
Gulf Mehndi:
Gulf mehndi designs are popular in the Middle East, especially in countries like Saudi Arabia and the United Arab Emirates.
They are known for their bold, dark designs with floral and paisley motifs.
Gulf mehndi often features thick henna application for a deep color.
African Mehndi:
African mehndi designs are influenced by various African cultures.
They may include tribal patterns, animals, and symbols significant to the culture.
African mehndi has a unique and vibrant aesthetic.
Modern and Minimalist Mehndi:
Some people prefer modern or minimalist mehndi designs with simple lines, dots, and geometric shapes.
These designs are less intricate and cover only specific areas of the hands or feet.
Finger Mehndi:
Finger mehndi designs focus primarily on decorating the fingers, leaving the rest of the hand bare.
They are often chosen for a minimalistic and contemporary look.
The choice of mehndi design can vary based on the occasion, personal preferences, and cultural influences. Mehndi artists often combine elements from different styles to create unique and customized designs.
Latest Mehndi Designs for Karwa Chauth
1. Front Hand Karwa Chauth Mehndi Design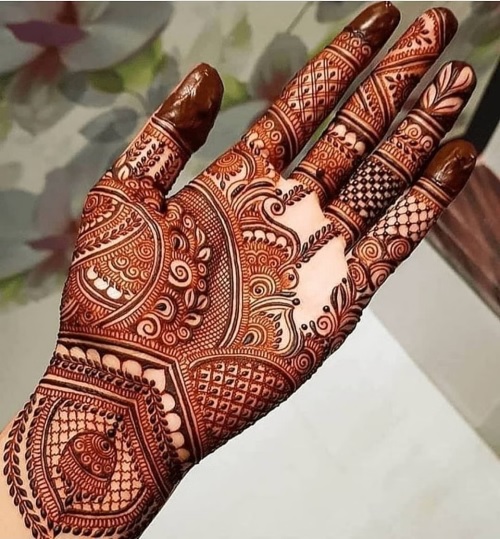 2. Intricate Full Hand Mehndi For Karwa Chauth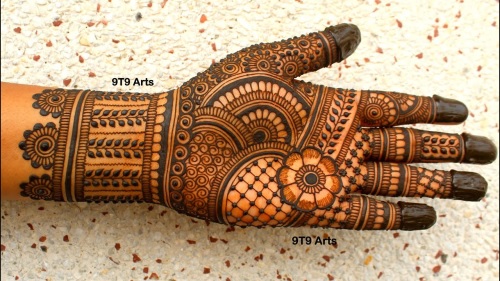 3. Eye Catching Full Front Hand Design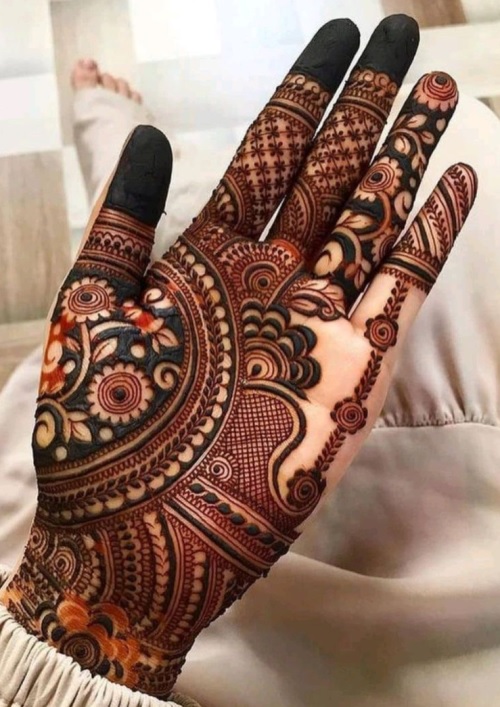 4. Round Circlet Intricate Design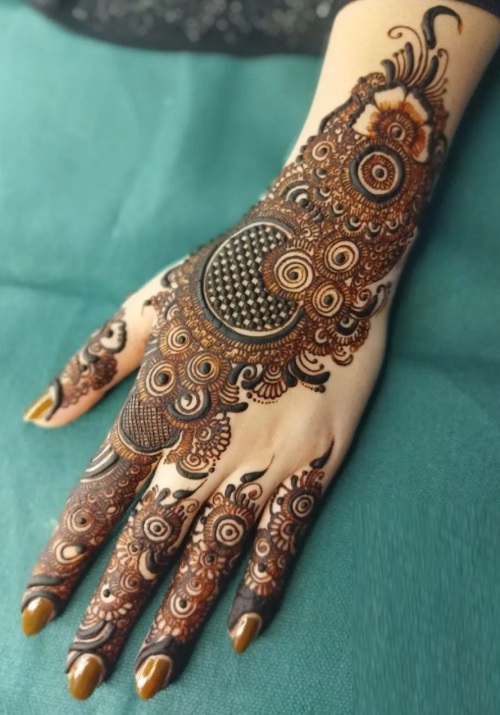 5. Dark Karwa Chauth Mehndi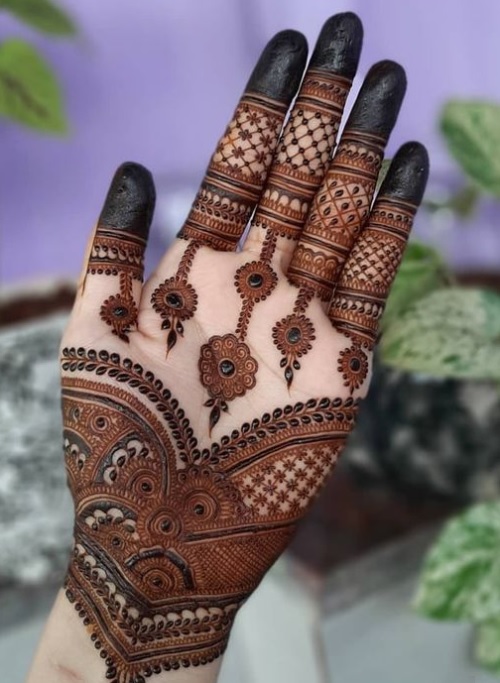 6. Full Back Hand Design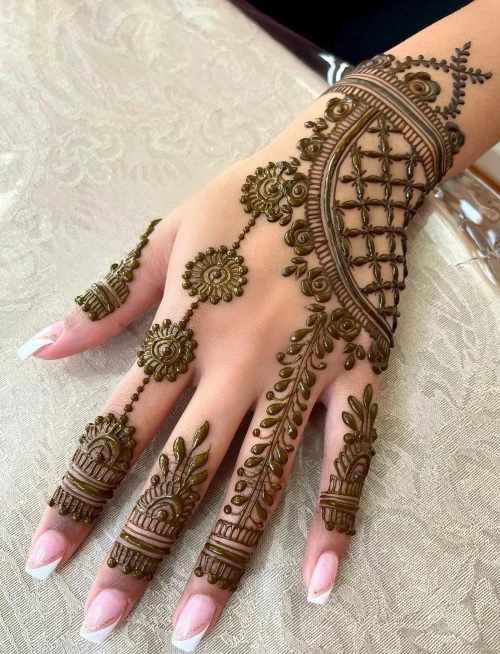 7. Single Line Front Mehndi Design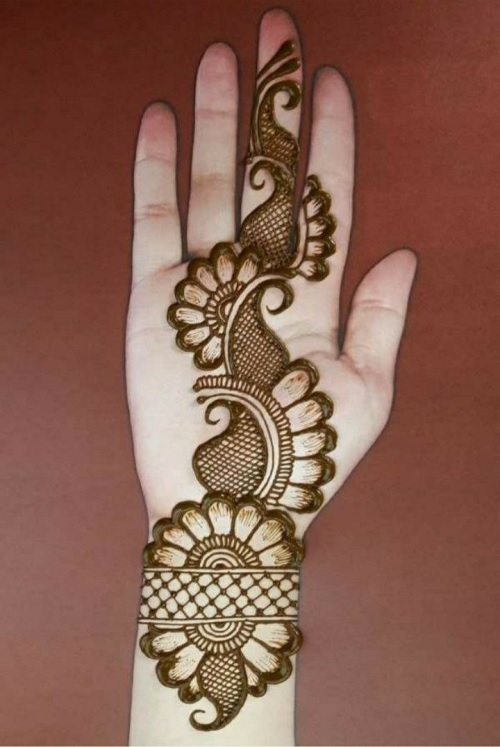 8. Back Hand Karwa Chauth Mehndi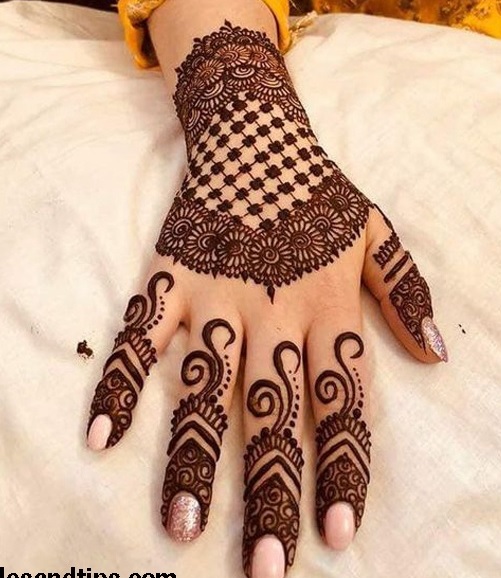 9. Stylish And Contemporary Mehndi Design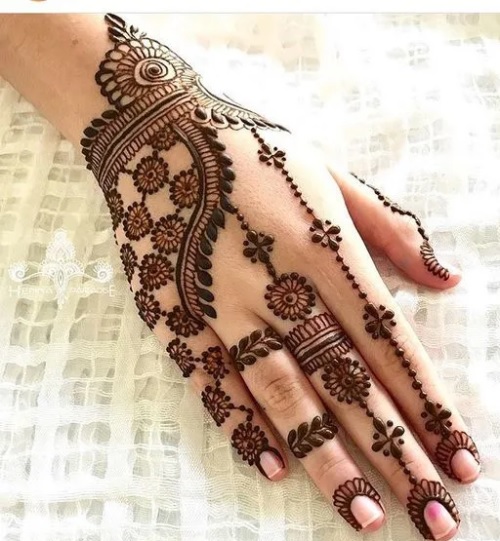 10. Simple Vines Mehndi Pattern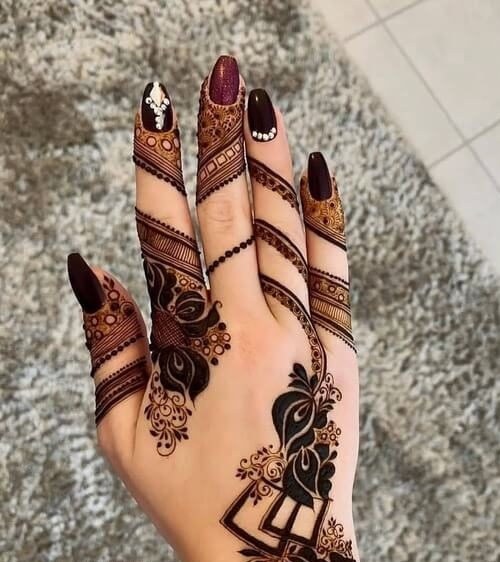 11. Simple Beginner Mehndi Design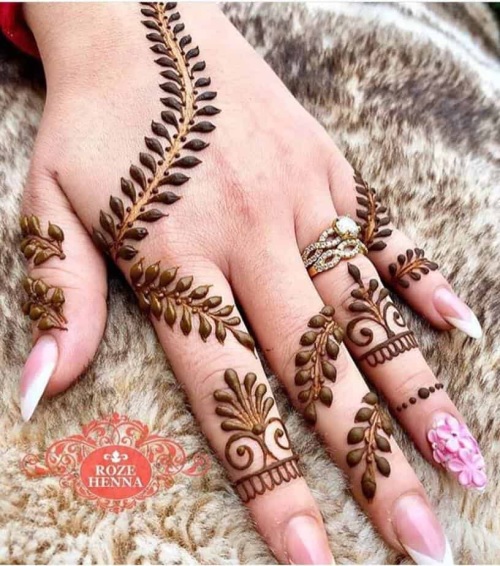 12. Back Hand Mesh Work Mehndi Design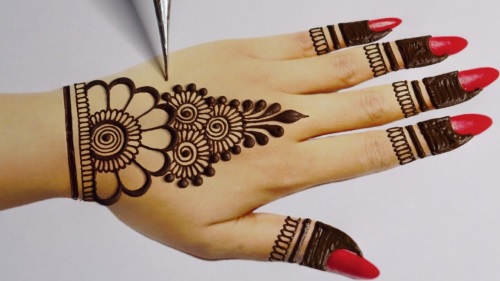 13. Jewelery Work Back Mehndi Design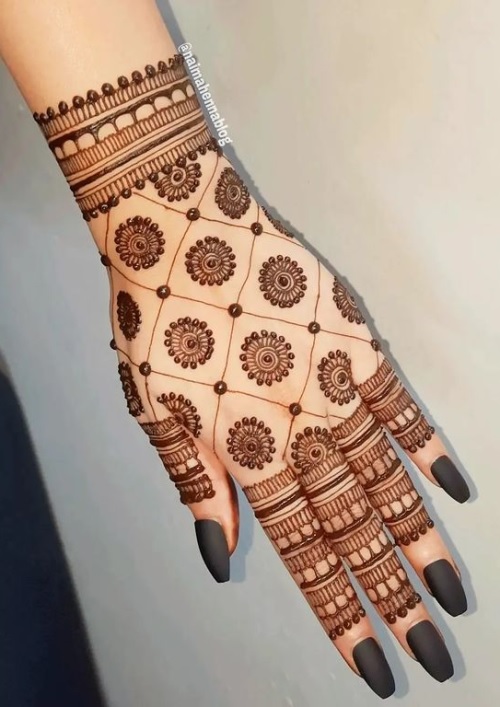 14. Filled In Floral Front Hand Mehndi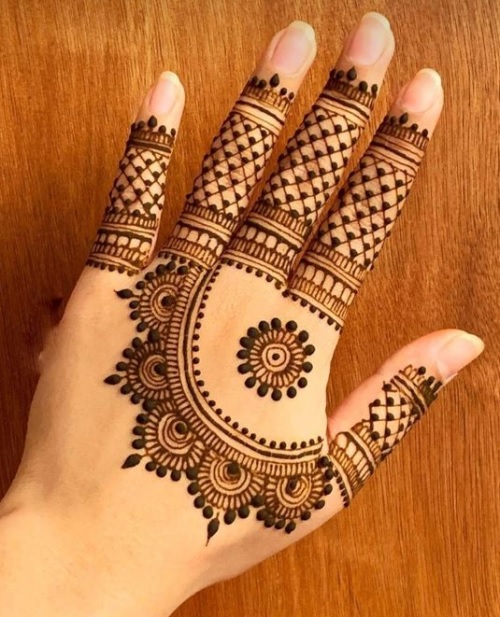 15. Beautiful Karwa Chauth Mehndi Pattern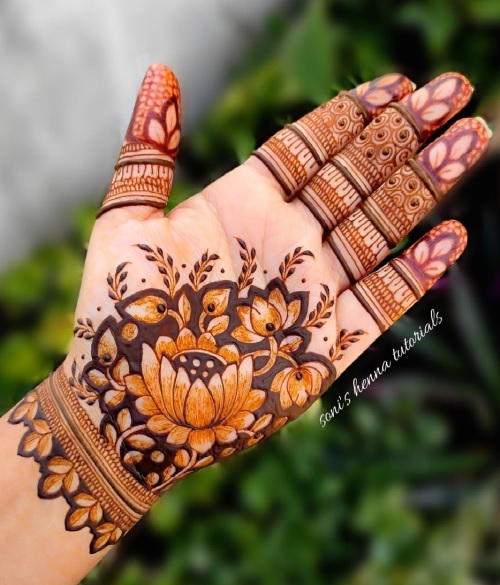 16. Back Double Pattern Mehndi Design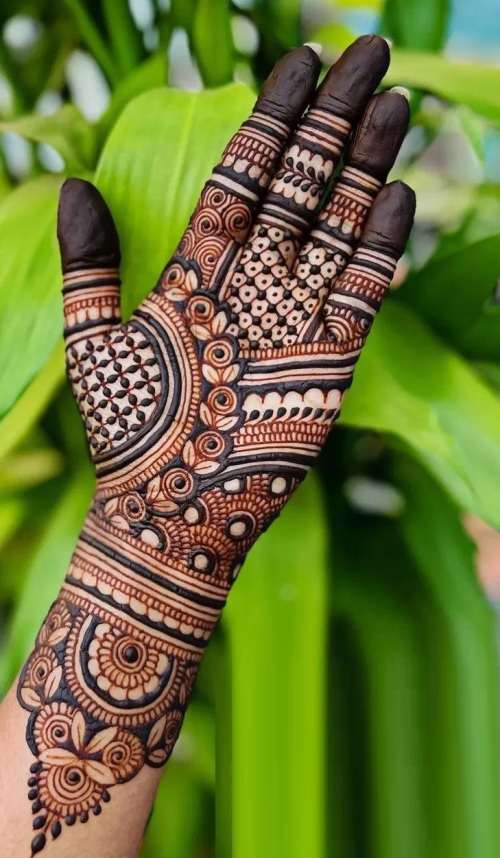 17. Mesh Back Design Mehndi Design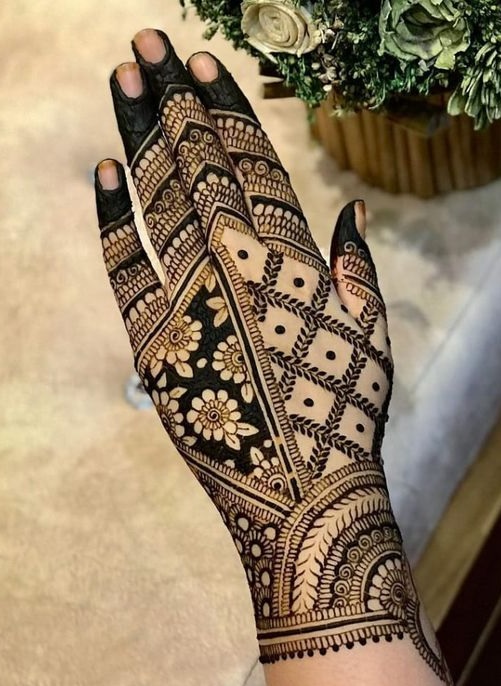 18. Bridal Mehndi Full Front Hands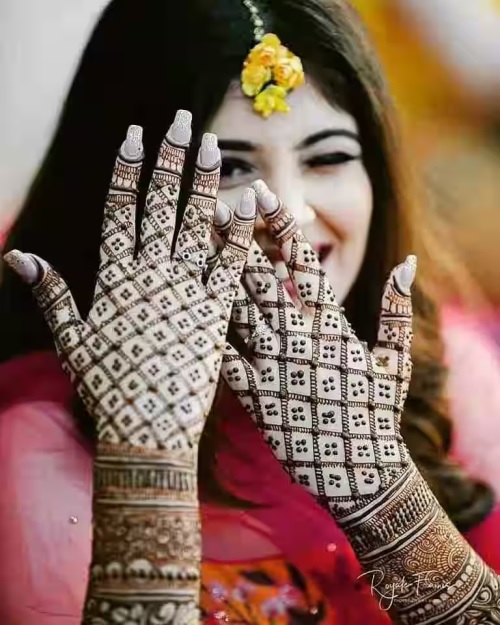 19. Back Deep Dark Intricate Design Mehndi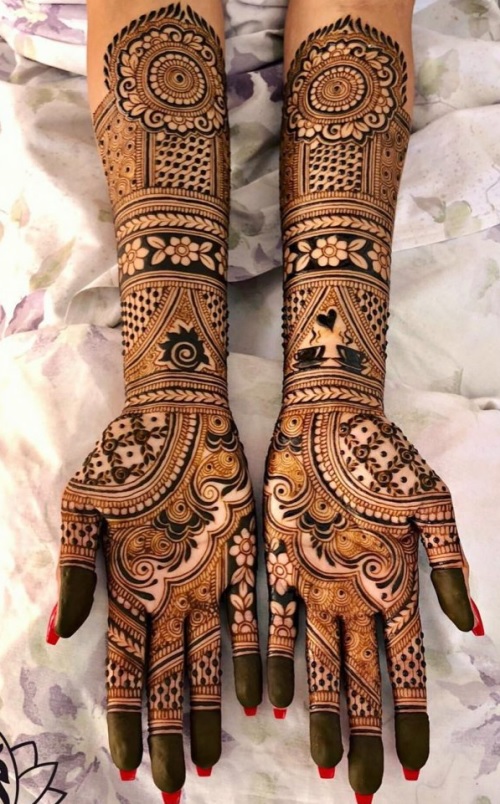 20. Front Hand Peacock Mehndi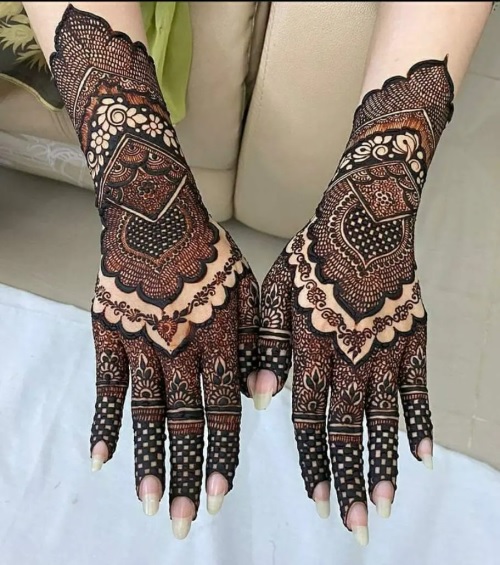 21. Simple Peacock Mehndi For Karwa Chauth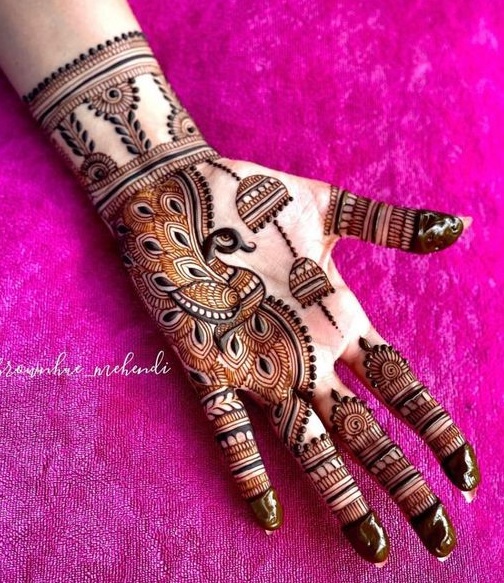 22. Back Hand Lotus Mehndi Design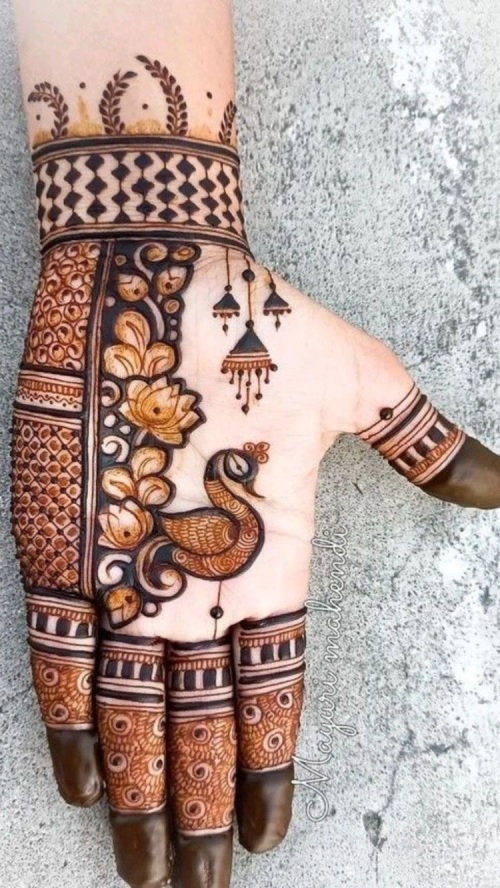 23. Back of Hand Lotus Filled Design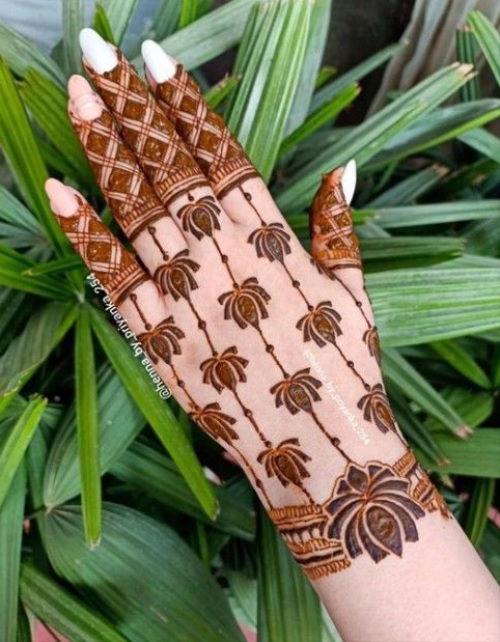 24. Peacock Front Mehndi Design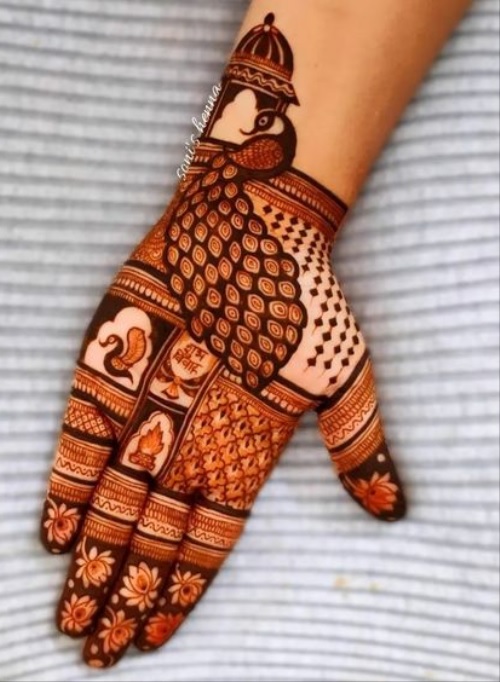 25. Floral Stylish Modern Mehndi Pattern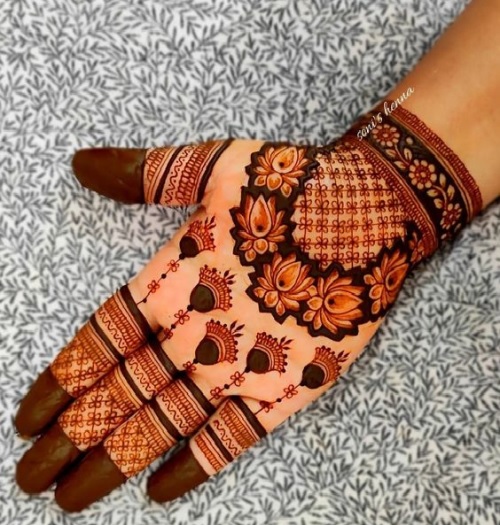 26. Lotus Floral Back Hand Mehndi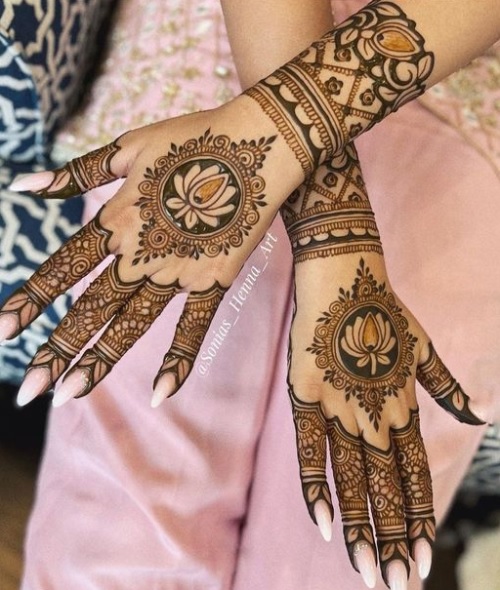 27. Front Filled In Lotus Mehndi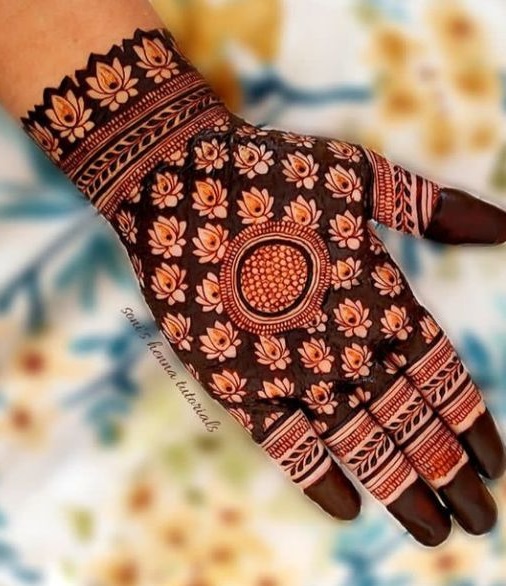 28. Karwa Chauth Both Hand Dark Mehndi
29. Half Hand Mehndi Design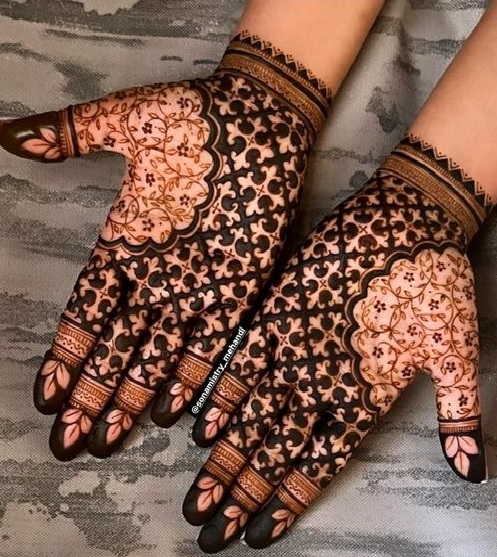 30. Back Hand Instruments Design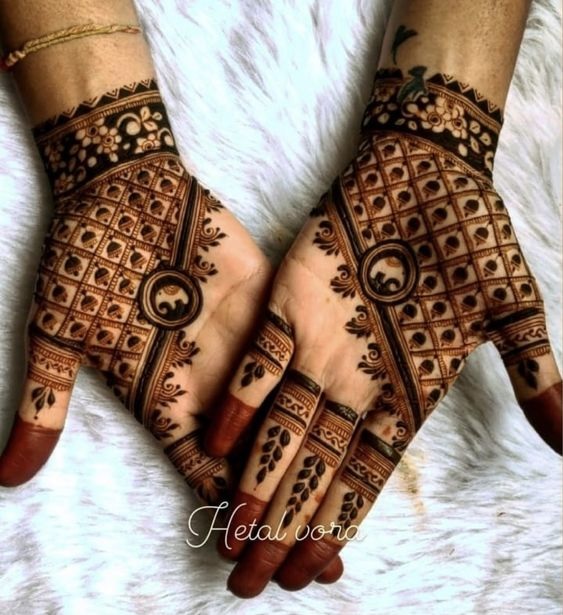 31. Front Palm Mehndi Design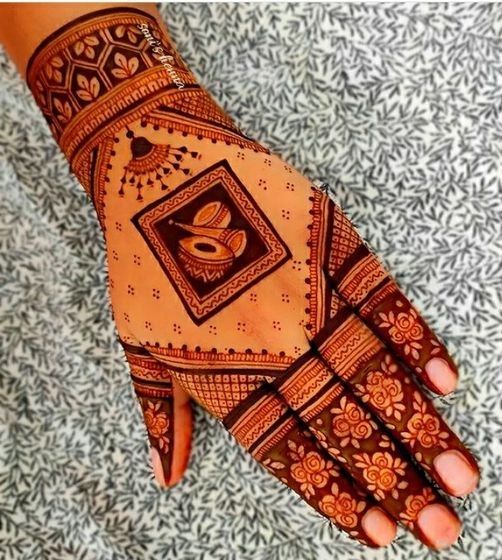 32. Stylish Karwa Chauth Mehndi Design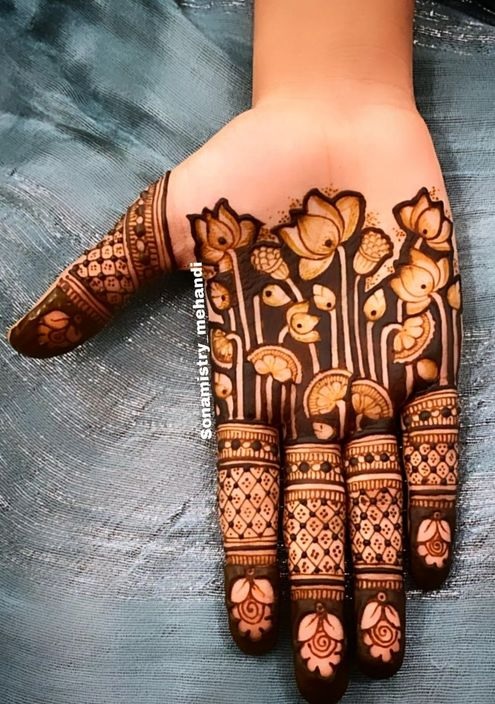 33. Bells And Floral Mehndi Pattern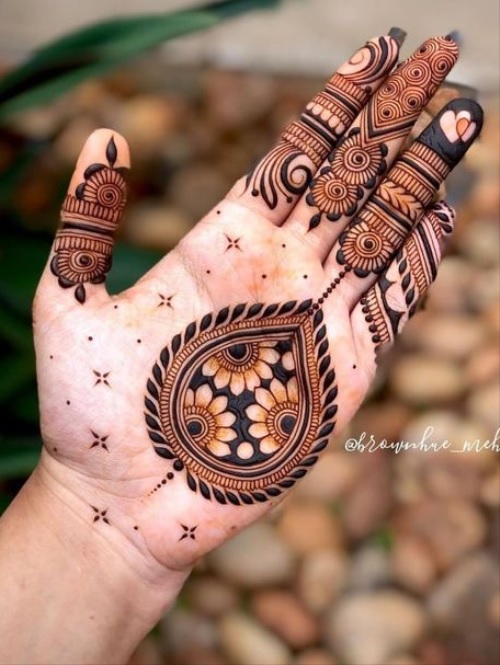 34. Minimalist Back Karwa Chauth Mehndi Design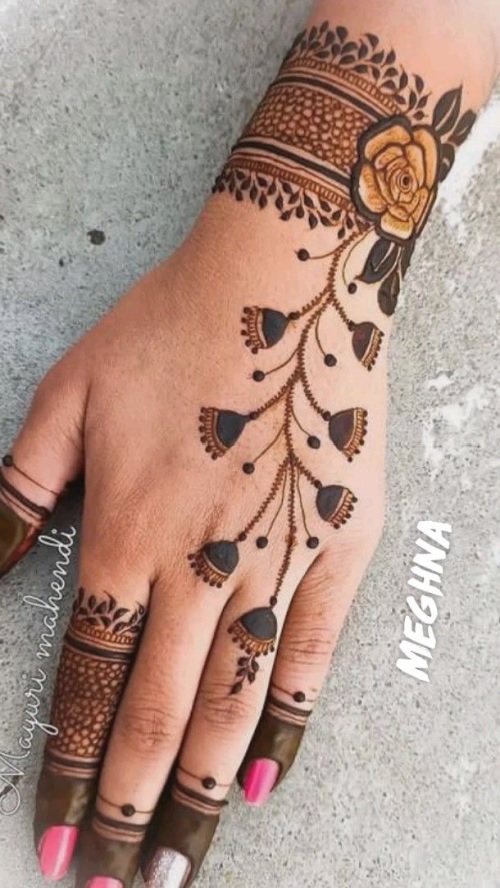 35. Big Floral Mehndi Design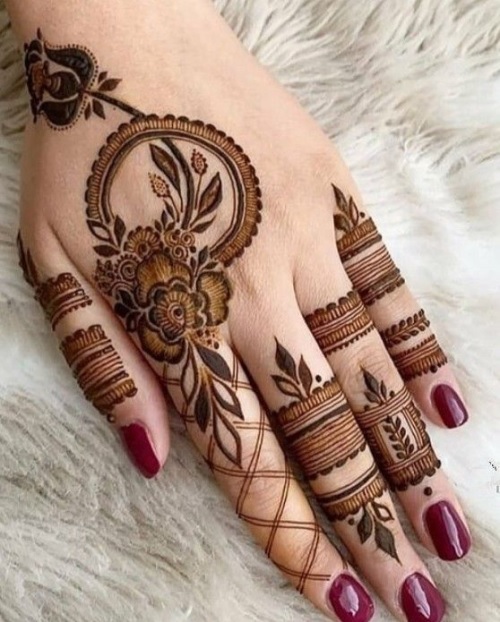 36. Twig Pattern Mehndi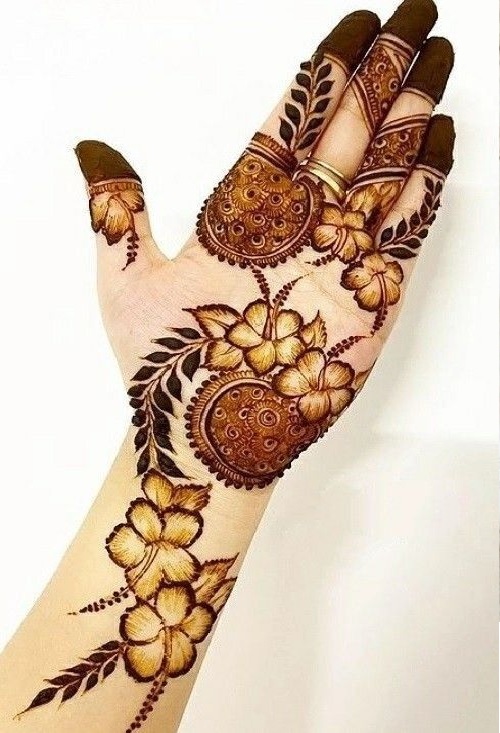 37. Simple Easy Mehndi For Karwa Chauth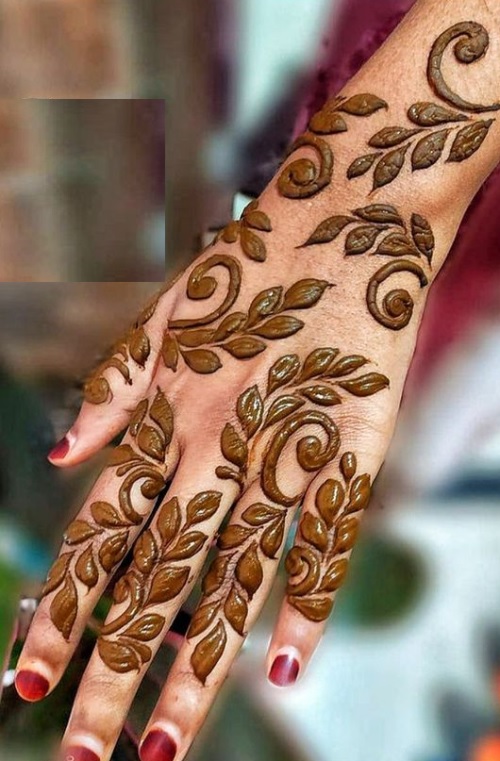 38. Heart Shaped Mehndi Pattern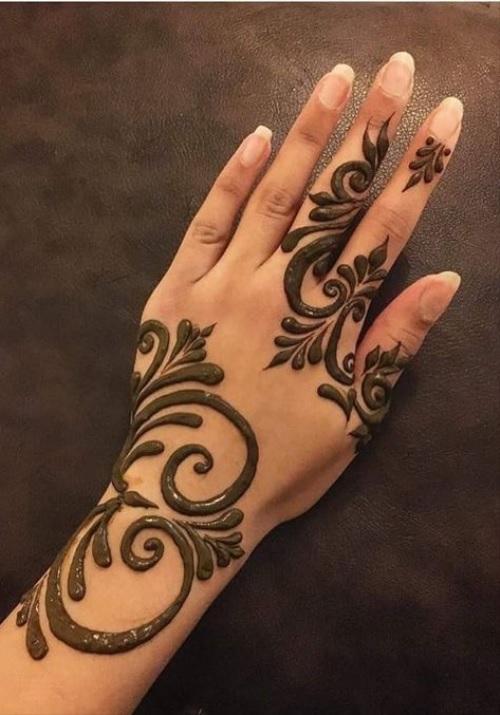 39. Intricate Intertwined Mehndi Pattern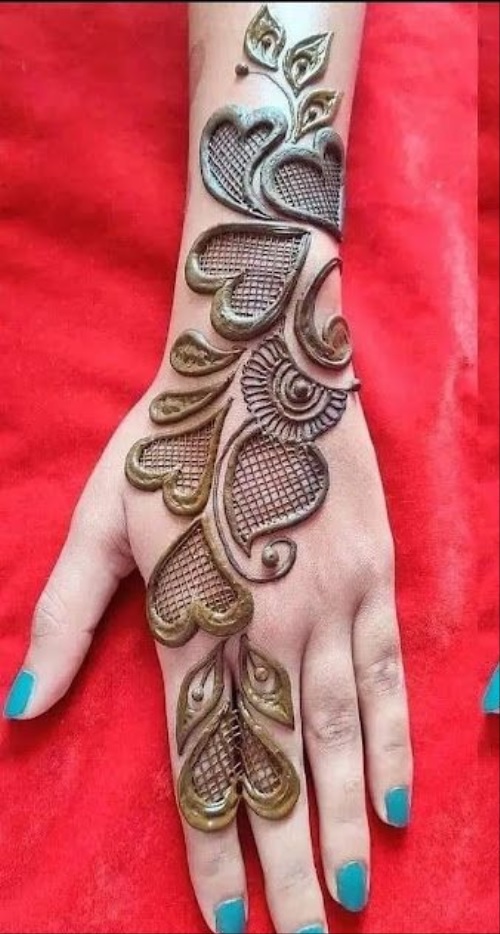 40. Floral Professional Karwa Chauth Mehndi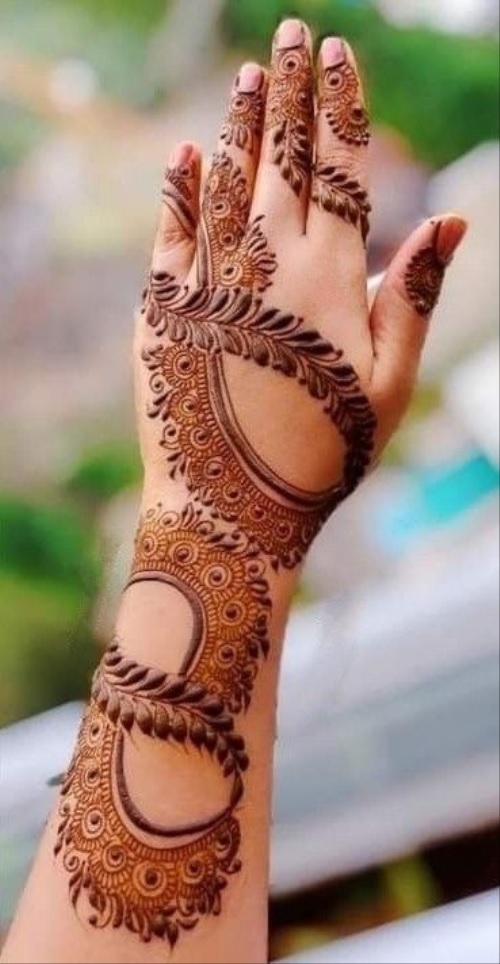 41. Front Floral Simple Mehndi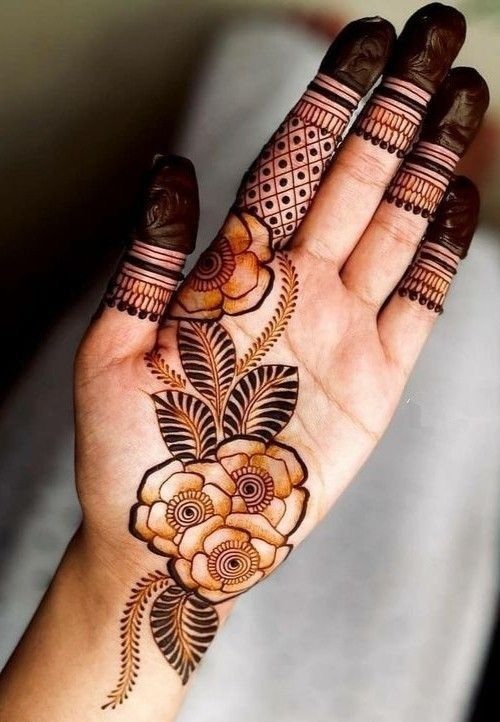 42. Simple And Easy Mehndi For Festival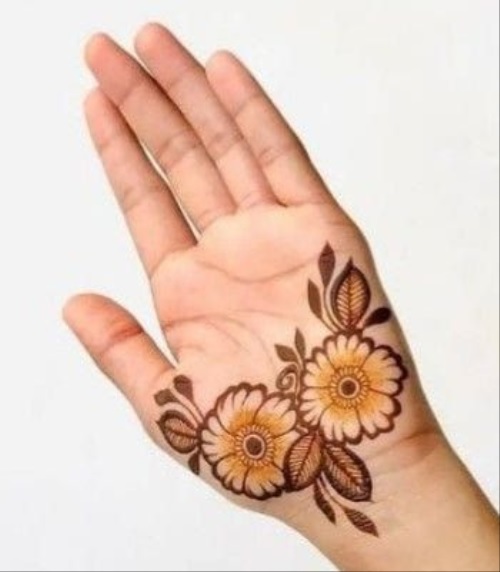 43. Rose Flower Karwa Chauth Mehndi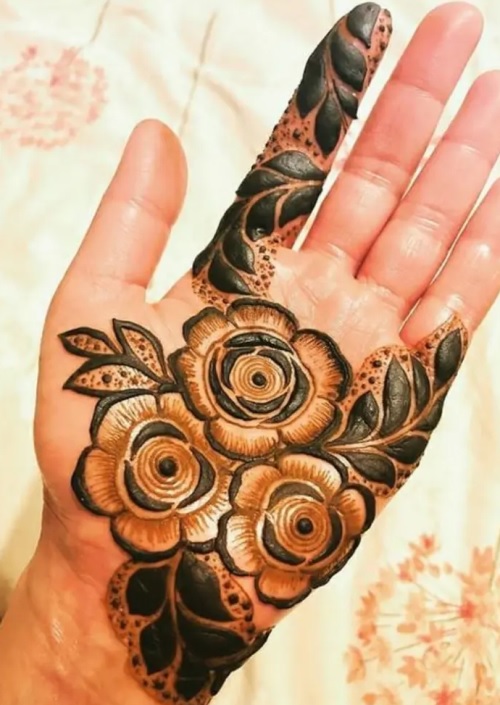 44. Circular Back Mehndi Pattern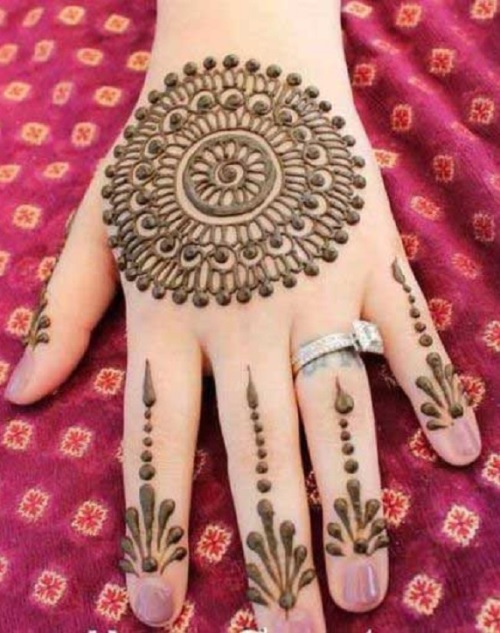 45. Circle Tikki Mehndi Design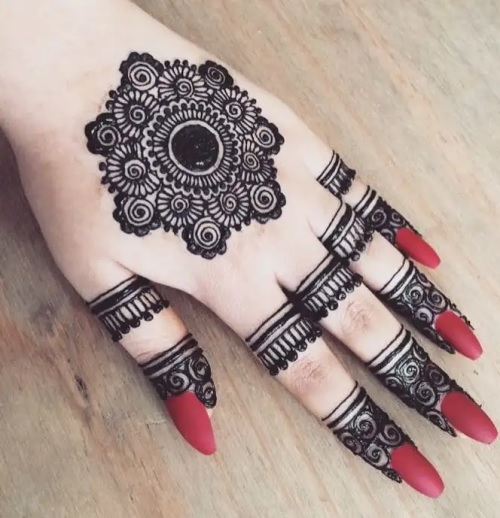 46. Back Jewelery Inspired Circle Mehndi Design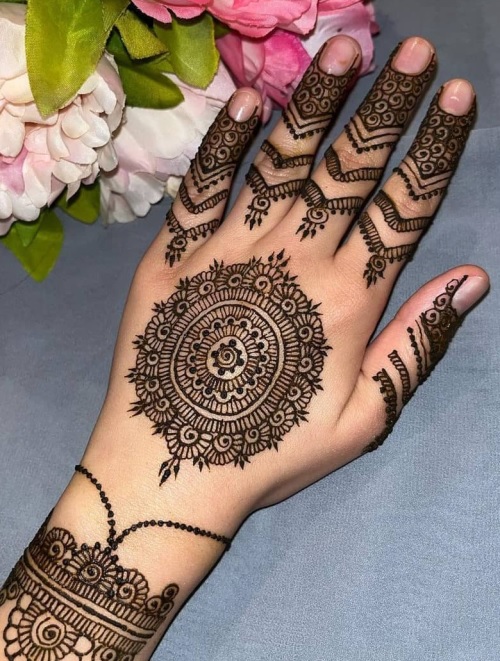 47. Single Line Back Mehndi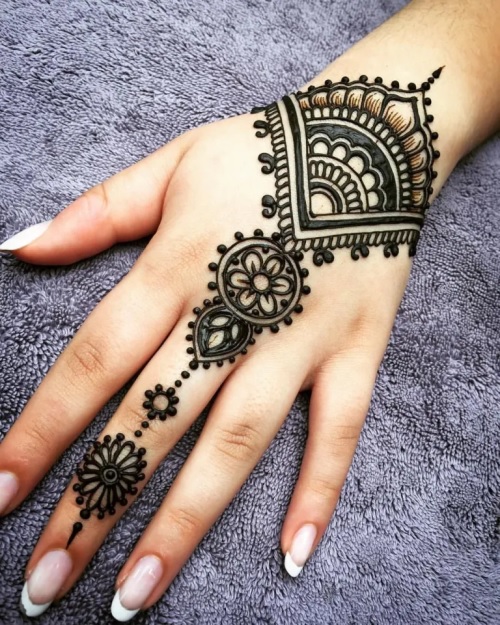 48. Single Line Easy Mehndi Pattern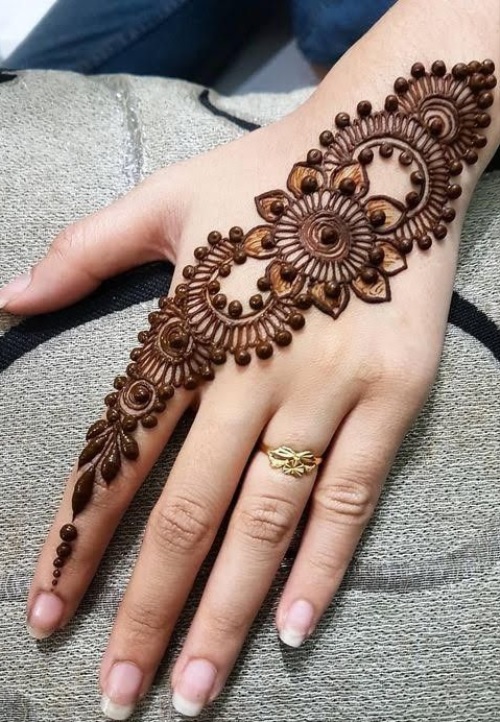 How to Darken Your Mehndi
Making mehndi (henna) dark and long-lasting requires proper application and aftercare. Here are some tips to help you achieve a deep and dark mehndi stain:
Use Fresh Henna: Start with fresh, high-quality henna powder. The fresher the henna, the better the stain will be.
Create a Quality Henna Paste:
Mix the henna powder with lemon juice or another acidic liquid, like tea or coffee, to create a smooth, consistent paste.
Add a few drops of essential oils like eucalyptus, lavender, or tea tree oil to enhance the color and fragrance.
Let the Paste Rest: Allow the henna paste to rest for 6-12 hours or overnight. This resting period allows the dye to release and develop.
Clean and Exfoliate: Before applying henna, clean your skin thoroughly and exfoliate to remove dead skin cells. This helps the henna penetrate the skin better.
Apply a Thin Layer: Apply the henna paste in a thin, even layer to the desired areas. Avoid making the layer too thick, as it can result in smudging and a lighter stain.
Keep It Moist:
After applying the henna, keep the paste moist by spraying a mixture of lemon juice and sugar over the design.
You can also cover the design with plastic wrap or a cotton ball dipped in sugar water to seal in the moisture.
Wait for Drying and Cracking: Allow the henna paste to dry on your skin. You will notice it starting to crack, which can take several hours.
Scrape Off: Once the henna paste has dried and cracked, gently scrape it off with a blunt tool or your fingers. Do not wash it off with water.
Avoid Water: For the first 24 hours, avoid exposing the henna to water. Water can lighten the stain during the initial stages of development.
Heat: Heat helps in developing a darker henna stain. After scraping off the paste, you can briefly expose the design to heat from a stove or a candle flame (not too close) to intensify the color. Be cautious while doing this.
Give It Time: The henna stain will continue to darken over the next 48 hours. The longer you leave it on, the darker it will become.
Avoid Harsh Chemicals: Avoid using harsh soaps, swimming in chlorinated water, or applying chemical products to the area where the henna is to ensure the stain lasts longer.
Apply a Balm: After the henna stain has developed fully (usually within 48-72 hours), you can apply a natural balm or oil, such as coconut oil, to keep the skin moisturized. This helps preserve the henna design and prolongs the color.
Remember that individual results may vary based on factors like skin type, henna quality, and the specific henna paste recipe used. Darker stains are more likely to occur on the palms, soles, and other areas with thicker skin. Additionally, henna stains are temporary and will gradually fade over time.