Katrina Kaif Beauty secrets, Diet and Fitness tips:
The Hot British beauty is one of the top actresses of Bollywood. Katrina Kaif, the diva with success, fame and stardom made her own path to reach the level of heights.  Her gorgeous looks and killing eyes make everyone crazy. She has yielded many hits to the film industry and won year by year awards. She is very hard working and focused on her work. This determinate actress has a very seductive and stunning body. Either walking on the red carpet or shooting for a magazine, Katrina looks extremely beautiful every time.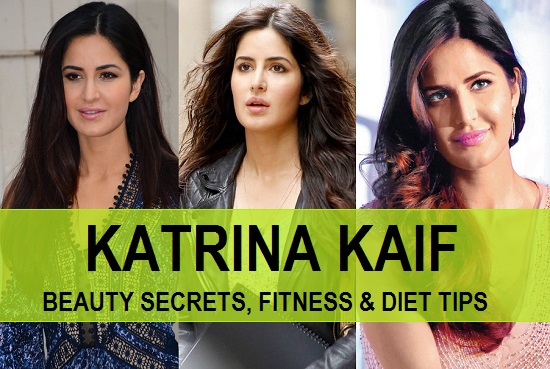 Katrina Kaif Beauty Secrets and tips

You all may assume that how she looks so flawless and beautiful?? Does she use any miraculous products that makes her so attractive and hot? I have answers to all your such questions that makes you curious about Katrina Kaif's beauty tricks.. So keep reading..
She drinks 5 glasses of water in the early morning after waking up. It detoxifies her skin and makes her feel fresh.
She uses mud face mask to clean the skin impurities and make it acne-free.
Katrina avoids using liquid foundation on her face because it may cause pimples and skin infections easily.
Matte makeup is her first choice for any event or shoot.
She loves makeup brands like M.A.C, Bobby brown, NYX and MARS.
She follows a regular skin care routine to keep her peel radiant and flawless.
She also uses ice cubes on her face before taking the makeup. This trick helps in locking your skin pores and reduces the effect of makeup on the skin.
Katrina Kaif Fitness Regimen and Fitness tips

The glamorous lady sweats out very much to maintain her fit figure and seductive curves. She has a rigid fitness plan to follow everyday.
Katrina hits the gym in the early morning at 7am with empty stomach
She does squats, lunges, crunches, and many other body toning exercises
To keep stress on the low: she likes doing yoga twice in a week
She meditates 4 times a week to reduce the work tensions and stay positive.
She does weight training and stretching sessions in the gym regularly
She workouts for 1 hour to maintain her body weight.
She also likes dancing and performing in awards night and other social events.
Katrina Kaif Diet Tips

This passionate actress does proper care of her diet. She likes to take high proteins and low carb diet. She is genetically lean and does not need to  work heavily on her body. Katrina is very regular at the gym and hates missing her workout sessions. Her attractive abs and skinny legs are an evidence of her tough work. Let's have a look on her all time favorite foods and diet chart.
Katrina suggests to drink plenty of water(minimum 7 ounces daily to stay fresh).
She avoids eating junk and oily food
She takes fresh fruits and juices to keep her metabolism higher.
Katrina adds cereals and roasted chicken in her daily meals to complete the protein requirements.
She does not eat fat content foods like cheese, butter and excess fried fries.
She drinks, fresh fruit juices of cranberry, orange, berries and grapes.
She eats nuts like almonds and pistachios.
Katrina loves to eat high protein dishes like egg whites, corn flakes, broccolis in her lunch and breakfast.
She eats boiled veggies in her dinner and some whole wheat rice too.
She does not forget her cheat meals once in every week to keep going on rigid diet.
By Ratna Balani