Kurta Palazzo Set For Women
Kurta palazzo sets are not only comfortable to wear but also are available in lots of beautiful designs and varieties. Kurta and palazzo set can be worn by women of all age groups and even the younger girls can wear them. Not only that the dress looks perfectly charming, but it also gives you an Illusion of height. Even if you are shorter, you would look taller in a kurta palazzo. The kurta palazzo set generally has longer kurta but the length can vary. The palazzos can be wide flared or they can be the narrow fit palazzos. Here in this catalogue, we will have the latest kurta palazzo sets available currently. These are the latest designs of women kurta palazzo set.
1. Navy Blue Gold Foil Print Kurta Palazzo Set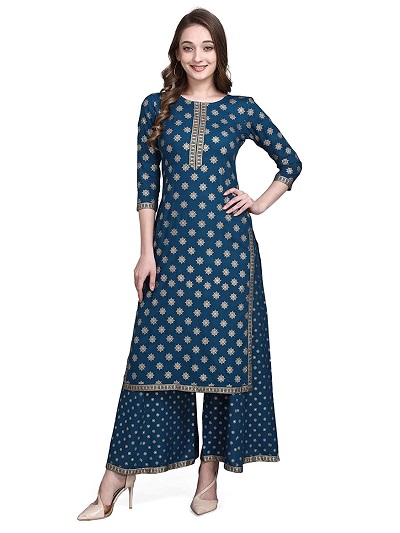 The gorgeous navy blue kurta palazzo set has a gold foil print design. It is a party wear set and is an ideal kurta palazzo dress for the festivals. The dress looks really amazing and women would really enjoy wearing it, because it is comfortable to wear.
2. Pink And Blue Kurta Palazzo For Parties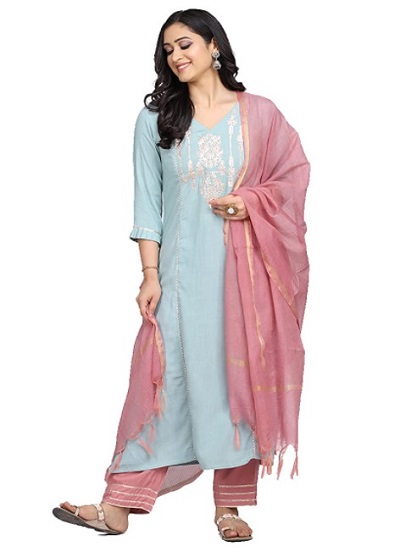 With the Gota Patti work on the kurta and palazzo, this dress is really beautiful. The blue and pink are two colors, that make you look amazing especially for the festivals and summer season. The kurta has a light blue color and a carrot pink colour is given to the palazzo.
3. Teal Colour Kurta Palazzo Set For Women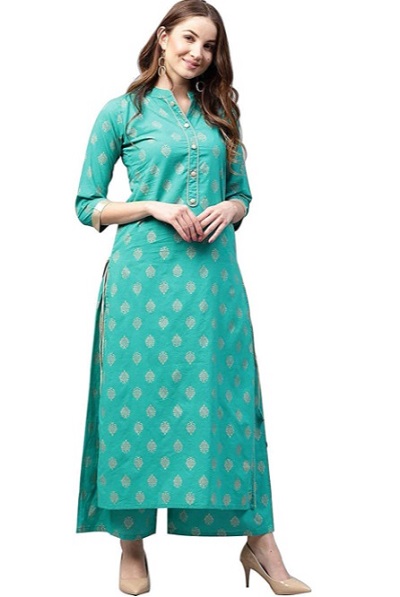 This is a beautiful dress for not only festivals but even for the office wear. A stand collar button placket is given with buttons that makes it even prettier. This kurta set has three fourth sleeves and a wide legged palazzo is given with this.
4. Bright Blue Cotton Kurta Palazzo Dress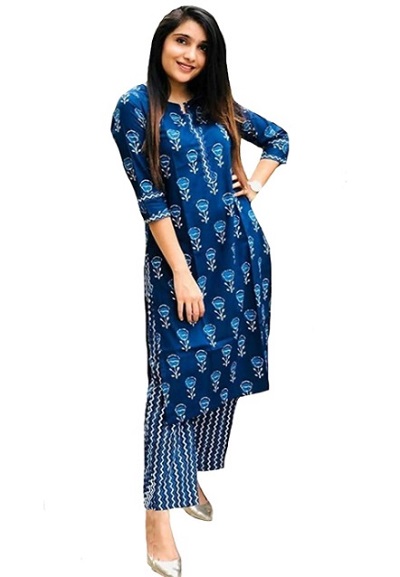 The Cotton blue kurta looks really beautiful with a horizontal lined palazzo set. This is not only suitable for summers but also for your office and college.
5. Blue And White Kurta Palazzo For Women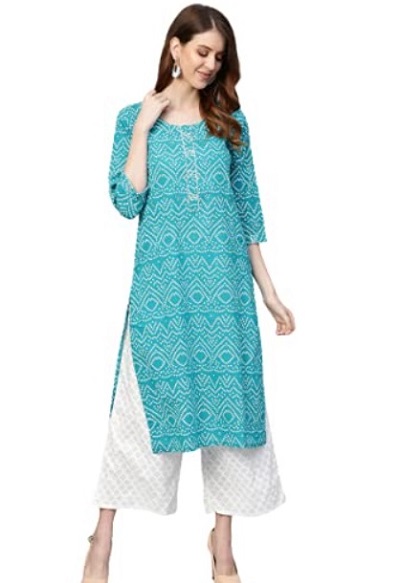 The nice design has a beautiful round neckline kurta with button placket and palazzo. The palazzo is given in the white colour with gold foil print all over. The dress is really beautiful and ideal for summers and for the festivals.
6. Dark Green Gold Foil Printed Kurta And Palazzo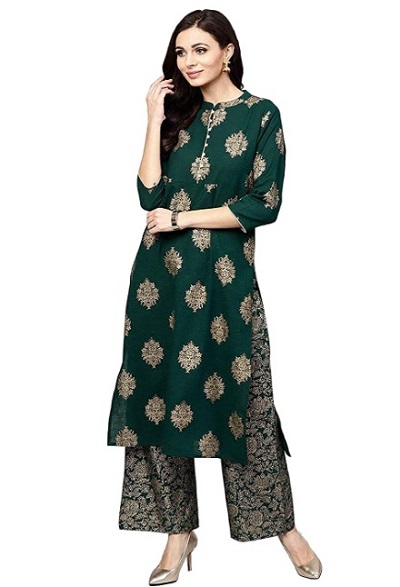 A foil printed dress makes your kurta palazzo set quite appropriate for the festivals. This is a rayon fabric dress where in a stand Chinese collar is given. Buttons are also added in the neckline. It is a beautiful dress with his ideal for the mehendi function and even for festivals.
7. Blue Party Wear Kurta Palazzo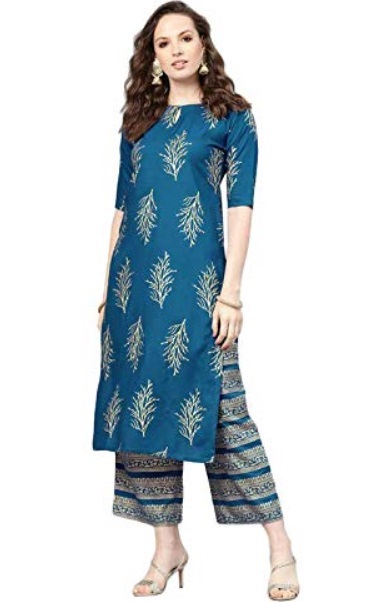 The party wear dress is really beautiful with the boat shape neck line and keyhole design. It has sleeves which are shorter than the three fourth sleeves. So basically it has elbow length sleeves.
8. Black Gota Patti and gold foil printed kurta palazzo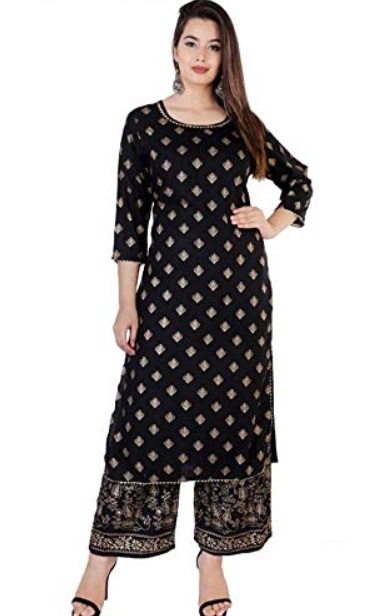 This dress, who has nice gold foil print and beautiful. It is a must have dress if you like black colour. It is comfortable as it is made with on fabric.
9. Navy Blue Kurta Palazzo Set With Centre Slit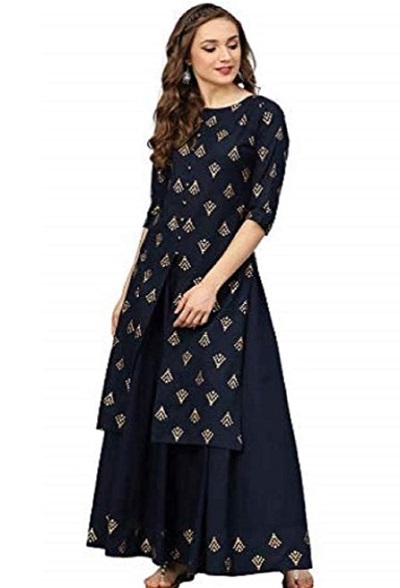 Here in this dress, the kurta is not the regularly pattern kurta but it has center slit. Neckline is round with three fourth sleeves. The flared pants are given with this that looks like skirt.
10. Red Kurta Palazzo Party Wear Set For Women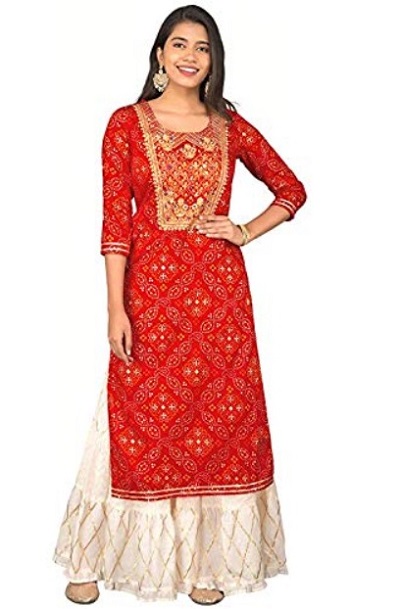 This dress is ideal for parties and festivals because of the colours and the design. Rajasthani Bandhani print is used for the kurta wear in Gold foil print and Gota work can also be seen. The palazzo is also made in the rayon fabric which has Gota work. The Criss cross parallel line designs made on the palazzo makes it festive wear.
11. Maroon Kurta Palazzo Set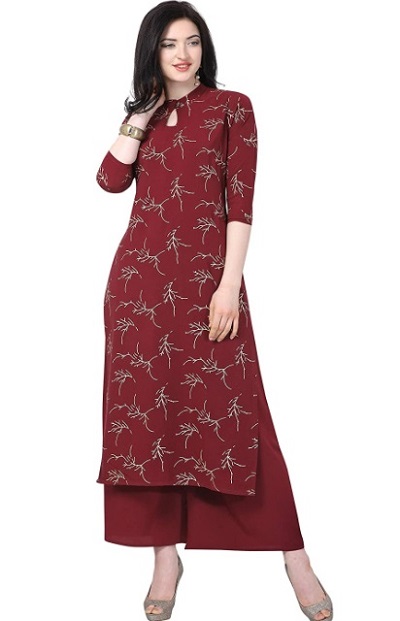 The nice red kurta palazzo for women has a high stand collar with a keyhole neckline. This dress is in the Crepe fabric and it has a long kurti with a plain Maroon palazzo.
12. Gota Patti Work Festival Wear Kurta Palazzo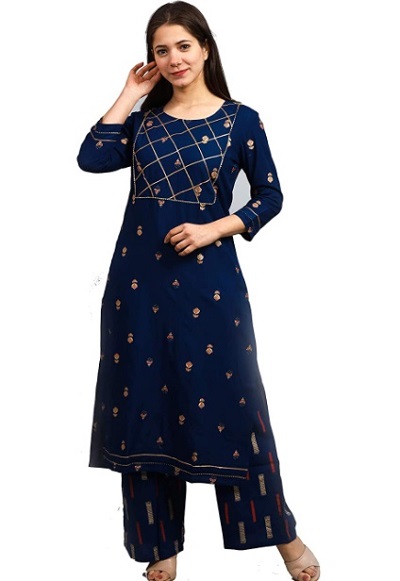 This is also a stylish dress that looks appropriate and beautiful because of the colours used.
13. Red Festive Wear Palazzo Dress For Women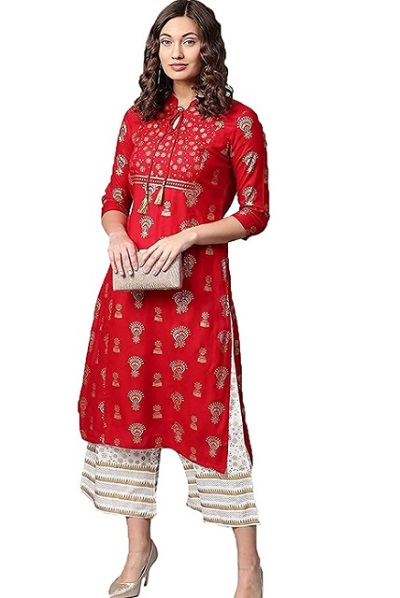 The red colour and the white combination make this dress appropriate for parties and even for the festivals like bhai dooj, Raksha Bandhan, Eid and more. It has a string and the dress is really pretty.
14. Light Pink Embroidered Kurta Palazzo In Art Silk Fabric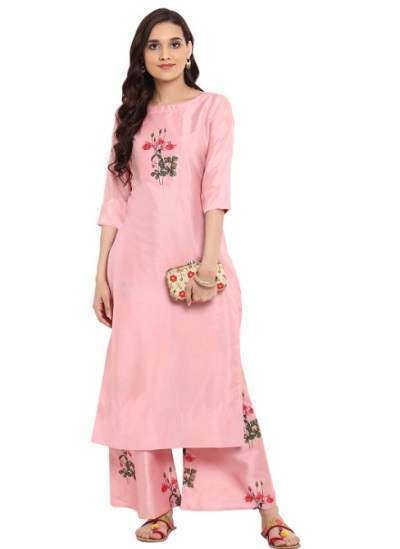 This dress is made in an art silk fabric, where in the is also given on the kurta and palazzo. It is also a festive wear a kind of dress that women can try.
15. Blue Cotton Kurta Palazzo Pant Set For Office
The dress is an essential dress for office because of the beautiful design and button work on the neckline. As it is made in the cotton fabric it is also comfortable to wear for the entire day.
16. Short kurti with black palazzo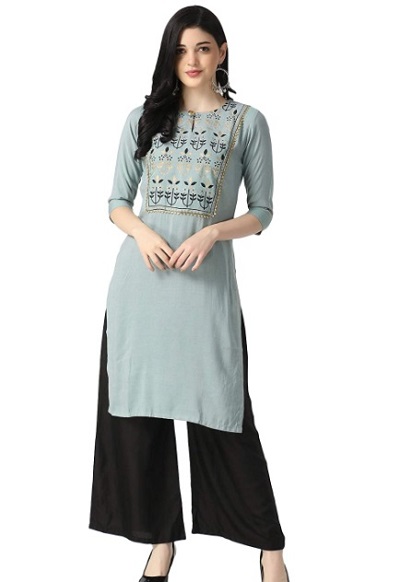 This dress has a shorter kurti as compared with the regular long length kurtis with palazzo. The short kurti reaches till the knees and it has a solid plain black palazzo given with this. The Yolk pattern is seen on the neckline and upper part of the kurta. A keyhole design is also seen on the neckline.
17. White kurta palazzo for Women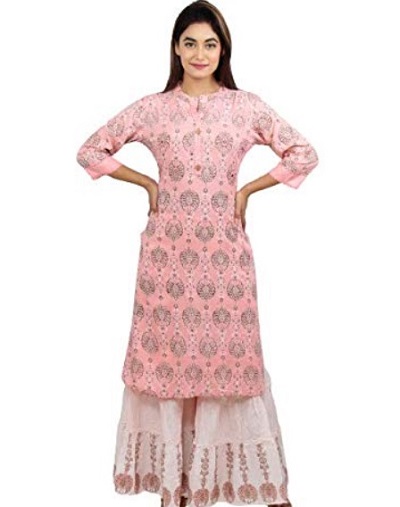 It's a kurta palazzo dress set for women, that is beautiful and suitable for casual hangouts, and Puja ceremonies for parties and even for the festival.
18. Grey kurta palazzo for girls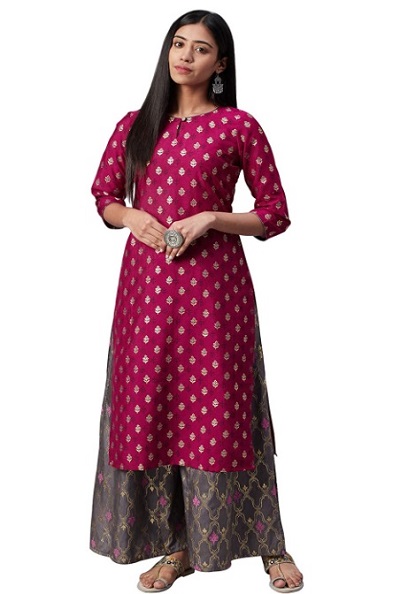 This is an absolutely stunning looking dress wear in kurta is given with three fourth sleeves and round keyhole neckline. The palazzo has beautiful design that as it is embroidered.
19. Black kurta and blue palazzo set for women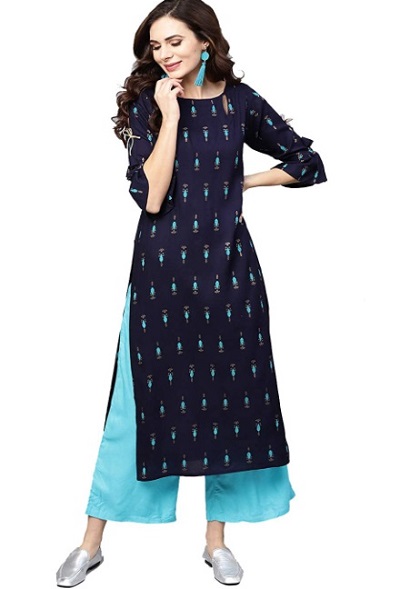 This is a really nice and enticing combination, where in a black kurti is paired with solid blue palazzo pants. The side keyhole neckline design is given to the kurta that makes it really modern.
20. Yellow and black kurta palazzo dress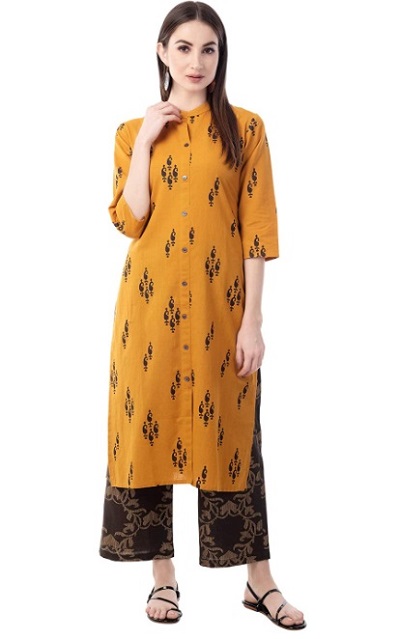 The yellow mustard colored kurta look really beautiful and it has a centre button placket that runs all over from the neckline to the hemline. It is an Icy printed kurta with a printed Palazzo.
21. White printed summer kurti design for women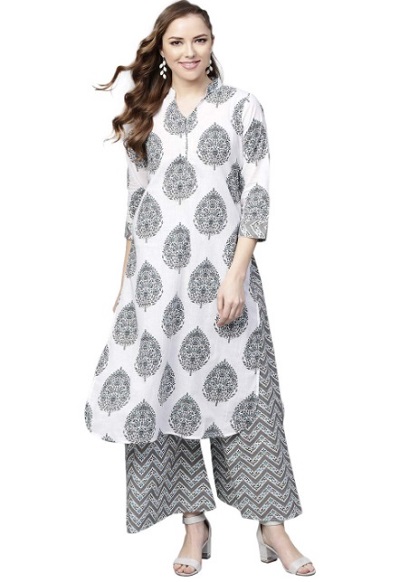 The center slit kurta has a vibrant print on a white base. The black and white is a combination that is amazing for the summer season. It makes you look beautiful and also has this nice pattern and finish.
22. Pink and white floral printed kurta palazzo dress for women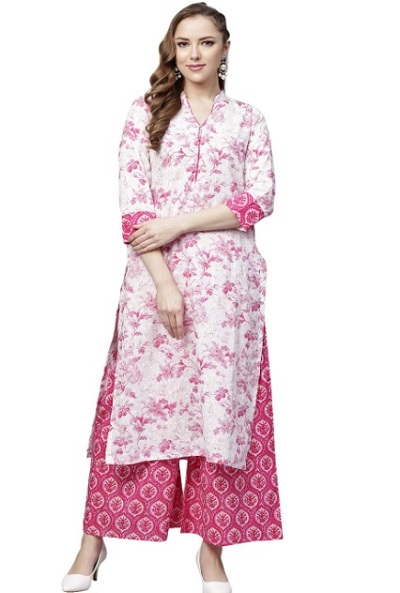 The gorgeous pink Kurta has a hot pink palazzo with printed design. It is also a summer specific kurta palazzo dress that women can try for office work in college and even for daily wear.
23. Printed kurta palazzo casual dress for women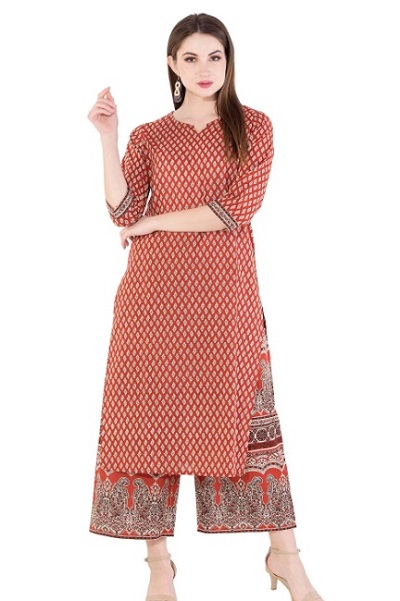 Everyday wear kind of dress wear in the kurta and palazzo are made in printed fabric. It is comfortable and suitable for casual wear.
24. Party wear kurta palazzo set in grey colour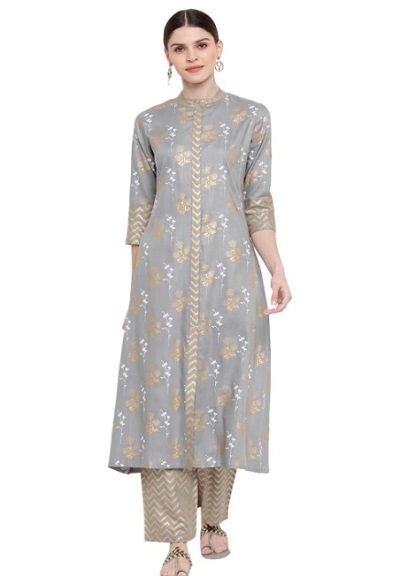 The grape gold foil printed kurta palazzo dress is beautiful. It has a stand collar and a Centre button placket runs all over till the hemline. It is not a straight fit kurta with side sleeves but it is an umbrella a line kurta.
25. Lavender pink Kurta palazzo dress for festivals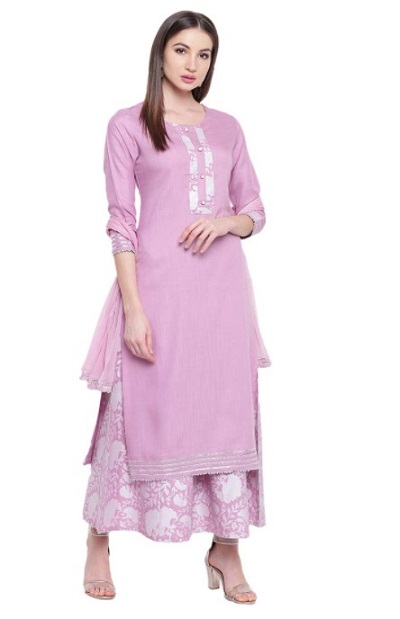 This is really beautiful and it will surely make heads turn because of the beautiful print and the colourful printed fabric is used for the palazzo and Gota Patti work is also seen on this dress.
26. Beautiful red Anarkali kurta palazzo dress for women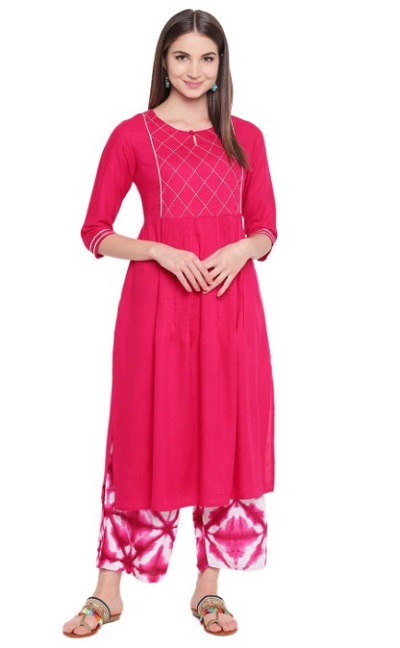 The nice dress has a red kurti with Gota Patti work and yoke design. It has round neckline with a keyhole pattern and a button. The tie and dye pattern fabric is used to create the palazzo that surely does add beauty to this dress.
27. Blue summer kurta palazzo set
This yellow and blue on a cotton fabric is so amazing for the summer season. It will keep you cool and look beautiful.
28. Festive wear mint green and white kurta palazzo set for women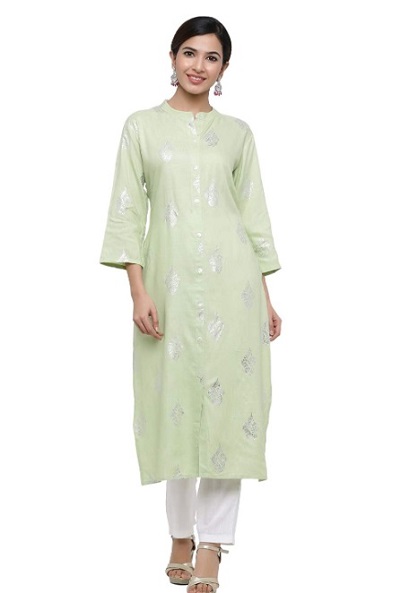 The mint green is a cool and soothing refreshing colour for the summer season. When the season is hot, you can wear this colour to look and stay cool.
29. Beautiful Orange kurti palazzo dress for ladies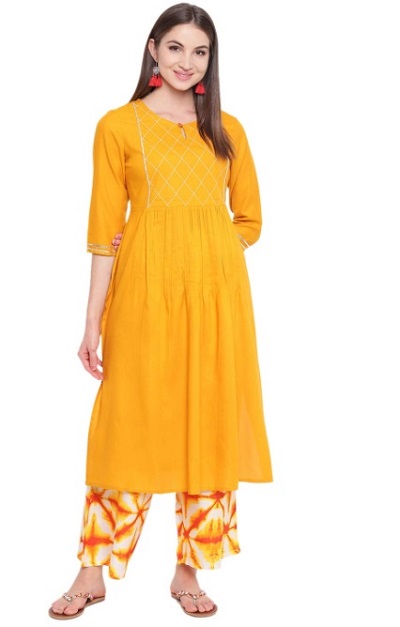 The dress has a yolk pattern with Gota Patti work. Anarkali style kurti with palazzo pant with Tie and Dye work palazzo pant print. This is also a party and festive wear a kind of kurta.
30. Stylish yellow and white kurti palazzo for women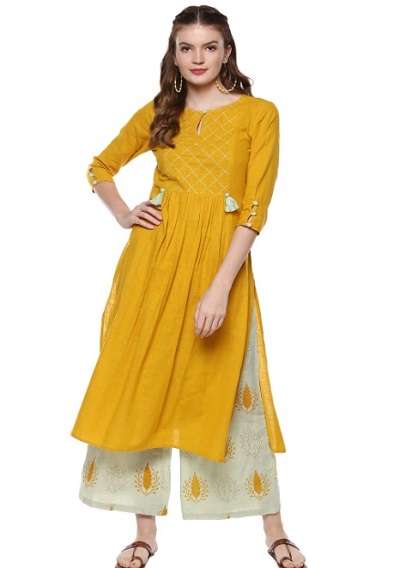 The beauty of this entire dress is so beautiful and made with modern pattern that it would surely you look attractive.
31. Stylish everyday wear kurti palazzo dress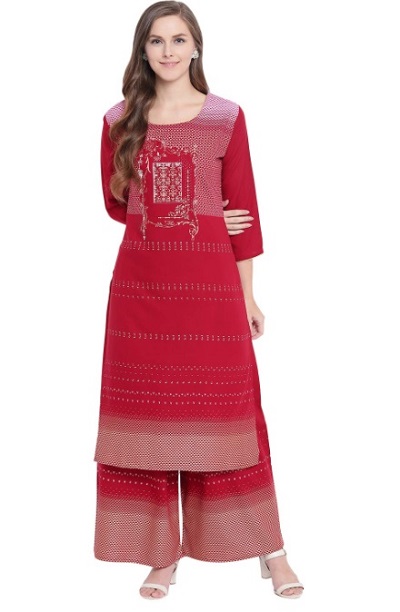 This dress is an everyday wear or casual wear kurta palazzo set for women. It is also suitable to go for grocery shopping.
32.  Uneven hemline kurti with palazzo set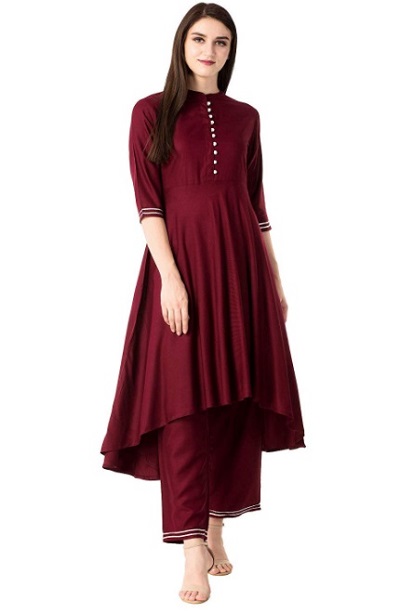 The beauty of this dress is the neckline design wherein there are buttons in contrasting white colour and the uneven Hemline that makes this dress look beautiful.
33. Party wear kurta palazzo set for women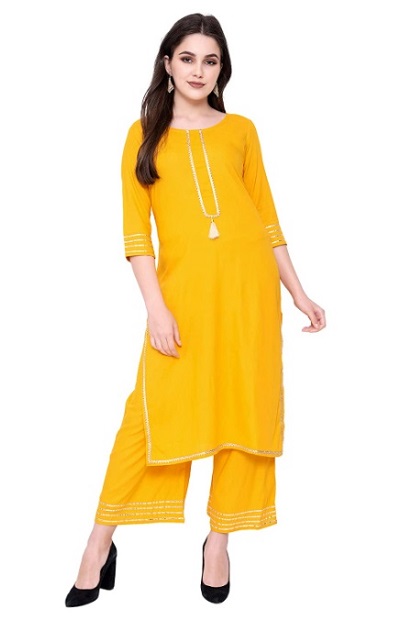 The yellow is an attractive and rich looking colourful stop this yellow kurta has a round neckline and Gota Patti work is used on it. It is made in the yarn fabric and is also very comfortable to wear.
34. Stylish powder blue kurta palazzo set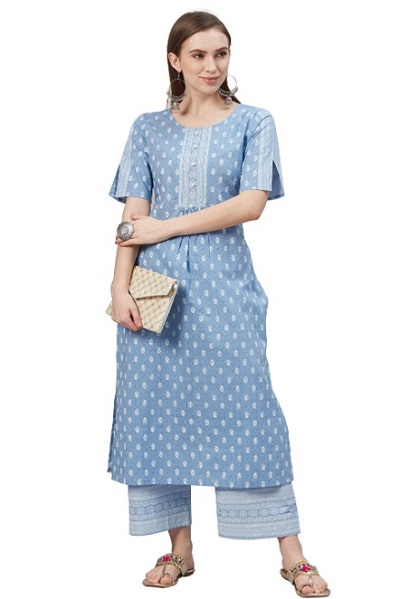 This was not only looks good but it is also comfortable to wear. It is suitable for the summer season and looks very summer appropriate. However, the dress is more of address for formal events and functions.
35. Blue and pink stylish printed kurti palazzo dress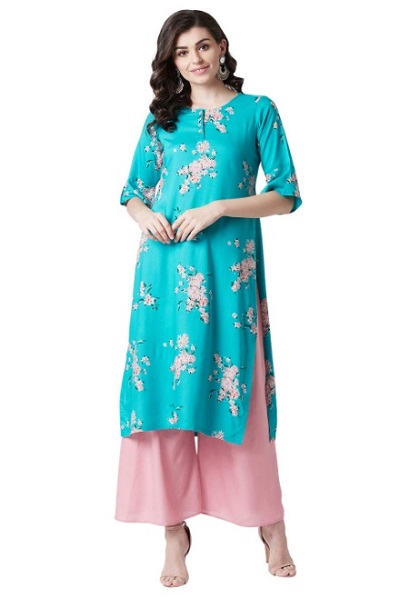 The blue coloured kurta is so beautifully made with nice neckline design that it would surely make you look beautiful. Solid light pink palazzo this printed kurtis so that it looks even better.
36. stylish gold printed party wear kurti palazzo pant set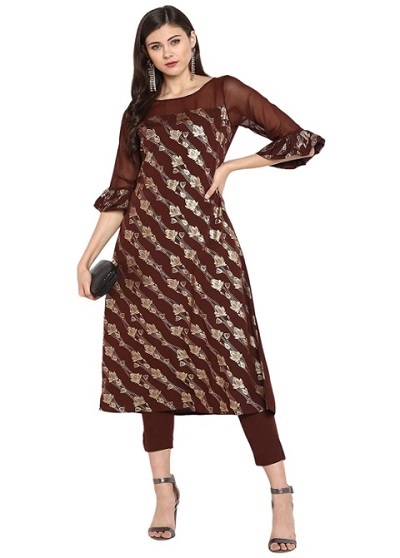 This is a party wear dress in brown colour with gold foil print. Sheer chiffon fabric is also used for the upper part of the dress.
37. Carrot pink Kurta palazzo for daily wear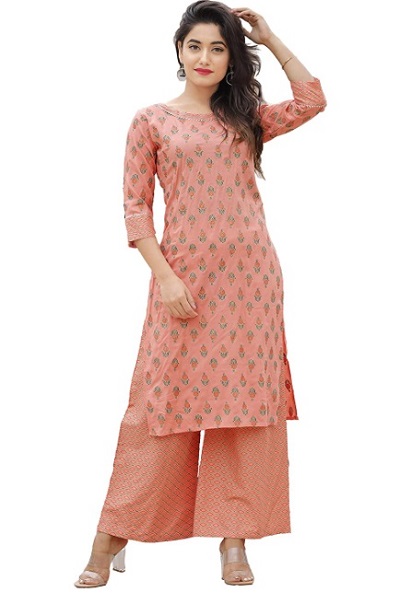 The daily wear kurta palazzo dress with nice print and texture.
38. Maroon party wear kurta palazzo dress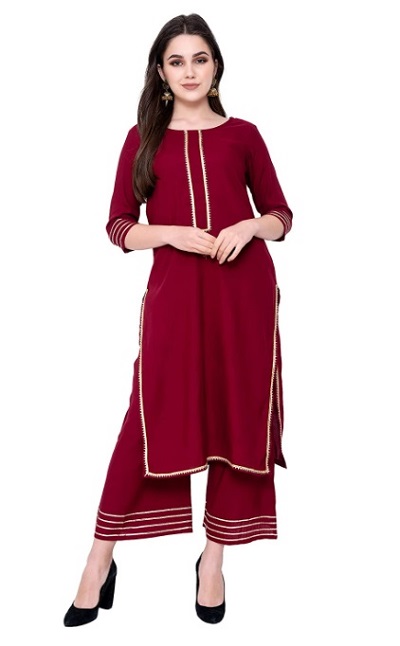 The party wear dress is suitable for the men for girls easy to carry.
 39. Blue and pink Stylish women's kurta palazzo set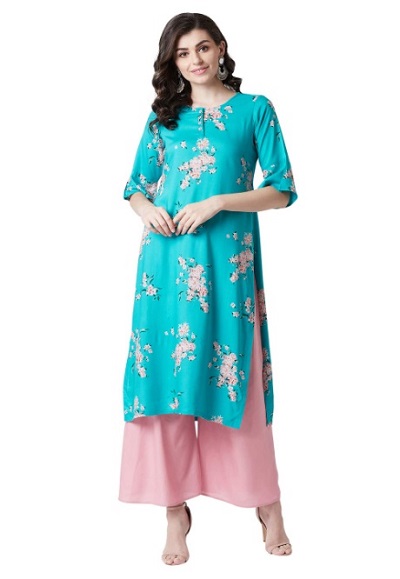 The beautiful set looks amazingly pretty.
These are the latest kurta palazzo sets available in the market. You can also purchase these from the online shops.  Kurta and palazzo will also make you look beautiful and keep you at comfort.