Kurti or kurta with pant style is a really trending style which is currently supported by many women. Kurta with pant style looks really amazing and the best thing is the comfort that women get while wearing this stylish ethnic wear. Other than the regular kurti or salwar or plazo, women can don a kurta with pant. This style is not only comfortable but also very formal and useful for the office wear as well as. In fact, the dress is stylish and beautiful for women of all age groups and body types. So, even if your body type is little bulkier, you can sport a kurta and pant style or even if you have tall and thin framed lady, the design and pattern would look really amazing. Let's take a look at the latest designs of kurti with pant styles. These ladies pant kurti style are with the long length kurti with pants or trousers. The trouser or pants for women are also available in different styles like slit, pearl work, lace, gota work etc.
Ladies Kurti With Pant Set Designs
So let's take a look at the latest pencil pant suit designs for women.
These long kurti with pants design for women are for parties, festivals and even for the office and college.
1. Dark green Gota Patti work long kurti with pant design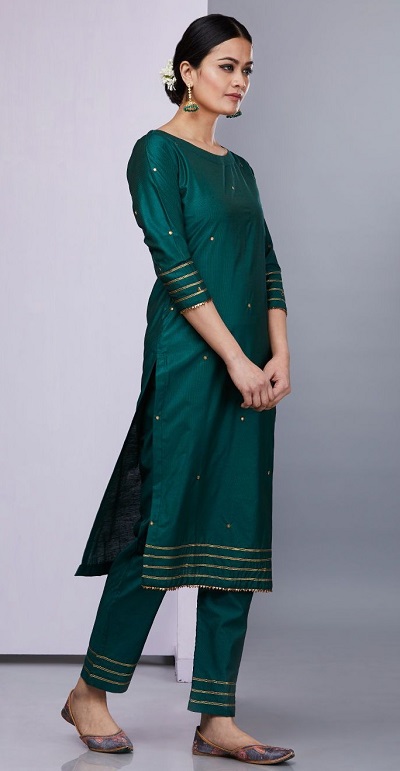 This is the beautiful style where in Gota Patti work is done on a polyester Silk fabric and the pencil pants makes it look really amazing. It is both a party and festive wear collection that women can easily go for. Even if you are someone who cannot carry the heavy dupattas, this festive wear dress will make you party ready and comfortable.
2. Green Kurta With Red Trousers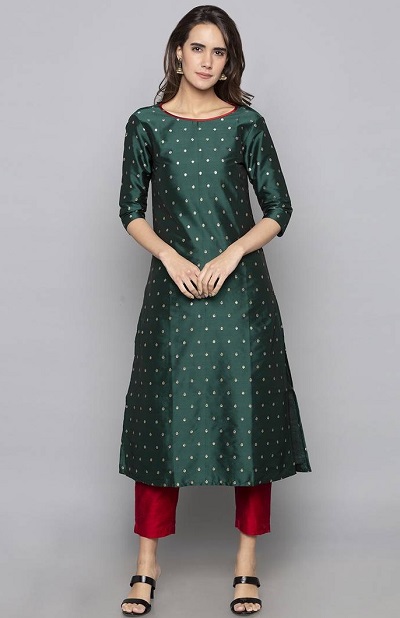 The A-line style green kurta has dotted golden design with plain silk red trousers. The trousers are slightly cropped and are the ankle length.. This design is also very comfortable and suitable for the office wear as well.
3. Silk mint green kurta with plain trouser pant
This dress is actually a set that contains a Boat shape neck long kurta with plain solid colored trouser. It also has a matching Dupatta in tissue silk fabric. The entire dress is so comfortable for the summer season that you can wear it for the parties and for the festivals.
4. Yellow Centre slit cotton kurta with trouser pants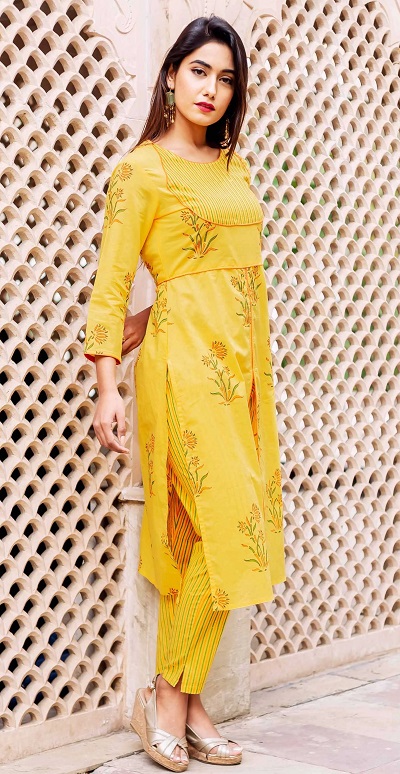 This is yet another party and office style kurta pant set wear in a yellow cotton kurta with centre slit is paired with long straight side slit trousers. This dress is very comfortable and is a summer dress for women.
5. Stylish colorful kurta with white trouser pants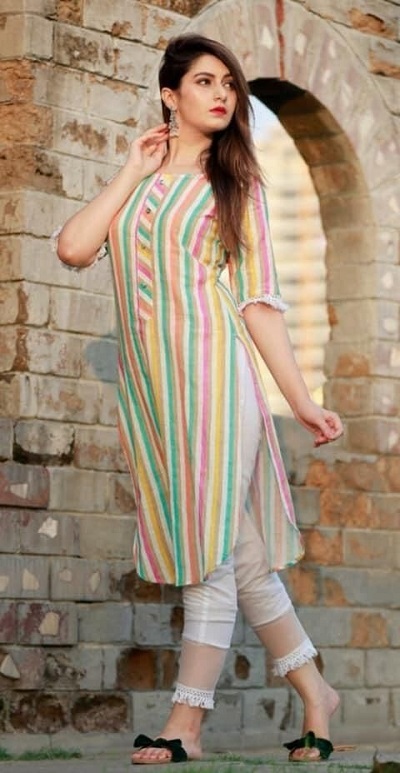 The stylish vertical lined Kurta in colorful design is wonderful. It has a rounded hemline and even the pants have beautiful design. A transparent fabric is used for the ankle part and the French work is making it look amazing.
6. Summer long printed kurta with Pants for women
Design here is very summer appropriate and has beautiful printed pants with long kurta. It is made in the Cotton printed fabric, which is why it is breathable and keeps you comfortable even in the sweating hot summer season.
7. Umbrella short kurta with embroidered pant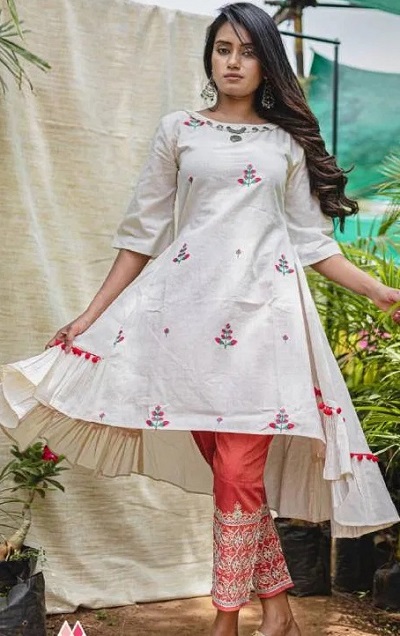 This is dress here is more like a festive wear dress. The umbrella cream colored kurta is paired with Coral colored embroidered pants. This design is unique and is suitable for women who would like to try something different.
8. Sleeveless long kurta with embroidered cropped pants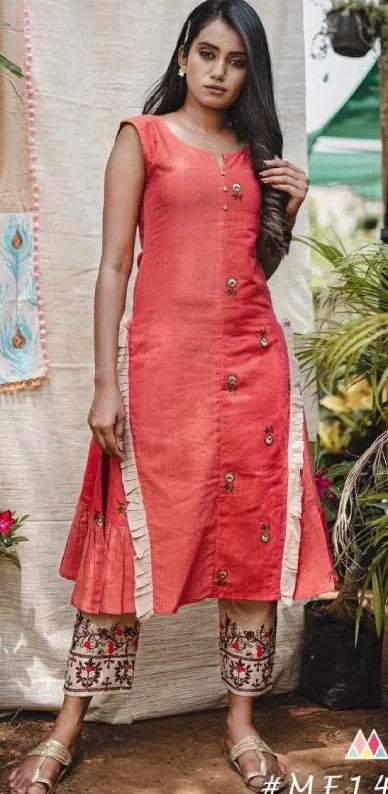 This dress is more like a college wear or casual wear dress, where in an A-line sleeveless Kurta in cotton fabric is paired with cotton embroidered palazzo pants. It is a perfect dress for your summer season outings.
9. Chanderi Silk kurta with matching Dupatta and trouser pants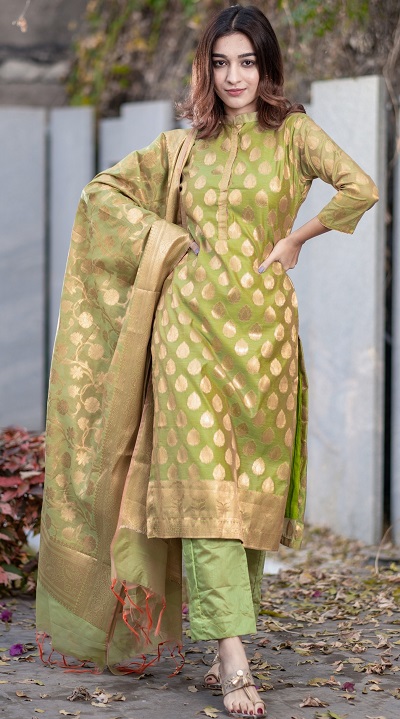 This is an amazing dress wear in a green and golden Chanderi Silk kurta is paired with Silk green pants and a matching dupatta. It is a wedding and party wear dress, looks good on women of all age groups.
10. Blue Silk A-line kurta with trouser pants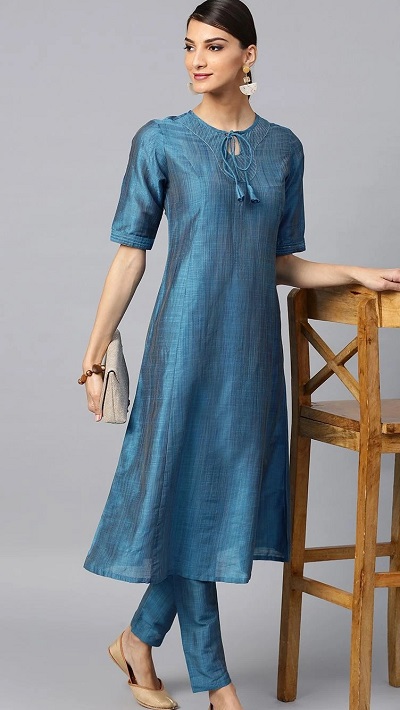 The A-line kurta has medium length sleeves and a knotted keyhole neckline. It is a long length kurta with paneled pattern. It is paired with pencil straight silk blue pants and is a party wear and festive wear set. Even for the office, this that can be worn. Gota Patti work long kurta with trouser pants.
11. Gota Patti Work Partywear Kurta pant set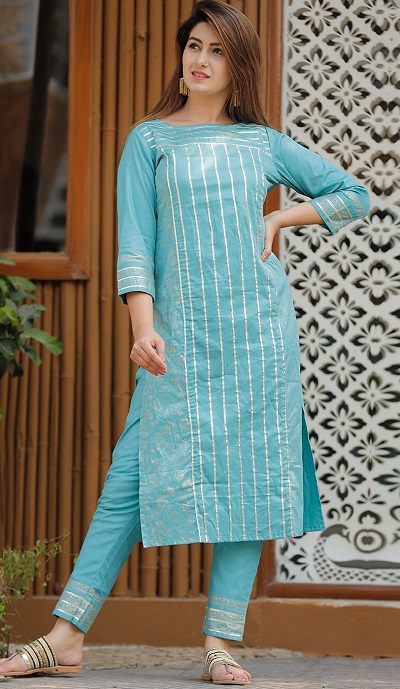 12. Stylish kurta with vertical printed trouser pants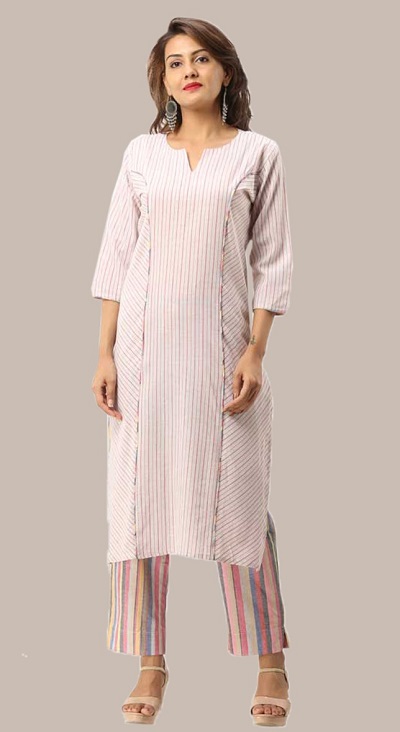 13. Angrakha style bandhej kurta with solid red pants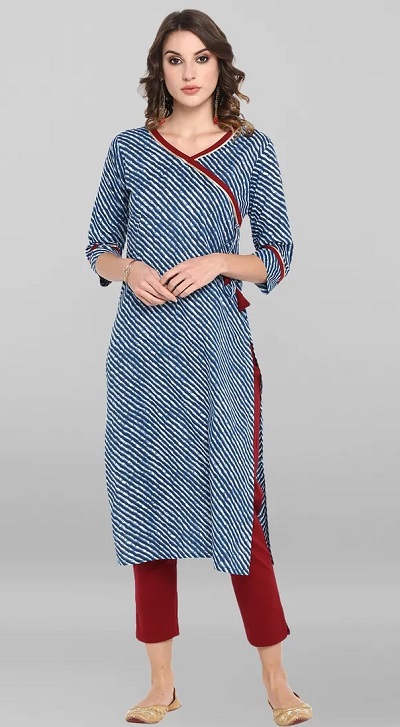 14. Office wear long kurta with printed trouser pants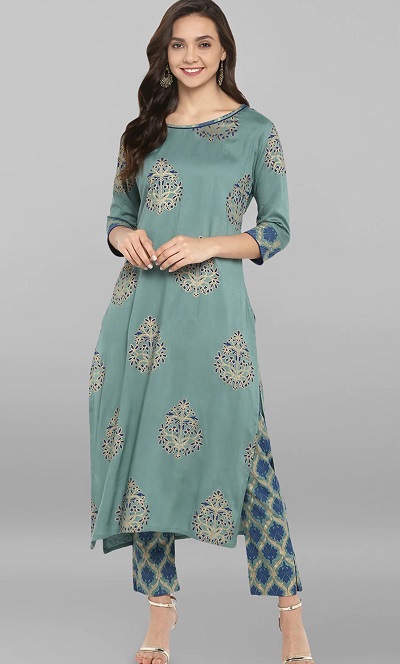 15. White trouser pants with stylish sleeve kurti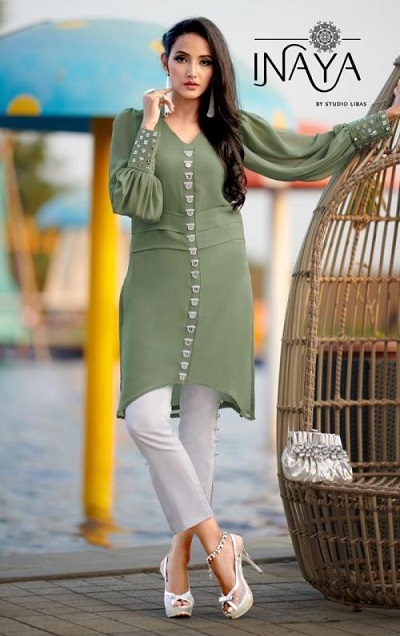 16. Stylish lace embellished kurta with designer pants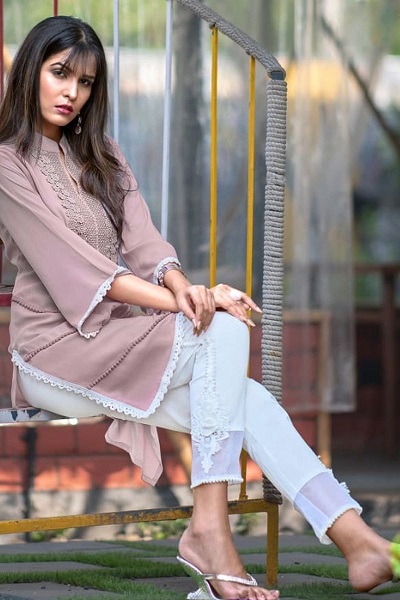 17. Khadi printed long umbrella kurta with beige trouser pants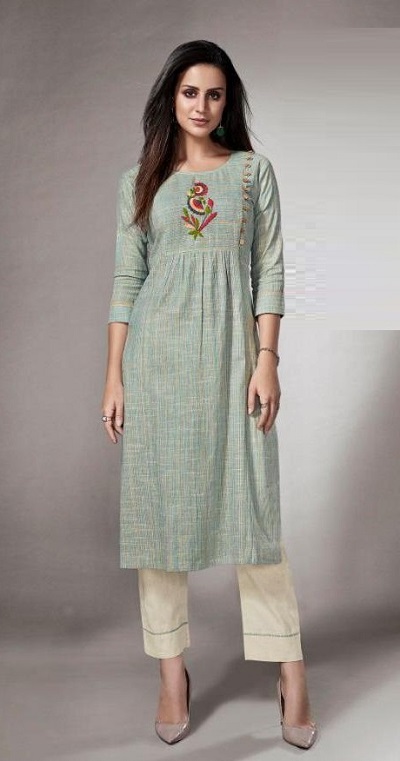 18. High and low black cotton kurti with white trouser pants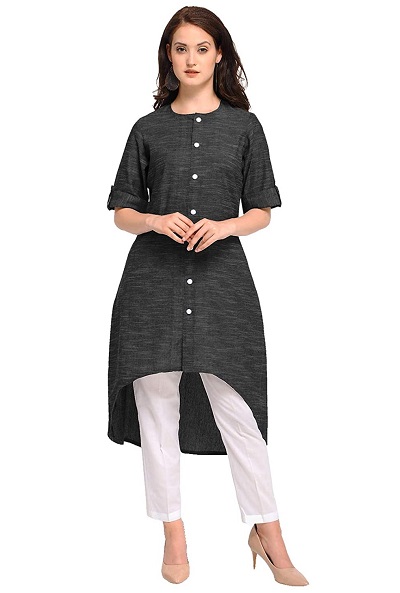 19. Centre slit long kurti with golden beige trouser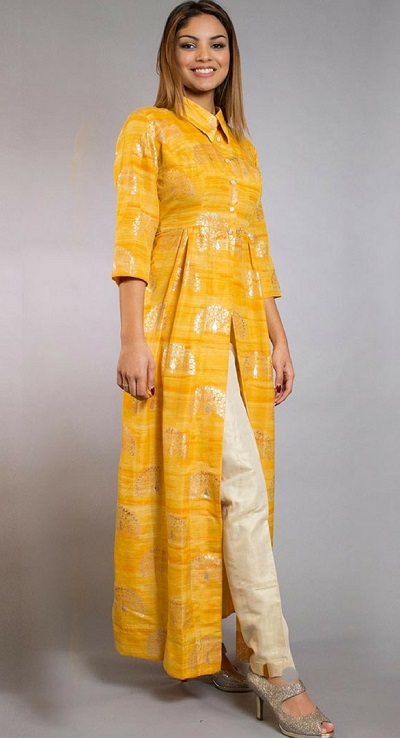 20. Yellow medium length panelled kurti with pencil trouser pants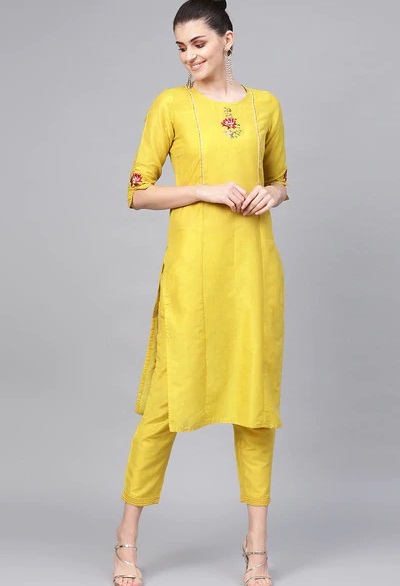 21. Chinese collar printed kurta with white pants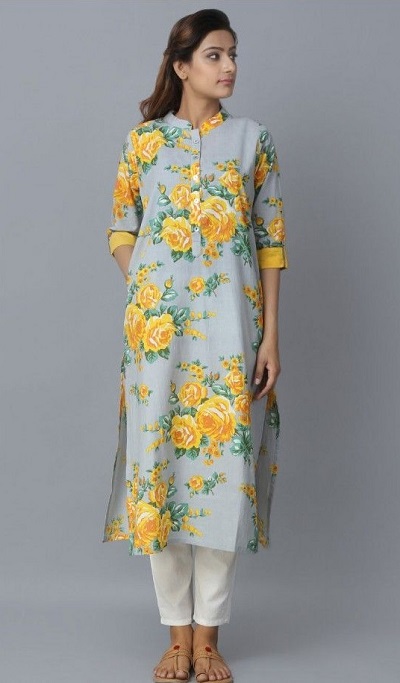 22. Stylish printed long kurta with yellow straight fitted trousers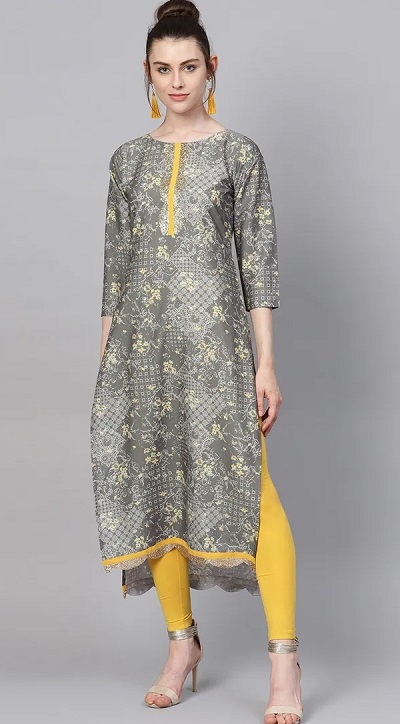 23. Festive wear layered yellow kurta with charcoal grey pants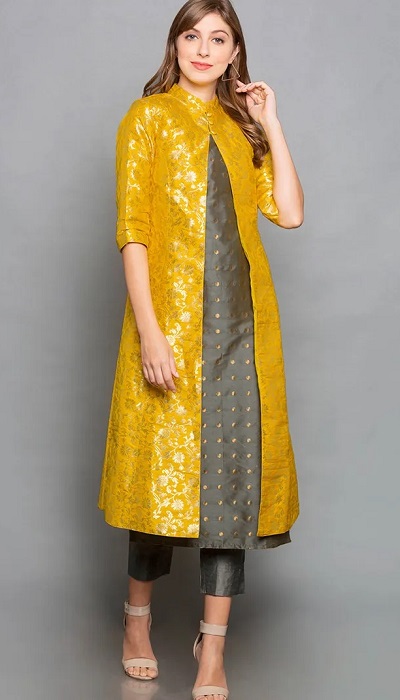 24. Silk sleeveless yellow kurta with pants and dupatta set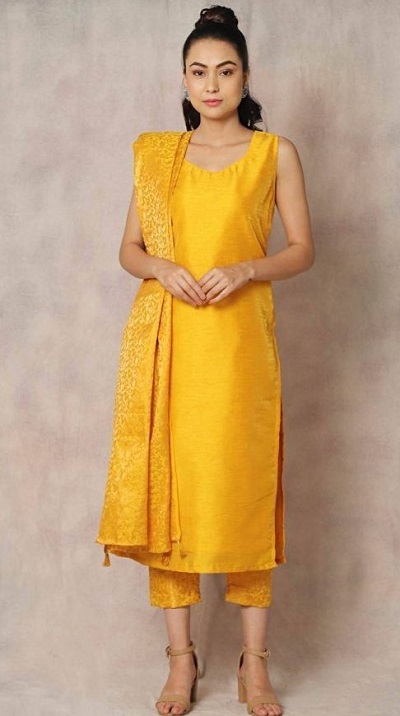 25. Sleeveless printed long kurta with printed pants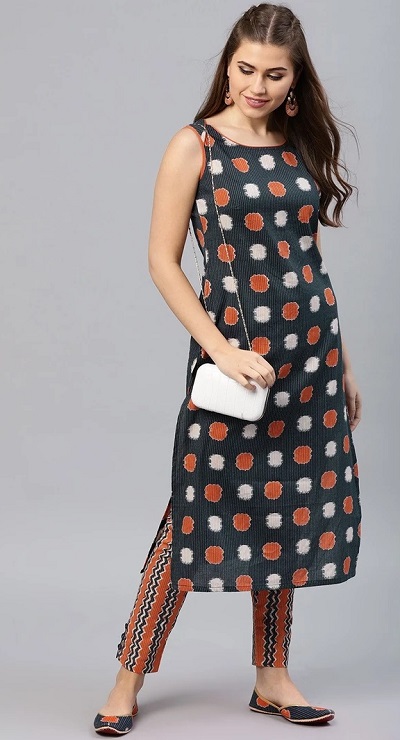 26. Collared printed long kurta with solid colored pants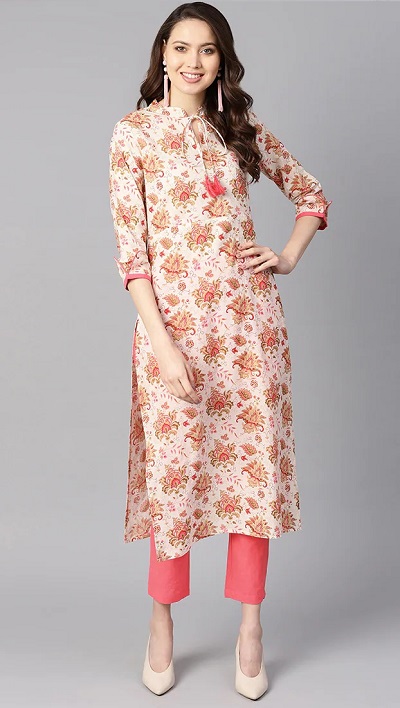 27. Magenta panelled kurta with stylish trouser pants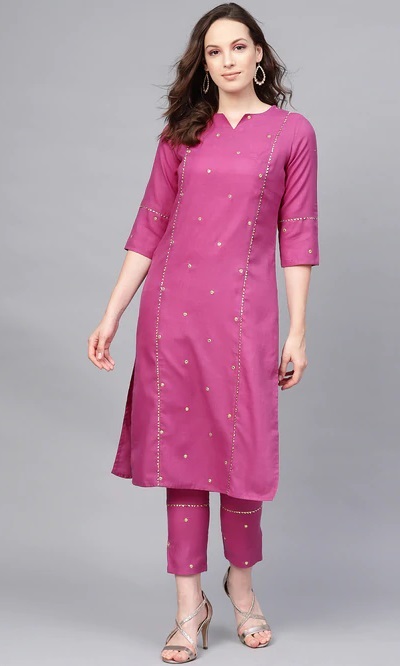 28. Casual wear long kurta with solid pants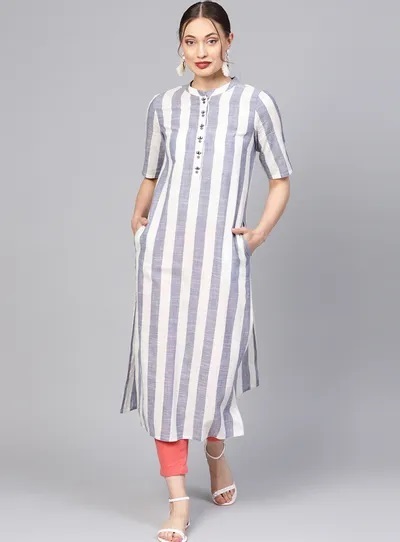 29. Stylish cotton green short kurta with pants with pockets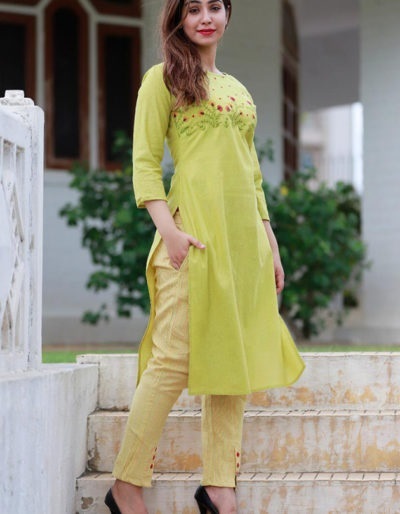 30. Festive wear silk navy blue kurta with pants and dupatta set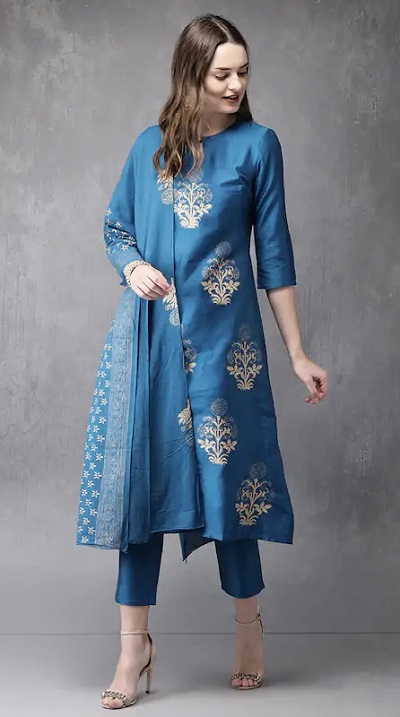 31. Black and white stylish kurta with pants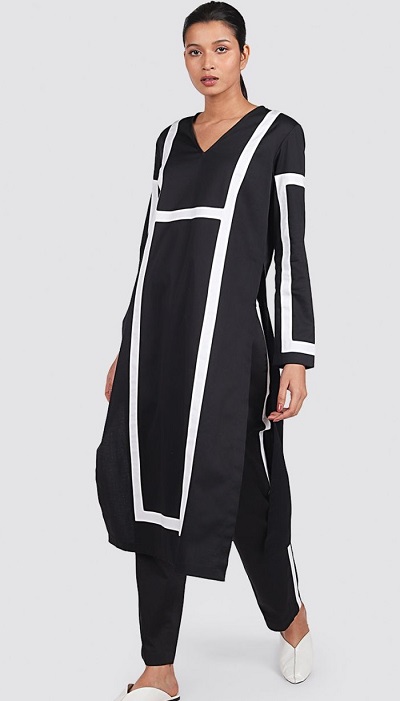 32. Designer short kurti with trouser pants
33. Stylish short kurti with ruffled sleeves with trouser pants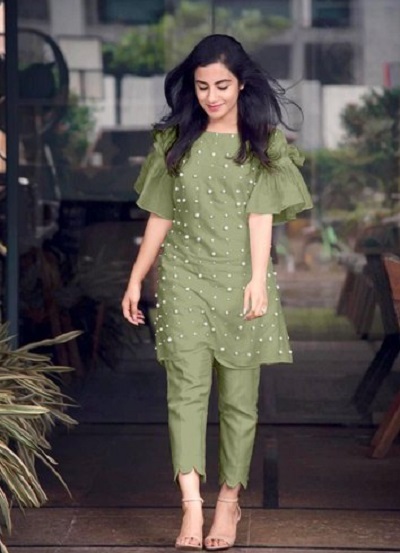 34. Short kurti with ruffles and trouser with pleated design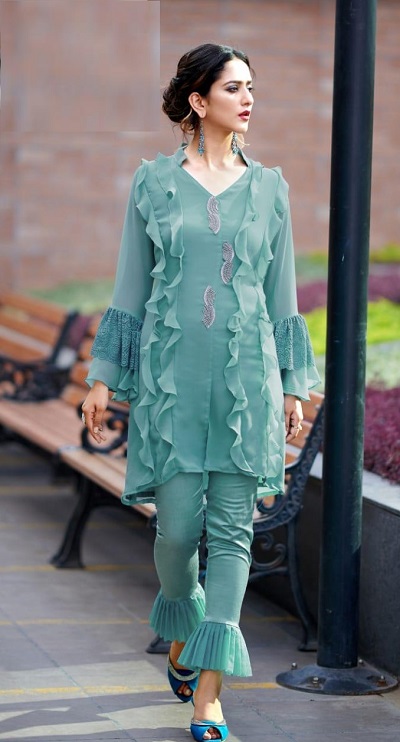 35. Short navy blue blue kurti with beige trouser pants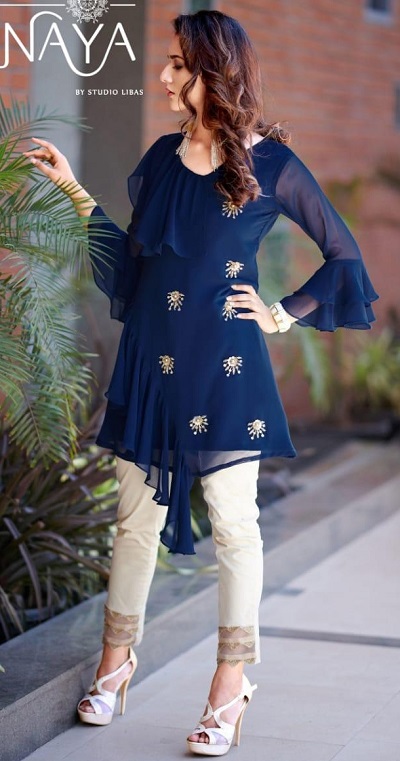 36. Stylish short party wear kurti with white plazo trousers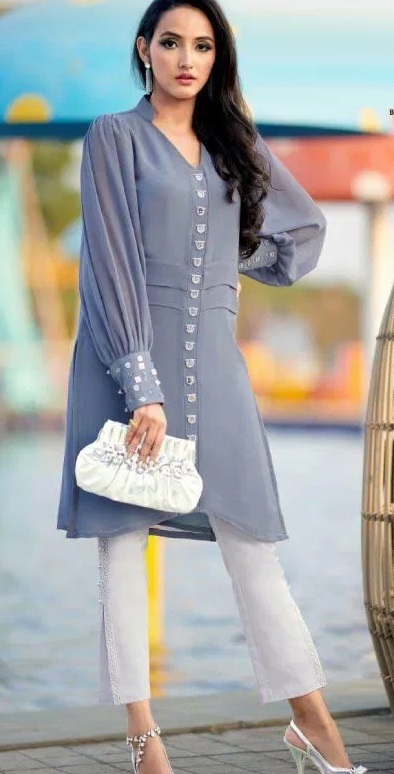 37. Peach coloured long kurta with silk pants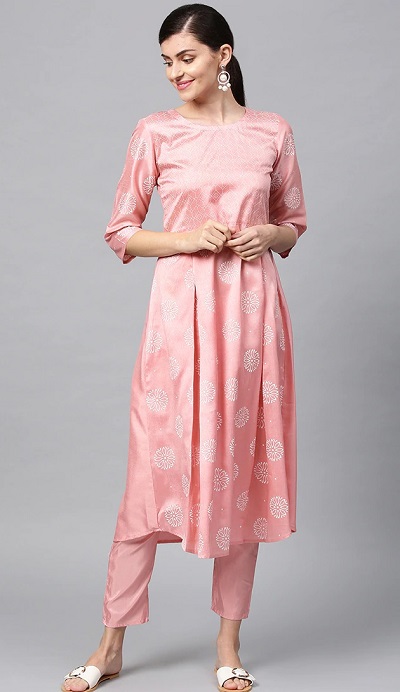 38. Black long kurti in net fabric with black trousers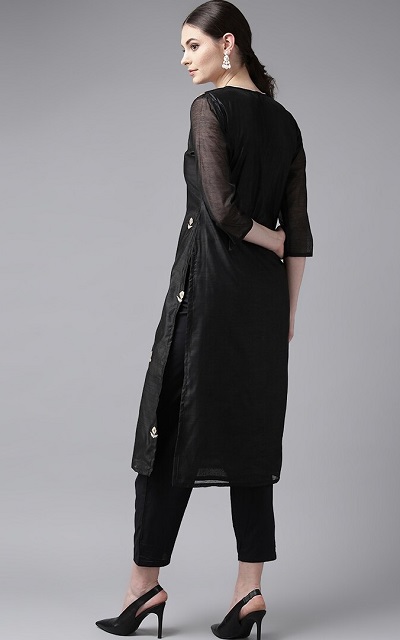 39. Simple khadi long kurta with matching trouser pants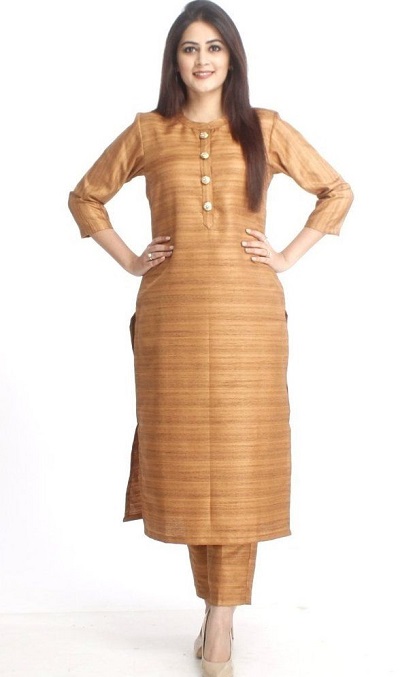 40. High Low Maroon printed kurta with solid straight pants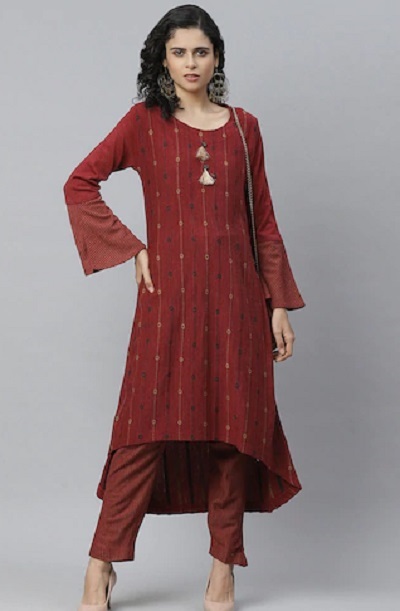 41. Cropped pink pants with long party wear kurta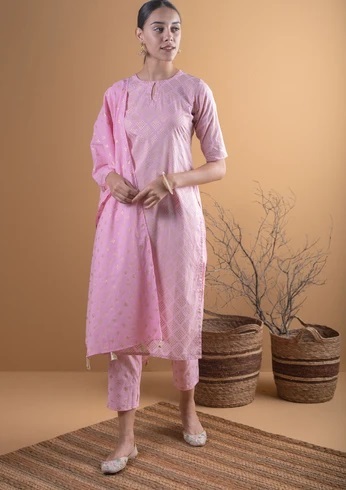 42. Loose maroon kurta with long sleeves and black trouser pants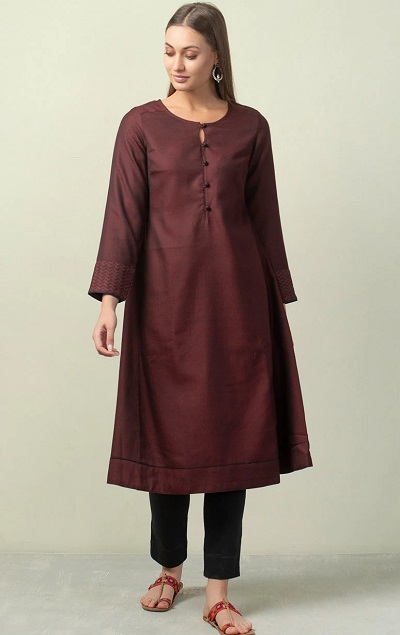 43. Round hemline loose kurta with red solid pants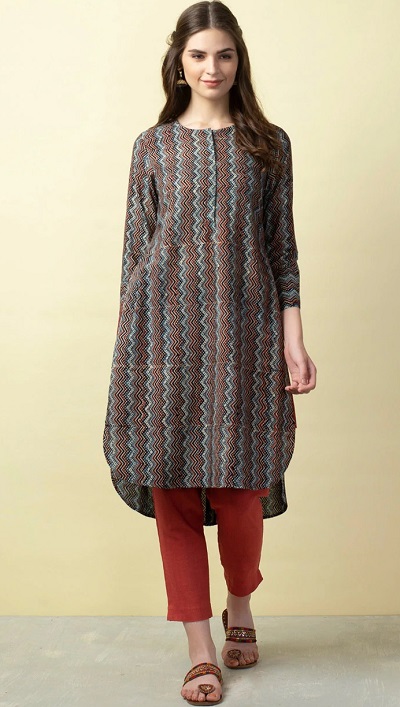 44. Long centre slit kurta with transparent fabric and white trousers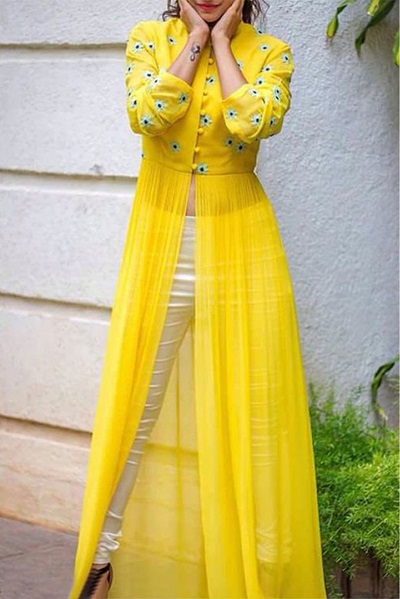 45. Casual wear blue printed kurta with matching pants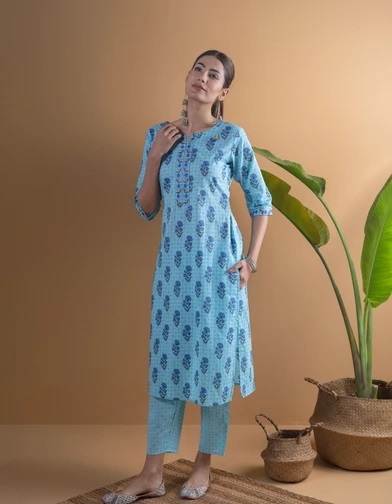 46. wear short velvet kurta with straight fit trousers and dupatta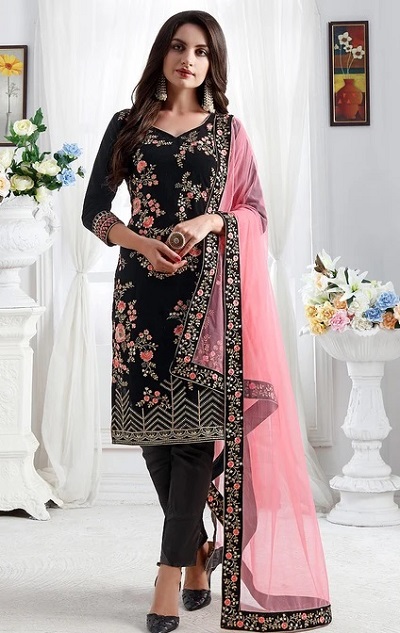 47. Long centre slit kurta with matching trousers and buttons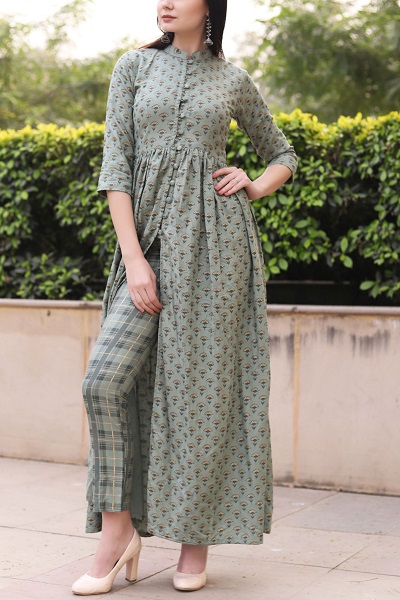 48. Long yellow printed kurti with cropped trouser pants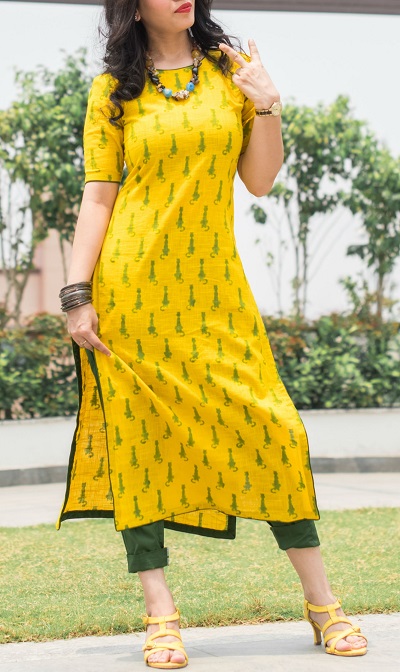 49. Gota patti work yellow kurti for parties and festivals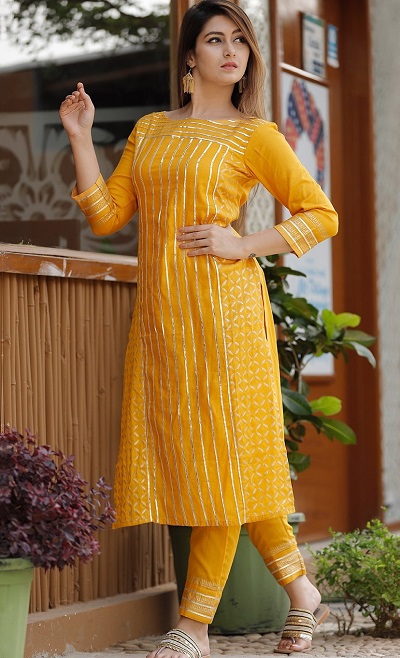 50. Stylish side string kurti with solid green trousers