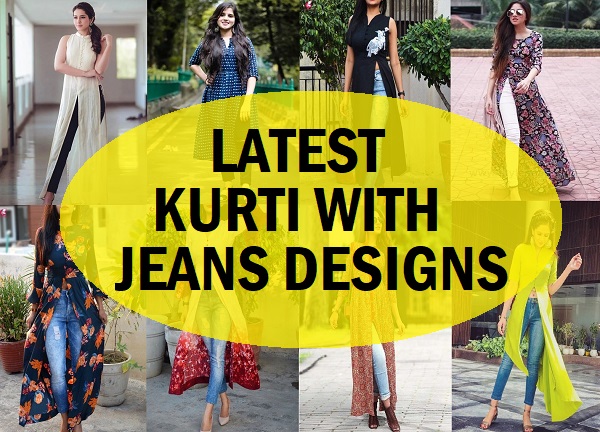 Long kurti with jeans design looks really beautiful especially as a casual wear and as an Indo Western dress. The long kurta with jeans style can be worn for work, office, college and for other formal events. So, here we have compiled the catalogue of the latest long kurtis with jeans combination.
Latest Long Kurti With Jeans Styles For Women
Let's take a look at the trending and popular designs of long kurti jeans combination.
1. White collared long kurti with Black jeans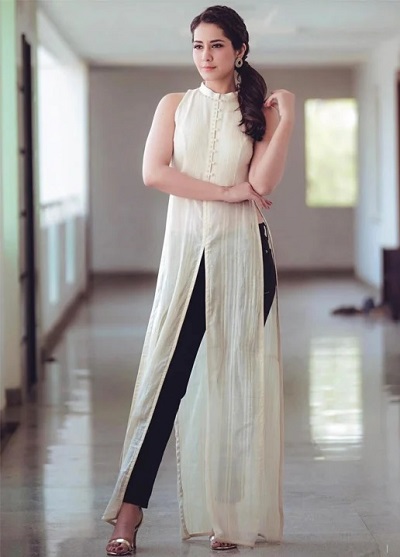 This is a really classic combination that involves the white and black. The kurta has buttons in the centre and has stand collar. The kurta has the centre slit kurta with two side slits that goes all the way to the waste. Here are the kurta has been paired up with black straight fit Jeans pants.
2. Blue side slit kurta with Black jeans combination
This combination is also equally beautiful because it has a nice three fourth sleeves kurta with the chequered print on it. This kurta has stand collar and a v-shape neckline. It is paired with black straight fit jeans with ripped pattern. This combination is ideal for casual wear and also for the college.
3. Long side slit black kurta with blue washed denim jeans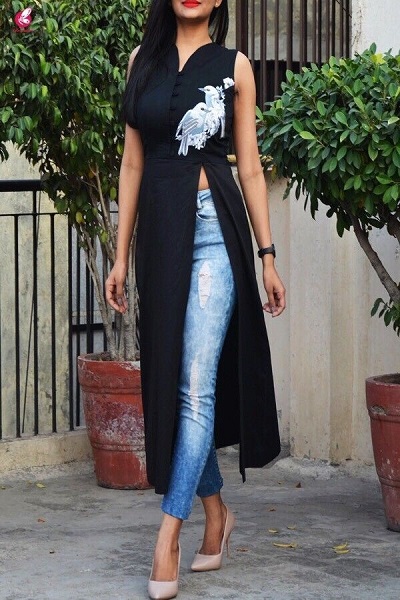 The combination is classy because it has a black sleeveless V Neck line kurta and jeans. The jeans is slim fit high waisted jeans and the side slit of the kurta makes it even more beautiful.
4. Central slit printed long kurta with jeans pattern
This is a gorgeous kurta where in the floral fabric is used to create this nice and lovely looking long kurta. This kurta has nice stand collar and potli buttons in the centre with a centres letter that goes all the way to the waistline. It is paired with blue ripped jeans with straight cut. The combination of these two is really amazing and will work for most of your semi casual and casual wear events.
5. White Tie and Dye kurta with denim jeans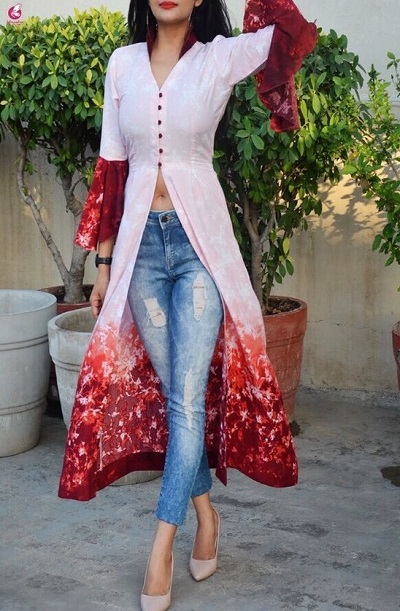 This style is also quite unique and beautiful to look at. The white kurta has a Tie and Dye effect with Bell sleeves. It has a V shaped neckline with centre buttons and a centre slit. The scooter is being paired with nicely fitted denim jeans.
6. Floral printed Centre slit kurta with light blue jeans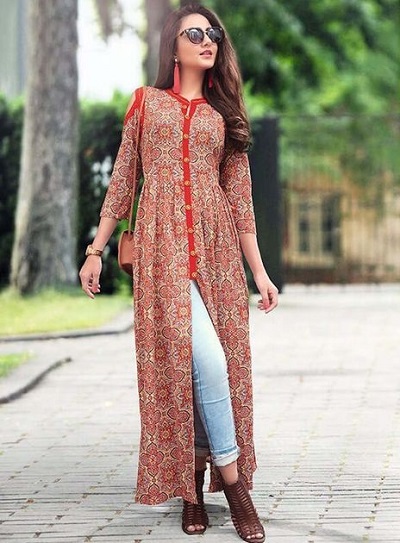 This kurta is in floral print and has a button placket that runs in the centre. It is paired with light blue washed jeans in ice blue colour.
7. Floral long kurta with side slit and white denim jeans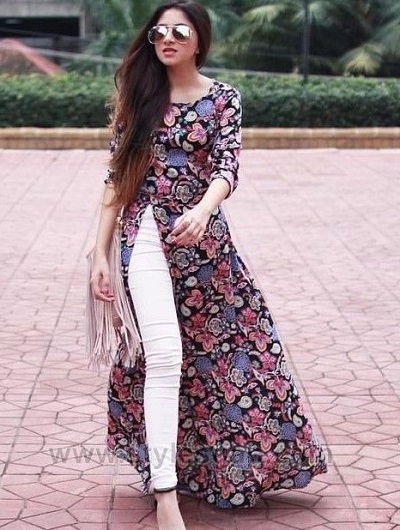 It's a beautiful floral printed kurta with 3/4 sleeves and a scoop neckline. The kurta is paired with a wide themes and has a side high slit
8. Lemon Green Centre Slit Long Kurta With Blue Jeans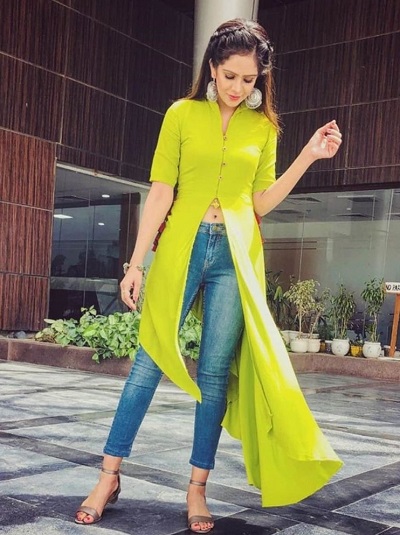 The combination is classy and very attractive and eye-catching. The lime green colour is suitable and soothing for the hot scorching summer season. The kurti has v shape neckline and buttons in the centre. It has medium length sleeves that run till the elbows. The long kurta is a high and low pattern kurta with the. The split goes all the way till the waistline revealing the midriff. It is paired with crop the ankle length jeans
9. Beautiful Blue A Line Kurta With Stylish Jeans
The gorgeous jeans looks beautiful and has a Boat shape Neck line kurta. This pair is quite attractive and white formal.
10. Long chequered print kurta with blue denim jeans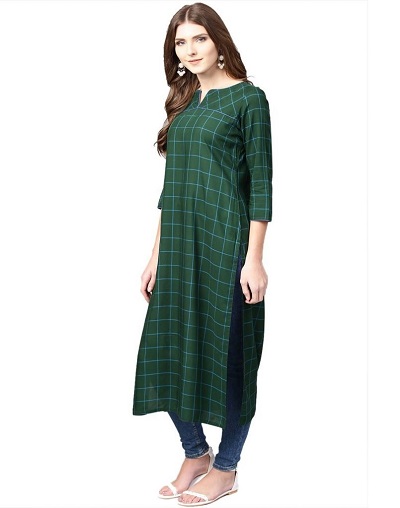 The gorgeous green kurta has a chequered printed and decide slip. It is a basic regular long kurta that is paired with the denim jeans for your office and college.
11. Maroon Red Chick Kurta Weather Jeans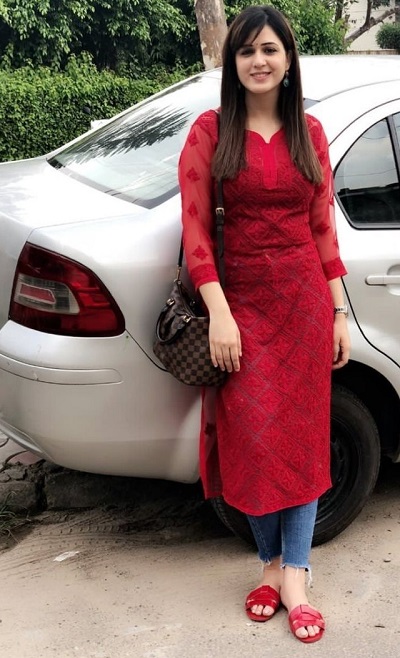 12. Stylish Blue Long Denim Kurta With Jeans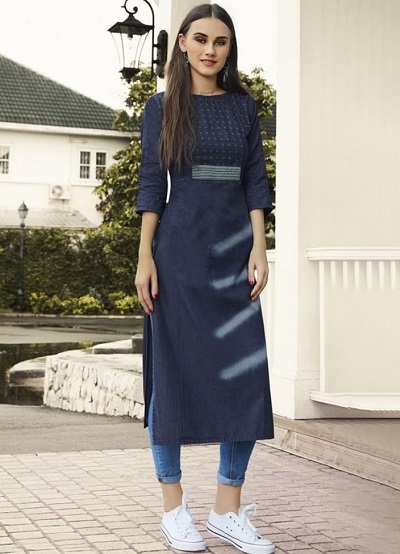 13. Tie And Dye Effect Denim Kurta With Jeans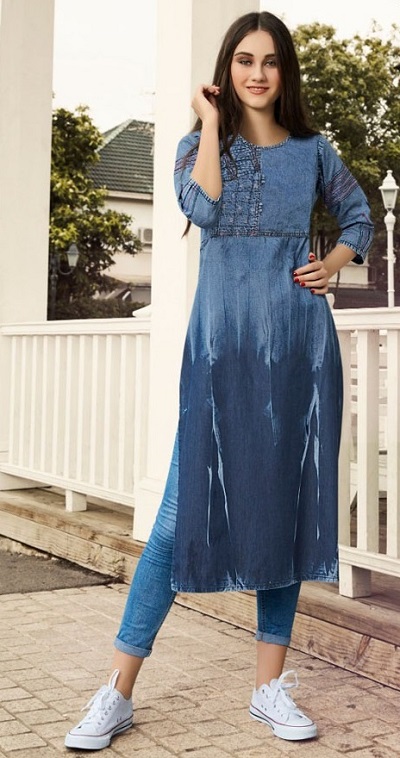 14. Stylish White Cotton Kurta With Jeans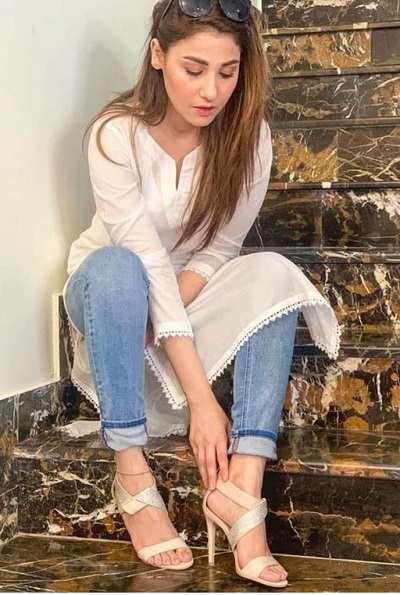 15. Orange Kurta With Jacket And Jeans
16. White Semi Casual Kurta With Jeans Combination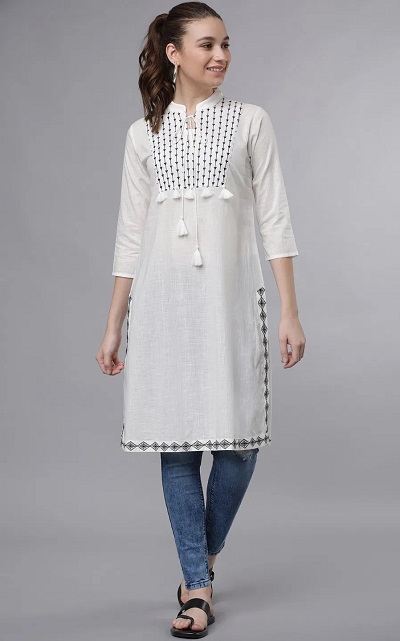 17. Stylish High And Low Kurta With Jeans Combination
18. Ice Blue Ripped Jeans With High And Low Pattern Kurta
19. High And Low Kurta With Washed Jeans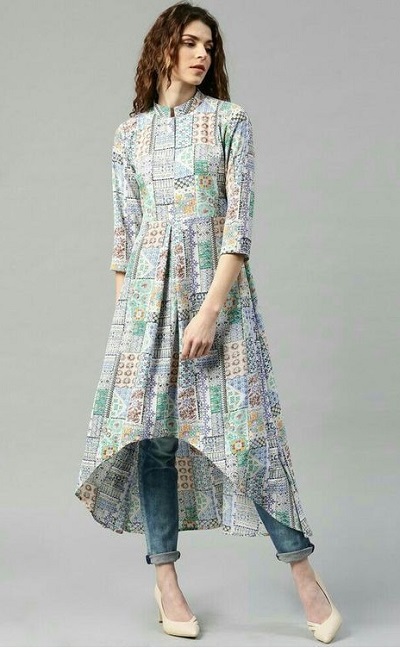 20. Stylish A Line Long Kurta With Jeans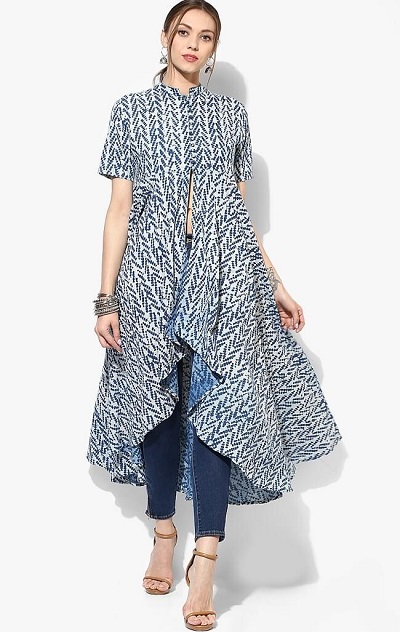 21. Long Kurta In Peach Colour And Blue Jeans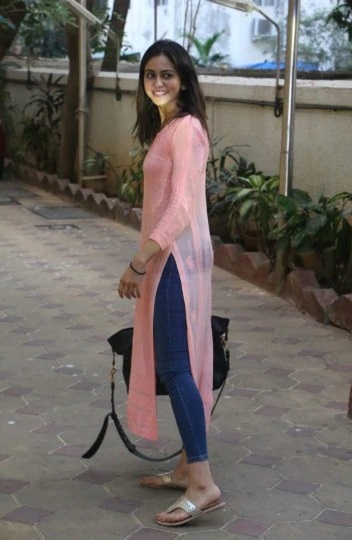 22. Stylish Maroon High Low Long Kurti With Grey Jeans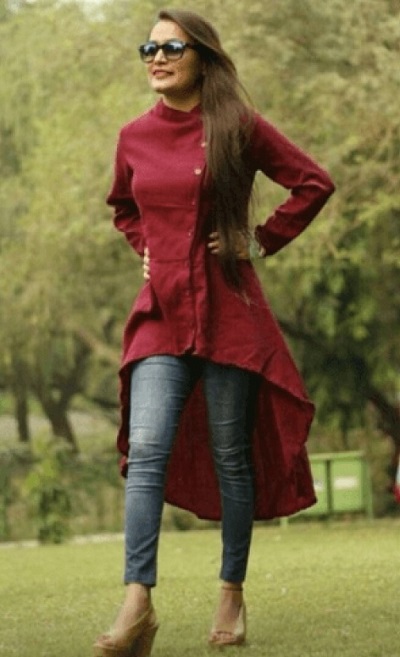 23. Jeans With Full Flared A-Line Long Festive Kurta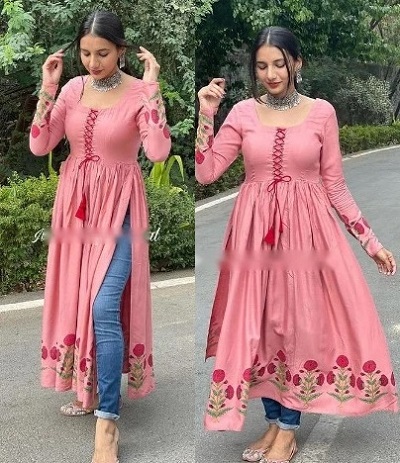 24. Bandhej Jacket Kurta With Jeans Design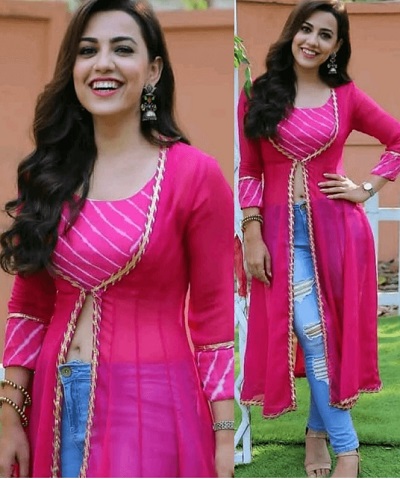 25. Rajasthani Print Inspired Long Kurti With Jeans Style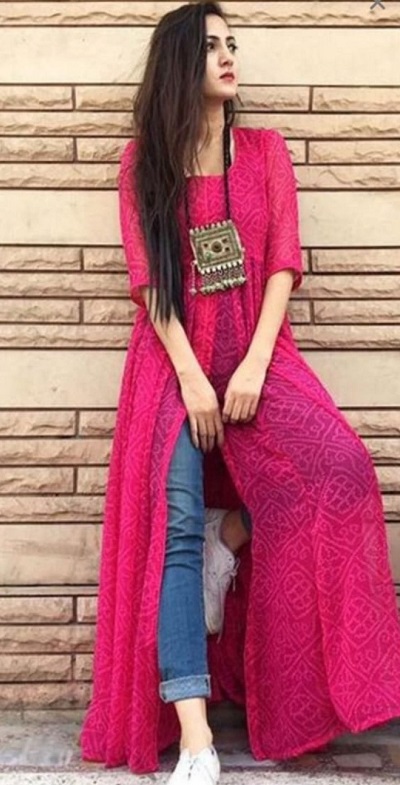 26. Side Slit Cotton Kurta And Jeans Combination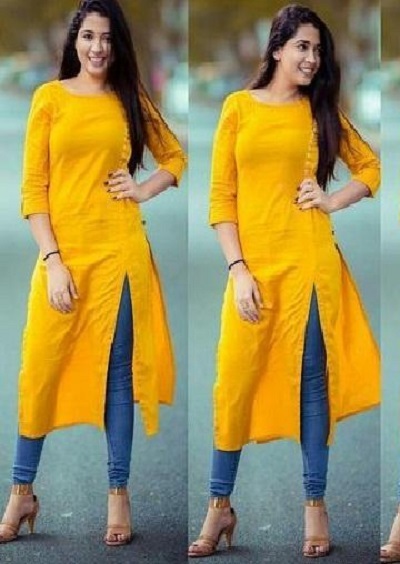 27. Floral Printed Kurti With Jeans For Parties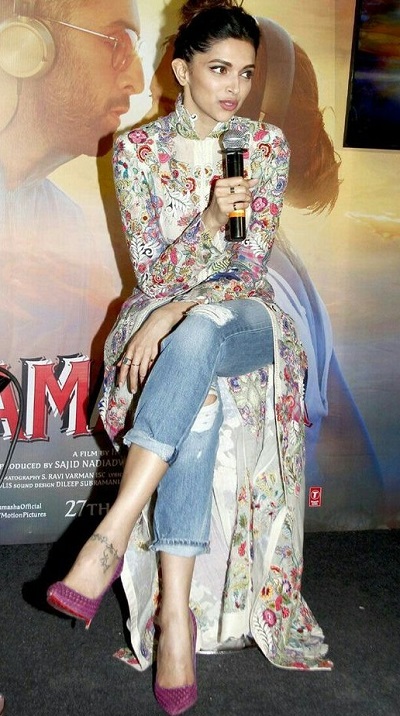 28. Long Sleeveless V Neckline Kurta With Ripped Jeans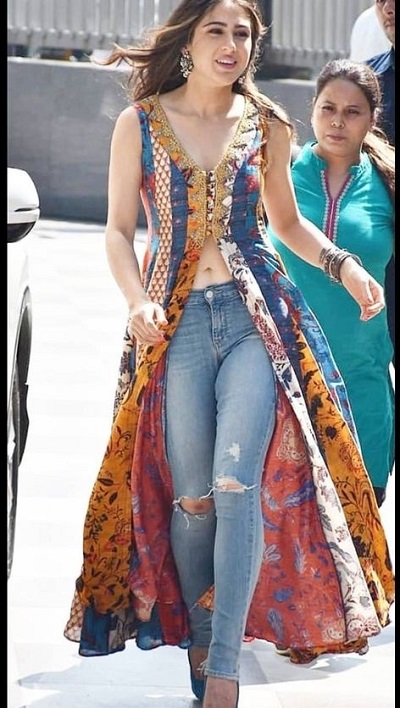 29. Stylish Long Centre Slit Kurti Jeans Pattern For College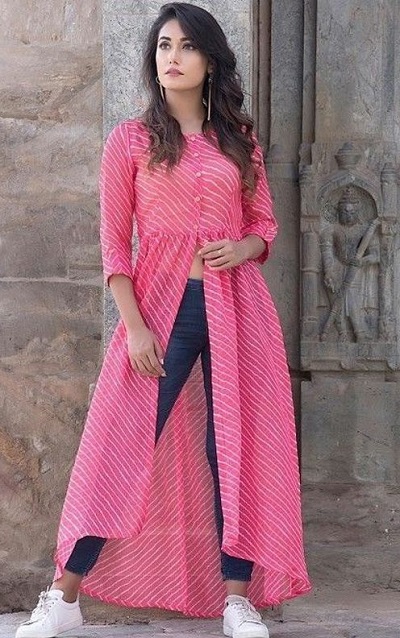 30. Sleeveless Embroidered Side Slit Long Kurta Ripped Jeans Pattern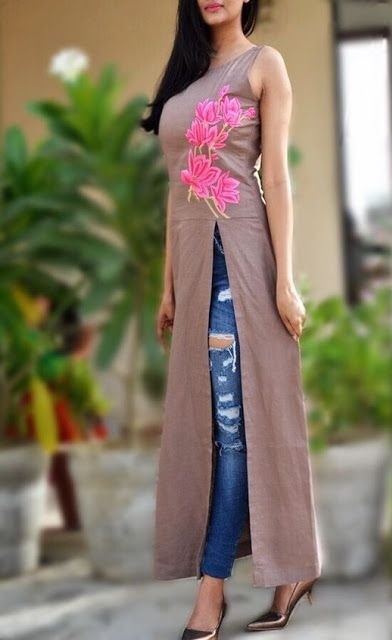 31. Long Collar Tunic Style Kurta With Jeans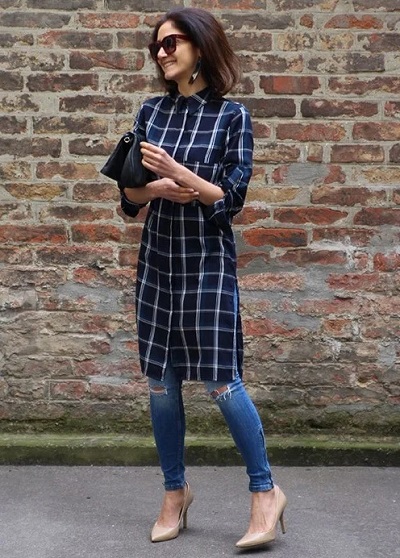 32. White Kurta And Denim Jacket With Denim Jeans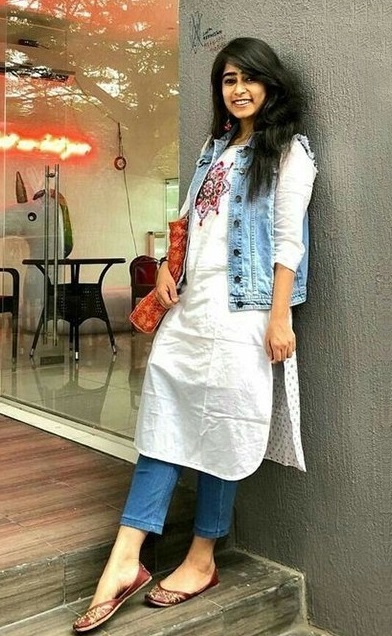 33. Half Sleeves Long White Kurta With Jeans Pattern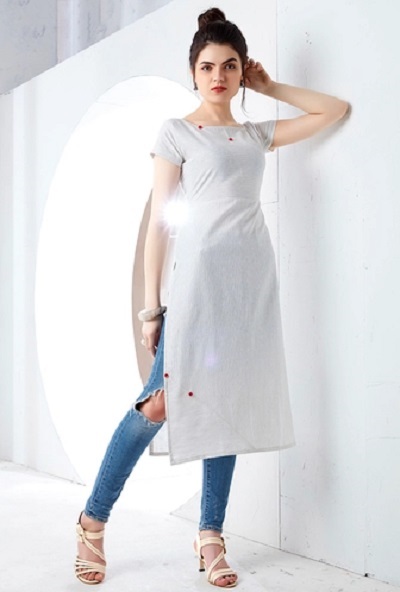 34. Floral Printed Long Shirt Style Kurta And Jeans Combination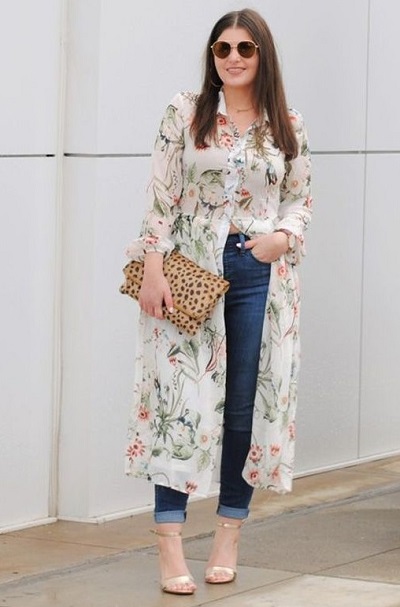 35. Pink Shirt Style High And Low Kurta Jeans For Casual Wear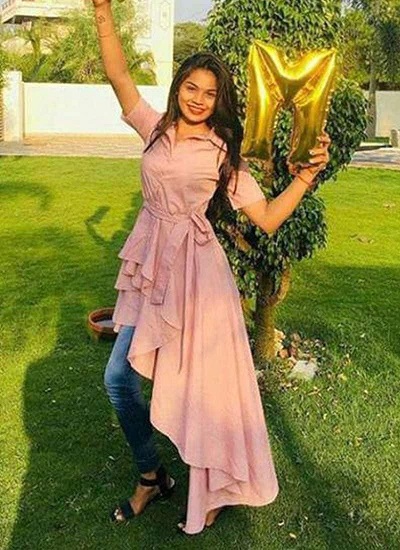 36. Black Two Side Slit Georgette Kurta And Jeans For Parties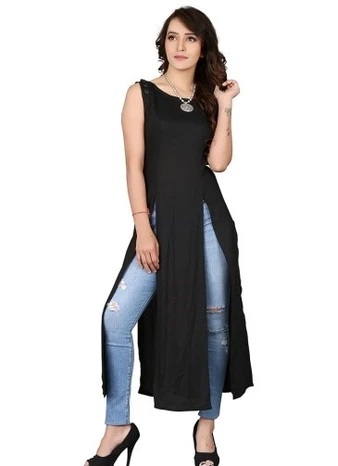 37. Black Three Fourth Sleeves Georgette Side Slit Kurta Jeans Pattern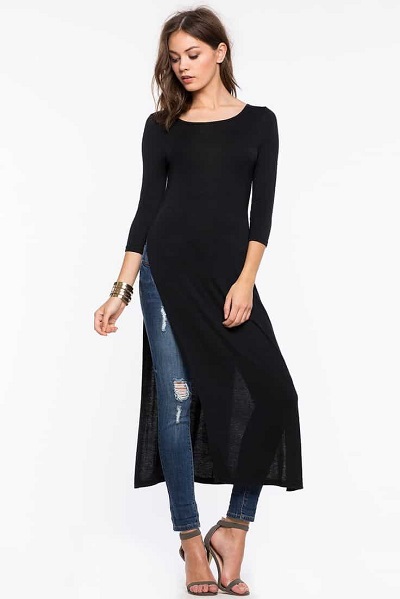 38. Center slit Georgette Long Kurta With Jeans Combination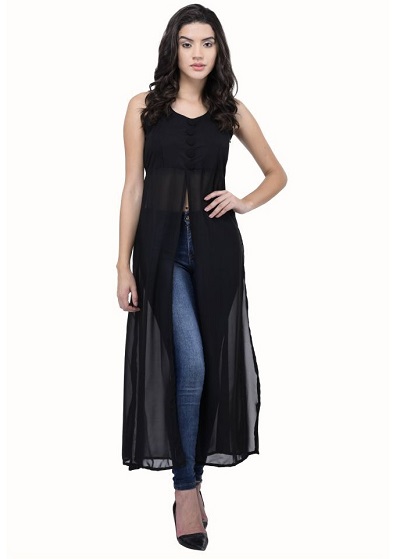 These are the latest designs of kurta jeans combination. You can have a short unique style kurta with jeans as well however long kurtis with jeans looks classy and quite elegant. In fact, this combination works really well for your office, work and also for college. Even for the casual hangouts and this is a casual and very comfortable attire to go for.
You can also experiment with different styles of jeans like the baggy jeans, wide leg jeans, cropped jeans, ankle length jeans, ripped jeans, low waist change, high waisted jeans and even the color of the jeans. Even the colored jeans like peach colored jeans, grey, black, white jeans also looks good with such long kurta patterns