LA Organo Apple Cider Vinegar Face Wash Review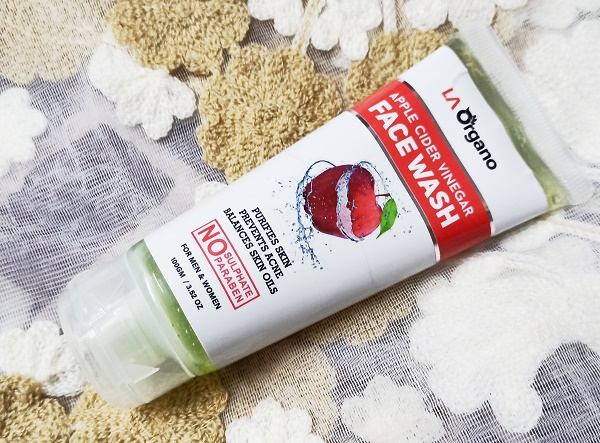 Hello everyone! My skin is oily and acne prone, therefore, I am always in search of a good organic face wash. I tried this LA Organo apple cider vinegar face wash. The reason I tried is the presence of Apple Cider Vinegar in it. Now, you must be wondering, if you already don't, know what apple cider vinegar does for your skin.
Apple cider vinegar is made when apple cider is fermented and in this fermentation process, Acetic acid and Maleic acid are made. It has the excellent antibacterial and anti-fungal properties. This is why, this contains also acetic acid and Maleic Acid which helps tackling lot of different skin issues like excessive oiliness of skin. So, let's get to know about how I likes it and my experience with LA Organo apple cider vinegar face wash.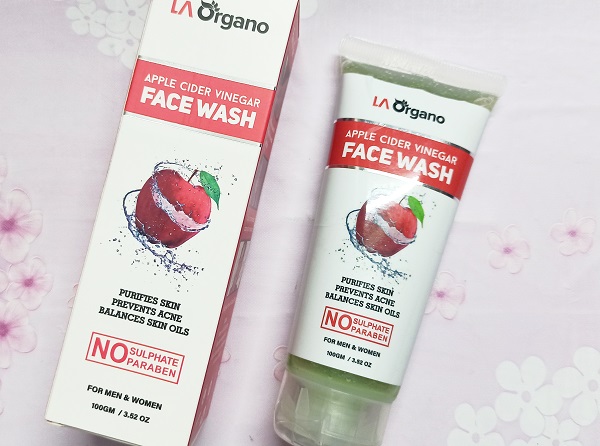 About The Brand:
La Organo is a herbal skin care, hair care and wellness brand. Their products are sulphate, paraben and chemical free. With their own shopping portal, they offer good discount on their products.
Product Description:
LA Organo Apple Cider Vinegar Face Wash is an anti-acne, purifying, nourishing, skin cleansing, hydrating, rejuvenating, non-greasy, skin glowing. The face wash is no chemical, no sulfate, no silicone, no paraben, dermatologically tested, 100% natural.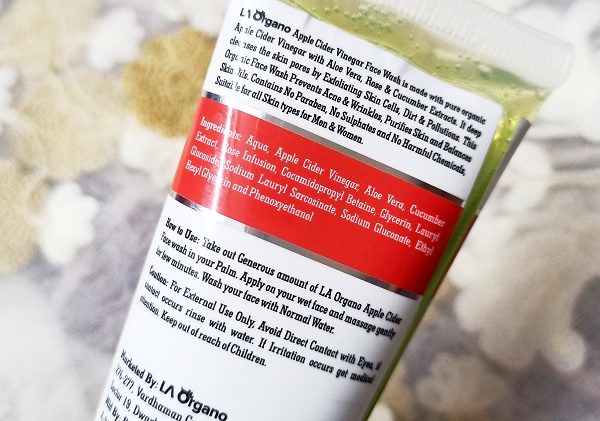 Ingredients:
Apple Cider Vinegar, Aloe Vera, Cucumber Extracts, Rose Infusion, Glycerin, Sodium Lauryl Sarcosinate, Sodium Gluconate, Phenoxyethanol, Cocamidopropyl Beatine.
Price:
499 Rupees for 100g (Available at a discount for 275 Rs)
Pack of Two costs 549 Rs. You can Buy it Here 
Shelf Life:
36 months
LA Organo Apple Cider Vinegar Face Wash Review 
Packaging:
The product comes in a tube packaging, which is easy to carry and use. The flip top cap is also secure and does not create a mess while you travel with it.
Texture:
The apple cider vinegar face wash from La Organo has a light yellowish green tint to its gel formula. It has this aloe vera kind of texture which I really like.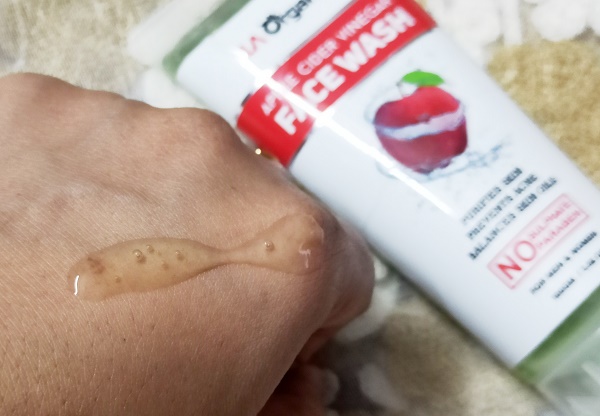 How I use:
This face wash has a light pale gel based formula which is decently lathering. A tiny blob is enough for a single face wash session. It smells really nice and one can detect the presence of Apple Cider Vinegar instantly in it. I first wet my face and take a tiny blob of this cleanser. It lathers adequately and cleanses the skin off the dirt, dust, impurities and oils. The product cleanses my skin really well and won't leave it stretchy or dry after wash. The reason I use Apple Cider Vinegar products is that it helps to reduce the excessive oiliness and keeps the skin tight.
Suitable:
The product is suitable for all skin skin types, but I feel it works best for oily and acne prone skin type. Moreover, it does not contain any paraben or sulphates in it. 
Experience: 
I really liked using this face wash, because my skin looks really clear and matte after using this and it's really a good and affordable face wash for oily and acne prone skin, especially during the summer season, when the skin is more likely to secrete sebum. It is that excessive sebum that tends to attract dirt and bacteria and possibly why the acne happens in the first place. Presence of Apple Cider Vinegar also helps to combat the acne and pimples because of its antimicrobial and antibacterial properties. Presence of Acetic Acid and maleic acid also improves the skin condition and prevents the bacterial growth. As a result, skin becomes clear and chances of breakouts are also reduced.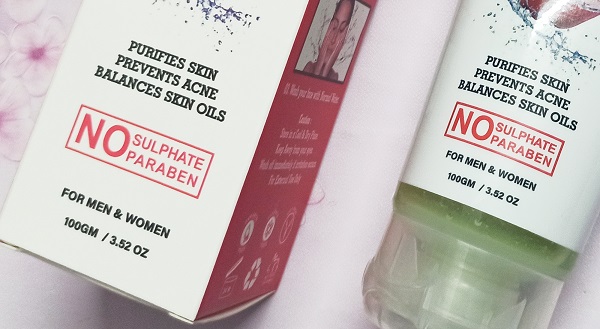 This product helps to get rid of the dead skin cells and therefore, my skin feels bright and fresh. I use this product twice in a day, i.e. morning and in the evening. For the night time, I would you use this apple cider vinegar face wash followed by a nice massage with LA Organo's pure aloe vera gel.
Free of chemicals, it's a gentle face cleanser, even when you have oily and sensitive skin type. This LA Organo, facial cleanser with apple cider vinegar not only cleanses your skin but also nourishes. As I was going through the label, I checked that it also contains ingredients such as Aloe Vera, Glycerin, Cucumber and other essential oils. Cucumber extract and aloe vera, in anyways soothes the skin especially during the summer season, when our skin tends to become very rough oily and sun burnt. I think not only for the oily to acne prone skin, it will also work for the normal to combination skin as well.
Rating: 
5 out of 5
Conclusion:
I can say that, it's a very affordable paraben and sulphate free face wash for oily skin available in the Indian market. LA Organo products are available on their official website and leading online shopping portal from where you can buy.
Availability:
LA Organo's Official website, Amazon, Flipkart
Combo Packs:
LA Organo Aloe Vera Gel and LA Organo Apple Cider Vinegar Face Wash is available at a Discounted Price of at 548 Rs, Buy Here