LA Organo Vitamin C Serum Review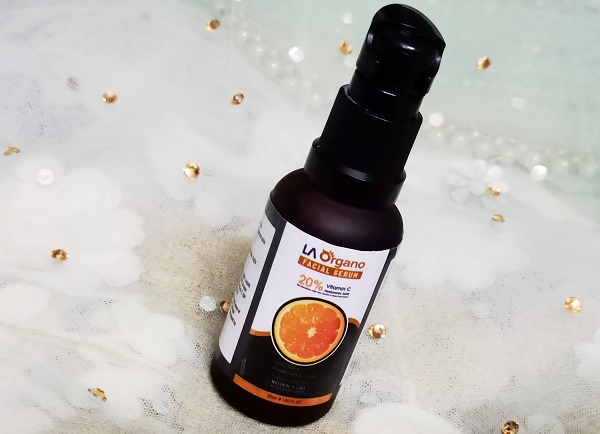 Vitamin C products have multiple benefits for the skin. And when it comes to Vitamin C rich skin care products, Vitamin C serum tops the list, well at least for me! Not saying that others products are not effective, it's just that I feel Vit. C serums are more suitable for my skin.
Applying Vitamin C really helps balance out the skin tone and reduces the dark patches and hyper-pigmentation. This amazing ability of Vit.C serum makes it one of the most used products for getting gorgeous and flawless skin.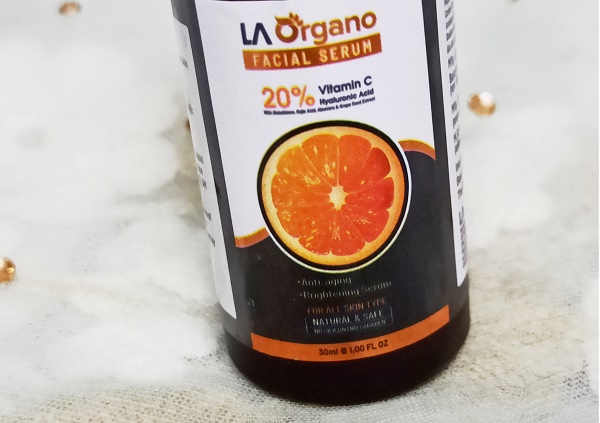 Regularly using a Vitamin C serum reduces the signs of aging and also helps in protecting the skin layer from the free radical damage. After all, your skin is the largest organ of your body and you have to take proper care of it. This is why I really like trying Vitamin C serums and the recent one that I tried is, LA Organo Vitamin C serum.
About the Brand:
La Organo is a herbal skin care, hair care and wellness brand. Their products are sulphate, paraben and chemical free. With their own shopping portal, they offer good discount on their products.
Product Description:
LA Organo Vitamin C Facial Serum, is a non sticky a completely natural ingredient product, ready to protects and enhance your skins natural beauty, rejuvenates & get flawless, naturally glowing radiant, wrinkle free, perfect skin will make you fall in love with yourself.
Key Ingredients: 
Vitamin C (20%), Hyaluronic Acid, Glutathione, Kojic Acid, Aloe Vera Extract.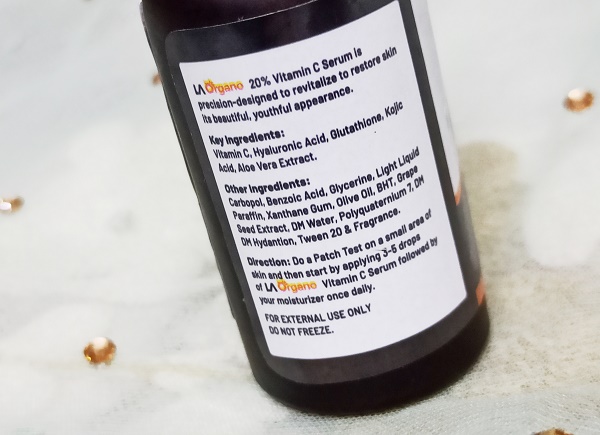 Shelf Life:
24 Months
Price:
1049 Rupees (Available at discount for  499 Here)
It's also available at a combo Pack of 899 Rs
LA Organo Vitamin C Serum Review
Packaging:
It comes in a pump dispenser compact bottle with a protective cap over the pump which I think is a very thoughtful thing because it because of pressing the pump you can product or it can even get some air through the pump dispenser. So I really like the packaging of this product.
Experience:
The product comes in a tiny dark glass bottle and the reason behind it, is to protect the serum from getting break down or change its consistency or color. Another thing you've to take care while using Vit. C serums, is to place them in a cool and dark place where they do not hit the sun light or humidity.It contains vitamin C in 20%. Here, I am mentioning the percentage because 10 to 20% concentration in Vitamin C serum is better and more result giving.
Other than that, this product also contains Hyaluronic acid, Glutathione, Kojic Acid, Aloe Vera and Grapeseed extract. This impressive list of the ingredient along with the Vitamin C helps revive your uppermost skin layer by reducing the blemishes, dark spots, dullness and even the excessive production of melanin on your skin.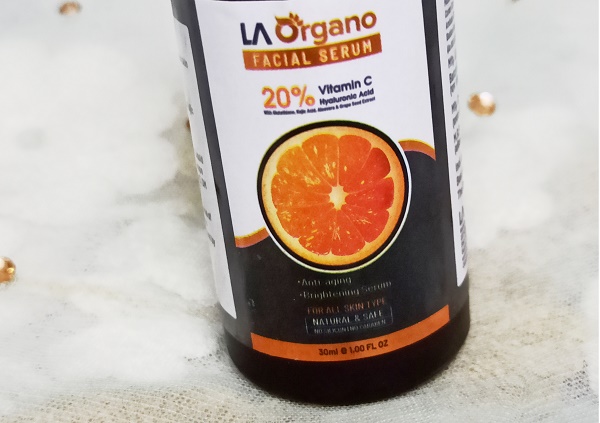 Vitamin C helps the skin a lot in multiple ways. Hyaluronic Acid, is an excellent moisturizing substance for the skin without making facial skin greasy or excessively oily. Glutathione and Kojic acid are naturally occurring chemicals in nature, which are known to improve the skin complexion. These products are known skin lightening agents, to decrease the melanin synthesis in the skin cells because of which skin appears lighter and brighter. Brighter would be better to say here because at times because of over sun exposure, not taking care of the skin and because of using wrong skin care products, skin can become dark and blemished. Therefore, the ingredients like Kojic Acid and Glutathione helps to revive original bright complexion.
Texture:
The vitamin C serum is a water based product because of which, even when I've got oily-acne prone skin, I could apply it easily. When you take this product, in the palm it is visible that the product is really water based and non sticky. When I apply it on my skin, I could feel that it gets inside the skin within just a couple of seconds. There was no residue or stickiness left behind.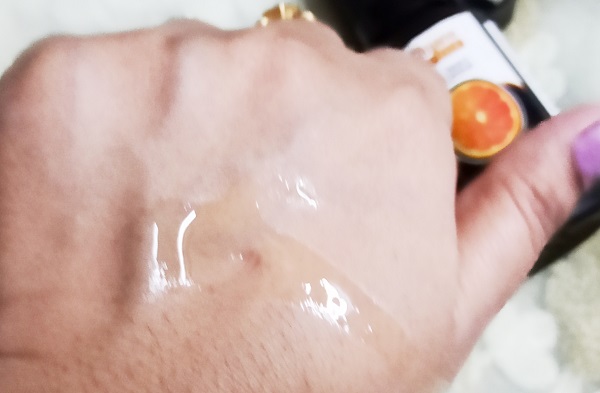 How to Use This Vitamin C Serum:
Now, let me tell you how I use this product. First of all, I wash my face with a suitable cleanser and pat dry. Then, taking this product, I apply it on my face and massage for few minutes and it gets dry within a couple of minutes as I said. I follow it up with an anti aging moisturizer that I am using currently. You can use any night cream or skin cream that you would like to try.
Skin care specialists recommend, applying serums after washing the face thoroughly, but before applying the regular creams and moisturizers. This way the product gets absorbed in the skin layers nicely.
I've used few other Vitamin C serums to, 1 or 2 have made my skin sticky after the use. Therefore, I can compare that this was is more oil-free and water based and suitable for oily skin.
Considering that, if you've oily skin, go for the serums, which are water based and are light in texture. Because at times using wrong Vitamin C serum that does not suit your skin type, can make your skin breakout.
Experience with La Organo Vitamin C Serum:
So, ever since I have been using it, I can feel that my skin is looking better than before and brighter. I had few dark spots on my cheeks as a result of the acne that I had a couple of months ago. After using this, they were also reduced.
This is also an excellent anti aging serum because Vitamin C is a strong anti-oxidants that scavenge the premature causing free radicals.
Let's see some of the benefits which you can get after using a Vitamin C serum on daily basis:
Benefits of Vitamin C Serum:
Vitamin C serums can really help reduce premature aging of the skin and also from the over exposure of the sun.
Regular application of Vitamin C products like serums stimulates the synthesis of Collagen protein that provides resilience and elasticity to the skin.
In case of hyper-pigmentation as well, vitamin C rich serums have shown good results. Over the time, it tends to lighten the pigmentation and makes skin even toned.
It improves skin clarity and uneven tones the skin.
Store your vitamin C bottle in a cool and dark place away from extreme heat, sunlight and humidity.
Rating:
5 out of 5
Availability:
LA Organo's Official website, Amazon, Flipkart
Combo Packs:
There is a Combo Pack available for La Organo Vitamin C Serum and La Organo Apple Cider Vinegar Face Wash at Discount of 799 Rs only, Buy HERE
La Organo Vitamin C Serum and La Organo Aloe Vera Gel at a Discount for 799 Rs only, Buy HERE
Conclusion:
La Organo Vitamin C serum is not only an affordable 20% vitamin C serum but with its water based formula and light texture, it's one of the best vit. C serums in Indian market. With Glutathione and Kojic Acid, it helps to fade fine lines and wrinkles and makes the skin brighter.