Lace is a highly delicate fabric which is made with threads and yarn. The beauty of a lace fabric is that it was originally made from the line and Silk but today even the cotton and synthetic fibers are used to create beautiful lace fabric. Tablets are used in women's clothing heavily and especially in the western clothing. These days even the Indian clothing is not untouched by the lace fabric clothing. We can have beautiful lace fabric kurtis which are also suitable for the summer season. As they have delicate sheer and see through fabric they require lining underneath. Which is why, lining is also used on the fabric and the same lining can also be strategically used to create bold and more defined style.
Latest Types of Lace Kurti Designs
We have compiled this catalogue of the designer lace fabric kurtis for women. This kurtas and kurtis for ladies are suitable for the different occasions and functions. They are quite light weight and are also very comfortable to wear.
1. Lace Fabric Designer Kurti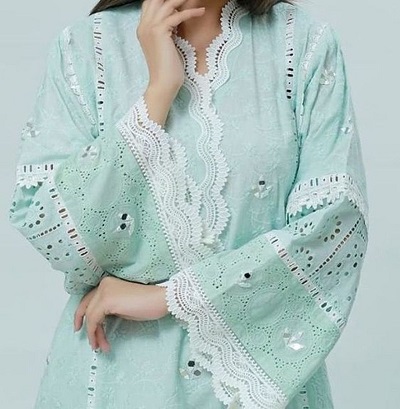 The color of this is lace kurti is highly soothing and easy on the eyes. In fact, it is one of those colors which look amazing on women with all skin complexions. It has lace border which creates a nice delicate and feminine feel for this entire kurti. And the good thing is, it is also been made with a very designer look. The inclusion of lace fabric makes this kurti even prettier. It has bell sleeves and it is more like those Pakistani loosely fitted kurtas.
2. V Neck Lace Cotton Kurta For Women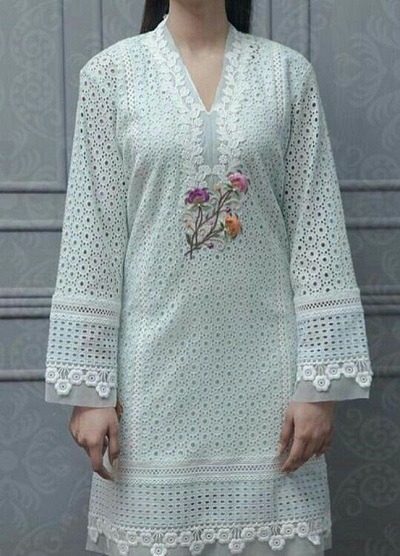 This is also not fitted but there is embroidery and lace fabric. The lace fabric is used to create this kurta and it has been made in such a wonderful pattern. It is ideal for all those sophisticated functions and events, where you do not want to look over the top but just maintain a sober and calm demeanor.
3. Lace Short Straight Kurti Design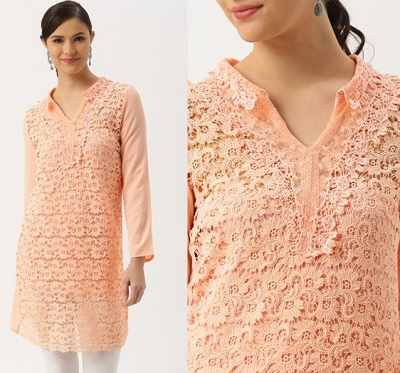 This is a beautiful peach Orange colored lace fabric short kurti. It even has a collar like a shirt  and this kurti has full sleeves with a nice pattern of lace. It doesn't have any embellishment but it is entirely and purely made with lace fabric that is its major highlight.
4. Short Lace Fabric Kurti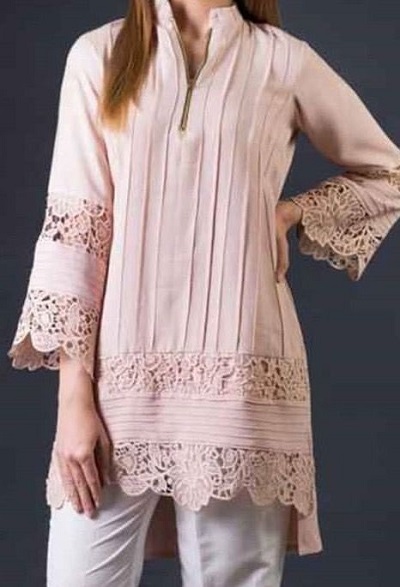 Lace borders and trim is used on the edges of this kurti. It is indeed a beautiful kurti. It also has a zipper and has a stand collar. Pleats and pin tucks are also used for more detailing and to add dimension. Such kurti patterns for women are ideal to give that traditional look with western vibes and aura.
5. Multi Colored Short Lace Kurti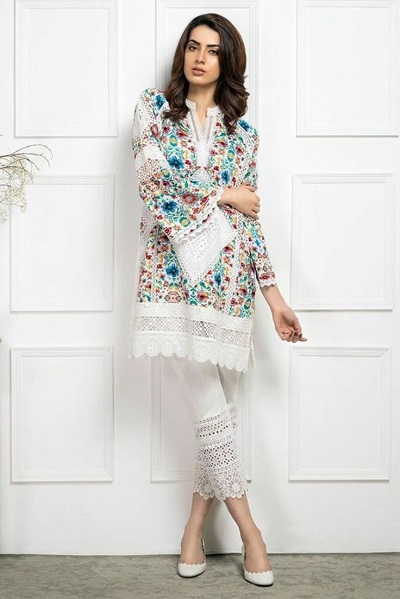 The printed multi colored fabric is the major highlight of this kurti. It is also a short Pakistani style kurti which is being paired with cropped trousers that also bear the same lace fabric patch at the end of the trousers. It is indeed quite stylish. Don't you think? So in spite of this being a traditional kurti, it has this modern charm and look to it, which we absolutely adore and liked about this kurti.
6. Lace Jacket Style Kurti Pattern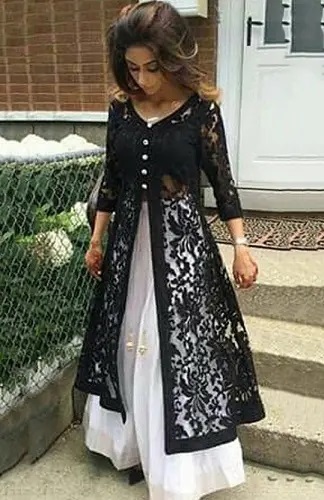 Lace jacket is what you should have in your wardrobe. Not because it looks pretty but it has that versatility that one can utilize it in many ways. It can be used to create different designs, when it comes to Indian and traditional wear. This jacket kurti is in black color and has buttons in the front. It is a jacket that doesn't have a lining at the bottom skirt part, however you can pair the skirt, palazzo pants and different types of bottoms to create your own style.
7. Peach Lace Fabric Loose Kurta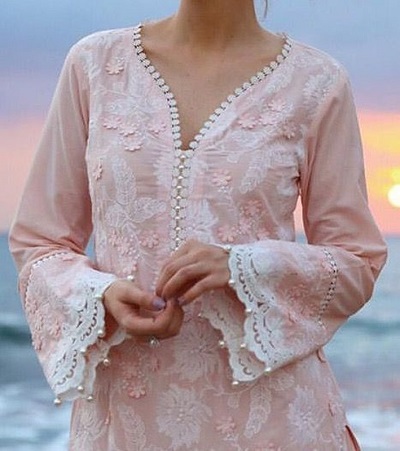 Indeed, it is a stunning kurta where in lace fabric is used strategically to create beautiful pattern. We simply love the neckline and the use of pearl beads in this kurta is so immaculate and wonderful. It is for sure one of the best looking kurta.
8. Short Ruffled Collar Kurti Neck Design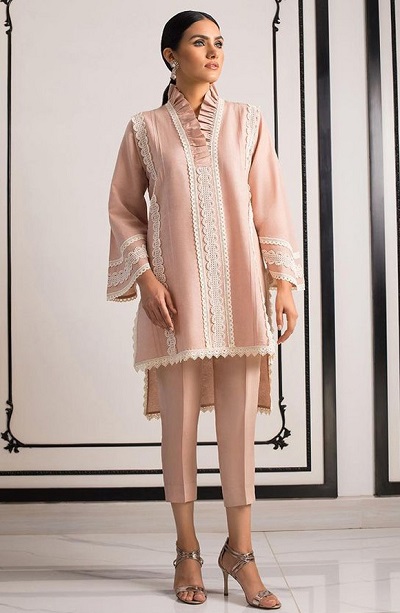 This is a beautiful kurti that has been made absolutely attractive by the use of lace fabric. Undoubtedly, the kurti is so stunning that it is a wonderful traditional dress. A traditional dress can be so simply beautiful, we have never imagined. With that we mean that it looks so blessed and in spite of it being a traditional dress. The loose leaf printed kurti and the sleeves give the appearance of a nice western shirt. The ruffled collar is also added which adds detailing.
9. Black Georgette Lace Kurti Design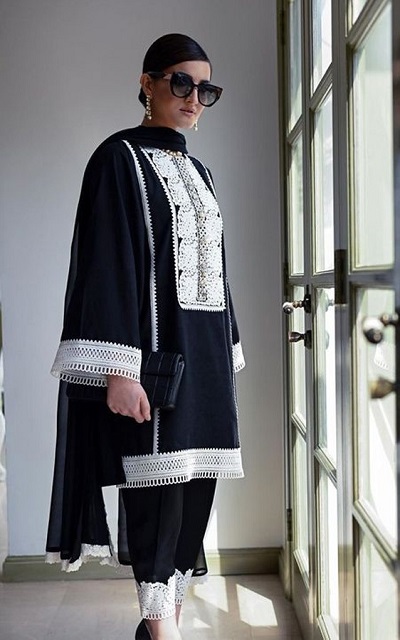 Lace is a fabric which is so comfortable and light during the summer season. This design is so beautiful and with the lace fabric detailing that it looks lovely and difficult to take the eyes away. The design has broad laces on the edges and lace panel is also created in the front part. It has matching trouser pants that also match the kurta with a similar lace patch at the bottom.
10. Lace Fabric Long Collared Kurti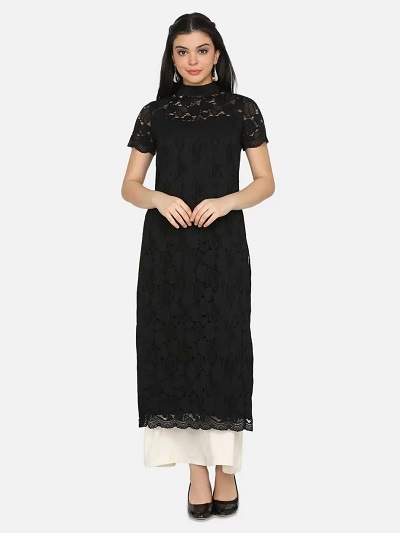 This kurti is made entirely with the lace fabric. It is a full on lace fabric kurti with short sleeves and very long length with side slits. It is a straight cut kurta which is ideal to pair with bottoms such as trousers Palazzo, jeans and more.
11. Round Hemline Green Kurti Design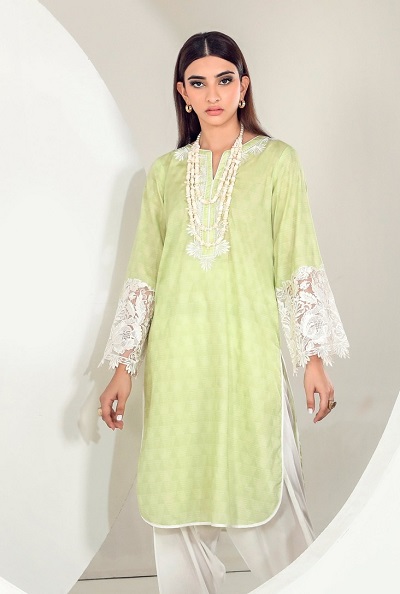 12. Grey Short Lace Kurti
13. Stylish Black Lace Fabric Kurti Design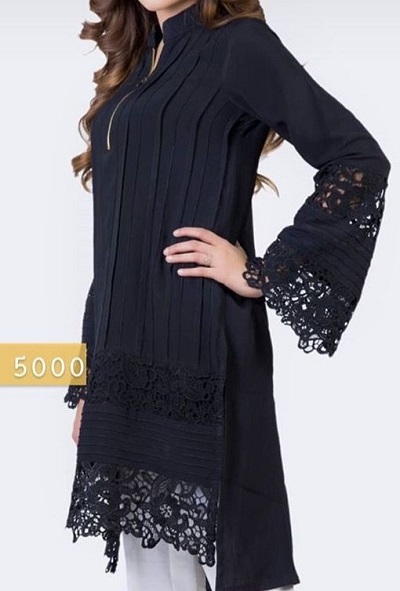 14. Black And White Lace Kurti For Ladies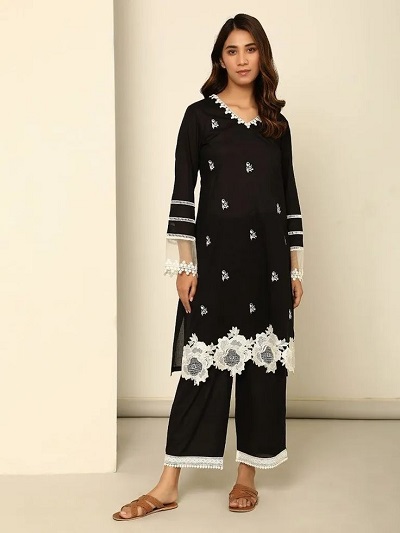 15. Lace Detailing Blue Cotton Silk Kurta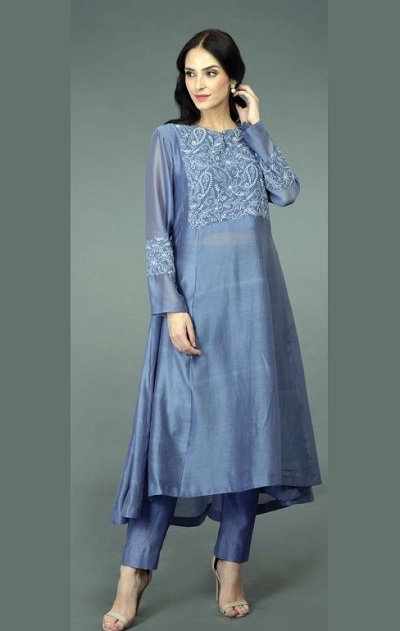 16. Stylish White And Red Lace Kurti Design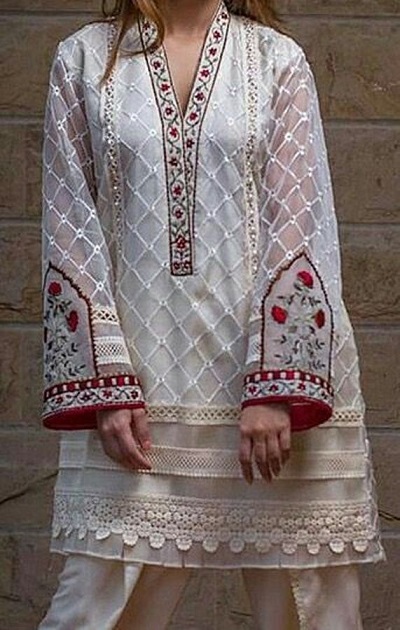 These are the latest kurti design for ladies. Lace is a delicate and beautiful looking fabric which can be tried with so many different bottom pieces. You will realize fabric and kurtis for your office work for college and for the get together and functions.