Lace blouse designs are really getting popular. Lace is a fabric that makes the entire dress look very feminine. In fact, lace fabric is also used exclusively in the western wear for women. In this article we are going to compile this image list, where you will see the best lace saree blouse design patterns.
Latest Lace Saree Blouse Designs For Parties and Festivals
1. Pink Lace Saree Blouse Design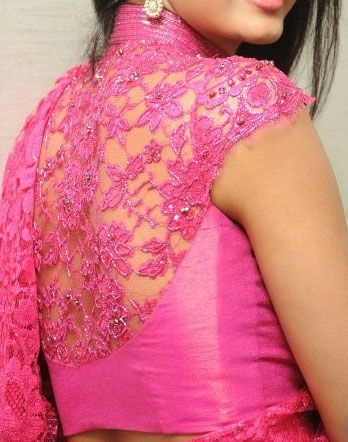 This beautiful Lace blouse and net fabric flowers is amazing with the Patchwork design. The back is given the Lace short cap sleeves are given. It is a high neck blouse with collar. This blouse looks really stunning when paired with a net saree. In fact that blouse designs can be worn for the Cocktail parties and events.
2. Pink Lace Blouse With Short Sleeves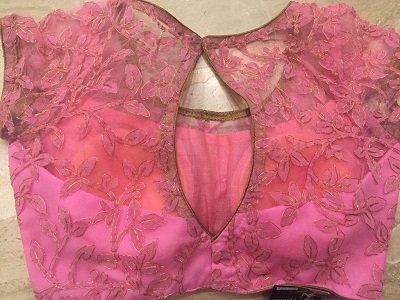 The beautiful blouse is made with a lace and net fabric. The sleeves are short and round neckline in the front is given. The back neck line is high neckline with a keyhole design at the back. The half-and-half effect of this blouse gives really salary and glamorous look. This is one of the best saree blouse designs for the parties.
3. White Ivory Lace Saree Blouse Design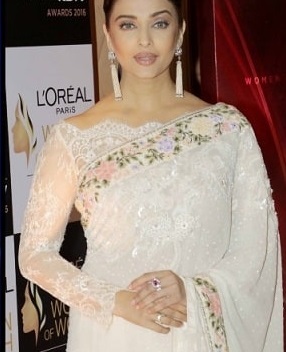 The full sleeve lace blouse has been given an off shoulder kind of look. The Lace blouse has full sleeves and is made entirely with the lacy net fabric. The blouse is made with a stunning cut work pattern that makes it really amazing for most of your party and event sarees.
4. Backlaces Blouse With Net Saree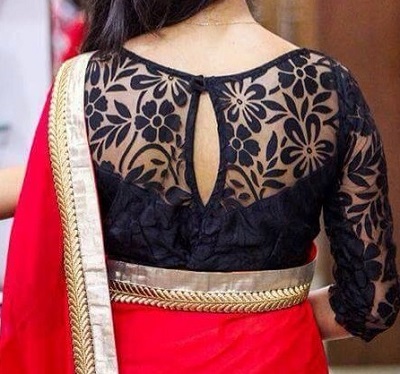 This is another variation of such blouse designs where the lace fabric is used and the same fabric is used for the sleeves which are made in ful style. This pattern has the really nice design. The back and front neckline is really pretty. At the back Pearl work button is also given. This saree blouse is perfect with different types of functions and this is for women who would like to look modern and scintillating.
5. Stylish Lace Net Saree Blouse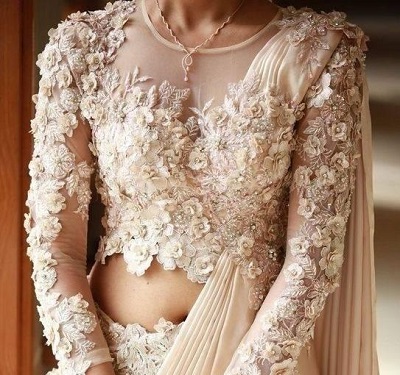 This gorgeous blouse has lace and pearl work. This is a stunning looking blouse that has very beautiful pattern and design. The cut work in the flower shapes and rich thread work flowers are also seen. Such fabrics are very delicate and must be used carefully. This blouse is one of the best lace saree blouse designs available.
6. Back Button Net And Lace Blouse Pattern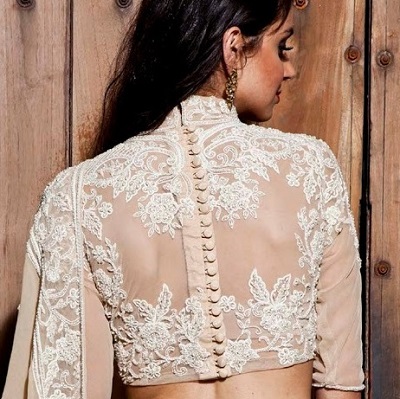 The beauty of this blouse is the high neck line up which gives it a very modern and feminine look. The back is entirely covered but the fabric has not been given any lining. The blouse back side has buttons that runs through from top to the bottom. This blouse design has been given three fourth sleeves. It is suitable for most of your net sarees.
7. Embellished Lace Saree Blouse Pattern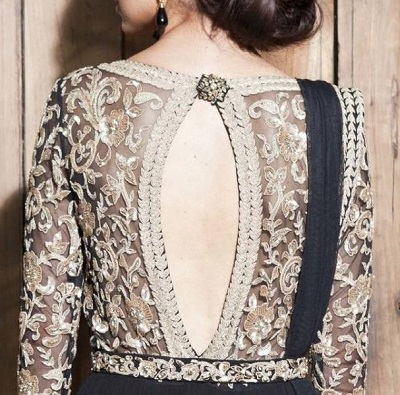 This embellished saree blouse pattern has embellished embroidery and the net fabric is used. Beautiful brooch kind of button is given at the back neckline. The back neck line has round boat shape pattern with the really pretty Key hole shape cut. This blouse is really stunning and women who want modern blouse patterns would surely love this style.
8. Shrug Pattern Blue Lace Blouse Design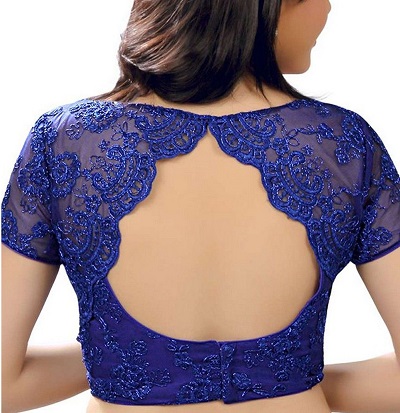 This blouse looks more like a shrug worn over a regular blouse. Such patterns are really popular and different variations have been seen for the same design. Here in this blouse the back neckline is really beautiful, while the front neckline is simple boat shape neck-line. The pretty blouse is made in a blue lace net fabric. Back hooks are also given. For all your black lace sarees, such blouses are going to look absolutely stunning.
9. Golden Sleeveless Lace Blouse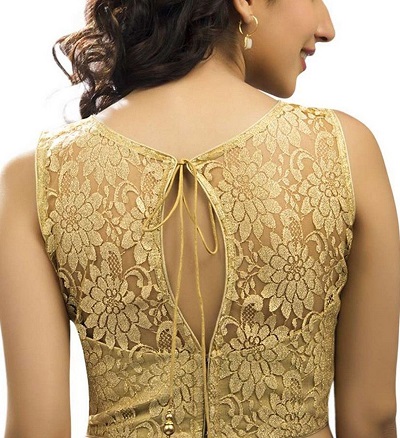 The sleeveless blouse has been given great pattern and back neck line is given a cut. Such blouses are perfect for your lehenga and lehenga style sarees. For many type of different sarees, this blouse pattern can be tried.
10. Pink Halter Style Lace Blouse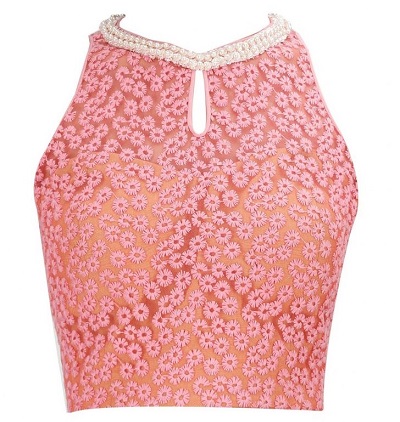 The pink lace fabric with the floral thread embroidery looks really pretty. The blouse has pearl bead work on the neckline and it's been given halter shape. It is a very modern and party wear kind of blouse. For all your net and lace sarees, such blouse patterns are amazing.
11. Red Lace Saree Pattern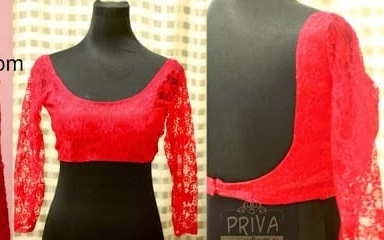 This gorgeous blouse in red colour has three fourth sleeves which are in a net fabric. It's a very good decently made blouse with a deep front neckline and a backless pattern at the back. The best thing about such blouse is that they make even your regular plain sarees very party wear kind of.
12. Black Lace Saree Blouse Design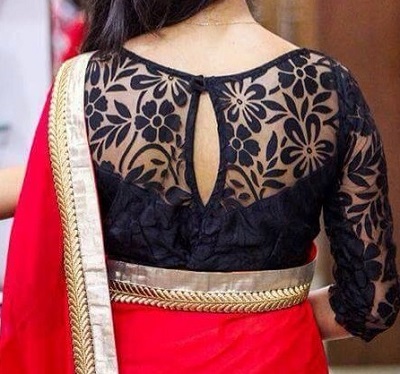 Made with the pretty black lace fabric and the pattern, this blouse is sure to entice everyone. It would make you look head turner. With strategically used lining, this blouse is sure to make you appear gorgeous.
13. Full Sleeves Blouse With Black Lace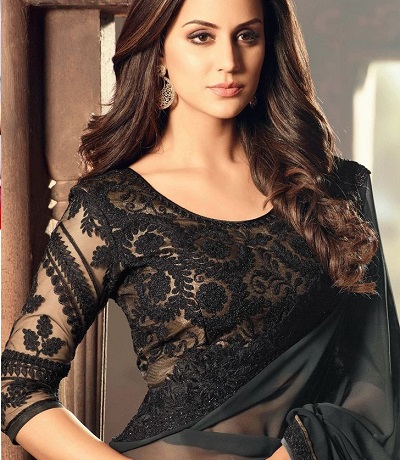 Here, the black lace fabric is used along with a golden lining and the golden lining is visible through the black lace actually adds really gorgeous look to this beautiful pattern here.  Such blouses are perfect for not just the sarees, but for the lehenga and lehenga sarees as well. They look good for women with heavy and bulkier bodies or even the slimmer girls can go for such blouse designs.
14. Short Sleeves Lace Saree Blouse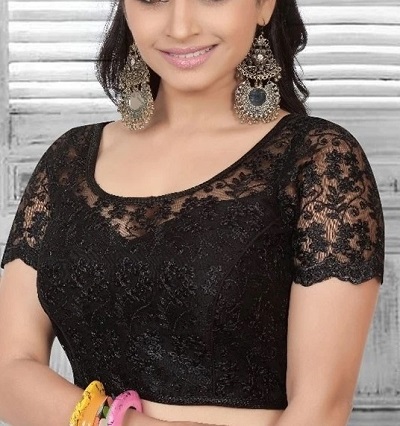 This is a really gorgeous blouse, which is given short sleeves made with the lace fabric. There the lining is used that gives it appearance of a bustier worn inside. This blouse is suitable for slimmer as well as healthy girls. Women with broad shoulders can also wear such designs.
15. Lace Simple Blouse with a zipper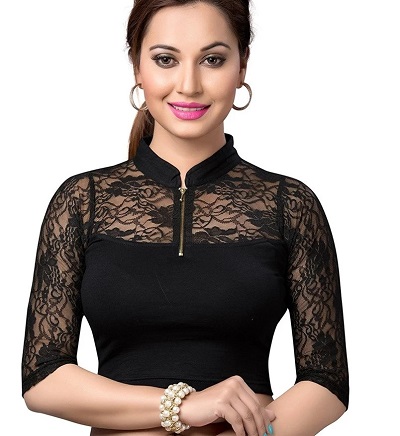 This blouse here is given a beautiful pattern and comes with a Chinese neckline design. In the centre a small chain is also given. The zipper pattern of this blouse makes it very Western looking. It can also be worn with the regular sarees or even with your skirts.
16. Gorgeous Golden Lace Saree Blouse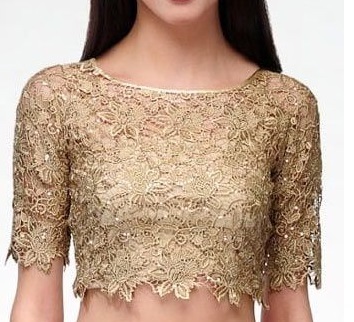 The absolutely stunning cut work lace pattern is very expensive and feminine looking. Here and there Pearl work is also seen. It is a very simply made pattern but makes a striking impression. It has boat shape neck-line in the front and at the back. Hooks are given at the back to make it easy to wear. This blouse has medium length sleeves and has cut work. So, the blouse would look great with different colors of saree and even the different fabrics like heavy or sheer fabric.
17. Red Lace Blouse With Sequins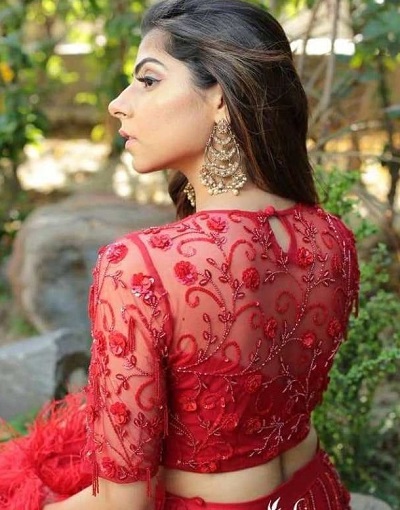 This beautiful red lace net fabric blouse has a really pretty design. The backless kind of pattern bears the lining at half of the back only. Buttons are given at the back neckline and sequin work in red colour is also seen that makes it really pretty and beautiful.
18. Blouse Pattern For Cocktail Functions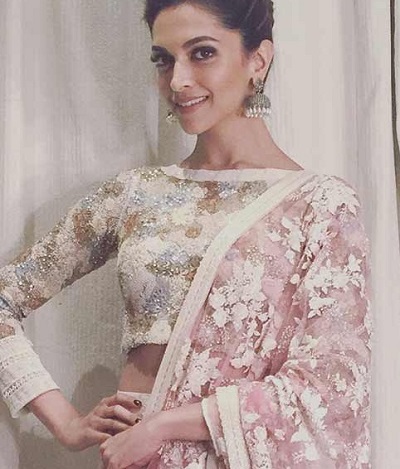 If you are confused what you should wear with your sheer net saree, then this blouse is your choice. It is been given full sleeves with boat shape neck line. The blouse pattern is really simple but the fabric and the embellishment over it is the main eye catching feature.
19. Blue Patchwork Lace Saree Blouse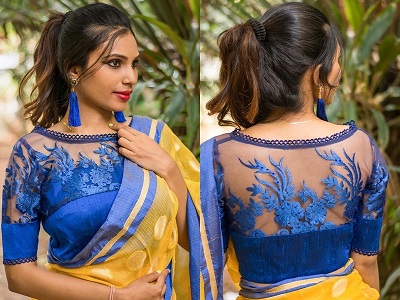 The blue saree blouse design has lace work and art Silk fabric is also used. It looks really good and this pattern is mostly for your silk sarees like Cotton Silk, tissue Silk aur even Khadi Silk sarees. So other than the rest of the blouse, that we've listed, which were suitable for sheer net sarees, this is for the cotton sarees.
20. Gorgeous Saree Lace Work Blouse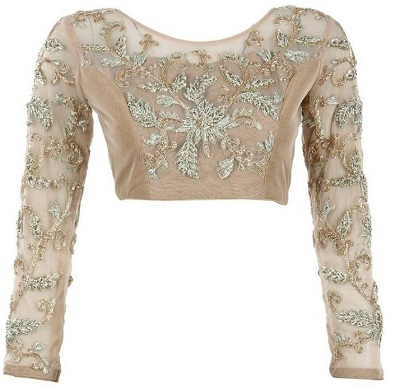 If you will see, this beautiful blouse has laces work and net fabric along with the similar colored velvet fabric used.  This is why, the blouse not only looks very royal and expensive, but gives it a very feminine look. The blouse is sure to catch your attention and will make you look stunning.
The lace blouse designs are here to stay and they look really gorgeous and stunning. The ability to make women look more feminine and delicate makes them popular amongst the younger women.