Lakme 9 to 5 Eyeshadow Palette in Tanjore Rush

Eye shadows can enhance your eye makeup look. I will review a very pretty eye shadow palette this is Lakme Eye shadow Palette in Tanjore Rush. Lakme has either these eye shadow palettes or the mono eye shadows from the Lakme absolute range but they are very expensive hence this palette is a great option for everyone.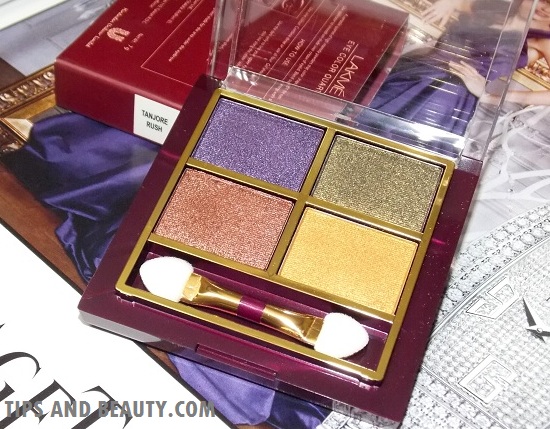 Price: Lakme 9 to 5 Eye Quartet Eye shadow Palette in Tanjore Rush is for 525 Rupees. It was for 400 Rupees earlier but now Lakme has increased the price. As the palette has 4 colors then per color the cost will be around 125 rupees something as it is decently priced as thing palette will last really long.
Experience with Lakme 9 to 5 Eyeshadow Palette in Tanjore Rush
This eyeshadow palette comes in a sturdy plastic packaging with the four color pans inside and a transparent lid to cover them. I really like the design and packaging of this palette. It looks quite attractive and beautiful. These Lakme Eye shadow Palettes are available in 4-5 different shades and this one in Tanjore Rush is an absolute beautiful versatile palette.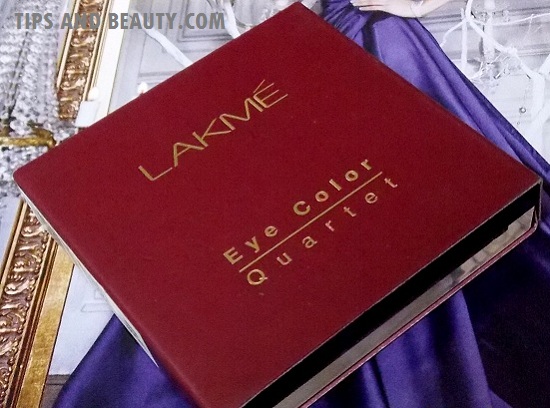 This eye shadow palette contains 4 colors:
Navy Blue : It which looks like peacock blue and can be used with Indian and western wear.
Olive Green: This is a great color to be sued along with a gold color.
Bronzy Brown: This is a universal color that can be used on the crease and as a lid color to wear it on its own.
Gold Color: This is a beautiful pale Gold color which can be used to highlight the brow bone, inner corners of the eyes and you can also use this just as a lid color. If you have read my post on the must have  makeup product in every kit, I also included a palate gold shade and this color is exactly like that. It can be used on its own for the office or a casual day out etc.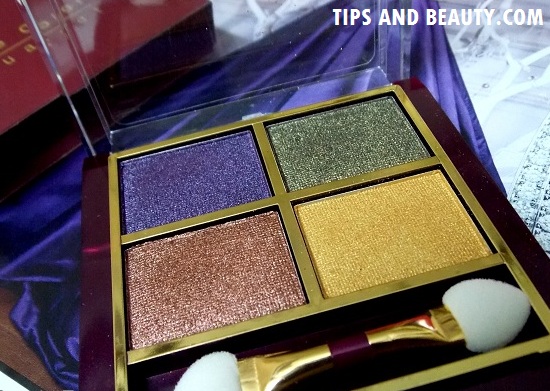 These colors are very pigmented and comes with a dual end sponge tip applicator. I like to use makeup brushes to apply the eye shadow colors but when I sue shimmery eye shadows then I will use the sponge tip applicators as when I use makeup brushes the shimmers will fall under my eyes. This stays all day long and when I use eye shadow primer then they will last without fading. These have very soft satiny texture which is why they are extremely easy to blend over the eyes.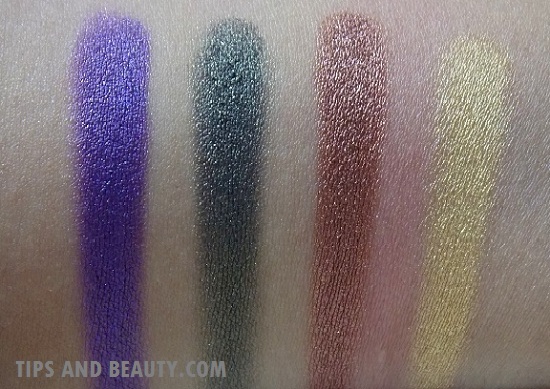 Pros of Lakme 9 to 5 Eye shadow Palette in Tanjore Rush
Packaging

Easy to blend

Very pigmented

Neutral colors in this palette will be great for Indian outfits to create smokey eyes

Not allergic to the eyes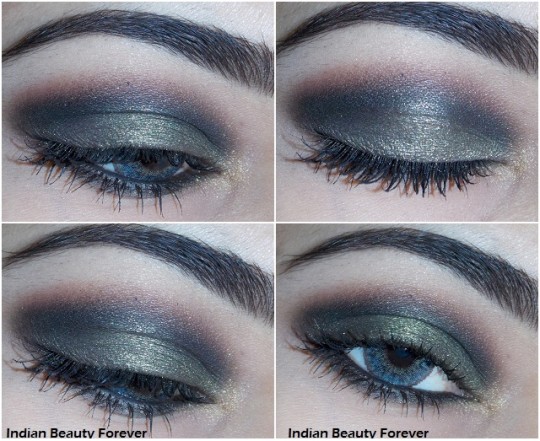 Cons of Lakme 9 to 5 Eyeshadow Palette in Tanjore Rush
No cons for me but price can be high for some.
Rating: 4.5 out of 5
Lakme Eyeshadow Palette in Tanjore Rush is a must have eye shadow palette that has neutral colors with earthy blue and green. I like that they are easy to blend and stays on the eyes all day long.