Lakme 9 to 5 Weightless Mousse Foundation Beige Vanilla Review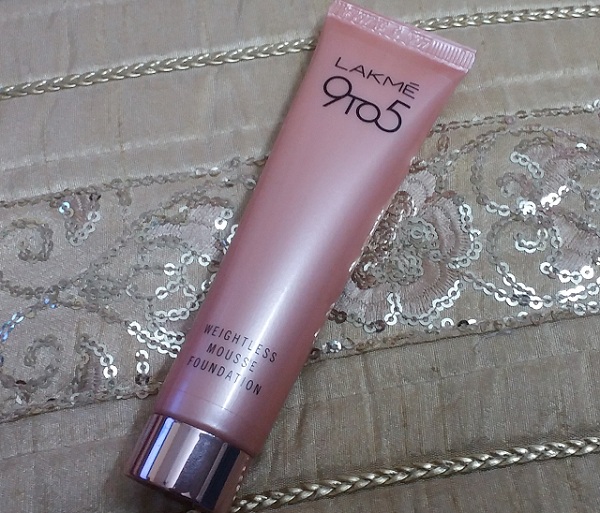 Hi everyone!! Foundation is like a second skin for many women who use makeup. Foundation can help to cover and hide the blemishes and flaws on the skin but choosing the right foundation is crucial. Similarly applying the foundation flawlessly is also vital. I will share Lakme 9 to 5 Weightless Mousse Foundation review today. This is the newly launched product and I have been using this for the past 2 months. Now that I have tested this product I am ready with this Lakme foundation's review. This foundation is a mousse foundation which is a different texture from the regular liquid and creamy foundations so let get to know friends how this Lakme 9 to 5 Weightless Mousse Foundation is.
Price of Lakme 9 to 5 Weightless Mousse Foundation: This Lakme foundation is for 575 rupees for 29g.
Shades for Lakme Mousse Foundation:
This Lakme mousse foundation is available in the following shades:
Rose Ivory

Rose Honey

Beige Vanilla

Beige caramel
About the product: LakmeMousse Foundation is a very light weight foundation which is ideal or everyday usage. It's light weight formula makes you feel as if there is no foundation applied at all. The matte finish and easy blend able product is available in 4 different shades to suit your skin complexion.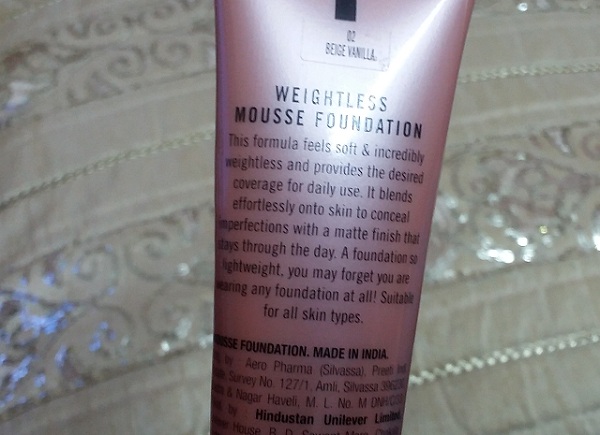 Experience with Lakme 9 to 5 Mousse Foundation
This Lakme weightless mousse foundation comes in a beautiful rose gold tube with a metallic finished rose gold cap. I loved the packaging. Tube pack is easy to use and there is no wastage unlike the pump packaging. This is very easy to carry in the bag because the tube is of plastic and there is no worry that the bottle will break or anything like that. If you need to know foundation suggestions for the skin type then read: Best foundations for oily skin and Best foundations for dry skin.

Shade description: This shade Beige vanilla of Lakme Mousse Foundation is just the perfect shade for my skin color. I am between fair to medium hence this suits my skin color beautifully. The Beige vanilla shade of foundation has enough yellow tones that go really well with my olive yellow undertoned skin color. I was thinking of getting the shade Rose honey earlier but shades like Rose honey, rose Ivory have pink undertones which does not look good against my skin complexion. This is because I have yellow undertones so pink undertoned foundation shades will be mismatched. Therefore if you are fair with pink skin then chose Rose Ivory. And if your skin color is medium to fair with pink tones then try Rose Honey. Now the last shade of Lakme 9 to 5 weightless mousse foundation which is Beige Caramel is ideal for the medium to dusky skin colors. I was thinking that they should have included one more shade in darker color since girls who are dusky can also get their perfect shade without looking ashy with Beige Caramel.
Experience: Lakme 9 to 5 weightless mousse foundation has a mousse like texture as the name says. This has more like a whipped cream like fluffy texture which is very smooth and glides on the skin like magic. This is extremely smooth very applied with the help of a flat top brush and blends in perfectly. I like how it blends seamlessly in the skin and doesn't even look as if I am wearing foundation. This has a very satiny and fine formula that goes in the fine lines and fills them in. This Lakme 9 to 5 Weightless Mousse Foundation also fills the pores on the skin which makes the skin look perfect. I am currently loving this foundation because of these very features. After applying the foundation, my skin looks absolutely matte and I don't even need a compact to further touch up my face. This is a great foundation for oily skin since this is oil free and non greasy in formula. But on the other hand, if you have dry skin then you will have to apply a moisturiser to hydrate the skin before using this foundation.
This Lakme foundation stays on for good 4-5 hours then this gets a bit patchy when I sweat. It doesn't melt in heat or get oxidized badly but when we sweat then naturally the foundation will get patchy as this is not waterproof completely. This is partially waterproof as if you have applied this and splash some water and pat dry with a tissue of towel then this will not budge off badly but will stay decently.
Pros of Lakme 9 to 5 Mousse Foundation
Packaging is very travel friendly and easy to use
The mousse texture of this foundation is every easy to blend and spread on the skin
This is great for oily to normal skin
This fills the fine lines and open pores for flawless skin
No need to use a brush as this can be beautifully blended with the help of finger too but I prefer a brush
Stays decently for 4-5 hours
No need to take lot of product a pea sized amount is enough for layering once.
Gives decent medium to sheer coverage that can be built by layering
Beautiful matte finish hence ideal for oily skinned girls
Cons of Lakme 9 to 5 Weightless Mousse Foundation
There could have been more shades
This is not moisturizing hence if you have dry skin then moisturize the skin first then use this.
Rating: 4.5 out of 5
Lakme 9 to 5 weightless mousse foundation is a very affordable and excellent mousse foundation which blends seamlessly and very smoothly. This stays on for 4-5 hours before getting patchy that can be enhanced by using compacts or pressed powders. This is perfect for oily skin in summers while for dry skin apply some moisturizing lotion or cream first.