Lakme Color Crush Nail Polish No 24 Review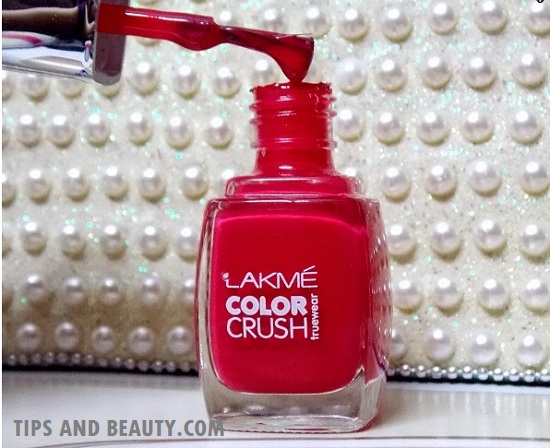 Hello my lovely beauties! I will review a very gorgeous and beautiful red color today. So, those of you who will be getting married soon or are new brides. They will surely love this color. I love reds so this is a jackpot color for me. I mean to say a perfect color that I can wear with my Indian wear for weddings, parties etc. Such colors look great on fair to dusky skin as this are so pretty. I forgot to mention that I will be sharing this Lakme Color crush nail polish review with you in this post. I got this Lakme color crush nail polish when I was at a mall. Now being a beauty blogger I get so many products from the brands itself. But I so wanted to see these coloful Lakme color crush nail polish shades. So I went in at the Lakme counter. There my eyes were on this pretty color which was Lakme color crush no 24.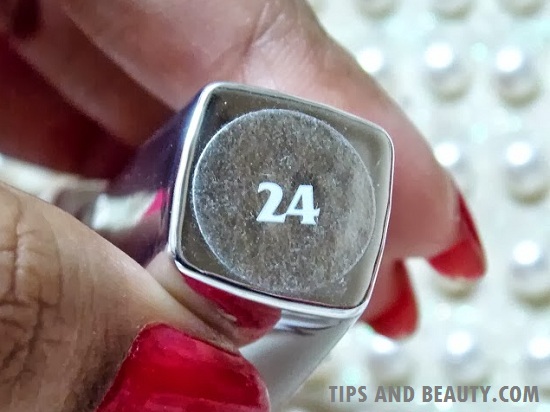 Price of Lakme color crush nail polish: This nail paint is for 150 rupees but online you can get this cheaper and at less.
Experience with Lakme color crush nail polish
I like the packaging of these new Lakme nail paints as the colored squarish bottle with a metallic cap looks really nice and attractive. Well, all the shades from the Color crush range are beautiful because they are vibrant and rich looking. I wanted to pick up an orange and yellow too but as I have too many orange nail paints. And yellow I thought won't look good so, skipped that.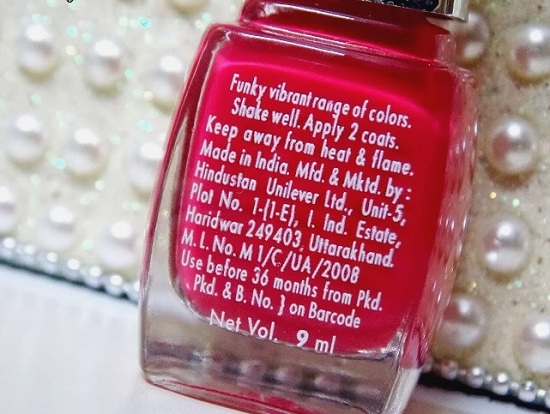 Shade description: Lakme nail polish no 24 is a hot fiery red color with some pink tones. This is such a gorgeous color that every bride and red nail polish lover will like this. For the first coat this nail paint appear slightly pink. Then when I apply 2 or third coat this looks more and more red.
The texture is very smooth and non patchy. The brush is of good size so, this applies well. My nails are a little broader so, I like slightly thick brush. So, this Lakme color crush nail polishes have decent bristles. The color is matte yet looks shiny and when I am applying this even if gets streaks are there, after 2-3 seconds this gets completely uniform and very smooth looking on the nails.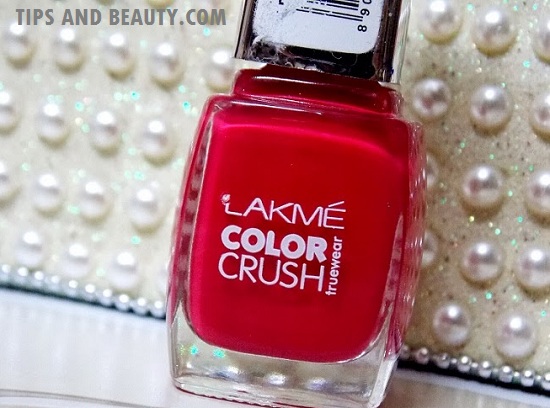 This stays on my nail for 1-2 days without chipping. If you apply a top coats ten your nail paint will last longer. And this also depends on the type of work that we do. Like at times, I have to do the dishes then the polish will get chip faster from the edges and if I am not doing anything like that then it stays much longer. So, basically the staying span depends from person to person that way. :)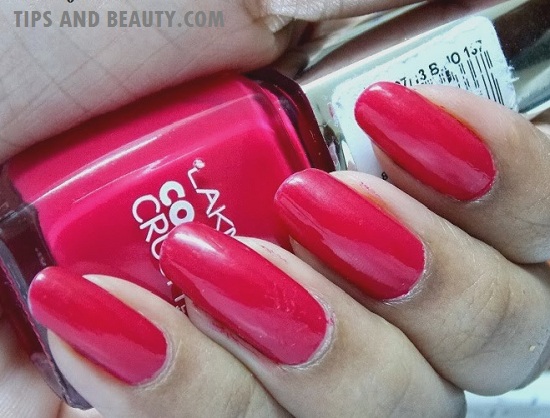 I think, price could have been a little less since a lot of people can't buy a single nail polish for 150 rupees. I think like Maybelline colorshow nail paints which are for 75 rupees. They should also decrease the price and quantity so that more and more people on budget can try this. In fact, girls can try more colors like getting 2 different shades in 150 bucks like Maybelline colorshow.
And honestly, even though I love red nail paints. I have never finished a full bottle of nail polish ever in my life either it will get dry, or get lost or I will loose interest so, considering that I like small and cheaper priced nail polishes. What do you think girls? :)

But when it comes to color, I love this and will purchase this again as I think I have lost it. Couldn't find it anywhere.