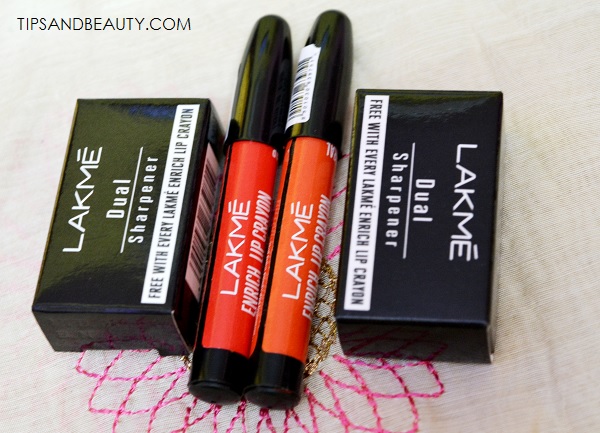 Lakme Enrich Lip crayons in Candid Coral and Red Stop Review, Swatches and Price
Hi girls!! The latest addition in the Lakme lip  products range are these Lakme Enrich Lip crayons which are available in 10 exciting shades and the best thing is that the price is only 185 rupees. Yes, this is true they are so very affordable. But what about the actual product? Are these Lakme Enrich Lip crayons good and pigmented? This was my question too. So, I bought 2 of these Lakme Enrich Lip crayons shades in Red stop and Candid coral. These are also launched in neutral, pinks brown etc so here is the detailed Lakme Enrich Lip crayons review, their swatches and how they look.
Number of shades of Lakme Enrich Lip crayons:
Red Stop
Candid Coral
Pink Burst
Shocking Pink
Baby Pink
Berry Red
Peach Magnet
Mauve Magic
Cinnamon Brown
Blushing Pink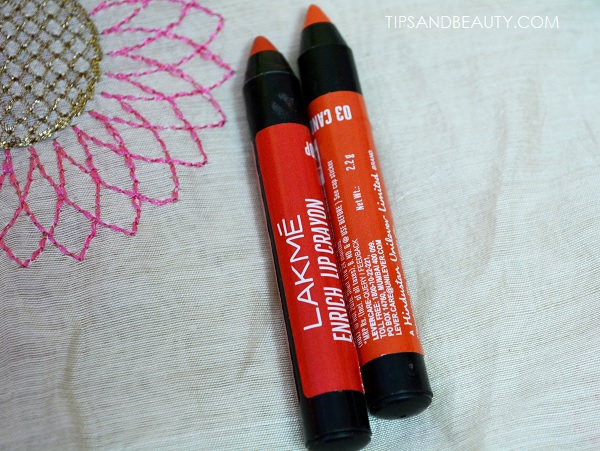 Experience with Lakme Lip Crayon Lipsticks
These Lakme Enrich Lip crayons are packaged in a crayon like packaging as the name suggests. If you will see the crayon is around 3-4 inches tall and has a small black cap. It also looks like the really crayon in packaging and the outer wrapper as well. Along with these you will get a sharpener that has a small opening for sharpening the tip and a larger one for sharpening the crayon. I liked the packaging and the sharpener thing and for 185 rupees, this was decent.
Pigmentation:
The pigmentation is good as when I swatched this, it gave a nice pigmented rich looking color. There was no patchiness as such. But when applied again then there can be a bit of patchiness. In short, the color is quite pigmented for that amount. Young girls will love these in my opinion. Smell is also vanilla like and I liked it.
Texture:
Texture is Lakme Enrich Lip crayons is smooth and is not extremely patchy rather the finish is matte. Yes, I find the finish to be matte and non glossy. It applies well and can feel a bit patchy when you layer is over. But for the first time and touch ups I liked it. I am saying this as I am also keeping in mind the price thing. So, for the price paid for this Lakme Enrich Lip crayon the texture and pigmentation seems to be very good. Also see L'Oreal Paris moist matte lipstick in Blaze of Red
1. Lakme Enrich Lip crayon in Red Stop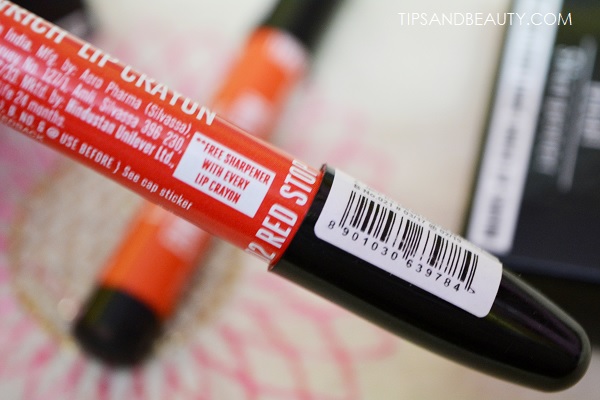 Lakme Enrich Lip crayon in Red stop is a beautiful red with orange tint. The orange tinted red is more like a tomato red which is pleasing and suitable for girls who likes to brighten up their face but do not wish to apply red lipstick. Young girls will love colors like Red Stop which is again can be used for parties, weddings etc. I think just like the deep dark, maroons suit mature ladies similarly vibrant colors like Reds top will suit younger girls a lot though anyone can use these as there is no such restriction.
2. Lakme Enrich Lip crayon in Candid Coral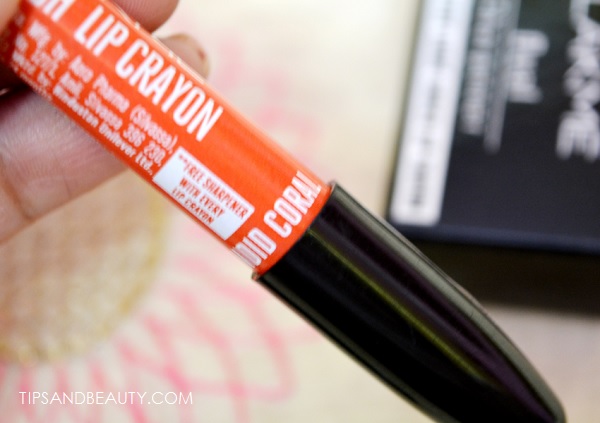 Candid Coral is a nice coral which looks slight orang-ish which is good as colors like these can be care freely used by girls with deep and dark complexion. This is more like an everyday color that will look good on all the skin tone. Even the college girls would love this shade Candid Coral. I like to use such color daily as they are not over the top yet are subtle and colored enough for work etc.
Sharpening of this lip crayon:
Now the other thing that needs to be addressed. The sharpening thing. These crayons have a waxy outer body that we need to sharp with the sharpener provided. So, while I was sharpening the crayon, I did not face much of the problem. The only thing was that the product wastage was there. When that color lip product is also getting wasted along with the frilly outer covering, you will not really like that. This is only for 185 rupees but that happens with the expensive lip crayons too and honestly, your heart will cry when you see the expensive beautiful color getting wasted along with the outer thing.
See: Sugar Matt as Hell Lip Crayon in Scarlett O hara
Sugar Matt as Hell Lip Crayon in Rose Dawson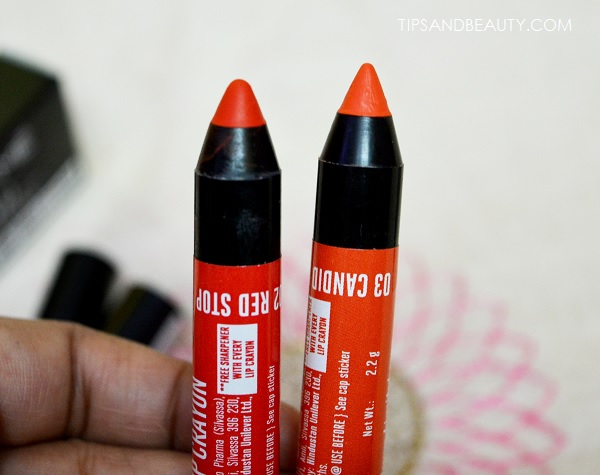 Staying Power:
Lakme Enrich Lip crayons both have the similar texture and everything except for the color so, it becomes easy for me to judge them properly on how long they last? These will last for around 4 hours approximately and when you eat, drink or have meals then naturally these gets wiped off and you need to apply them again. They get wiped off evenly though and the patchiness is minimal. There is no too much of tint when they are removed from the lips. I also liked the Streetwear color rich moist lipsticks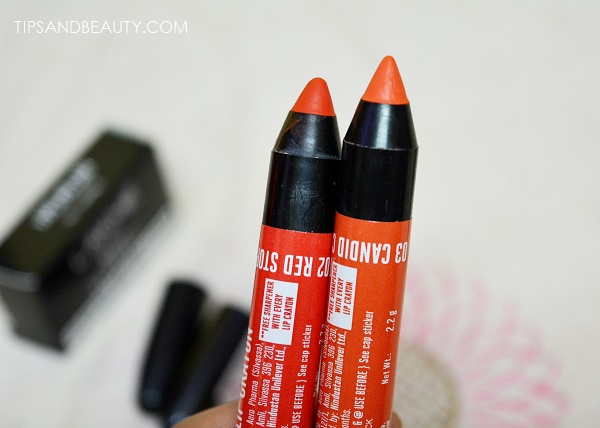 Formula and swatches:
The formula is matte and they do not feel very moisturizing but more like a dry crayon like texture. So, if you have got dry lips make sure you scrub the lips and apply ample amount of lip balms to nourish the lips as I have not experienced that these will do any good for the dry lips. Rather the texture of these Lakme Enrich Lip crayons can accentuate the dryness of the lips.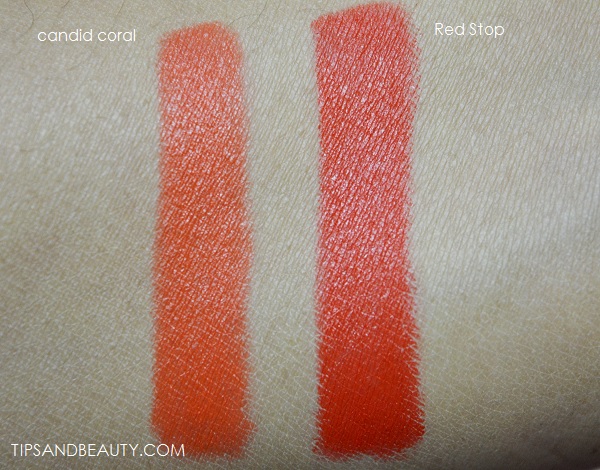 Now, keeping that aside. I think these Lakme Enrich Lip crayons are of decent quality and pigmentation. Let me sum up the good and bad about these now.
Pros 
Cute packaging
Colors are beautiful
10 Shades to choose from
Inexpensive and easily available
Goo for everyday use
Matte texture
Stay for 4 hours which is good as they are quite inexpensive
Pigmentation is decent.
Cons 
Sharpening thing is not the best idea but can understand that these are lip crayons.
May get patchy on second application
Will accentuate the dry patches
Rating: 3.75 out of 5
Lakme Enrich Lip crayons are really good at the price of 185 rupees. Red Stop is a tomato red while Candid Coral is a pure coral minus the flaming redness in it. Both the shades are suitable for younger girls and are very vibrant and funky colors for everyday use. I did not like the product wastage while sharpening but on the other side the pigmentation, texture and the way they stay is good. I will recommend them if you like inexpensive lip products with good color selection.
Have did you like the Lakme Enrich Lip crayons review. Have you used them before? Which is your most favorite color?