Review of Lakme Enrich Satin Lipstick 149,  Price, Swatches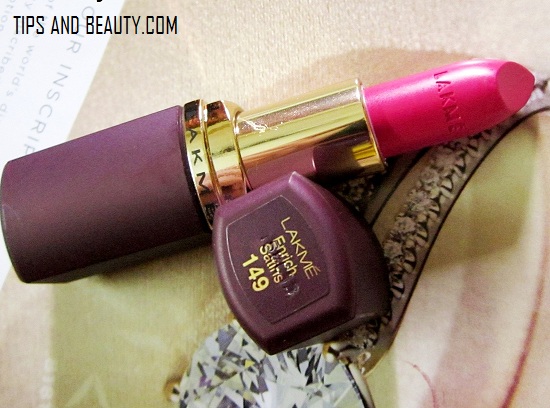 Hi everyone!! You might have seen the new ad where Shraddha Kapoor shows the same range of Lakme enrich satin lipsticks with the new packaging. But I have this Lakme enrich satin lipstick 149 with the old packaging only but the shade and name of the shade is same so, I think this will help you dearies. Lakme had so many shades earlier around 50-60 of them if I remember. Then I think 2 years ago they launched 26 new shades. Recently they changed the packing and introduced 10 more shades. Earlier they were just numbers but now they are like P 166, P 162, R356, B326 etc. You know I have always loved the Lakme enrich satin lipsticks as they are very pigmented this is why I got this shade lakme enrich satin lipstick149.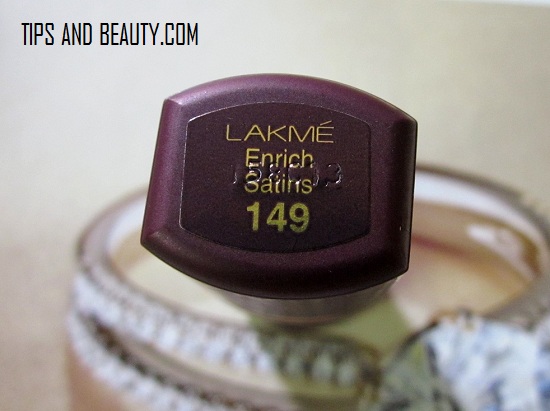 Price of Lakme enrich satin lipstick: They are priced at 250 Each and has loads of stunning colors.
Experience with Lakme Enrich Satin lipstick 149
I was happy that they have changed the packaging but the transparent packaging looks a little cheap. Earlier the maroon packaging at least used to look classy but the new one is cheap as the bottom twist up plastic is also see through. Not impressed much.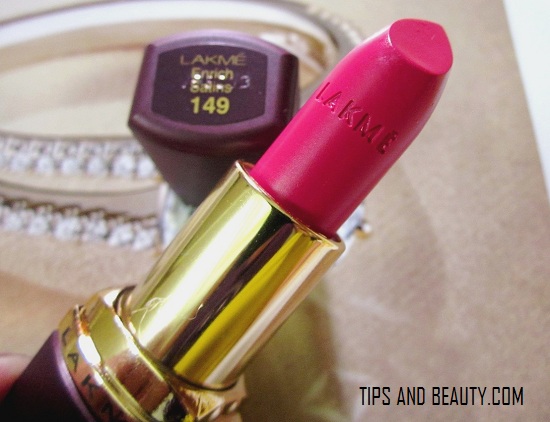 Anyways, Lakme enrich satin lipstick 149 is a very stunning fuchsia pink color which is so gorgeous that it can brighten up anyone skin complexion. You know we call a color as rani pink, yeah, that's the color this lakme lipstick 149 is. A pretty looking rani pink. One of my chachi used to sport this color when I was a kid and I use to think I am going to get such a fantastic looking shade when I grow up. :) I also love the Lakme Enrich satin lipstick in 356, a lovely red.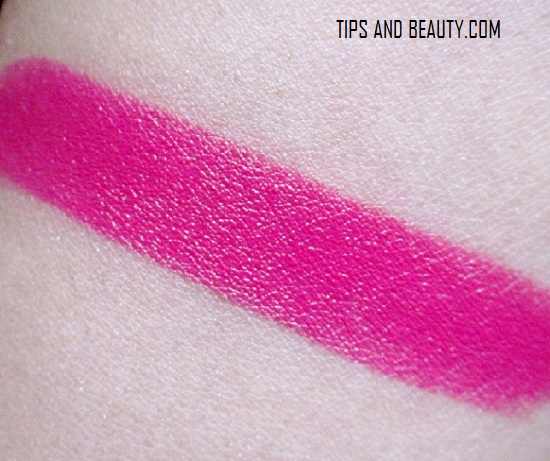 I am glad that Lakme enrich satin lipsticks are so affordable as not anyone can buy a 500 rupee or a 1000 rupee lipstick, since some of us can be students, house wives etc who needs to follow a budget. This is why I like that this range has beautiful new trendy colors at such cheap price. Even though, I have loads of expensive lip colors but I can say myself that these are no less than them. Which is great. :) I like things which offer quality with affordability so that more and more ladies can try and use these.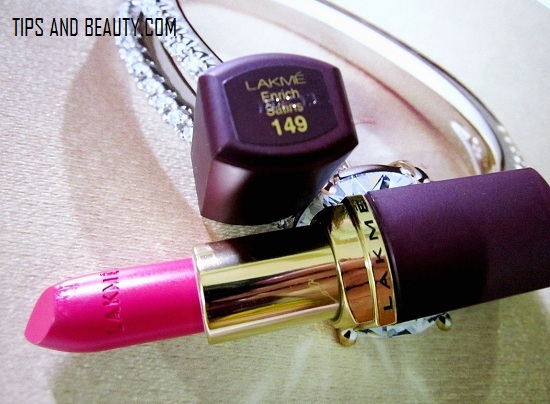 This Lakme enrich satin lipstick 149 stays on lips for good 5-6 hours which is great though you can carry this like if you are going to a party etc in your catch and apply when you feel that your lipstick has faded. These are creamy enough so that girls with dry lips can easily wear them without having to use lip balms. In short this Lakme enrich satin lipstick 149 or other shades are bang on when it comes to pigmentation, price, quality and staying span. This lipstick in the below picture looks slightly shiny and light but it is not that shiny and darker in real.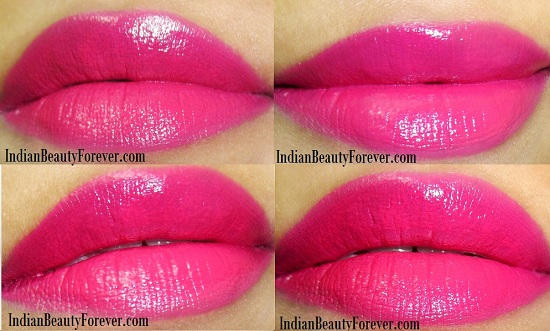 Good about Lakme enrich satin lipstick 149:
These Lakme enrich satin lipsticks are very easily available online and in the shops
Price is very good as for 225 rupees we are getting a good lipstick. Yaay!
Creamy formula which will not make the lips dry even if you wear this the entire day
This stay for around 5-6 hours, you can then reapply. Like I keep on doing. :)

I like the finish which is not too shine free or too shiny. Just the perfect little shine and matte texture.
This applied very smoothly and softly on the lips
This has such a great pigmentation and color pay off.
Bad about Lakme enrich satin lipstick 149:
The bullet of the lipstick is very creamy and it broke from the base in the last summers. Too bad.
This too bleeds a little bit as it is so creamy on the lips. Bleeding means when the lipstick goes out of the lips and smudges from the corners of the mouth.
Rating for Lakme enrich satin lipstick 149: 4.5 out of 5
My Take: All you girls who love to rock hot pink lipstick colors this spring summers can definitely get this Lakme enrich satin lipstick 149 shade. This is a fuchsia pink color which looks great. :) Does not matter what your skin color is fair, medium, wheatish or dark this will be suitable for you. Just try one of these Lakme enrich satin lipstick and I am sure you will love these.