Review of Lakme Enrich Satin Lipstick 356 and Swatches
Hello girls, This post is on Lakme enrich satin lipsticks. Recently the new ads of Lakme lipsticks are coming on TV. Lakme enrich satin lipcolors have so many shades that I love this range. In fact the pigmentation and color payoff is also good. Recently, Lakme has launched 10 more exciting shades. I will review a gorgeous color which I am sure you will too love this. If you like the red color. I love red colored lipsticks and I have now so many of them. Okay so, let's start this Lakme enrich satin lipstick 356 and let me tell you more about this Lakme lipstick.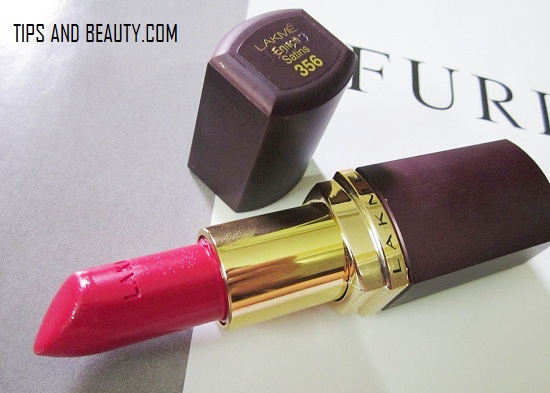 Price: Lakme enrich satin lipstick no 356 is for 225 rupees but now they have increased the price to 250. But still these Lakme lipsticks are the cheapest of their entire range of lipsticks and also cheaper than the other popular makeup brands in India like Revlon, L'Oreal Paris, Maybelline etc. My favorite is Maybelline still.
Experience with Lakme Enrich Satin Lipstick 356 no shade

Now that Lakme has changed the packaging of these Lakme enrich satin lipsticks, I still have the old packaging. I was bored with the old packaging but at least this maroonish tube looks lovely and costly. But have you seen the latest packaging, the packaging looks cheap. I am not much impressed with that. Anyways dearies, but I am happy that the new shades are gorgeous at least and the kind of colors which are in trend these days. Like the bold and bright looking colors. Do you like bold lip colors, I love bold colors.
This Lakme enrich satin lipstick no 356 is a very pretty red color with blue undertones. You can call it a bluish red. I love such red color. They make the skin complexion look fairer and beautiful. I like the Lakme written on the bullet of this lipstick. It looks pretty. Isn't it? Very attractive looking na.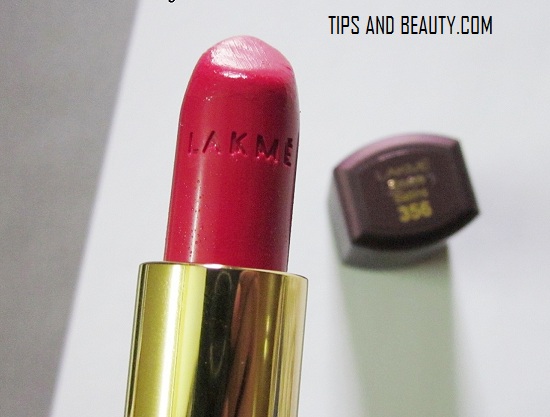 So, as this Lakme enrich satin lipstick 356 is a deep red color. This will be perfect to go with your Indian traditional wear like when we go to a wedding, function, party etc and when we do full on makeup. Then such red lipstick can make us look truly gorgeous. This is why I like red lipsticks. Did you remember the new L'Oreal Paris Collection Star pure red lipsticks? That was also a gorgeous range for brides as they had all the shades of red. So, this color too will be good for brides and newlyweds.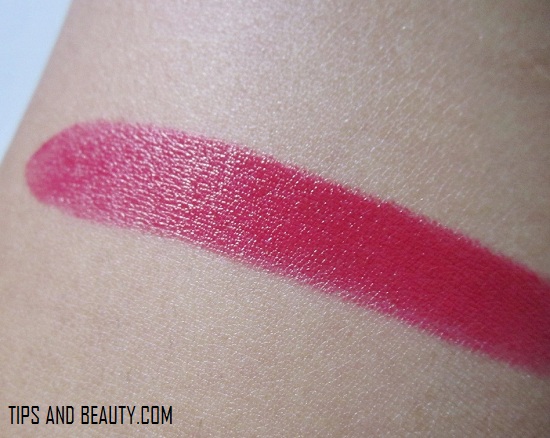 You can team up this lipstick shade with a pretty soft smokey eye makeup. Or even a coppery golden eye makeup. If you want to check my new copper gold eye makeup tutorial you can check here girls. Okay, so I completely forgot that this is a post on this Lakme enrich satin lipstick 356 and diverted from the topic.
So, the pigmentation of this Lakme enrich satin lipstick 356 is superb. Just apply once you get a true intense color. It is not a lipstick that you have to apply 2-3 times so that it gives a true red color. This stay on my lips for 5-6 hours. Now what can one ask for just 225 rupees. hai na!! And when this gets wiped off the lips, like when you eat or drink at the wedding or party then also there will be a soft reddish color on the lips that stays.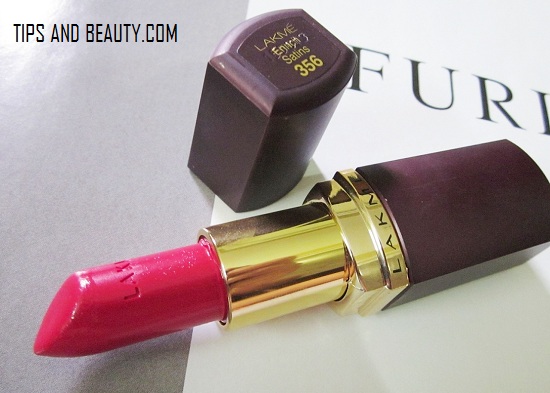 This lipstick has a very creamy texture which means that this will not look shine free on the lips and will not dry your lips but I feel that this can be a little too creamy like this bleeds from the outer corner so, if you want a perfect looking finish use a lip liner. You know girls, a lip liner can save the lipstick from getting bleed and stay a lot longer. This is how this Lakme Enrich Satin Lipstick 356 looks on my lips.

Good about Lakme enrich satin lipstick 356
Availability is good for these Lakme lipsticks
Hey are very affordable as the price is inexpensive
The formula is not drying rather very moisturizing
Stays 5-6 hours on the lips which is good
Love the way this lipstick glides on the lips.
Pigmentation is commendable and very rich looking
This leaves a soft rosey red stain when I wipe this off
Does not fell heavy on the lips and any irritation after using this
This Lakme enrich satin lipstick no 356 is a gorgeous red color for all the Indian skin tones.
Not so good about Lakme enrich satin lipstick 356
It can bleed a little from the edges of the lips so better us a lip liner to prevent that,
Rating for Lakme enrich satin lipstick 356: 4.5 out of 5
I am so in love with this lipstick that I can wear this with all the wedding, marriages or family functions that we attended in any ways, I can also pair this with my dresses or other clothing. This Lakme enrich satin lipstick 356 is a very deep bold color which will look lovely on all the skin complexions. You can either wear it as a stain or in full intensity. It will look superb. There are other pretty red colors also in this Lakme enrich satin lipstick range you can check that out too, if you love wearing reds girls.
So, Have you tried any of the new Lakme Enrich Satin Lipstick shades yet? Which is your favorite?