You can have 22 carat gold mangalsutra in different patterns and Designs. This mangalsutra can also be made along with diamonds. And the best thing is that they are made in different sizes and design so that they can be worn for office, daily wear and even for the festivals like weddings, ceremonies and parties. So let's take a look at the latest 22 carat gold mangalsutra patterns.
Latest 22 Karat Gold Mangalsutra Designs
1. Short Mangalsutra Design for Dailywear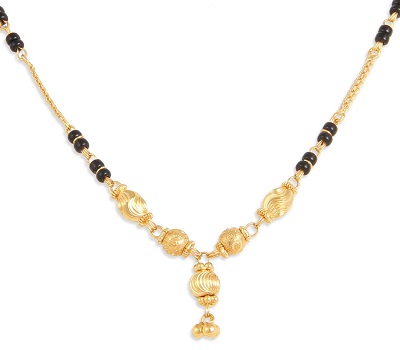 This gold mangalsutra has black beads on the side with 22k gold mangalsutra chain that carries the beads. The centre has five beads one of which dangles in the centre. The beads are crafted and it looks really amazing. The design is very modern and looks simple.
2. 22 Karat Mangalsutra Pendant Style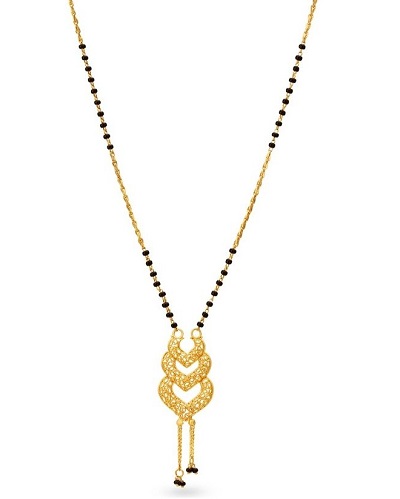 This nice 22 carat gold mangalsutra has an interesting pendant design. The heart shape three buttons are made in the centre. This design is really pretty and is suitable for most of the occasions and festivals even. The design has pretty designing which is sturdy enough to hold the black beads.
3. Triple Layered Mangalsutra Pattern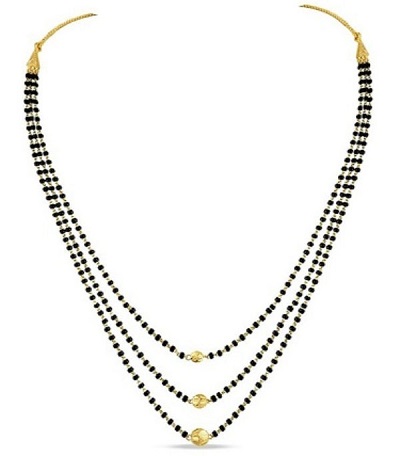 Does triple layered mangalsutra has simple Black bead chains with Centre gold bead. It looks really simple and Stylish. It's more like a layered chain like style of 22kt gold mangalsutra design.
4. Multi layered Gold Designer Mangalsutra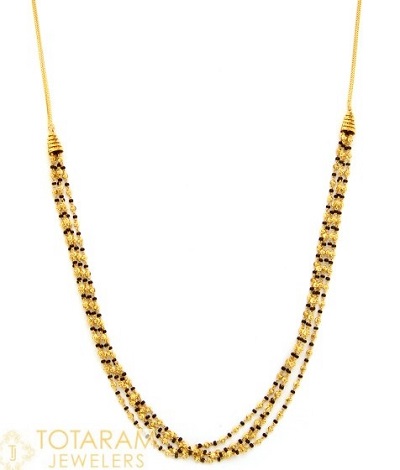 The multiple layers of gold chain contain black beads. It is a stylish necklace like mangalsutra pattern that is very much in trend currently. The side chains are with gold only and are sturdy. It is a very festival wear kind of mangalsutra pattern.
5. Traditional style of 22 Kt Gold Mangalsutra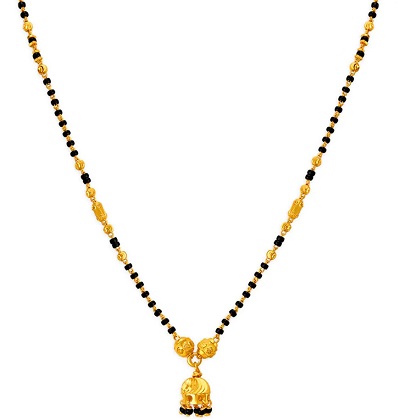 This latest design of traditional mangalsutra design has beautiful side chains. The pendant contains the gold beads and black beads. The centre pendant area contains two gold beads and a bigger Centre one. It is a beautiful and simple 22kt gold mangalsutra design that is suitable for daily wear.
6. Everyday use Mangalsutra Design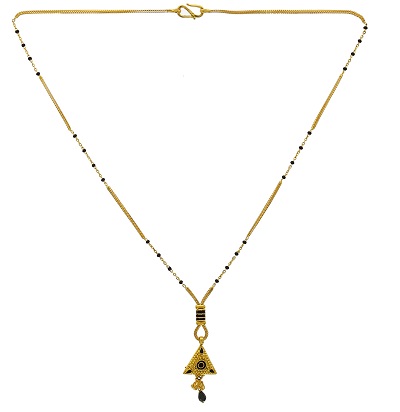 This design here is beautiful with a simple side Chain and the centre pendant. The triangular shaped 22k gold mangalsutra pendant has enamelling work. The chain is lighter and is suitable for everyday wear. Even if you are working women, this would be really perfect for you.
7. Delicate style of 22 kt mangalsutra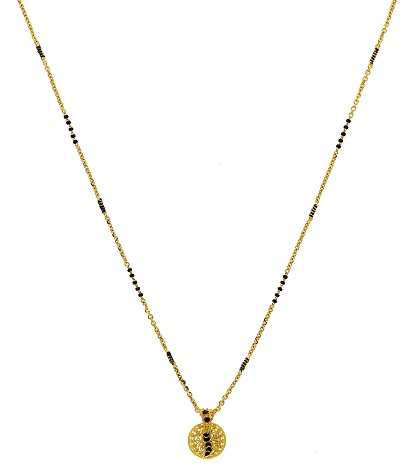 A similar dainty and delicate chain is seen in this mangalsutra here. It has black beads woven in a gold thin chain. The centre pendant is a circular pendant that has cut work design.
8. Diamond and gold Mangalsutra Design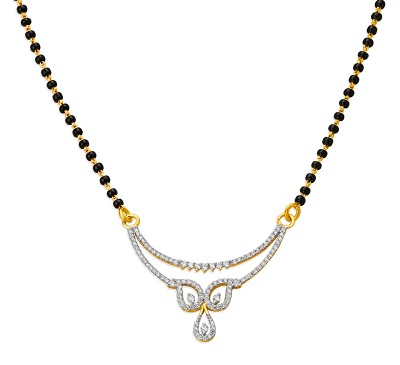 The semicircular diamond studded on a gold base. The side chains are simple with only gold beads. The centre 22k gold mangalsutra pendant area is very spectacular and looks amazing.
9. 22 karat Gold Mangalsutra Design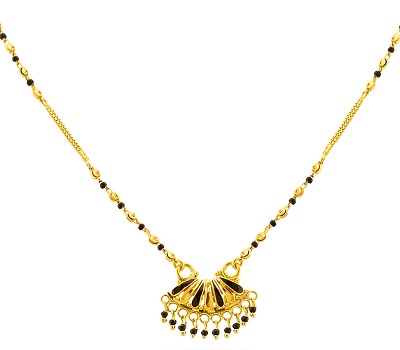 This 22 carat gold mangalsutra has enamelling independent area and there are gold and black beads used to create beautiful design and pattern. The side chains are studying in a that carries the black beads. It is suitable for parties, festivals and ceremonies.
10. Beaded Chain of Gold mangalsutra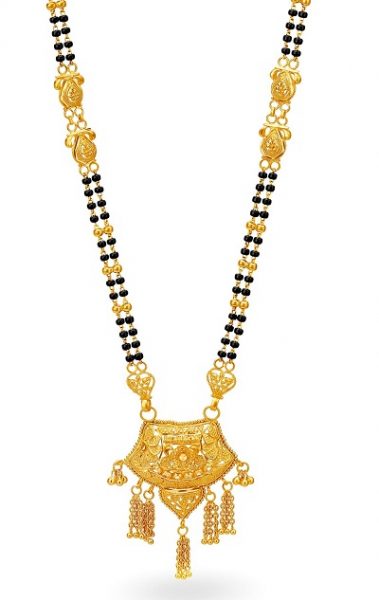 The 22 karat gold mangalsutra has beautiful side black beaded chain which has nice pattern and design. The centre pendent is also pretty. This mangalsutra can be made in 20 grams of gold.
11. Modern 22 carat Gold Mangalsutra Pattern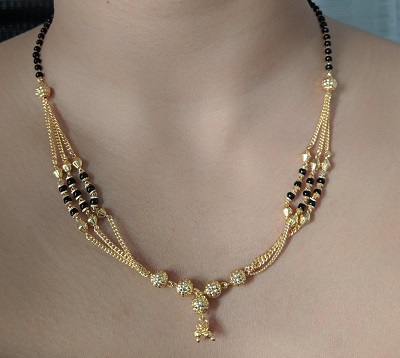 This design is not just suitable for daily wear but also for festivals. The design has interesting side chains and the centre area. It is a 22 karat gold plated artificial mangalsutra that looks really neat and clean. It can be replicated in the gold only pattern.
12. Double Chain Style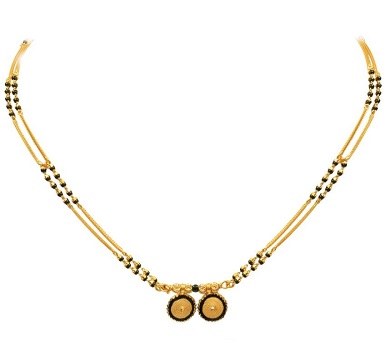 The double chain mangalsutra has Centre traditional 22 Karat pendant with circular gold shapes. The side chain is extremely interesting and made with detailing. It is not just study then the regular black beaded chains but also looks nice with the double chain effect.
13. Simple Gold Mangalsutra Style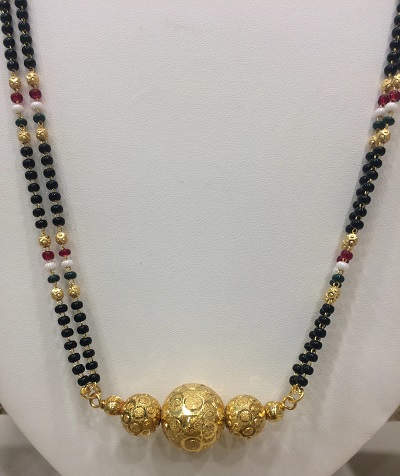 The gold mangalsutra has side double chains with Centre pendant. The pendant contains three beads and the bigger one is in the centre.
14. Beautiful gold Mangalsutra for Festive look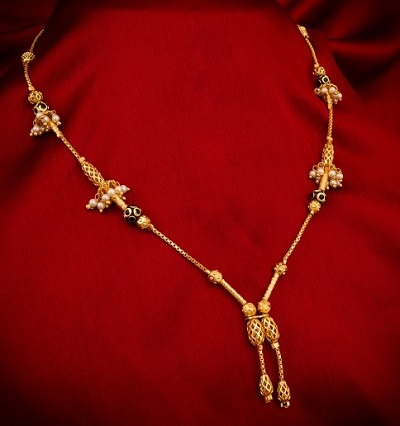 This is one of the most alluring mangalsutra pattern where in the design is so different and alluring. The beautiful design is suitable for parties and festivals. It would surely attractive when you wear it for weddings.
15. Heavy 22 karat Mangalsutra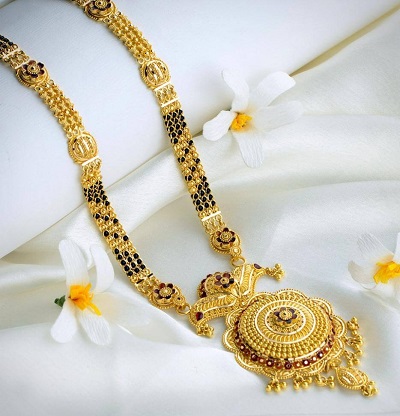 22 Karat heavy Gold only mangalsutra design has enamelling work to make it even prettier. The side chain is heavy and is made neatly and intricately. It has black and gold beads used to create a gorgeous pattern. This side black beaded chain design is Innovative and interesting. It is one of the best 22 carat gold heavy mangalsutra patterns.
These are the 22 carat gold mangalsutra patterns and designs that you can go for. The best thing is that even if you are not going for a gold only mangalsutra you can go for gold and diamond combination or even the artificial mangalsutra with 22 carat gold plating. For daily wear,  small chain mangalsutra and lightweight designs are more suitable. Keep the heavy mangalsutra designs and longer one for the festivals and parties.