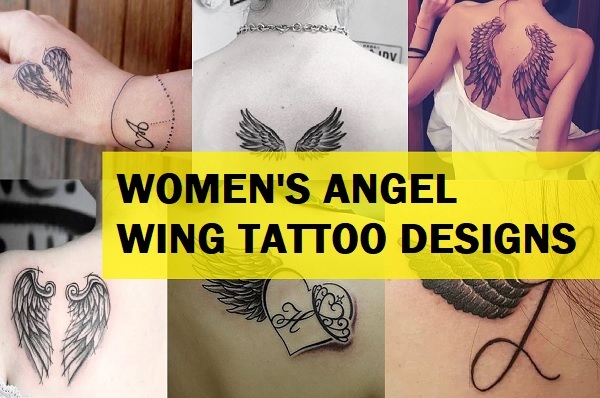 Angel wing tattoos are highly popular, when it comes to tattoo designs. These tattoos symbolize protection and the belief that your Guardian Angel is protecting you. Generally, women would love to go for Angel wing tattoos designs, because they look beautiful and are also traditional with the religious belief. The angel wings tattoo gives a whole sense of protection and guidance. Incorporating an Angel wing tattoo would definitely make it look cool, stylish and addition of your religious faith. Traditionally an Angel tattoo also symbolizes the protection. One can have different types of Angel wing tattoo designs and can even blend two designs.
Angel wing tattoo designs can be seen on the chest and back for men, wrist for women. Even for the rib cage and also on the ankle, such tattoo designs are highly popular. The most popular place where women would love to go for the Angel wing tattoo designs is the wrist. The small Angel Wings are tattooed along with the letters and the alphabets. For men, Angel wing tattoos are also collaborated and combined with the devil's wing. The tribal angel's wing tattoos are equally popular and male would definitely love to have that.
Now let's take a look at the meaning of the Angel wing tattoos.
Angel Wing Tattoo Meaning
Angel wing tattoo designs are made in different sizes and styles. It symbolizes the religious faith and the divine action between the humans and the angels. The larger wings of these tattoos can represent the archangel or the messenger of God. In fact, it has also been seen in the sacred texts of Judaism and Christianity. Women would love to have colored simple angel tattoos. Currently Angel wing tattoos are combined with other divine other designs like letters, bows, arrows other type of wings and even the Angel wing with the cross is also seen a lot.
Latest Women's Angel Wing Tattoo Designs
1. Small Angel Wing's Tattoo For Women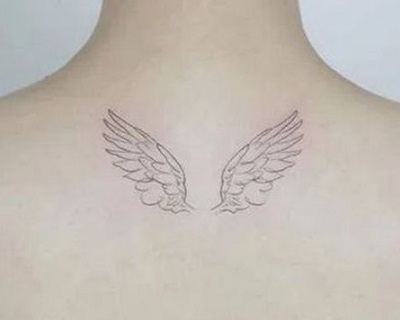 This is a very beautiful and simplistic pattern of angle's wing tattoo for women. This tattoo is done at the Nape area and is looking beautiful. It just the Angel wing design which is not too thickly inked or boldly made
2. Upper Back Angel Wings Tattoo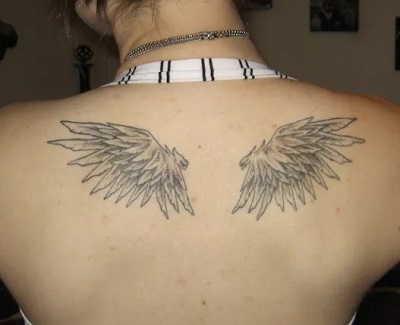 The winged tattoos for the upper back is popular for women. When you will wear deep back neck dresses and even the backless dresses, these designs would look amazing. The best part about these designs is that they aren't very heavily inked but yes it does make an impression. Women who would like to go for different designs with are not as simplistic but definitely like it.
3. Back Angel Tattoo Pattern
The gorgeous Angel wing tattoo is a moderate design which women prefer a lot. This tattoo is for the back and looks good with the backless dresses. Those are a great way to show your religious beliefs and sentiments.
4. Behind the Ear Angel wing tattoo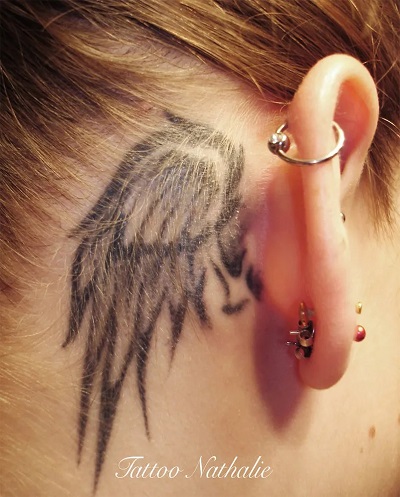 The small and simple behind the year Angel wing tattoos are popular amongst women as that wing is just behind the ear. This tattoo design is an ideal choice for women. Dainty and small tattoo designs like these can be preferred for the wrist, nape and shoulder.
5. Angel wing tattoo design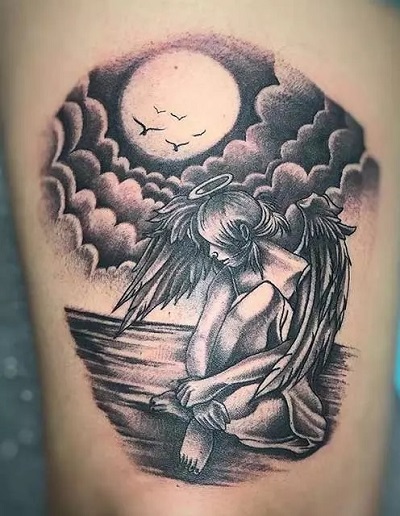 The beautiful angel wings and the angle herself sitting in a cloudy full moon night. It is a beautiful tattoo design for the arm or for the shoulder.
6. Full back Angle's Wing tattoo design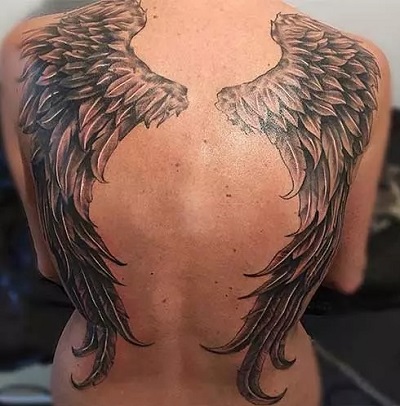 This Angel wing tattoo is not only gorgeous but it is made with very detailed design and darker ink. For such designs, experience and integration is required. Therefore, always make sure you go for reputable and experienced tattoo artists as the pair of Wings in this designs must be pretty equal if not exactly the same.
7. Water-colored wing tattoo for arms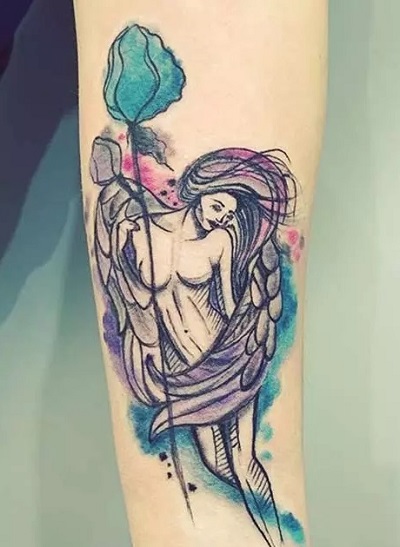 For arms as well Angel wing tattoos can be tried. This design is colored and is absolutely stunning. This is also known as watercolor tattoo where in you will see multiple colors inside the tattoo. The design is also amazing and interesting.
8. Tribal Angel wing Back Tattoo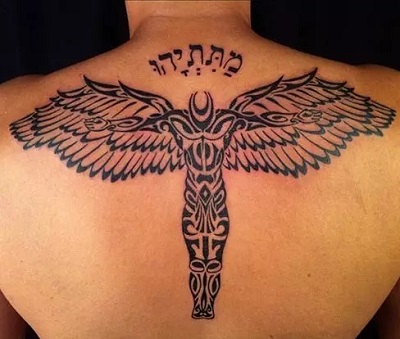 It's just a beautiful tattoo for back is for women and it is stunningly beautiful. It is a Tribal tattoo where in a human has wings and everything is made in such a way that it looks so detailed an interesting at the same time.
9. Elbow Angel wing tattoo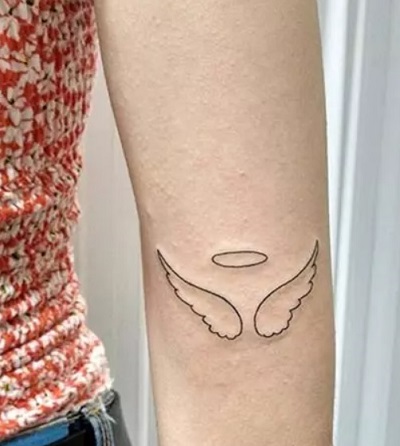 This is one of the most simplistic designs, when it comes to the Angel wing tattoos and their modifications. Here the wings are made and a halo ring is also used. The design is very simple and there is no detailing at all. Just the outline of the wings and the halo is used to create this tattoo.
10. Very simple small Angel wing ankle tattoo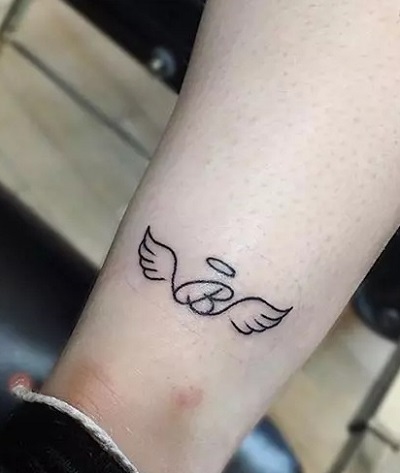 This tattoo is extremely simple and comes with a halo and a letter in the center. So, basically the initial of the name and the letter that is the initial of the person's name would have the wings and a halo over the wings. It looks beautiful and simple.
11. Detailed angel wing tattoo design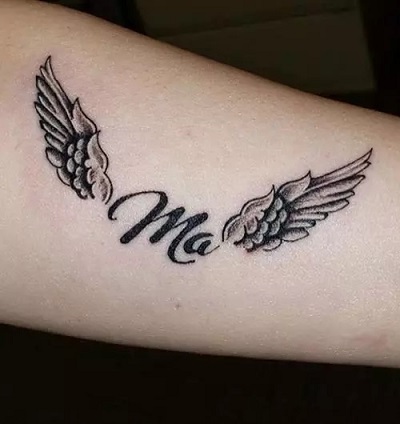 With detailing we need to say the shading and the extra darkness that has been added to the design. Here the letters M and A have been used, which means Mom or mother. Two Wings are also given on each of the sides of the word. For sure the design is beautiful.
12. Angel Wings tattoo with bow and arrow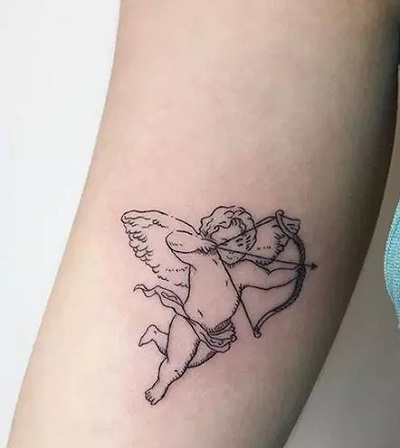 The cupid's angel has been used to make this design. The cupid has the traditional bow and arrow with wings at the back. It is for sure a beautiful looking tattoo very some detailing has been used to create some dimension.
13. Simple pair of Angel wing tattoos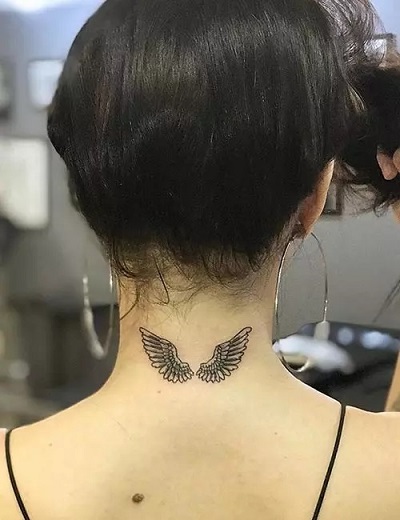 This design has two Angel wing at the back of the neck. The design is so stunningly similar that it looks almost identical. Such designs do not need a lot of experience or mastery but yet we would always suggest you to go with a reputed parlor.
14. Simple Wrist Angel Wing Tattoo
As we said, there are designs which do not require a lot of experience or even precision to be honest. This is one of the simplest tattoo designs that we have seen. There are two pairs of Angel Wings which are not shaded or have been given detailing or dimensions. Yet the design is simple and is quite beautiful and cute to look at.
15. Wrist Angel Wing Tattoo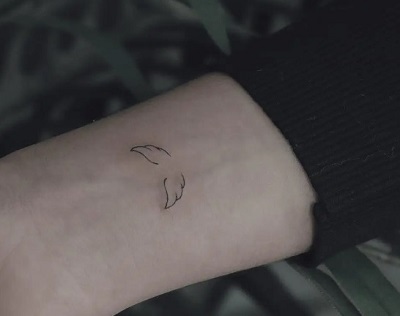 Undoubtedly, wrist tattoos are very popular for women. The central wing tattoo has just the border of the wings and the halo.
16. Heart and Angel wing tattoo design
Women would love to go for anything that has heart. Here, the heart carries the wings and has a halo. It is also a watercolor tattoo where in colors are used for the wings and the heart.
17. Double Winged Rest Tattoo Design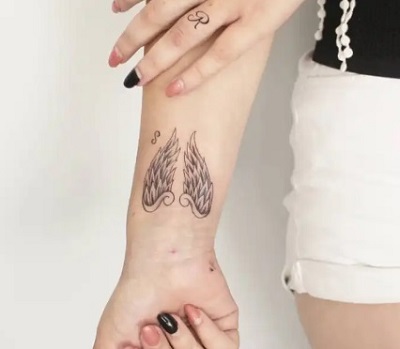 For such designs size matters. This is a rich tattoo design which is in media or small size but as well the size of the wrist has to be noted. This design looks beautiful and amongst women it is indeed a popular design. Hence, a great way to represent the loss of the loved ones. They have seen that a lot of people would love to have the angel wings on their wrist and on collar-bone. Just to symbolize your affection and love for the deceased.
18. Colored Upper Back Angel Wing Tattoo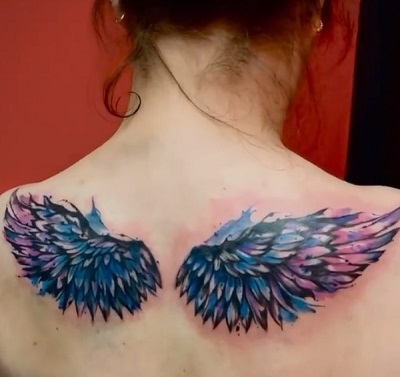 The upper back colored angel wing tattoo design is intricate and stunningly surreal. It is a beautiful design wear in watercolor pattern has been used to create this art. The design has the outline in the black color and colored ink has been used to create this magnificent tattoo pattern.
19. Back Winged Tattoo Design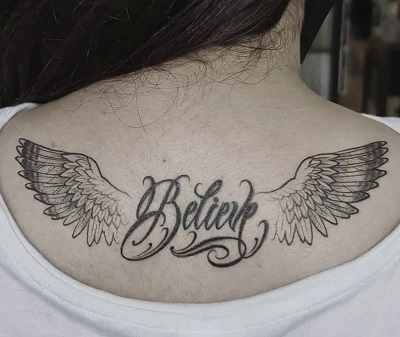 Back tattoo designs for women in medium to moderate sizes are popular. Now more and more women are coming for the medium to moderate sized tattoos. And what can be better than the Angel wing pattern. This tattoo is used as a protection and as a way to signify the importance of your religion.
20. Angel with wings tattoo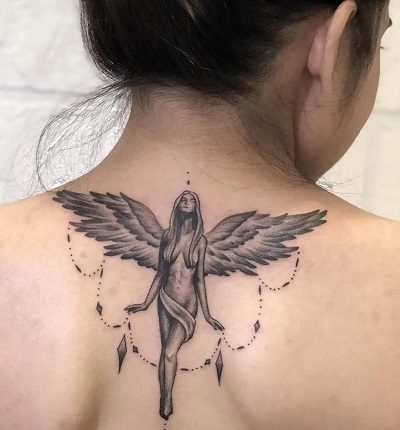 This tattoo has the Angel herself wearing her wings. The beautiful design is a shaded pattern wear in the different tones of Grey and black ink can be seen. The design is done in such a magnificent way that it would surely admire it.
21. Quotation Angel wing tattoo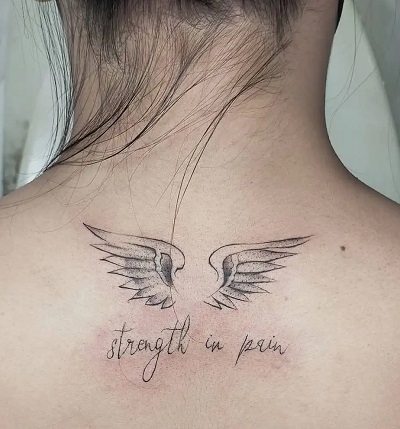 Quotes and alphabets are not new when it comes to tattoo designs. Which is why, the Angel Wings have been amalgamated with a quote.
22. Tribal Angel wing tattoo design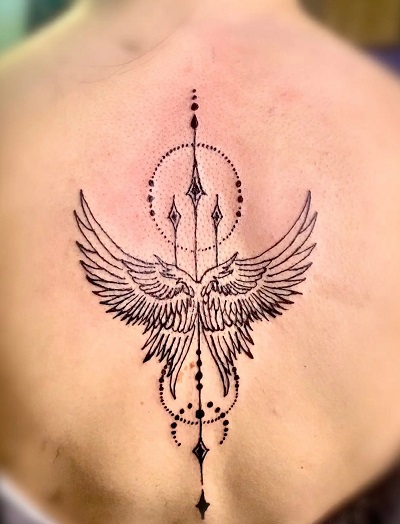 The tribal designs are equally popular and they symbolize the traditional way of the tattoos. The tribal form of tattoos are even popular currently.
23. Rib Cage Tattoo Design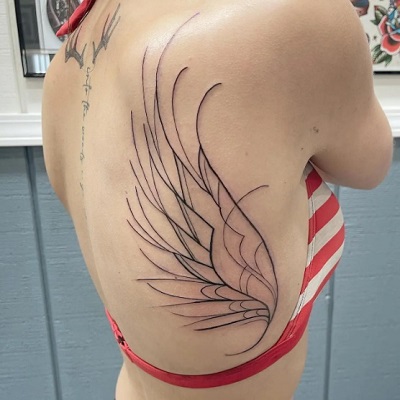 This tattoo design goes from the lower rib cage to the back. It is drawn on one of the back or one of the sides only. This design is beautiful and has mostly the borders of the wing.
24. Alphabet Angel Wing Tattoo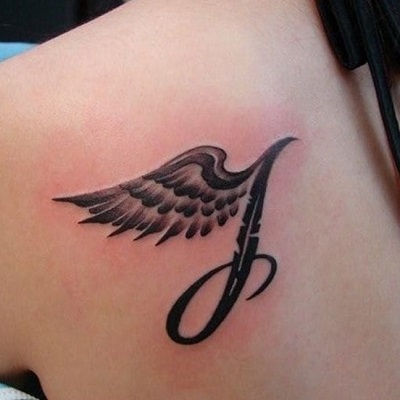 Angel wing tattoos are often blended with different types of motifs and symbols like heart, letters codes and moral. Here the initials have been used to create the Angel wing design.
25. Small Wrist Angel Wing Tattoo Design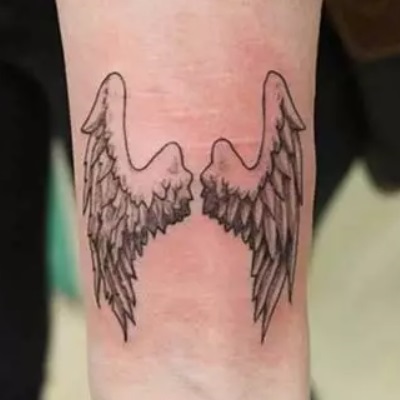 26. Quotation Angel Tattoo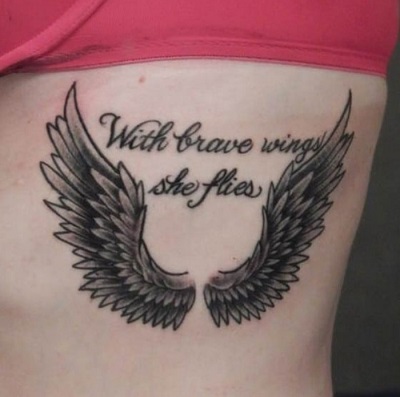 27. Heart Angel Wing Tattoo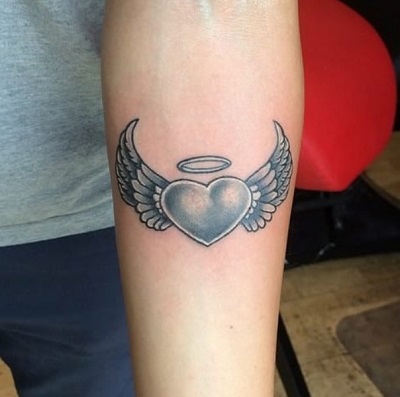 28. Initial Letter Wing Tattoo For Back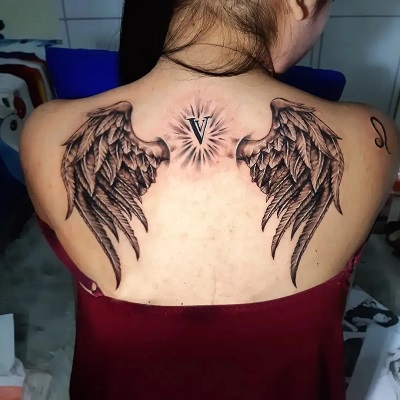 29. Simple Back Angel Wing Tattoo Design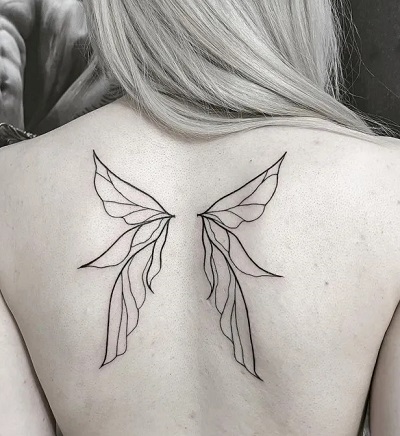 30. Collar Bone Angel Wing Tattoo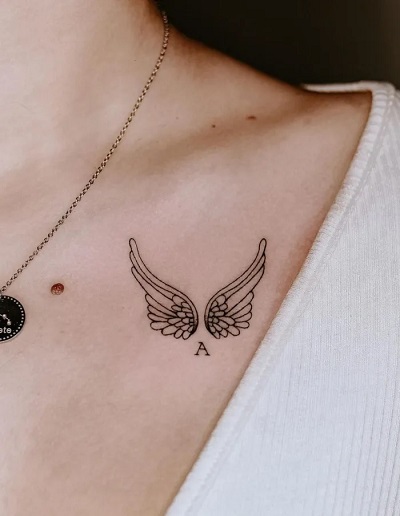 31. Clavicle Bone Simple Angel Wing Design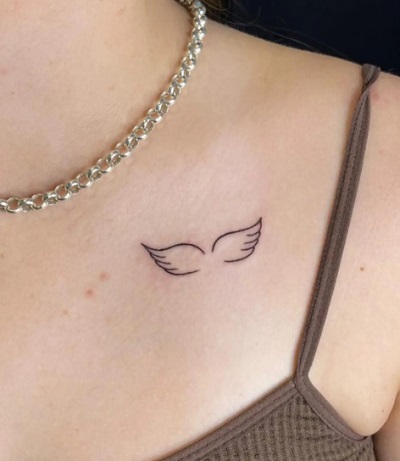 32. Rib Cage Angel Wings Tattoo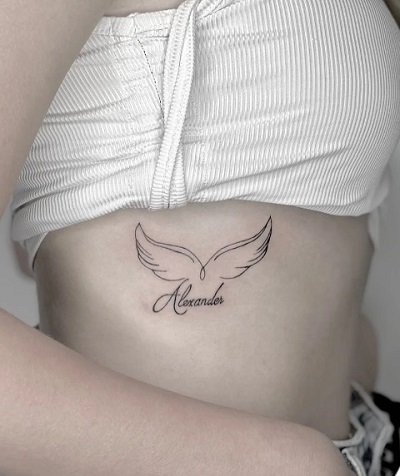 33. Small Simple Elbow Angel Wing Tattoo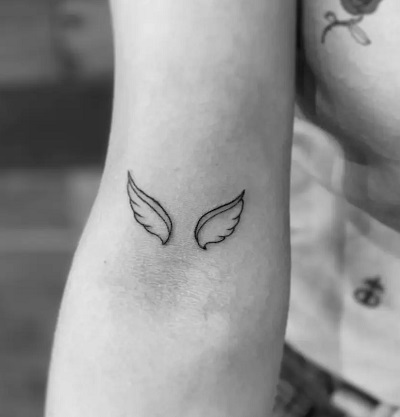 34. Shaded Arm Angel Wing Tattoo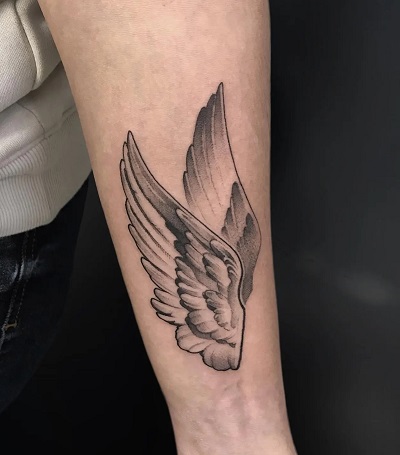 35. Floral Wing Tattoo With Quote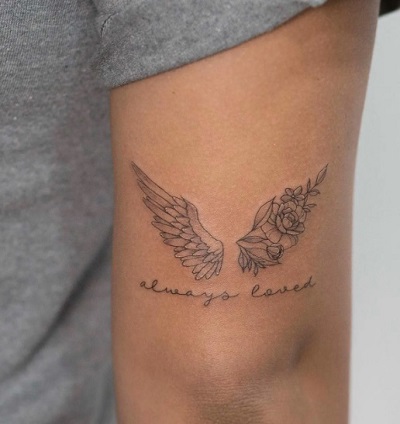 36. Colored Bow And Angel Wing Tattoo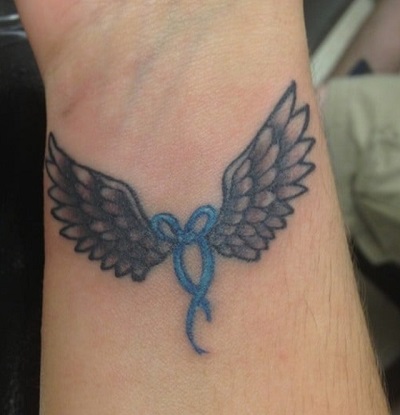 37. Intricate Angel Tattoo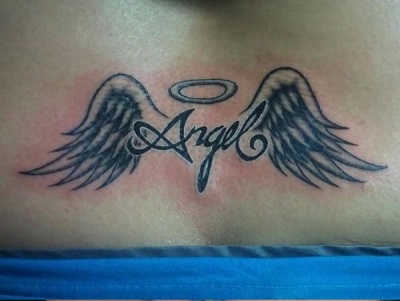 38. Wrist Alphabet Angel Wing Tattoo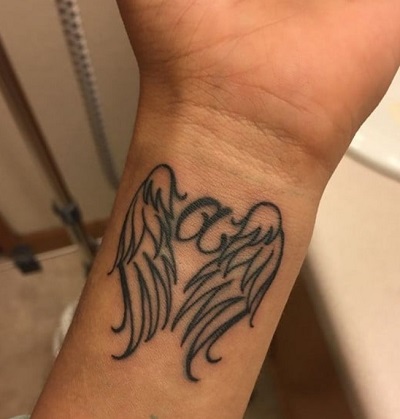 39. Thorn And Angel Wing Tattoo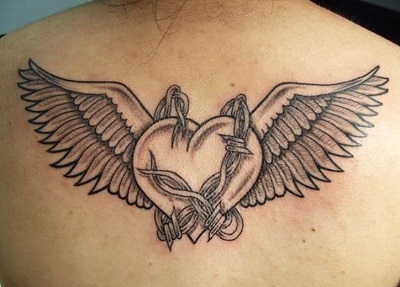 40. Letter With Angel Wings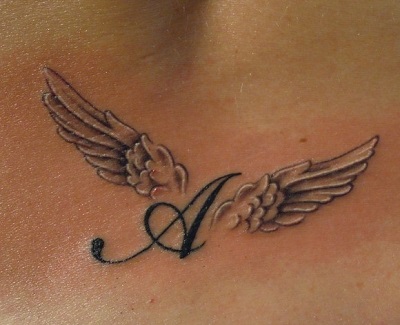 41. Foot Angel Wing Tattoo Design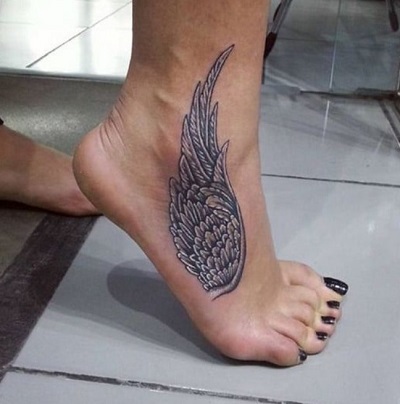 42. Angel Wing Tattoo With Cross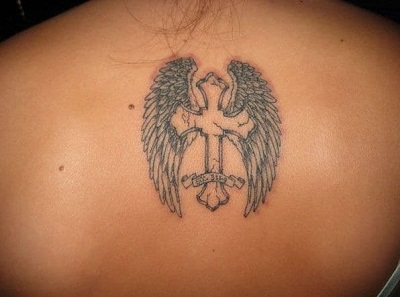 43. Ankle Angel Wing Tattoo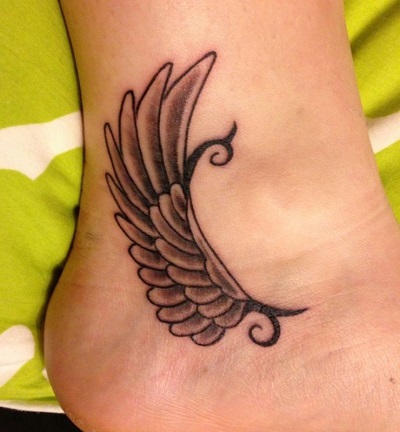 44. Couple Angel Wing Tattoo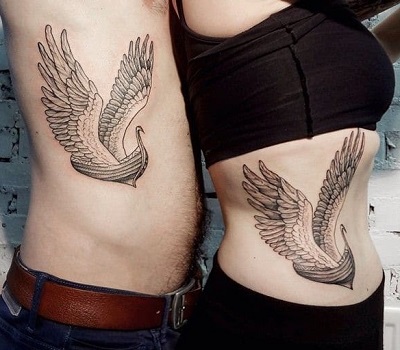 45. Angel Wing Tattoo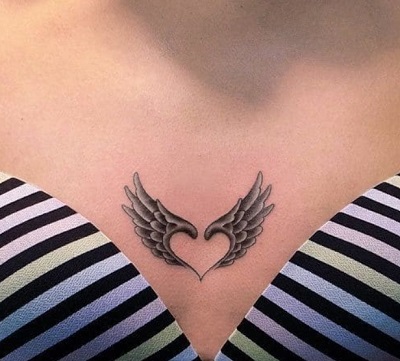 46. Back Arm Shaded Angel Wing Tattoo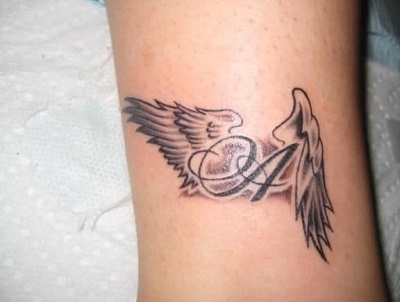 47. Designer Shaded Angel Wing Tattoo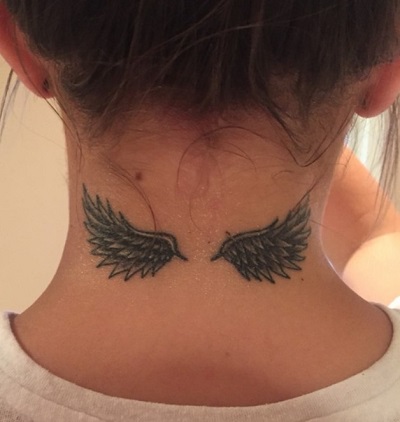 48. Women Wing Tattoo With Letters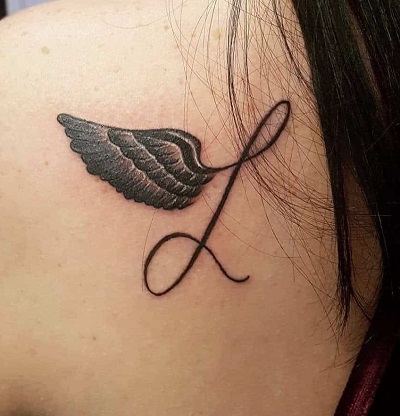 49. Ankle Small Simple Angel Tattoo Design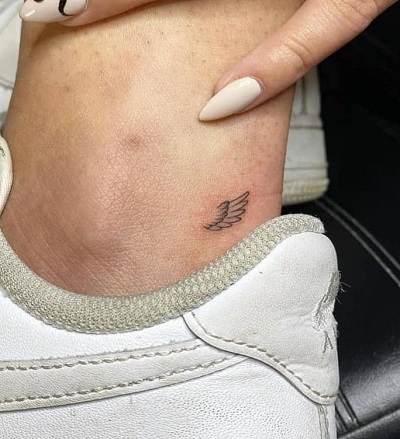 50. Back Ear Shaded Angel Wing Tattoo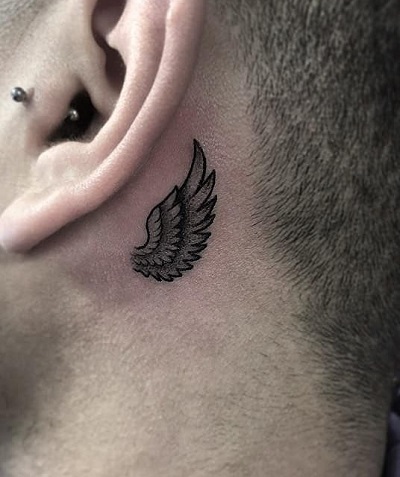 51. Football With Angel Wing Tattoo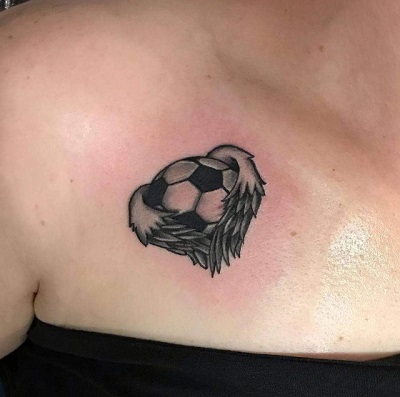 52. Halo Angel Wing Tattoo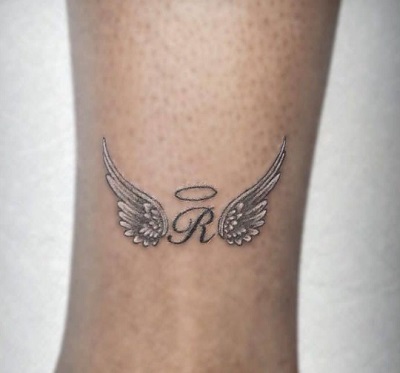 53. Designer Angel Wing Tattoo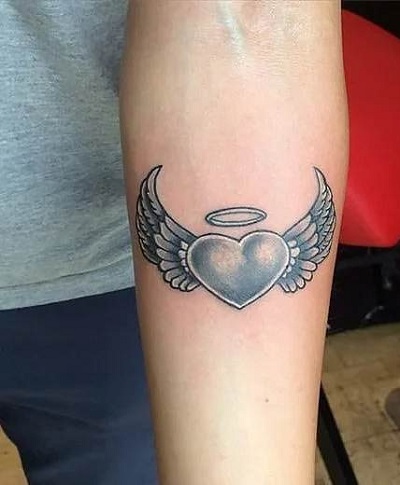 54. Crown Heart And Angel Wing Tattoo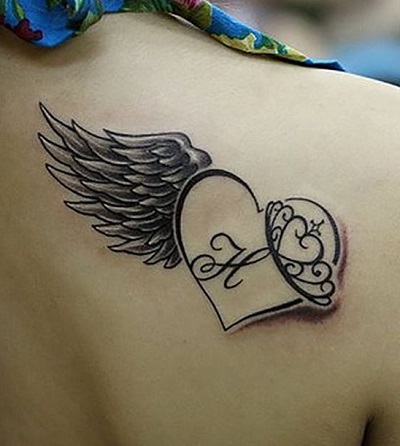 55. Popular Angel Wing Tattoos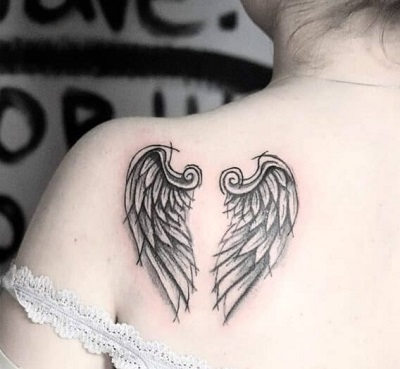 56. Fully Shaded Tattoo Design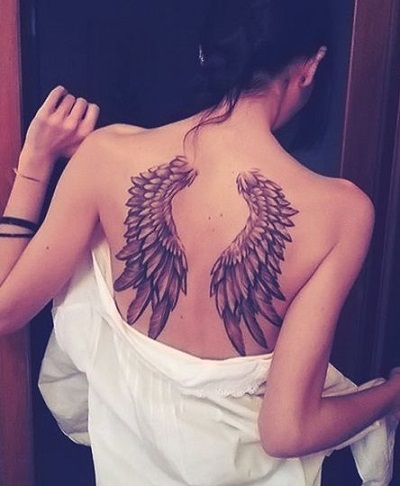 57. Small Sized Angel Wing Tattoo For Women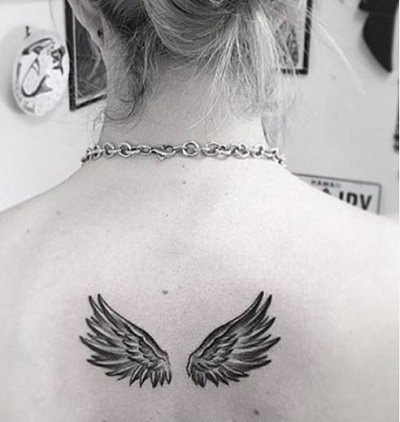 58. Hand Angel Wing Tattoo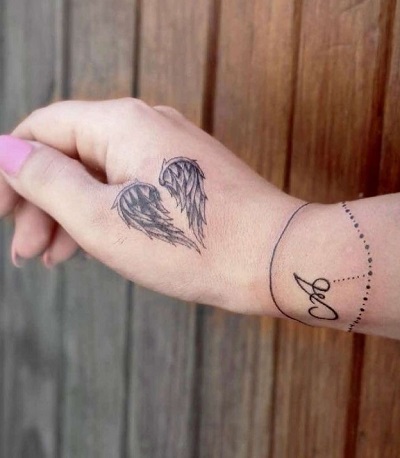 59. Fury Angel Wing Tattoo Design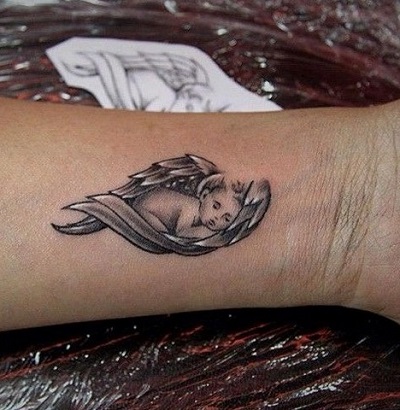 These are the beautiful angel wing tattoo designs that women can drive. Most people would love to have the tattoos on the significant body. And the out of that rests women would like to get themselves. Hurt and Angel wing tattoos look incredible for women. Side tattoos are also popularity. Regardless of whether you choose the simple designs or more complicated ones but the design should be striking impressive and neat.