Just like the front blouse design is looked upon, the back blouse designs are equally styled to add more beauty to your blouse design and the entire attire. There are so many different varieties of blouse back neckline that one can get really overwhelmed on what design to try and what not. We have compiled this list of the best saree blouse back neckline designs that women can try this festive season to shine like a star. When it comes to back neck designs, one can have some prominent and sultry designs like backless, pattern, deep neckline or even the dori style blouses.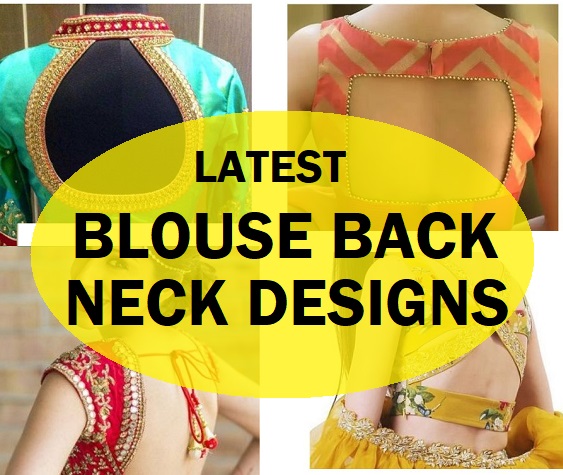 Latest Back Blouse Design Catalogue and Patterns (2022)
Let's take a look at the modern and best back blouse designs for sarees and lehengas.
1. Backless Party Wear Designer Blouse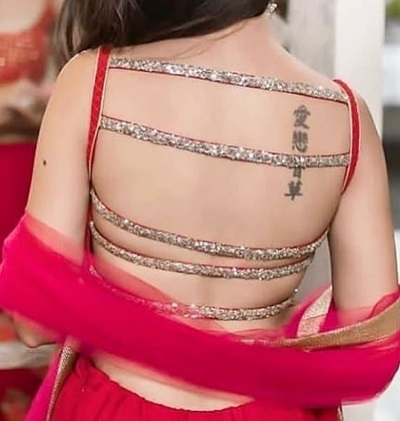 For younger women, the design is enchanting and charismatic. The parallel straps of fabric are loaded with glitters that add more seductiveness to this beautiful strappy backless blouse. It's perfect to be paired with any lehenga or chiffon or net saree.
2. Silk Saree Blouse Design Back Neck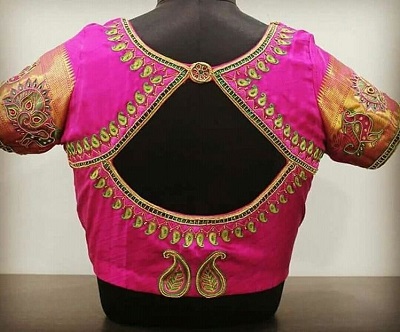 The next design here is suitable for silk sarees. The interesting pattern is sure to try the next time you think of using nice back design for blouse.
3. Simple and Stylish Back Design with Bow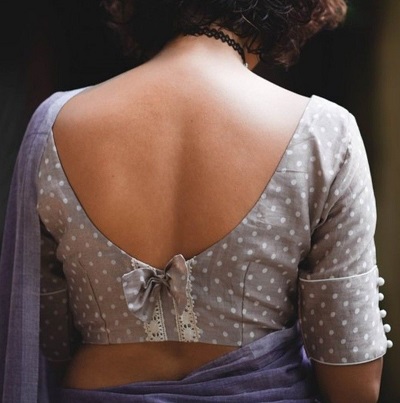 The polka dotted printed cotton blouse has a nice bow at the back, due to this it looks very feminine and girlish. It does reveal the vibrant side of your personality.
4. Nauvari Saree Blouse Back Design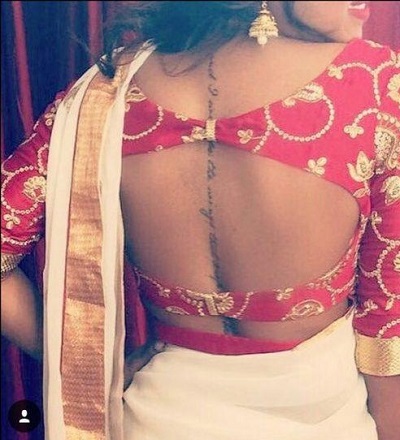 Resembling the backless saree blouse design, this is for women with slender bodies. The oval cut at the back neckline is the true beauty of this pattern. This design can be trued with a bun or top knot hairstyle with lehenga and normal sarees.
5. Netted Blouse Back Neck Design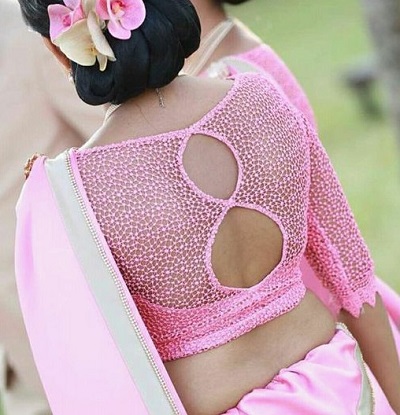 The netted sheer fabric blouse design has double keyhole design at the back. Revealing some skin this is very glamorous and seductive blouse. Such keyhole back saree blouse designs are best to be teamed up with your chiffon lightweight net sarees.
6. Backless Saree Blouse Pattern
The backless saree blouse pattern comes with uber cool design. Try it with any lehenga for the Cocktail party and we are 100% sure that many people will compliment you for your style and fashion.
7. Indian Blouse Back Design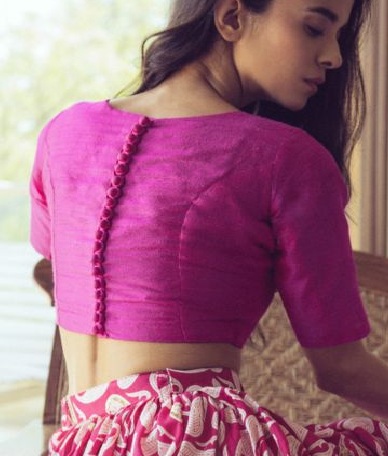 Women who like simple design with some modern touch shall try, this design of blouse has princess cut pattern with medium length sleeves. The blouse design has back opening with multiple buttons. This back button saree blouse design can be teamed up with your printed skirts or printed sarees.
8. Kanjivaram Saree Blouse Back Design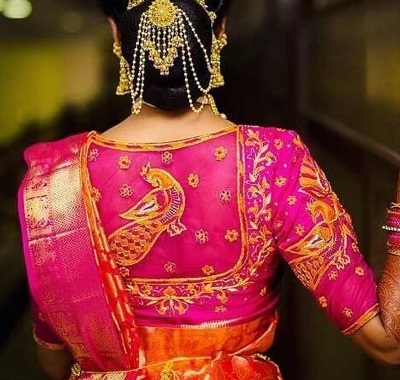 The kanchipuram Saree design at the back has peacock motifs with floral patterns made with embroidery and Zari work.
9. Latest Blouse Design Back Side Design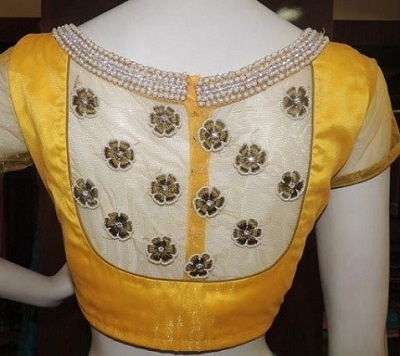 It is one of the best looking back neck designs that we have seen. The round neckline with boat shape has golden Zari work in this latest back side blouse design.
10. Banarasi Saree Blouse Back Design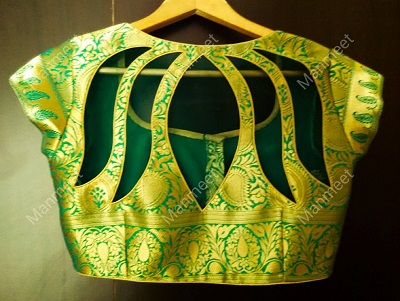 How about a cut work in the shape of a Lotus. This beautiful brocade Banarasi saree blouse has Lotus shape cut work at the back. It has the regular boat neckline with front hooks to make this design extremely attractive.
11. Blouse Back Neck Design For Pattu Sarees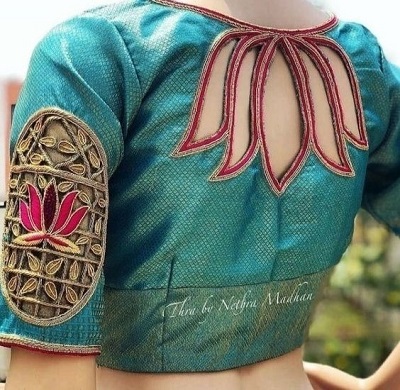 The same cut work in the shape of a Lotus is seen in this blouse. It's been given cut work on the sleeves. The sleeves are three fourth in length. This stylish blouse is suitable for pattu sarees and even for other type of silk sarees.
12. Blouse Back Neck Design For Plain Saree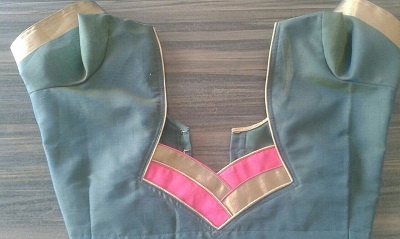 If you're looking for a stunning patchwork back neck blouse design then try this. With front hooks and opening, it has contrasting coloured straps at the back. The sweetheart neckline is adorned with golden colour strap.
13. Blouse Back Neck Pattern For Silk Sarees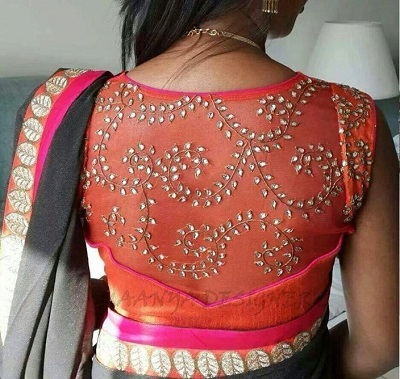 This next design is truly stunning. One can never fail to give you compliment when you have such a charismatic blouse design. The back neckline is kept in sheer fabric with exclusive Zari and kundan stone work. This is best to be paired with lehenga and chiffon net sarees.
14. Boat Neck Saree Blouse Back Design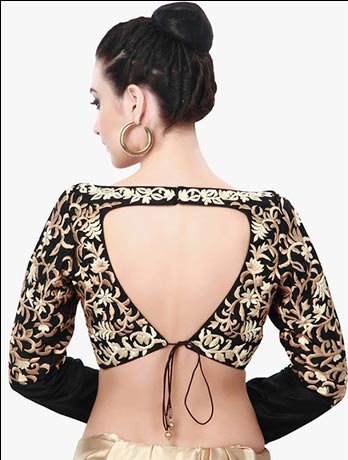 The blouse with full sleeves has rich and vibrant golden embroidery on black fabric. The back neckline has a triangular shape cut with back hook and dori. The boat shaped neckline is truly enchanting that adds sophistication to this pattern.
15. Trendy Blouse Back Neck Design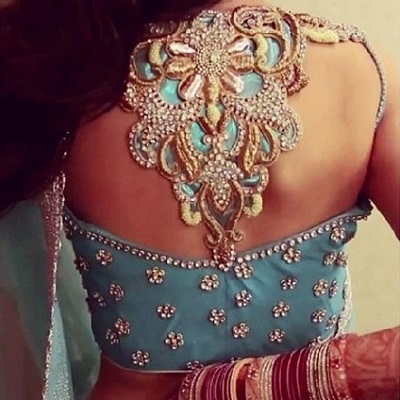 The embroidery and stone studded patch at the back is beautifully done. It is studded with stones and embroidery patch work that exudes neatness. The design is for sure a bridal specific design. Try for the cocktail functions, parties or after wedding ceremonies.
16. Wedding Saree Blouse Back Design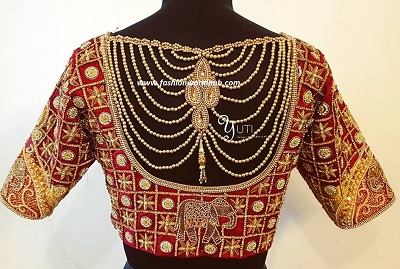 The blouse has a scoop neckline and has heavy maggam work. The elephant design and pattern is seen on the entire blouse which makes it luxurious. But the key highlight is the jewellery like a shape and strings that covers the back neck.
17. Border Saree Blouse Design Back Side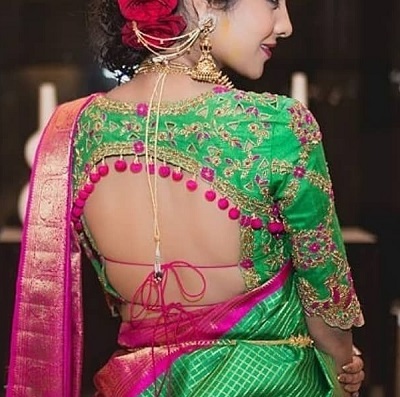 This saree blouse design has Pom pom attached in a semicircular shape. The cut work is seen on the design and in the middle part. The pink and green combination is really stunning and modern. Not just for the sarees, one can pair such a exclusive and lavish looking border saree blouse back design with their lehengas and net sarees.
18. Bow At Back Blouse Design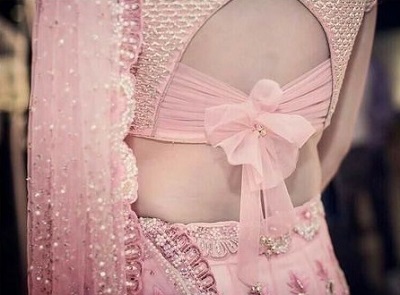 Perfect for any Cocktail, wedding reception ceremony, this beautiful saree blouse with bow in the back is attractive. The inverted half moon shape cut has sheer fabric that goes in the middle to form vertical band design.  The colour is yet another highlight that makes this stylish blouse back design perfect for new brides to try it for their wedding and after wedding parties.
19. Bridal Designer Blouse Back Neck Pattern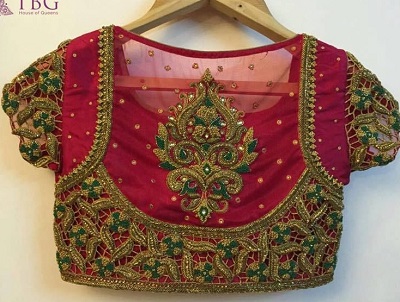 The bridal back neck design has chiffon fabric. The work of exclusive embroidery and maggam work is clearly seen. The cut work is given on the sleeves that make it really charismatic. The Paisley and floral motifs at the saree back neck design is very neat and detailed.
20. Chiffon Saree Blouse Back Design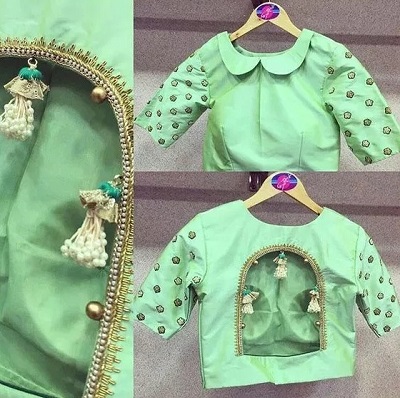 Peter Pan collar in the front and round neckline at the back is the beauty of this design. This blouse is given an inverted bell shaped cut at the back with tassels and pearl work. The edges are detailed with sequin, stone and bead work. The medium sleeves blouse is perfect to go with any model stylish sarees.
21. Collar Blouse Back Neck Pattern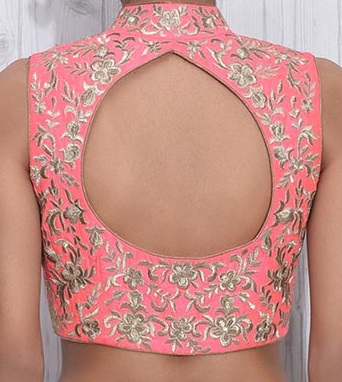 The otherwise simple blouse is given that round deep cut. This adds more beauty to this piece. The high neck blouse with band collar is sleeveless. This designer blouse back neck design can be paired with lehengas and sarees.
22. Back Neck Design For Pattu Saree Blouses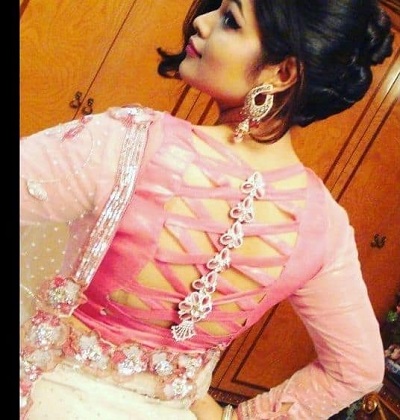 Instead of the regular doris, the design has straps and criss cross pattern.  Jewellery like shapes gives more attention and depth to this beautiful new model blouse back neck design. Try it for this wedding season. You will surely like the kanjeevaram saree blouse back neck design.
23. Backless Blouse Design For Sarees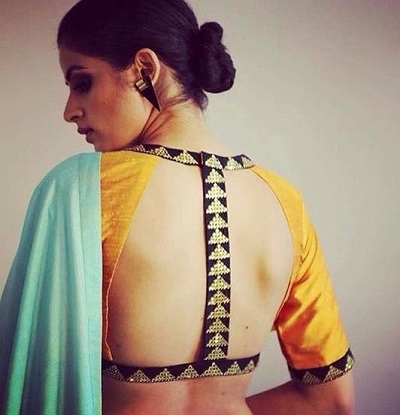 If you are still shy away from the total backless blouse, then try this subtle version of a backless beautiful saree blouse. It has a single strap at the back. It is surely extremely modern looking and is something that can be tried for the receptions, Cocktail parties and functions.
24. Heavy Work Blouse Back Neck Design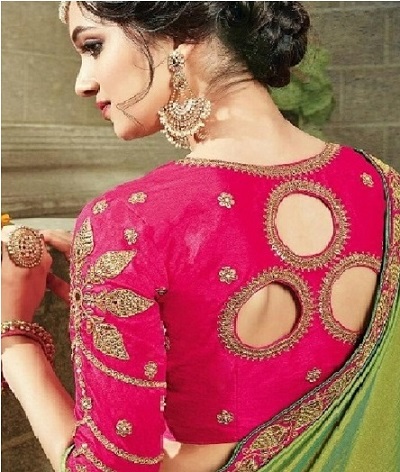 This pattu saree back neck design is given three circular cuts at the back. It is loaded with heavy Zari and Golden thread embroidery work.  The three fourth sleeves comes with a round shape neckline.
25. Cotton Back Open Blouse Design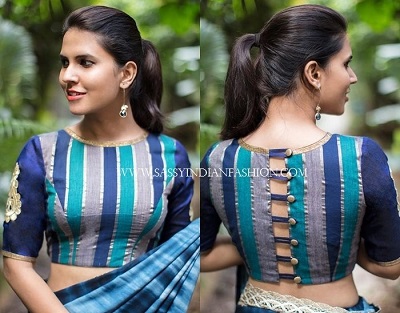 You can surely movie from your traditional cotton blouses. It has been back style with buttons at the back. The blouse is nicely cut in a princess cut pattern with medium length sleeves. Try this fancy back neck design for any upcoming party.
26. Cape Style Blouse Back Neck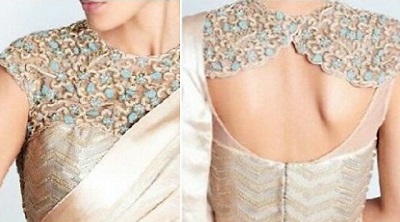 The cape style blouse with embroidery and chiffon fabric is best suitable for modern women who can carry such style. The back neck line is revealing with back hooks. It is one of the best back neckline designs that we have seen in this collection.
27. Cotton Saree Blouse Back Neck Design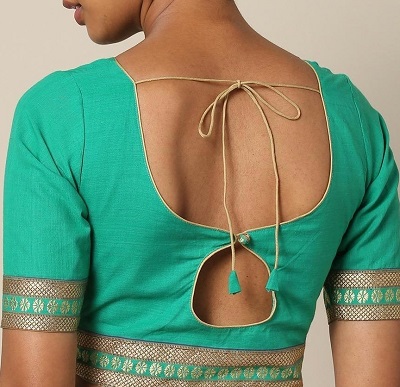 Another beautiful design of cotton blouse with border is this one. It has keyhole neckline at the back with the tiny button to secure the blouse in place. The simplest design is truly pretty for everyday wear.
28. Cut Out Pattern Blouse Design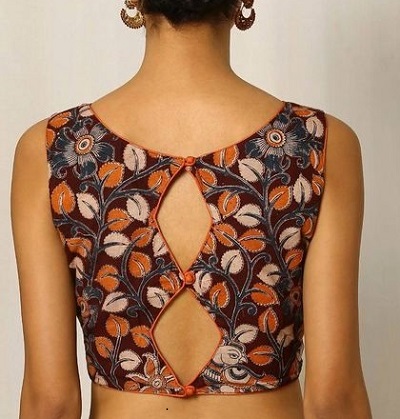 With two diamond shaped cut at the back, this is a cotton printed blouse with very modern and stylish pattern. The boat shape Neck line is simple but the cut work at the back with buttons gives it a modern look. Wear a similar back open saree blouse design to add more charm to your personality.
29. Designer Choli Blouse Back Design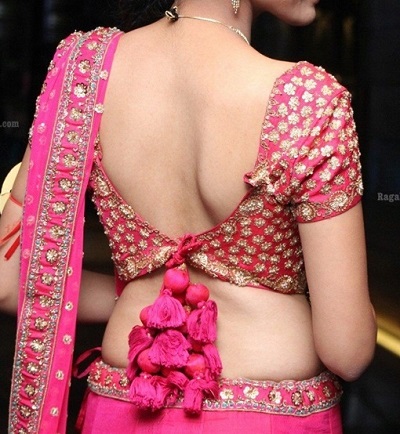 If you are the bride or someone very close, then try this choli cut blouse design with tassels and Pom poms at the back. It's given deep neckline that adds more glamour and sensuality to the style. Try this new back side blouse design for festivals.
30. Fancy Blouse Back Neck Design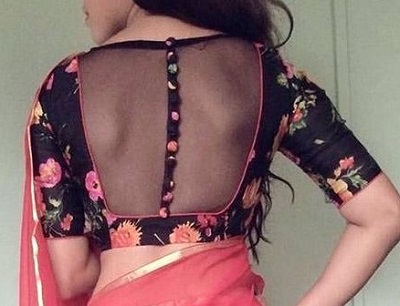 Printed fancy blouse can also look attractive when it's made nicely. The vertical strap is given many buttons and sheer fabric that covers the back. So in true sense, it's a backless blouse for those who are yet not comfortable with the full revealing backless pattern. It's a very plain saree blouse back design.
31. Stylish Net Blouse Design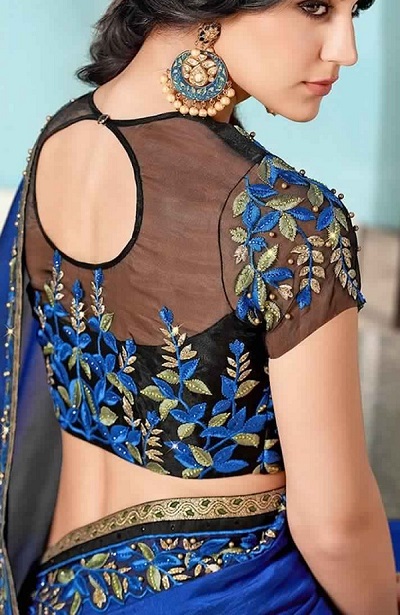 The embroidery and cut work is seen in this beautiful blouse. The sheer fabric is what makes it very delicate and suitable for most of your sarees.
32. Heart Shape Blouse Back Neck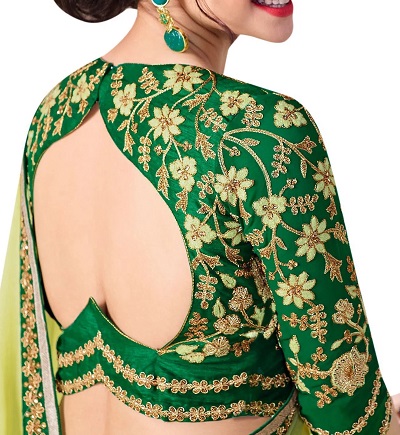 How about a heart cut back neck line design? You can definitely flaunt to get more phrases from your loved ones and the special one. This blouse with heavy embroidery is something that makes people compliments you. Even it can be used as the nauvari blouse back design
33. Latest Designer Blouses Pattern Back Neck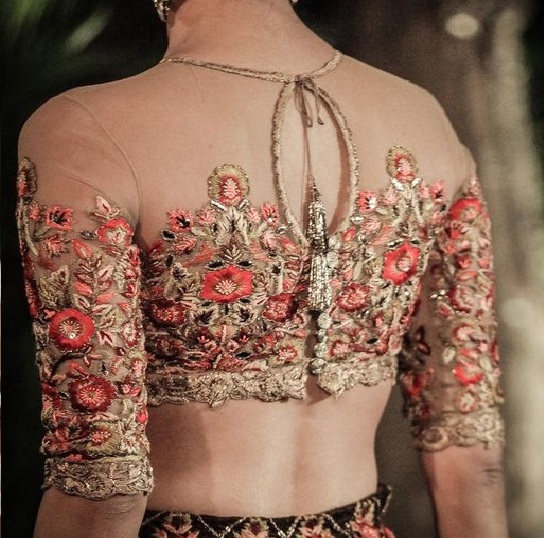 If you like cut work blouse designs, then this can be definitely tried. The beautiful blouse has cut work on the edges and back neckline has keyhole pattern.
34. Latkan At Back Blouse Pattern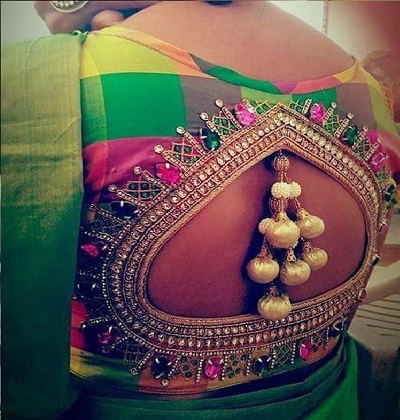 With the heart shaped neckline at the back, the blouse is studded with tiny stones and beads. It is suitable for the heavy silk sarees.
35. Modern Designer Blouse Back Neck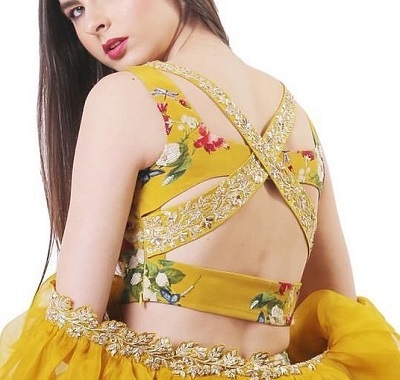 Design is gorgeous for the modern Indian women. Women who do not shy away from wearing such revealing yet stunning blouse designs must try it.
36. New Design Of Blouse Back Side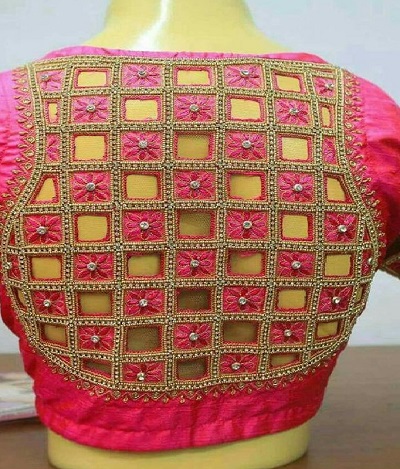 Cut work is best to be paired up with heavy sarees. The design has cut pattern at the back with very detailed edges.
37. Traditional Saree Blouse Back Neck Design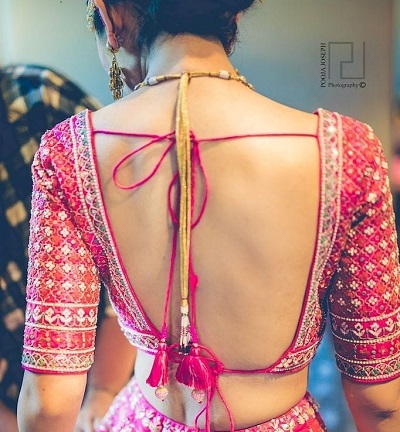 This total backless blouse with knots is a beauty that you must try once. They are traditional yet has modern look because of the cut and pattern.  Such blouses are perfect to go with the full lehengas and beautiful party wear sarees.
38. New Fashion Blouse Back Neck Design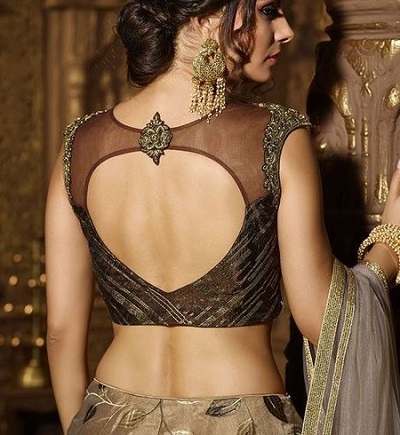 This blouse is one of the best looking back neck designs collection. It has both sheer and solid fabric with embroidery and patchwork. Similar blouse patterns should be there in your wardrobe.
39. New Style Blouse Back Design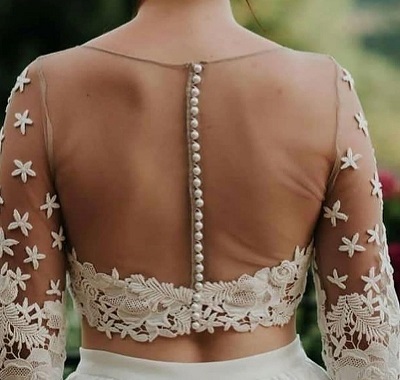 This fabric blouse design is a total beauty with pearls and white thread embroidery and lace design. It is perfect to go with all the cocktail and bridal reception parties. This is for the modern Indian bride.
40. Paithani Blouse Back Design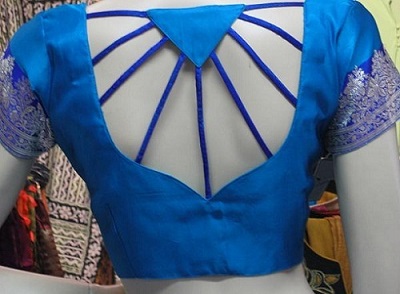 The interesting and unique back neckline pattern has a patch with strings in between. It's made with Silk fabric with border on the sleeves. When is suitable to team up with your lehenga sarees and the regular silk and cotton silk sarees.
41. Party Wear Blouse Back Neck Design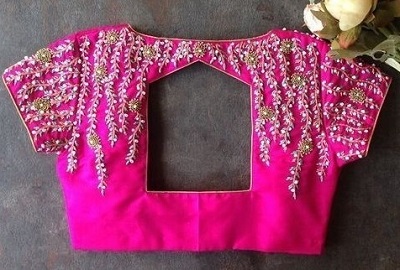 The interesting cut at the back of this blouse has a geometrical shape. Otherwise, the blouse is heavily embroidered with beads and sequins work. It has a boat shaped neckline and padding in the front of this heavy blouse back design.
42. Patch Work Back Neck Blouse Design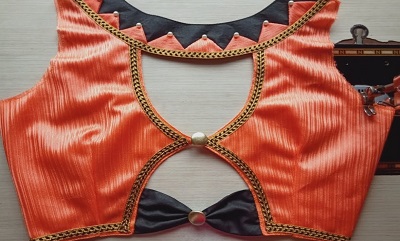 The beautiful Patchwork blouse design is intricate and very neatly done. It has a small triangular shapes and bow at the back. So if you like Patchwork design then this is a sure shot design which you can try.
43. Patch Work Back Neck Design For Blouse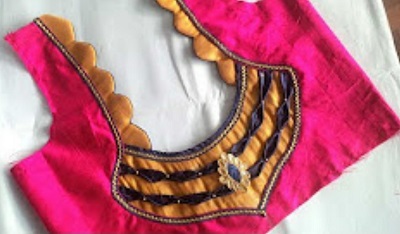 This next blouse is also given beautiful patch work in different shapes. The neckline has a shape with detailing done using rhinestone chains. Search designs are perfect to try with silk sarees.
44. Pattu Saree Blouse Back Neck Design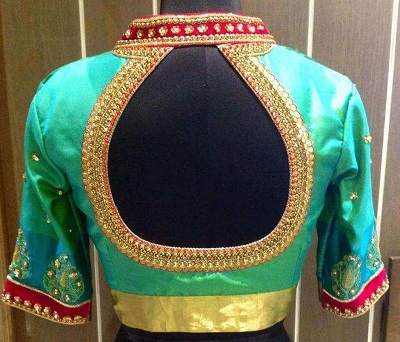 This blouse is given a teardrop shaped cut at the back which makes it semi backless blouse pattern. The sleeves have saree like border and stone work with contrasting taping in velvet fabric. It's been given a beautiful pattern with the help of sequins and beads in golden colour.
45. Pattu Saree Blouse Back Neck Style
The beautiful blouse shape is given geometric pattern at the back. It has short sleeves and is studded with small Kundan stones and beadwork.
46. Pot Shape Deep Back Blouse
The dark red maroon bridal blouse is rich with thread embroidery and Golden piping without sleeves blouse loose really intricate. It has zari and thread work on the entire house with small sequin and beadwork.
47. Princess Cut Designer Blouse Back Neck Design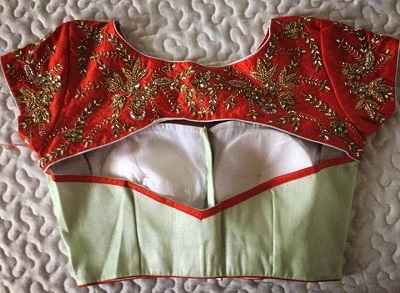 The Princess cut blouse with short sleeves has heavy embroidery on the upper part. It has a slit like cut at the back. It can be paired with chiffon light fabric sarees and lehengas.
48. New Model Blouse Back Neck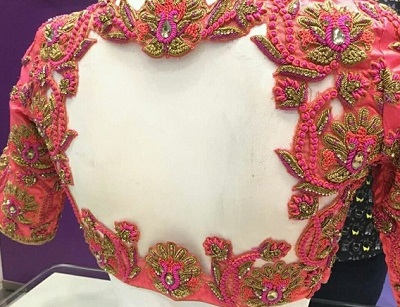 Embroidery and cutwork in floral and leaf shapes is the beauty of this design. You can pair it with the different types of ethnic dresses like lehenga and sarees.
49. Saree Blouse with Back Buttons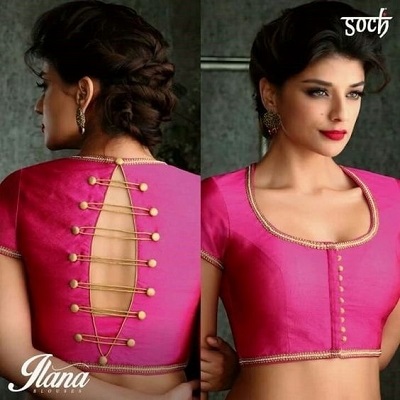 This interestingly pattern blouse design is for those who like to try something different. With scoop round neckline and unique pattern at the back, it's one of the best looking back neck designs.
50. Sheer Fabric Blouse Pattern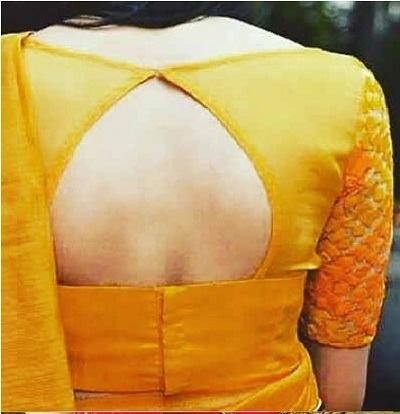 A mix of sheer and solid fabric creates a beautiful effect. The same is seen in this nicely made blouse with back opening.
51. Simple Saree Blouse Back Neck Design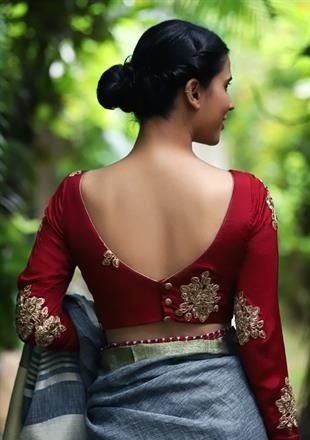 It's a gorgeous blouse with full sleeves and embroidered pattern which you can try with your heavy sarees. The V shape back neckline has buttons to hold the blouse securely.
52. Sleeveless Boat Neck Blouse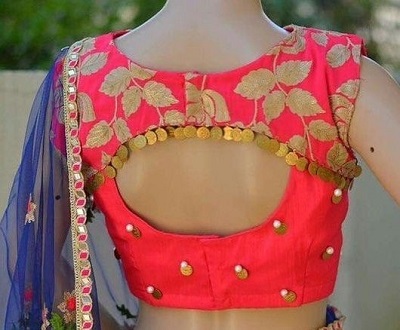 The patch work for this blouse back neck is studded with small golden coins. This is such a beautiful back blouse pattern that you must try for your regular sarees and lehengas.
53. Sleeveless Saree Blouse Back Design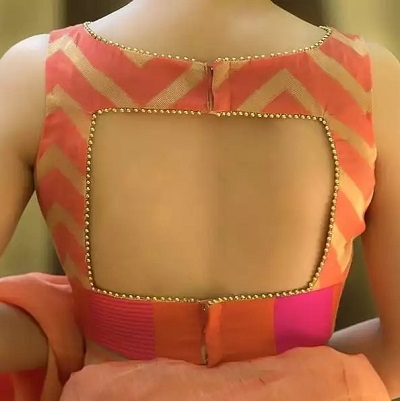 The rectangular cutter the back of this blouse is a sheer beauty that you must try for one of your sarees. The best part is the small golden beads that are added on the edges of this latest back open blouse design.
54. Strap Butterfly Back Neck Blouse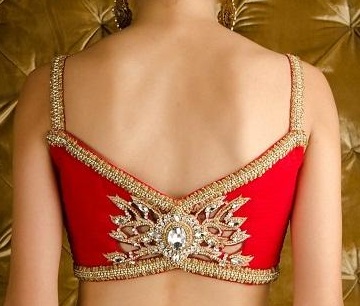 The butterfly shaped strappy red blouse is perfect for bridal wear. Also has some cut work design with big bold stone in the centre. It is best with the net chiffon embroidered sarees.
55. Stylish Blouse Back Side Neck Pattern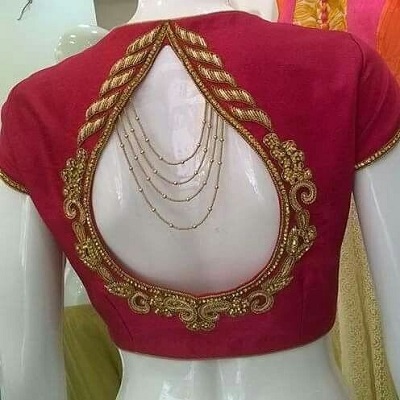 Given a teardrop shape, this embellished design is best for the party wear sarees. It's apt to be paired with most of the heavy sarees and even the Kanchipuram for silk sarees. Use this designer blouse back neck pattern for lehenga blouses too. Actually it's also a good blouse back neck design for net sarees.
56. Printed Saree Blouse Back Neck Design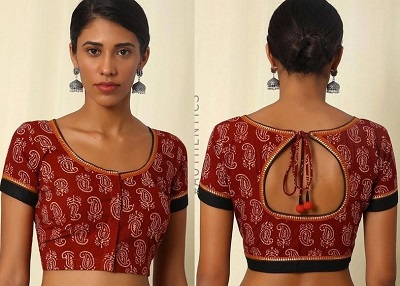 Printed blouse is stitched in the regular pattern with front opening and contrasting colour borders. It has tear drop shape back neckline and strings. It is one of the most simple blouse designs which looks really beautiful with this latest back neck blouse design.
57. Tassled Blouse Back Neck Design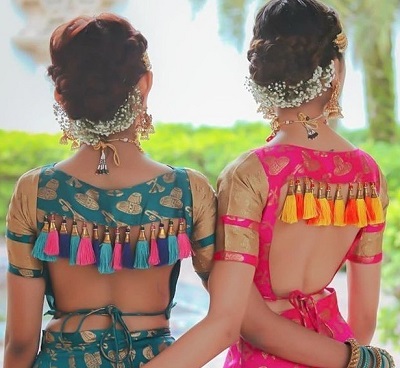 Tassels at the back blouse pattern are currently in trend. Tassels make your new model back neck design really interesting and alluring. The backless blouses have been given tassels at the top part.
58. Wedding Wear Stylish Back Neck Blouse Pattern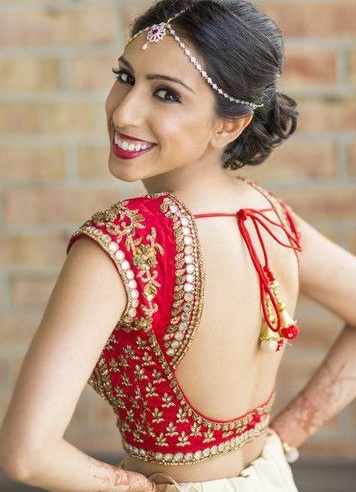 This blouse is bridal specific blouse with mirror and embroidery work. The backless blouse has a thin strap at the back and 2 doris on the shoulders. Try this wedding silk saree blouse back neck design for events pre and post marriage.
The best back neck pattern for saree blouses. The same patterns can be replicated for lehenga blouses as well.