Banarasi blouse designs have their own charm and elegance that they are loved by the Indian women a lot. Not just for your Banarasi silk sarees, pattu sarees and other types of silk sarees they can also be worn with the chiffon Georgette or net sarees. With so many different things that you can do with a Banarasi saree blouse, let's take a look at the latest collection of Banarasi blouse patterns and designs.
Latest Banarasi Blouse Designs For Sarees and Lehengas
1. Sheer Fabric Banarasi Blouse Design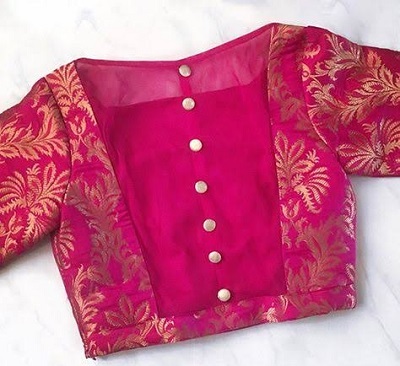 This stylish Banarasi blouse has a transparent fabric used at the backside. It bears buttons in a vertical row. The Banarasi brocade blouse in hot pink fabric is certainly beautiful and has a princess cut pattern with a side zipper given to wear it with ease it is suitable for parties and ceremonies.
2. Patch style Banarasi Blouse design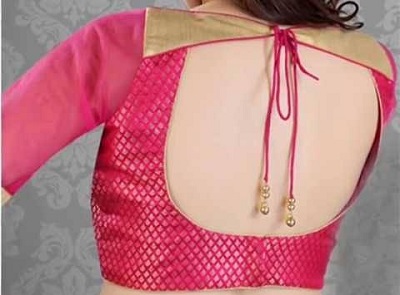 Banarasi brocade blouse has two different fabrics used with up at work. The Patchwork is made at the back that also holds two strings. This backless blouse design is really interesting for the wedding than festivals.
3. Stone Studded Blouse design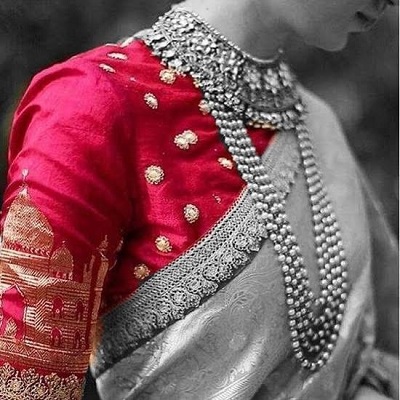 Banarasi blouse design as the beautiful red colour with the print. It has stone-studded sequins all over. It is a round neckline blouse with medium length sleeve.
4. Heavy maggam Work Banarasi Blouse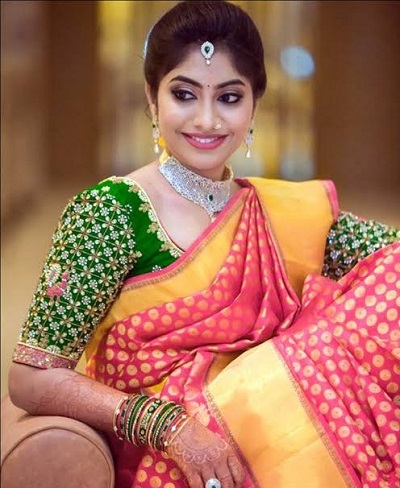 The heavy maggam work Banarasi blouse design is paired with a pink Banarasi saree. The beautiful blouse is wedding appropriate and one of the best bridal Banarasi blouse that we have seen.
5. Elegant Red Banarasi Blouse Style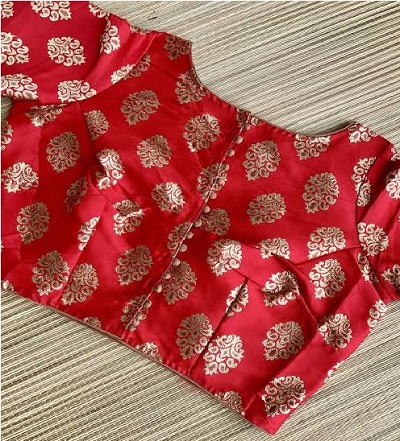 This Banarasi blouse in red colour has front open pattern with potli buttons to make it even prettier. It is stitched in the regular pattern and has dots on the front. The blouse is made with short sleeves.
6. Contrasting color Banarasi Blouse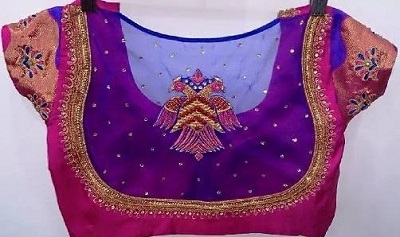 This Banarasi blouse design with border work has rich stone and embroidery work that is clearly seen at the back neckline. The patch work of sheer fabric in blue colour is used with red Banarasi design.
7. Designer blouse for saree and lehengas
The beauty of this silk saree blouse is the back pattern. The inverted scoop neckline has 3 doris that makes it really glamorous. The potli buttons are used on the edge of the cut.
8. Back open Blouse pattern
The Banarasi blouse has a Patchwork which looks extremely stunning. It is a back open with hook pattern blouse. The blouse is really pretty for the festival and ceremonies. It has regular pattern with round neckline.
9. Deep back neckline blouse design
The Banarasi blouse is given deep neckline which also resembles a backless blouse pattern. With pleated design on the sleeves it has designer button at the back.
10. Green and Gold Banarasi Blouse Design
The dark green Banarasi gold blouse has a neat pattern. With the deep front and back neck line, it has been given three fourth sleeves. This blouse is beautiful to be paired with silk sarees, Pattu silk sarees, chiffon georgette and even the net sarees.
11. Cutwork Design in Banarasi style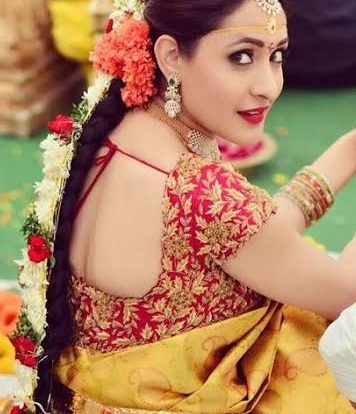 The Banarasi blouse has cut work pattern and heavy embroidery is seen. With the deep scoop neckline at the back, it is given normal neckline.
12. Princess cut Banarasi Blouse Pattern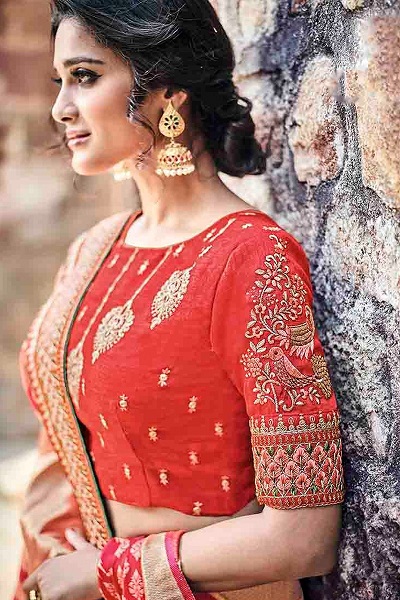 This Banarasi brocade blouses given rich embroidery look. It has round neckline and has medium length sleeves. The sleeves are embellished with heavy embroidery. This blouse princess cut and is suitable for all different types of heavy and light sarees.
13. Festive wear Banarasi style Blouse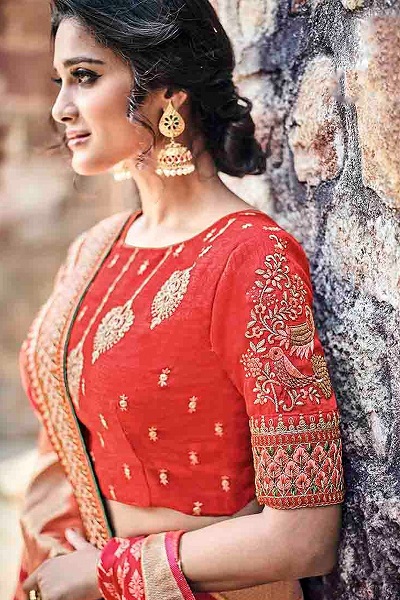 This stylish design has a cut work and patch work at the back. The extremely modern looking Banarasi silk blouse in dark green colour is beautiful. The buttons at the shoulders add more beauty to this stunning blouse piece.
14. Backless blouse in Banarasi
The simple Banarasi brocade blouse has a backless pattern. The geometric cut at the back makes it really beautiful.
15. Patch work Banarasi Blouse Design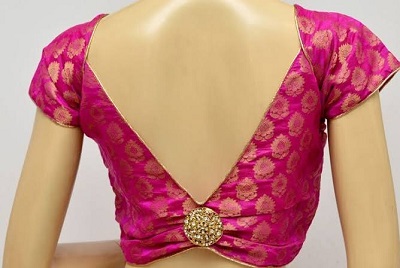 This extremely stylish looking blouses patch work sleeves. The Banarasi pink colour blouse can be paired with different types of festive wear sarees.
16. Bridal Banarasi Blouse Pattern
The red heavy Banarasi blouse has round neckline with short sleeves. It is a beautifully made blouse that is suitable for net sarees, chiffon sarees, and even all the heavy or light silk sarees. For Pattu silk sarees, the blouse would look the best.
17. Cold Shoulder Banarasi Blouse style
This Banarsi Silk blouse has round neckline and front open pattern. It has medium length sleeves that reach till the elbows. It has a cold shoulder pattern.
18. Partywear Banarasi Blouse style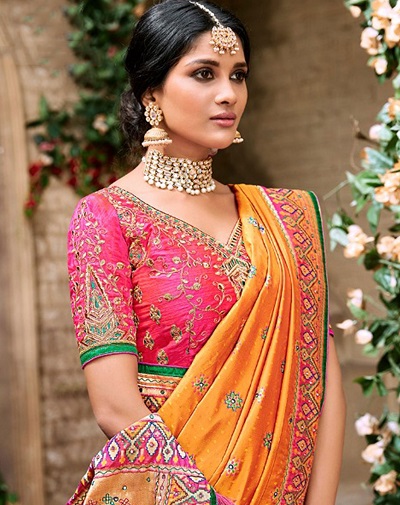 This Banarasi pink and green blouse is heavy embroidered and this would look good with different types of silk sarees. Perfect for festivals and ceremonies, this silk blouse is really beautiful.
19. Printed Banarasi Blouse Design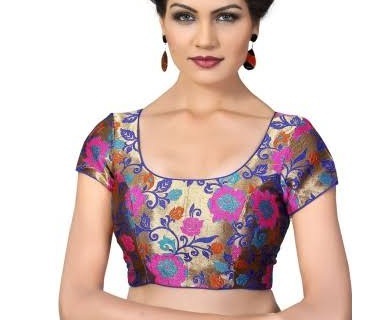 This blouse design here has nice floral print. The gold blouse as print of blue and orange. It is suitable for different silk sarees.
20. Stylish Banarasi Blouse for sarees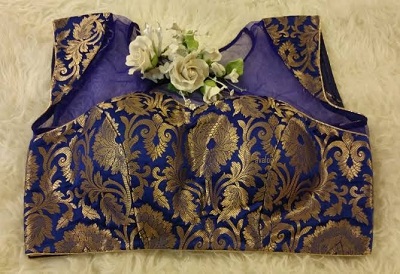 The model looking patch work blouse in Banarasi brocade Silk fabric is increasing. It is very modern and would suit the younger women a lot.
21. Sleeveless and stylish Banarasi Blouse
The new design of Banarasi designer blouse has pleats on the edges and slit in the front. The blouse is apt for the modern Indian women and it is best to be paired with Silk, chiffon and net sarees.
22. Maggam work Banarasi Blouse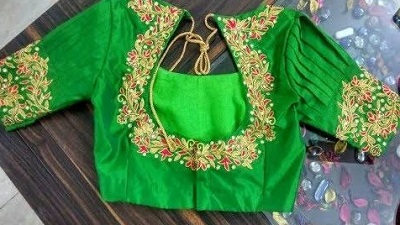 The heavy embroidered Banarasi blouse design has pleated sleeve design. It is a bridal appropriate silk saree blouse. The blouse is so stunning that most of the women would love to wear it and doesn't matter what shape or size you have.
23. Satin Silk saree blouse for party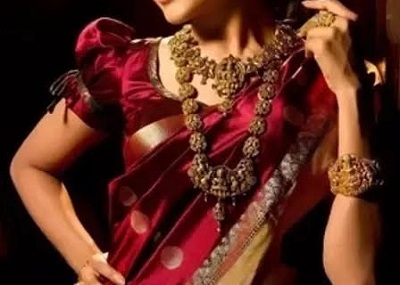 This Satin Silk Fabric in deep red maroon or wine colour of sleeves. It looks really beautiful and is best to pair with the silk sarees.
24. Embroidered Saree Blouse Pattern
The blouse pattern has embroidery in the front part and the sleeves have puffs. The saree blouse with border looks stunning and is definitely a bridal blouse for festive season.
25. Designer Banarasi Blouse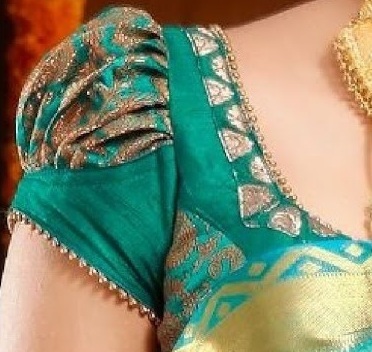 The sleeves of this blouse are innovative and new. The beaded edges are also making this a designer blouse for the latest silk sarees.
26. Blouse in Banarasi with Long Sleeves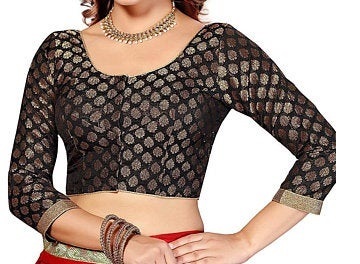 The long sleeves Banarasi blouse in black colour is simply impeccably made. It can be paired with different colours like red is the colour that would go really wonderful with this blouse. In fact, a red chiffon saree would also look stunning with this.
27. Chinese Collar Blouse in Banarasi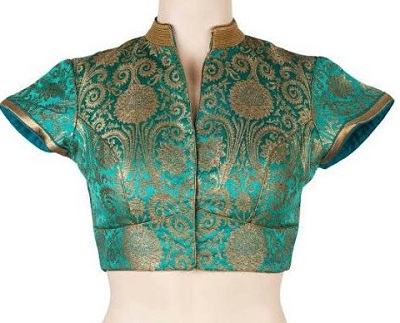 Banarasi blouse in green colour has Chinese neckline. This blouse is perfect to be teamed up for festival and ceremonies. Its gold woven embroidery makes it really beautiful.
28. Yellow Traditional saree blouse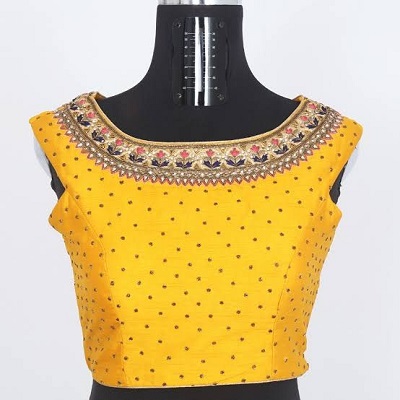 The Silk blouse has princess cut and sleeveless design. The neckline is embellished with beads, stones, embroidery and kundan work. The bright yellow Canary colour is perfect for different styles of sarees.
29. Brocade Blouse for festivals
Red Banarasi style blouse is apt for the weddings and festivals like karwa chuth and more.
30. Modern Banarasi blouse with short sleeves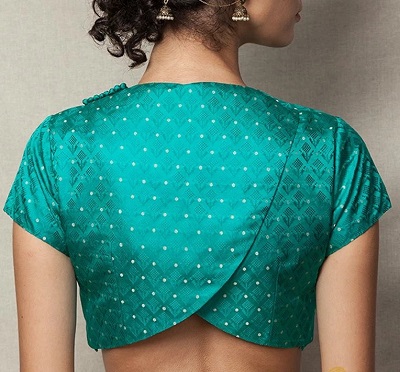 This is a very stylish looking blouse back neck style. It's good for the sarees and lehenga.
These are the latest Banarasi saree blouse designs that you can try with the different saree styles and work. The best sarees that goes with Banarasi blouse are silk sarees, chiffon sarees, net sarees and even the Pattu silk sarees.