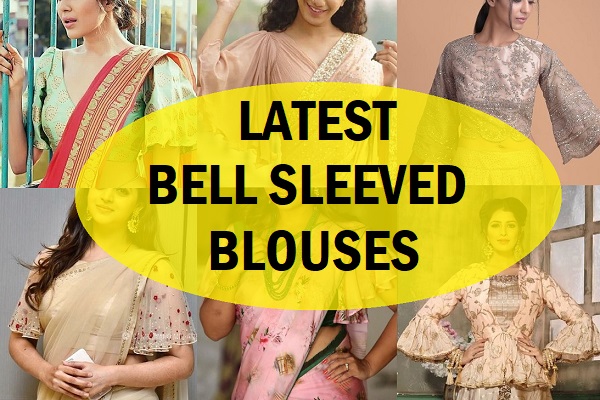 Bell sleeves have come back in trend again. And this is not just seen in the Western clothing but even for the saree blouse designs. In the recent times, you might have seen bell sleeves saree blouse patterns and styles. And it is not just restricted to the silk sarees or a particular kind of sarees however almost everyone is experimenting with bell sleeves design for saree blouse patterns.
Latest Bell Sleeves Saree Blouse Designs
1. High flared Bell Sleeves Blouse Design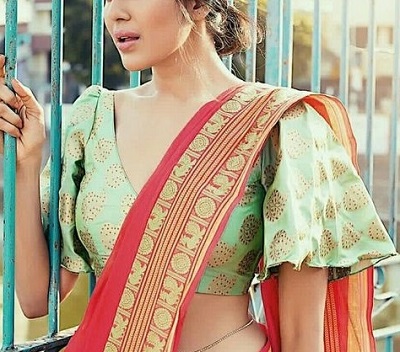 The bell sleeve saree blouse has a v shape deep neckline with Bell sleeves that goes above the elbows. It is very refreshing and younger looking saree blouse pattern that anyone can go for. Even if you have bulky or fat arms, this style would help to camouflage that effectively and efficiently.
2. Net Fabric Sleeves with Bell Flare Saree blouse Design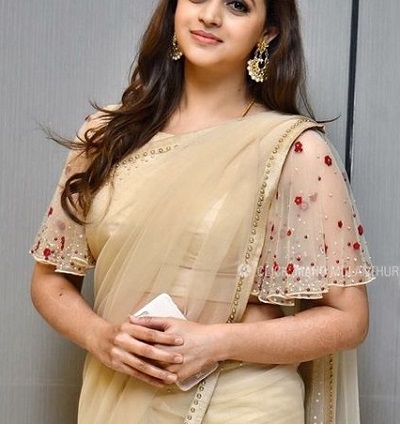 The bell sleeves pattern is made in sheer net fabric with embroidery done all over. It gives it a very delicate feel and the same blouse has been paired with a golden net saree. This design is very fresh and feminine that a lot of women would love to go for. In fact, it is very westernized and would look good on women with all age groups. Even young girls would like to wear sarees can try this design.
3. Light Pink Flared Sleeves Saree Blouse Pattern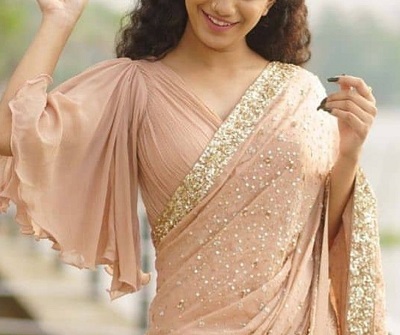 The bell sleeves are till the elbows and the blouse has pleated pattern. It is paired with a chiffon embellished saree. This blouse is highly attractive and would look great with a net saree or with chiffon, net or lace fabric saree. Such designs are perfect for Cocktail functions and functions like receptions.
4. Mid Length Bell Sleeves Saree Blouse Design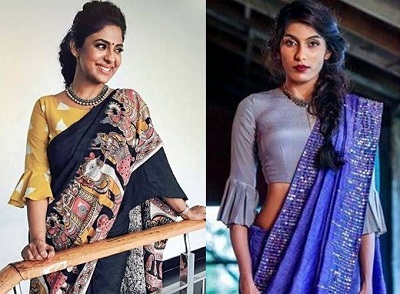 The bell sleeves are given the flare after the elbow. So till the elbow, you would get the regular sleeves fitting and then the bells flare starts after the elbow. It looks really nice and refreshing and can be used with different types of sarees.
5. Bell Sleeves in Contrasting Fabric Maggam Blouse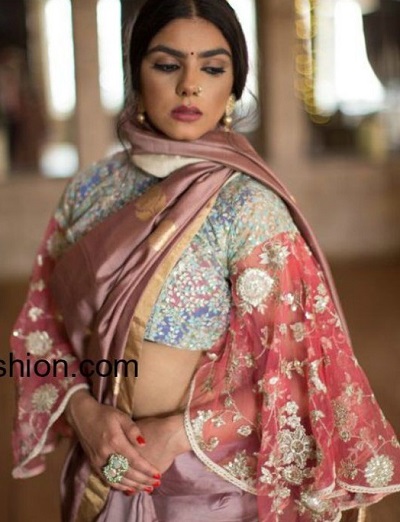 Saree blouse design here has rich Gota and maggam work. It looks really stunning and the bell sleeves are very voluminous. The entire flare of the sleeves is embellished with beads and sequins work. The same design would look great when paired with a net saree.
6. Short Bell Sleeves With Net Fabric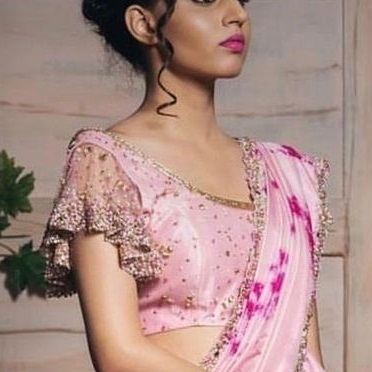 This blouse design here in pastel pink is sheer beautiful top paired with a Satin saree with embellished border. It looks really perfect for any type of festival or function. Festivals where you would like to dress up in all glitter and glam, it'll be an appropriate choice. The bell sleeves are flared enough to give a modern look.
7. Layered Bell Sleeves Saree Blouse In Chiffon Fabric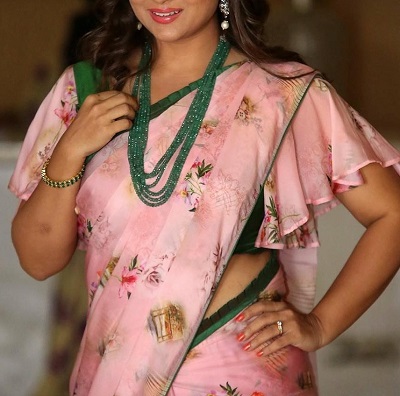 Here the blouse is in same fabric which is of the sari. The sheer chiffon fabric is used for the sleeves part while the green cotton fabric is used for the bust. It has pleated border and the bell sleeves are given huge flare that gives a pleated look. It doesn't even need too much of accessorising and looks really perfect.
8. Medium Length Bell Sleeves Saree Blouse Design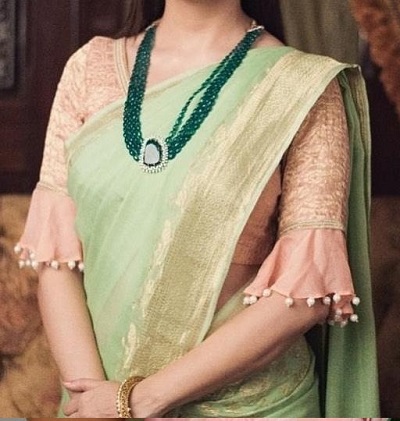 This cotton silk saree is paired with a gorgeous pastel pink brocade blouse. The blouse has bell sleeves in the midway starting from the elbows. The sleeves are further embellished with pearls on the edges. Such designs look really royal and sophisticated. An emerald long necklace is paired with this design however a gold Pearl necklace would have looked much better.
9. Batwing Style Sleeves Saree Blouse Pattern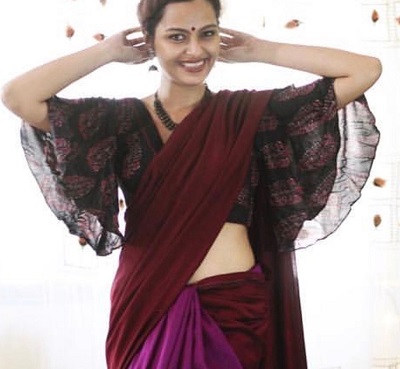 This design here is very feminine and modern looking. The regular Satin saree is paired with a Georgette blouse. The bell sleeves are quite trendy looking. The v shape neckline of this blouse neck surely adds edginess. If you are going for a party where you like to be different, then try this latest saree blouse design.
10. Long Bell Sleeves In Net Fabric Saree Blouse Design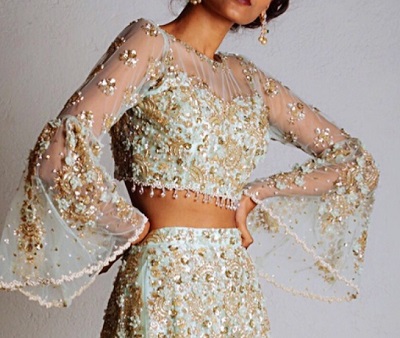 This lehenga blouse design has a strappy top and the upper fabric is of sheer net. It is entirely embellished in sequins, pearls and embroidery. The bell sleeves are making it highly attractive. In fact, this is beautiful design is perfect for any wedding appropriate function. For Grand wedding, such designs are highly opted for.
11. Full Bell Sleeves Lehenga Blouse Design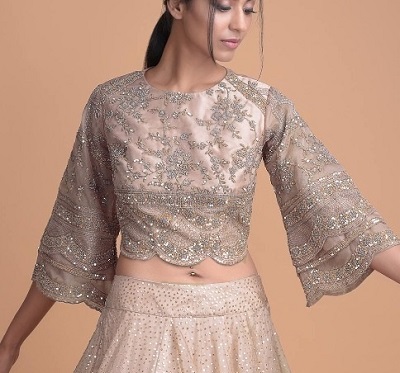 When you wish to look classy and royal than choosing the soft and subtle colours would be best. The design of this blouse here has bell sleeves. It is so intricately and neatly made that it looks stunning. It would surely make heads turn. Not just for any party or reception, it can also be used as your own wedding ceremony dress.
12. Bell Sleeves Saree Blouse Pattern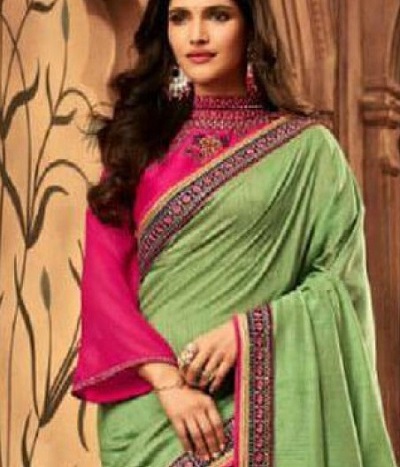 The bell sleeves of this cotton saree blouse are innovative. The blouse has embroidery all over and it is paired with the contrasting colour saree. This blend and design of the colour really complement each other.
13. Jacket Style Saree Blouse Design With Bell Sleeves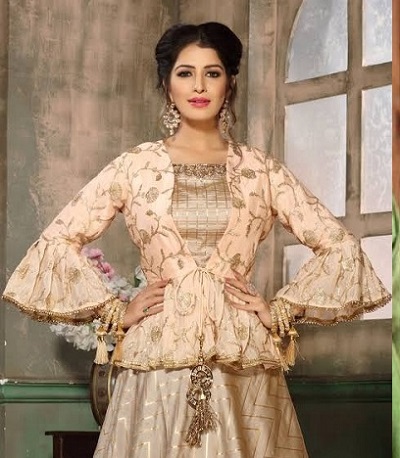 The long jacket style blouse has a peplum waistline and bell sleeves. The design is very interesting as it was very much in trend in olden days . However, this looks really stylish and appropriate for the current fashion trends. The gold and cream colour combination makes it really royal.
14. Printed Short Blouse Pattern With Bell Sleeves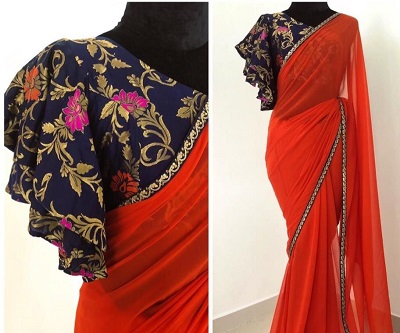 This brocade blouse in blue colour is paired with an orange coloured georgette saree with border. The bell sleeves make it very modern and fashionable. The otherwise regular combination has  princess pattern blouse with bell styled sleeves.
15. Peter Pan Collar Saree Blouse World Sleeves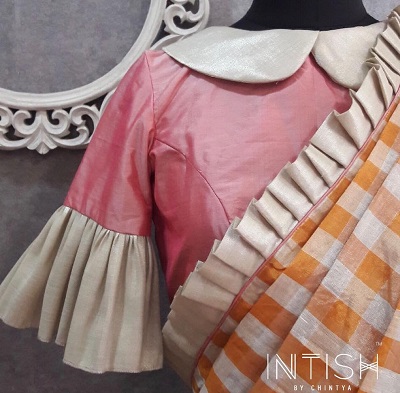 You can have a collar blouse design in a princess cut with a bell sleeves style. The blouse is made in silk fabric and is paired with a cotton silk saree. The saree has border and Bell sleeve that goes from the elbow.
16. Bell Sleeves With Boat Neck Lehenga Blouse Design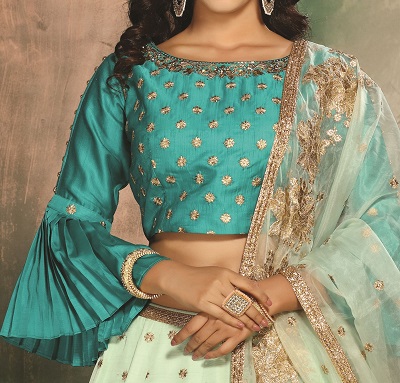 The regular bell shaped you can have pleated Bell style to. The blouse is made in silk and Satin fabric with embroidery. The sleeves of this blouse are very innovative and unique. In the same design can be replicated in the Kurtis and saree blouse.
17. Double Layered Bell Sleeves Saree Blouse Design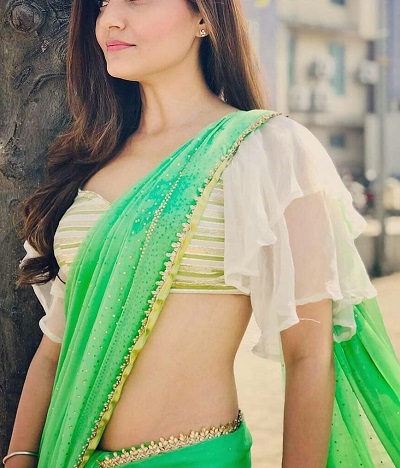 Here the sleeves give an Illusion of ruffled sleeves. It is flared with an embellished lightweight chiffon saree. The sweetheart neckline of the blouse looks appropriate for any parties. It is a very day and night time appropriate dress.
18. Latest Bell Sleeves Designer Blouse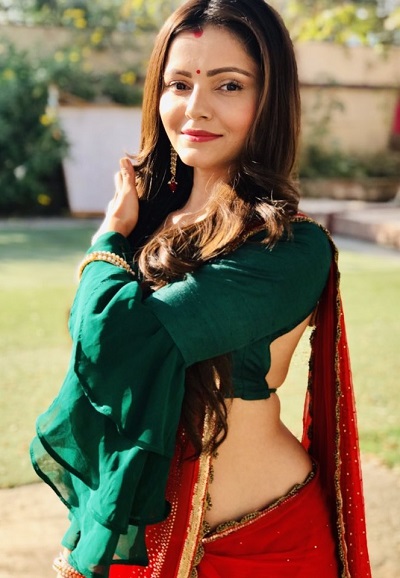 The bell sleeved design is given three layers that extend from the elbow to the wrist. Here also it is paired with light weight Georgette saree that is embellished and has Gota border. The backless saree blouse pattern is given Dori at the back. The combination of green with red looks quite alluring and interesting.
19. Saree Blouse With Semi Bell Sleeves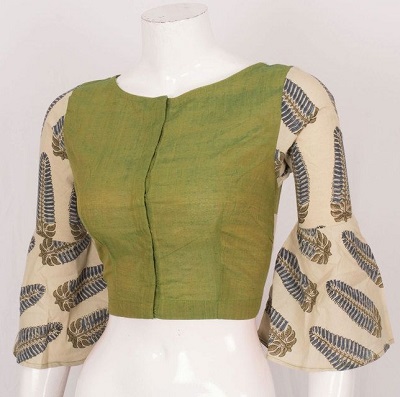 If you are looking for an inspiration for daily wear blouse design in bell sleeves in cotton fabric than this can be tried. The cotton saree blouse has flared sleeves and is the suitable to be used during summers as well. As the sleeves fabric for the sleeves is light and breathable it will not cause any problems when worn during spring summer and autumn.
20. Shirt Style Blouse For Saree With Flared Sleeves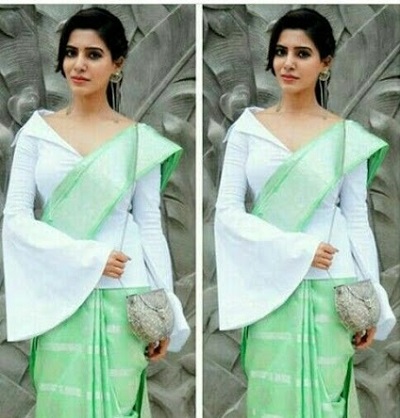 The Off shoulder collar style with bell sleeves is really interesting. It gives it a very indo-western kind of feel. The white bell styled full sleeves blouse with long length is paired with sari. It is a very refreshing combination suitable for spring summer.
These are the latest bell sleeves saree blouse designs. And we hope out of these would be able to pick the one that you like the most. For most of these blouse designs and patterns, it is easy to replicate and you can also add your own touch while going for your local Taylor or to the boutique.