Bandhej or bandhni is a name given for the ancient Tie and Dye process of creating beautiful patterns on the fabrics. It's really popular in the parts of Gujarat, Rajasthan and Kutch. Bandhej salwar suit or the bandhani dress materials are getting popularize even in the other parts of Indian subcontinent. It's not that bandhni print or work is only dedicated to the Salwar suits but the bandhej design is also seen in sarees, skirts and other traditional wear. However, here we are going to talk about the stylish bandhej print Salwar suits available in the market. The kind of pattern that suits have, make it very light and beautiful and colourful. So, if you are going to take a look at the bandhani salwar suit, here is a catalogue that helps you choose it.
Latest Bhandej Suits Designs and Catalouge (2023)
Let's take a look at the online Bandhani suit designs available for women to try. The Bandhej print or pattern is not just turn on the regular cotton or Khadi fabric but at times it is also seen on the polyester and even on the Silk fabric.
1. Pink Bandhej Salwar Suit Dress Material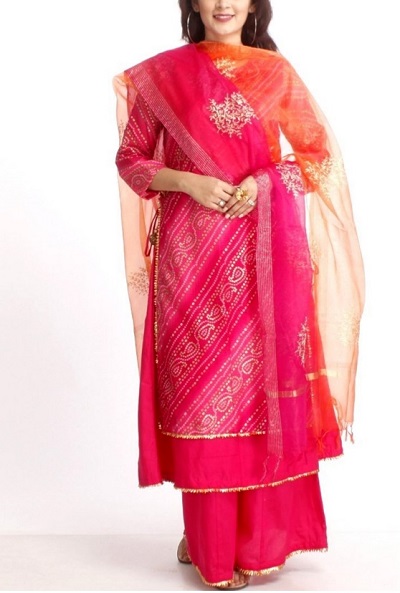 This hot pink Bandhani suit has a beautiful Bandhani shirt with a plain salwar fabric. And organza Silk Dupatta is also given along with it. It is a pretty dress which ladies can stitch according to their particular pattern and style.
2. Heavy Work Bandhej Salwar Suit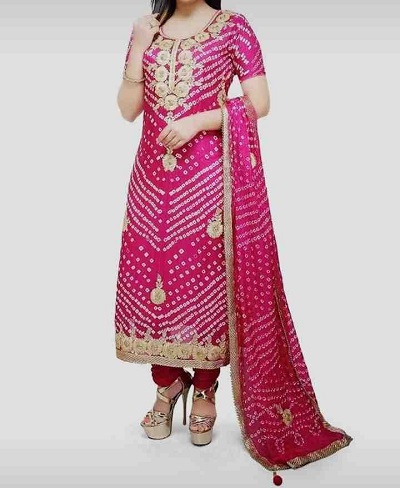 This attractive bandhej suit has the heavy stone and work. The bead and stone work is exclusive on the hemline and over the neckline. A hot pink plain cotton salwar piece is also given. The Dupatta is also in the same fabric as that of the kameez with a border attached. It is a dress material that you can stitch according to your style and preference.
3. Red and Black Party Wear Bandhej Suit Material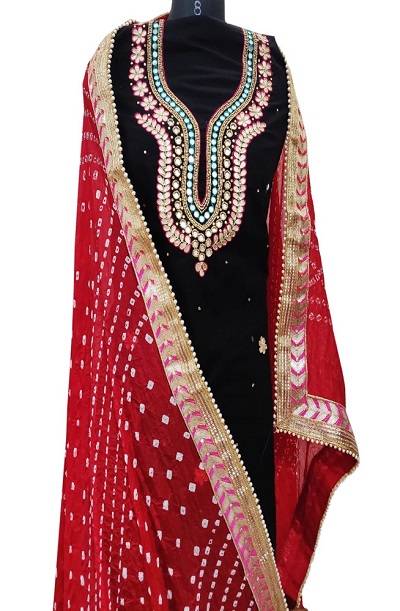 The Bandhani Dupatta in red colour is complimenting with the black shirt fabric. The exclusive embroidery with Bead and kundan work over the neckline is stunning. This is a very beautiful piece of salwar suit for women that can be worn for the parties and even for your traditional functions. If you are a bride, then we can keep such a Bandhani suit design for your after bridal functions.
4. Rich Kundan Maggam Work Bandhani Salwar Suit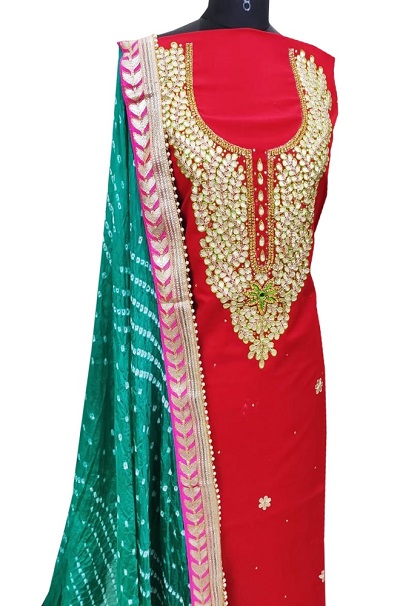 The rich Kundan and maggam work is seen on that cotton plain red fabric which is dedicated for the shirt or kameez. However, the beauty is the bandhej print blue dupatta. A border of thick border is also seen on the dupatta edges. It is such a gorgeous party wear dress that you would appear surely a diva and make you look like a head turner.
5. Casual Bandhej salwar kameez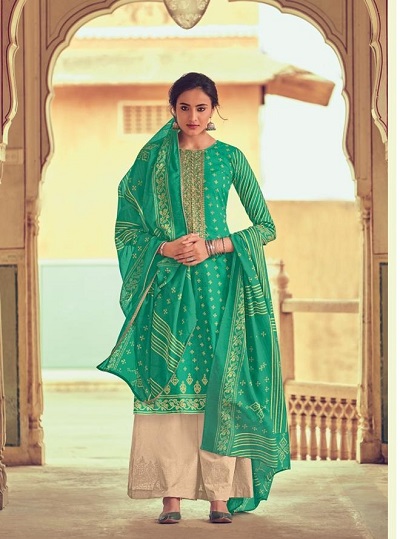 Now coming to the regular wear casual bandhej printed suits. This oriented suit in the green and white, is a beautiful design that you can go even for college and work.
6. Red and Beige Bandhej suit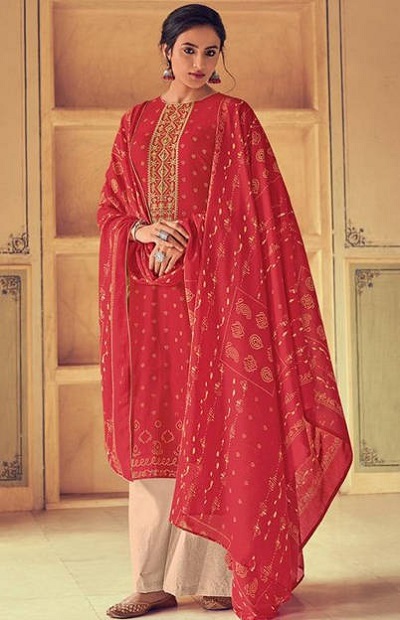 This red and beige bandhej printed suit is yet another style that you can go for, yet it doesn't have any exclusive work but just the regular printed pattern.
7. Bandhej Anarkali Style Long Churidar Dress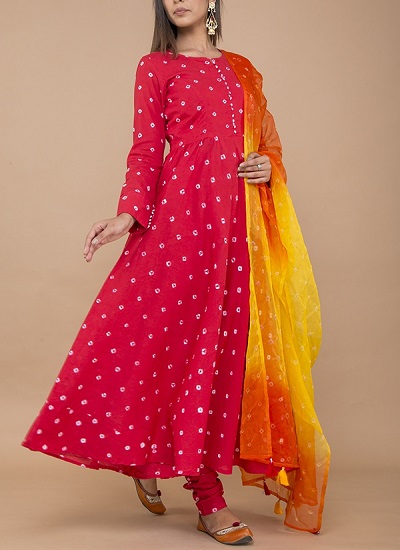 Bandhani printed red anarkali umbrella frock style suit is very much stylish. The same fabric churidar is given along with this stylish suit dress. A bright dupatta in yellow and orange colour is also given with this dress material. The ready to wear dress material is better as one can get them stitched as per their size and fitting.
8. Classic Red and Blue Bandhani Dress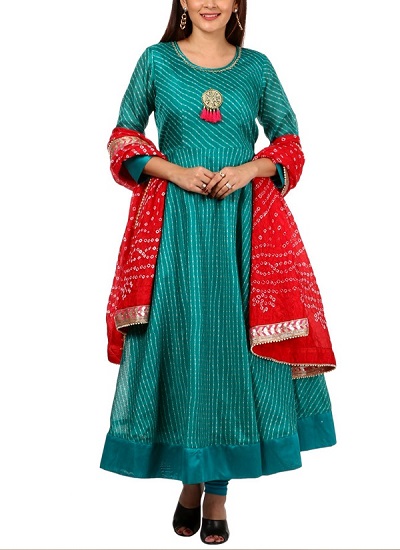 Red and blue is a classic combination and here the long kurta has three fourth sleeves with Bandhani print over it. The red Dupatta is given along really compliments this look of this dress.
9. Simple Traditional Bandhej Dress For Ladies
This traditional Indian dress is a very simplistic and subtle and classy dress that one can wear for office, college and work. Such dress materials would keep you comfortable even during summer season.
10. Stylish Dress with Tie and Dye Print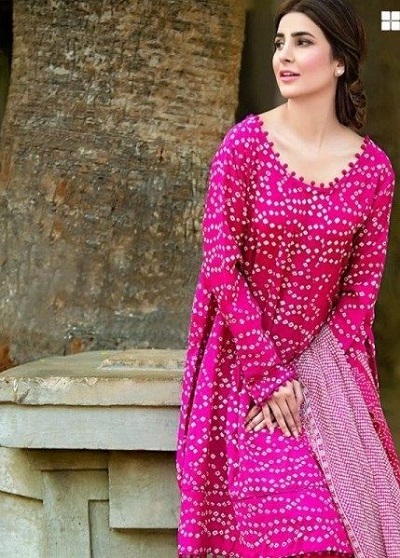 Coming to this gorgeous dress with the potli button work on the neckline makes it very designer. It is an A-line kurta with dupatta in the cotton fabric. The comfortable summer season salwar suit for women is a must have in your wardrobe, if you would like to feel comfortable and stylish.
11. Short Tunic with A Line Print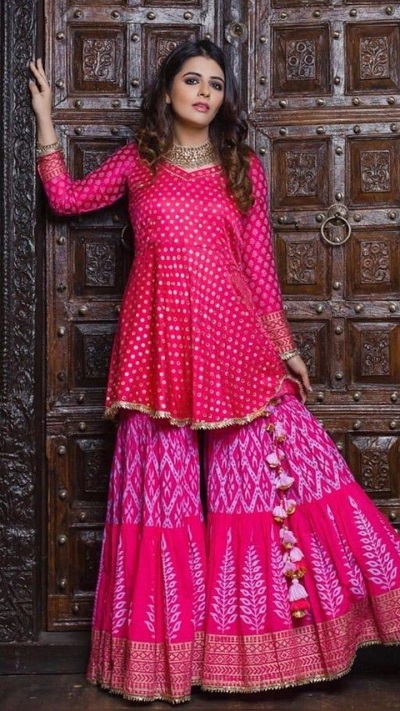 The A line short bandhej tunic is layered with a bandhej plazzo which has wide flared pattern. It is a very beautiful dress for festivals and parties.
12. Bandhej Cotton skirt and kameez Design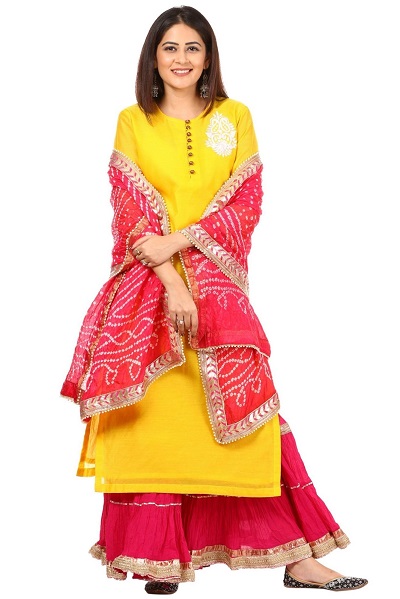 Why just pair the regular salwar or chudidar when you can even have a bandhej or cotton skirt with your regular cotton suit. This entire dress is paired together with the beautiful red Bandhani Dupatta that has the gorgeous golden border with beaded trim attached. Try it for a Pooja or festival and you would gain compliments.
13. Multi Color Bandhej Dress material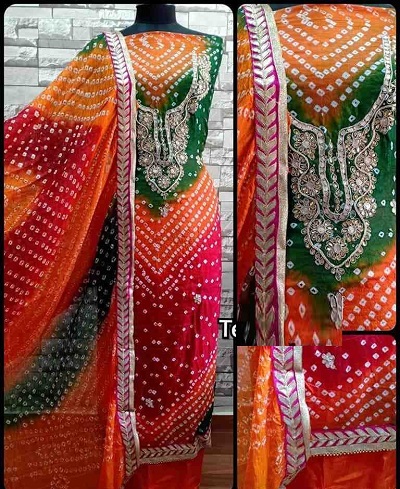 Bhandej dress in a multicolor pattern would look beautiful on a new bride. It is a very bridal appropriate fabric and the colours are soothing at very bright and appropriate for new brides. The same thing can be tried for a festival or even for your Karva Chauth, when you are not willing to wear something very dressy or heavy.
14. Printed Salwar Suit with Bandhej Print Design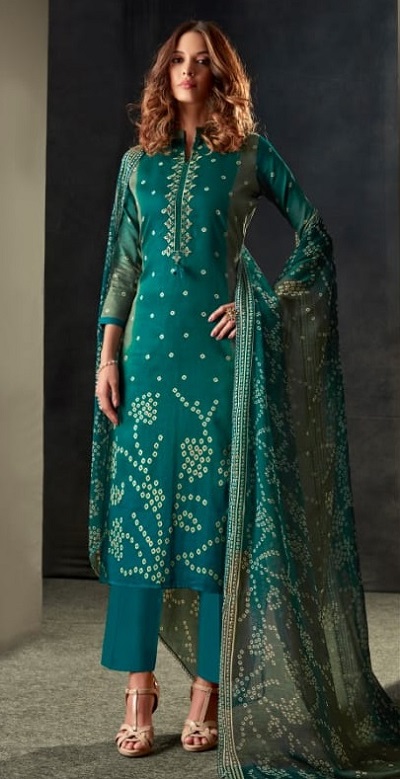 The printed salwar suit has the regular pant style bottomwear with medium length shirt. With chiffon Dupatta, it is a casual wear suit which is perfect for any occasion where you would like to stay cool and comfortable, especially during travelling such dresses would be appropriate.
15. Palazzo dress for casual wear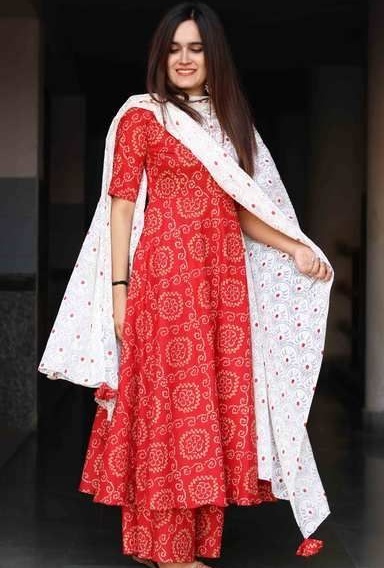 Thread work Dupatta on the A Line full length flared kurta is given. It has the palazzo bottom that makes it a very stylish and designer dress.
16. Traditional Bandhej Style Dress Design
Dresses like these are appropriate for your rituals and ceremonies, where you would like to wear Indian ethnic wear which are comfortable and stylish.
17. Stylish and fancy Bandhej Design Dress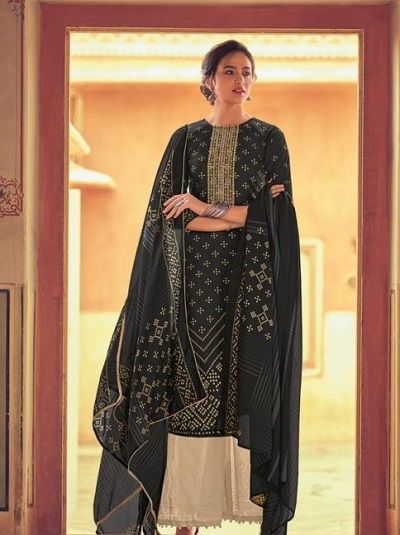 Such pattern and styles should be there in your wardrobe. A casual traditional salwar suit can turn your look and make you look fashionable but keep you comfortable all day long. Like this beige and black bandhej printed suit.
18. Orange Colored Bandhani Salwar Suit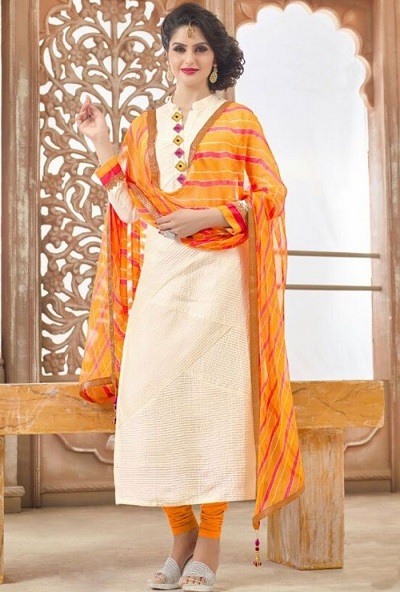 This gorgeous type of dress in colours like orange is a party perfect dress. When you would like to have a small get together at your home or even to meet relatives, an ethnic wear like this can be tried.
19. Green and Peach Bandhej Salwar suit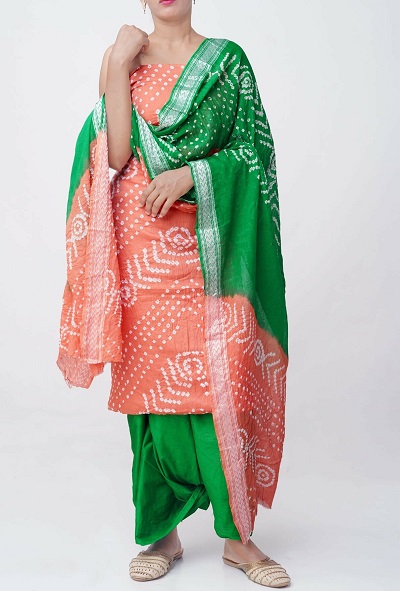 Green and peach is an wonderful combination. The dupatta has been given double shade with green and peach both, however the kurti is in peach and salwar is in plain green colour. The salwar suit has a very popular design and you must have seen this dress material very famous in Rajasthan and Gujarat. This can really turn your look and make you look stylish yet very comfortable to wear because it does not have anything heavy.
20. Bandhej Blue Dress design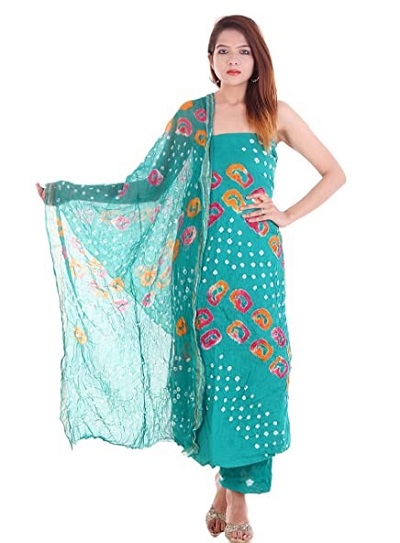 This beautiful bandhej printed blue dress is perfect for your office or get togethers and festivals. While keeping you very comfortable, the best thing is that they are easy to carry. Moreover, the dupatta stays in place unlike the heavy work dupattas.
21. Embellished Cotton Bandhej suit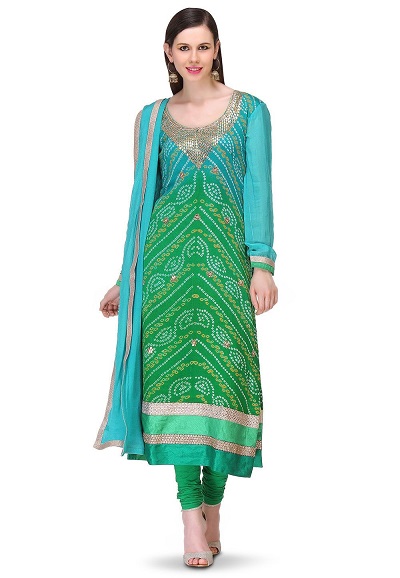 Blue and green is yet another combination is seen in this dress. It is dress with gorgeous embellishment and stone work but still it's on the lighter side that is easy to carry and one will not feel discomfort or irritated even if it's hot and humid summer season. Because the cotton fabric is a very breathable fabric.
22. Bandhani Suit Dress Material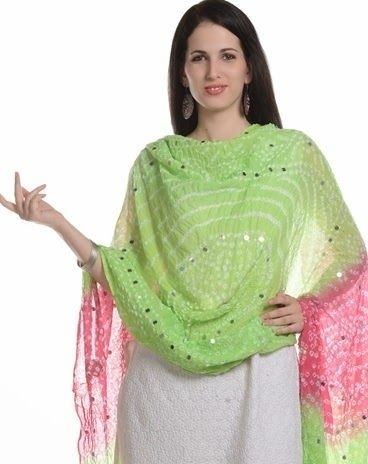 The bandhej suit salwar has the gorgeous green dupatta. It is the most beautiful colour combination that we have seen because it appears so nice and soothing to the eyes.
23. Bridal Ceremony Bandhej salwar suit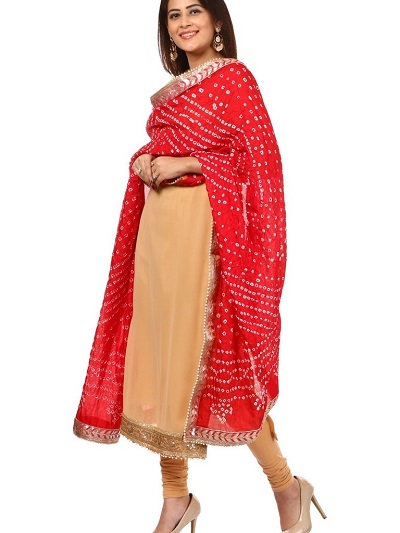 If you are a new bride or even for your roka ceremony, such traditional bandhej dress would be wonderful. The beige gold kurti is paired with a long churidar and a red Dupatta, which is the main highlight of this gorgeous dress here.
24. Casual Bandhani Printed Suit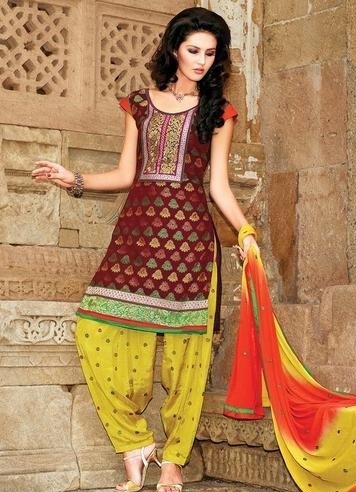 A party wear bandhej printed dress like this can be tried too, as it's not over the top but it is quite on the dressy side because of the darker colours used.
25. Ethnic style dress with tie and dye print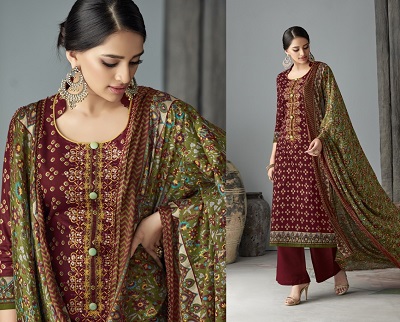 If you want to be classier with a printed dress material, then try this bandhej printed suit with a nicely printed Dupatta.
Bandhej suits are also available online with affordable prices which you can take a look at.