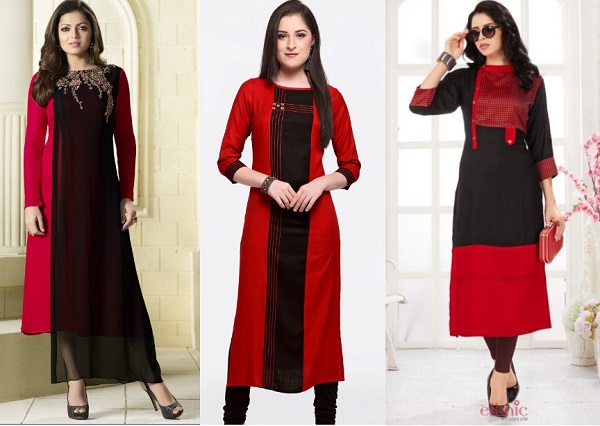 Kurta and kurtis for women are an essential piece of clothing. This is because they are extremely comfortable and can be worn for work, college or for everyday wear. This is why kurtas have become so popular for Indian women. You can also pair your kurta and kurtis with leggings, jeans and even wear the trousers. There are so many different designs of kurtis available in the market that it becomes really tough to pick one for yourself. Yes, that is the range and beautiful designs kurta can give you. 
Latest Black and Red Kurti Designs
We created this list of the best red and black kurta combination for you that can inspire you to get one for yourself or if you are into stitching you can create one.
1. Black and Red Embroidered Kurta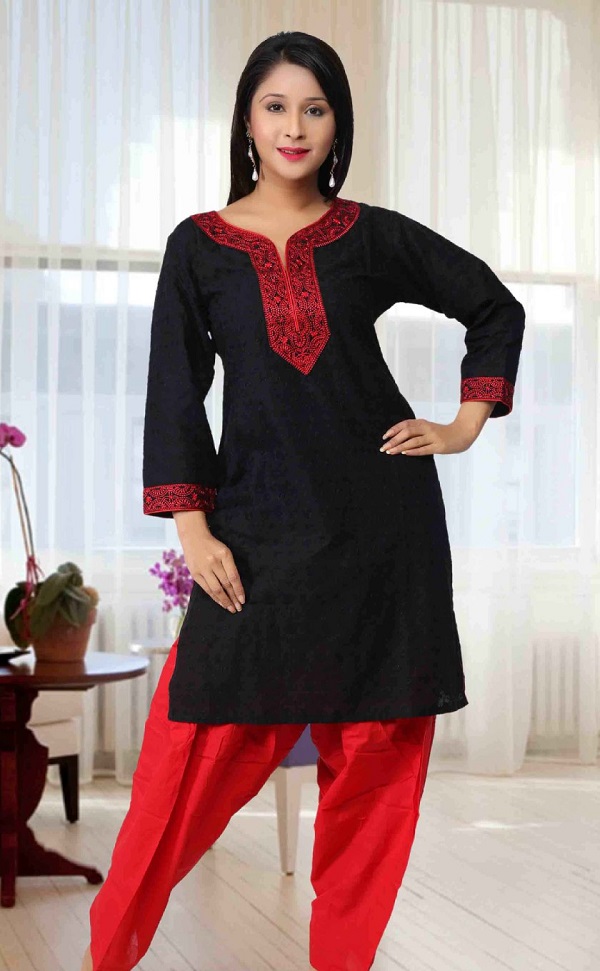 This kurta is a textured cotton black kurta with the neckline and three fourth sleeves. The red embroidery on the neckline extends below the breasts and the cuff also has an embroidered band in red colour.
2. Black Panelled kurta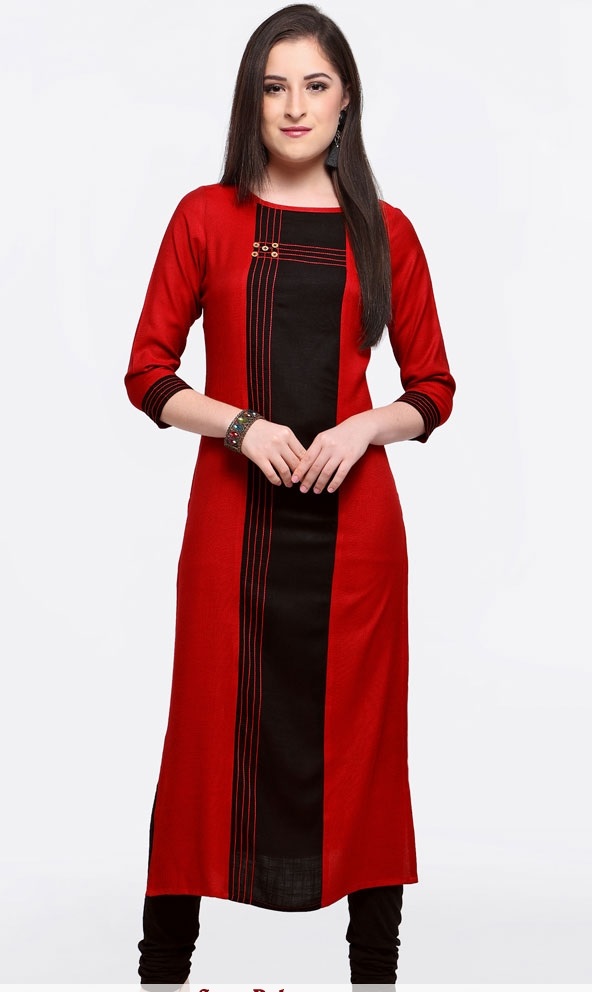 This kurta is a long Kurta in red and black with the black panel in the centre. It has a boat shaped neck which makes it very comfortable and perfect for everyday wear. You can also wear a kurta like this for your casual Hangouts, work and for office. The sleeves are three fourth sleeves which are comfortable for summers and winters.
3. Festive Wear Kurta in Red and Black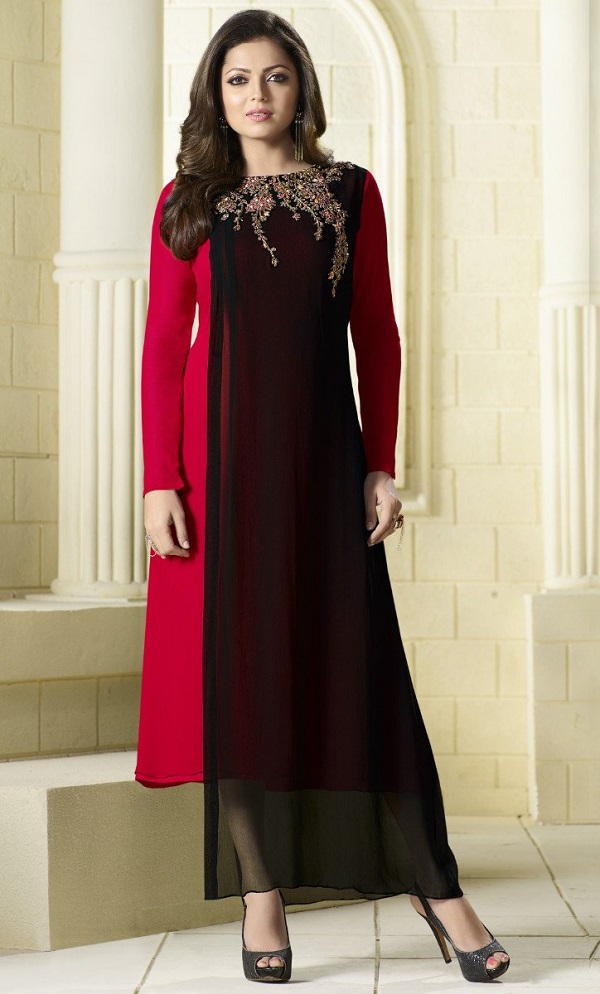 This red and black kurta is festive wear one. It has got sequence and embroidery near the neckline which is boat shaped. Or Georgette black there has been given that extends beyond the hamlin. This makes it extremely beautiful and it can be worn both as a kurta and a kurta dress.
4. High Low Kurta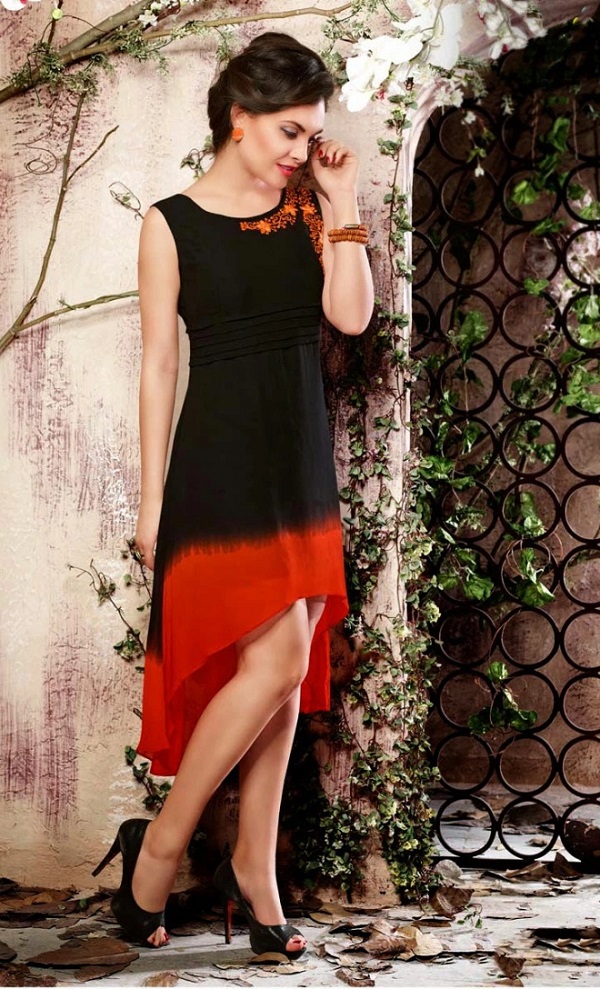 The next one is a simple yet stunning red and black combination of kurta. They sleeveless kurta is perfect for your casual hangouts. The uneven high low hemline has red at the bottom while the black is on the top. This can be worn with a pair of leggings or even the straight pants.
5. Side Placket Kurta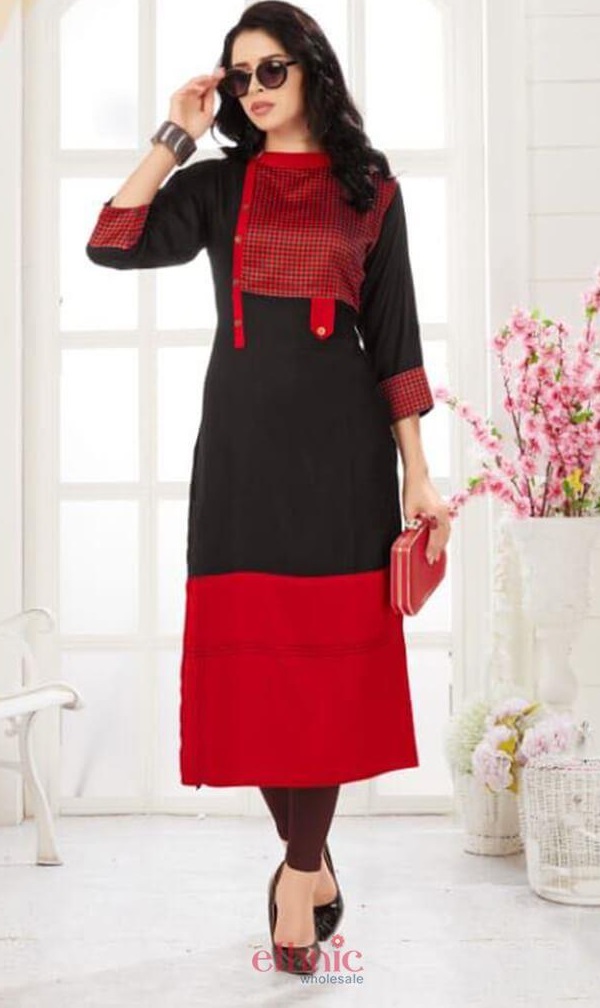 This dual colored kurta has buttons on one of the sides then the regular centre placket. The three fourth sleeves has a cheqeured band that makes it more beautiful. The red panel at the bottom gives an Illusion of height. It is a good kurta that is very comfortable for day to day use.
6. Chequered Pathani Style kurta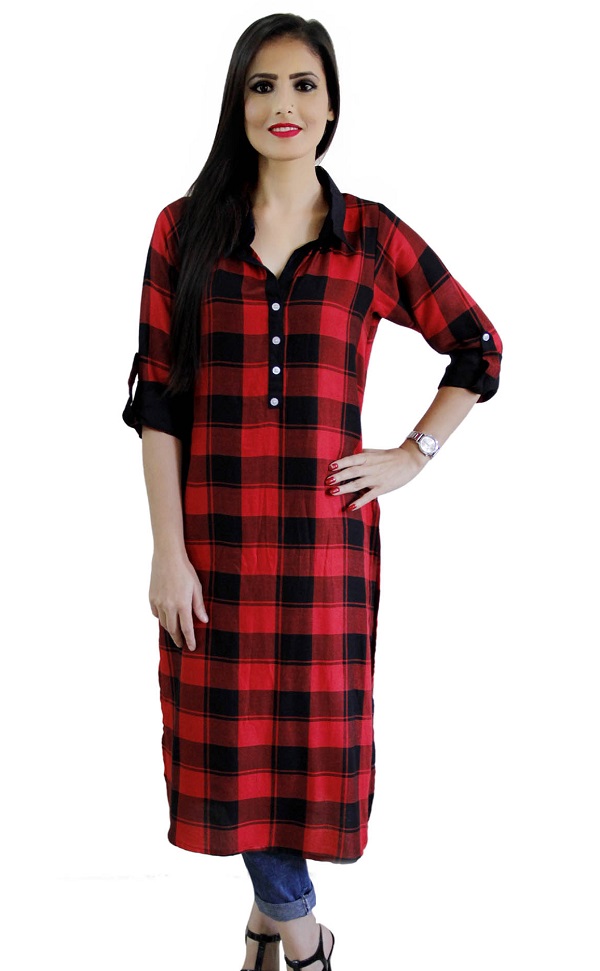 It has collars with button placket and three fourth sleeves. On the sleeves, there are button tabs which makes it more suitable for college. As shown in the picture, it has been teamed up with a pair of jeans that are perfect to go with a kurta like this.
7. Anarkali Kurta in Red and Black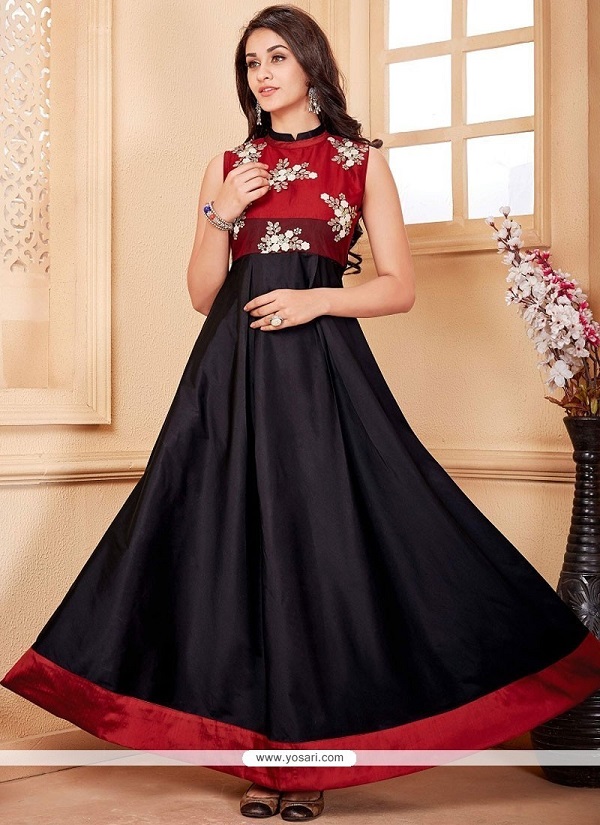 The A-line Anarkali style red and black kurta is made with black silk and red silk at the bottom. The bottom part gives the look of a border which creates more edge and beauty to this piece. It has small Mandarin collar and over the black or red embroidered sheer cloth has been used. The kurta is sleeveless and this can also be replicated with chiffon or georgette sleeves. The full length Anarkali red and black kurta can be paired with leggings or without them as a dress.
8. Everyday Wear Kurta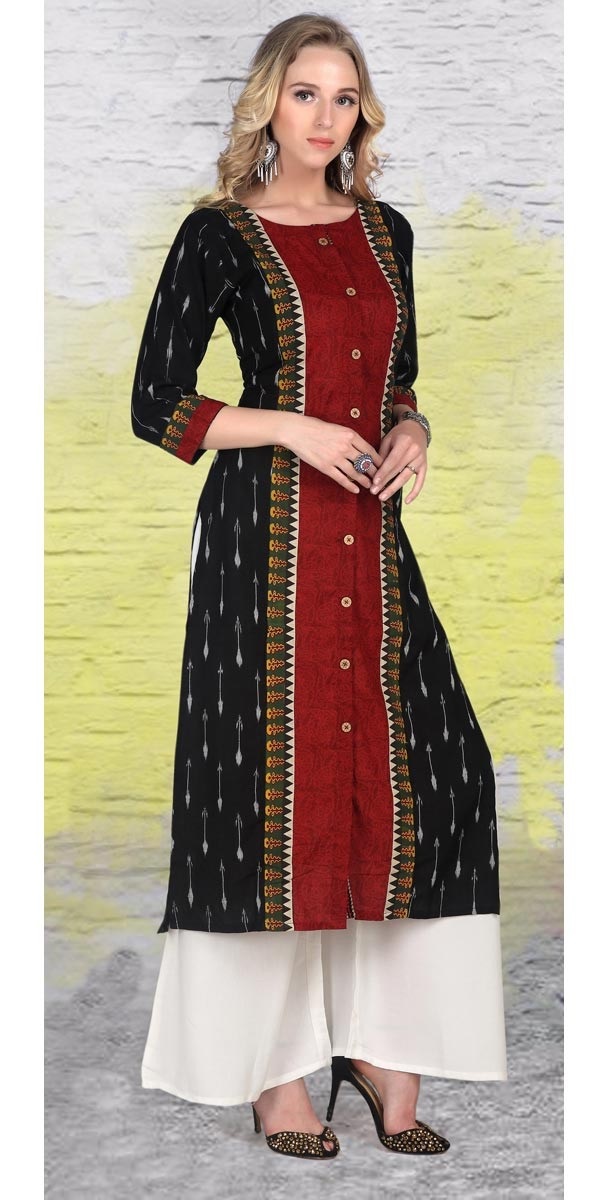 This next kurta has a red panel with the buttons all across till the bottom. It has a boat neck and three fourth sleeves. Such good as can be paired with leggings, palazzos and even the jeans. You can pair white red and black bottoms along with this.
9. Kurta Dress in Red and Black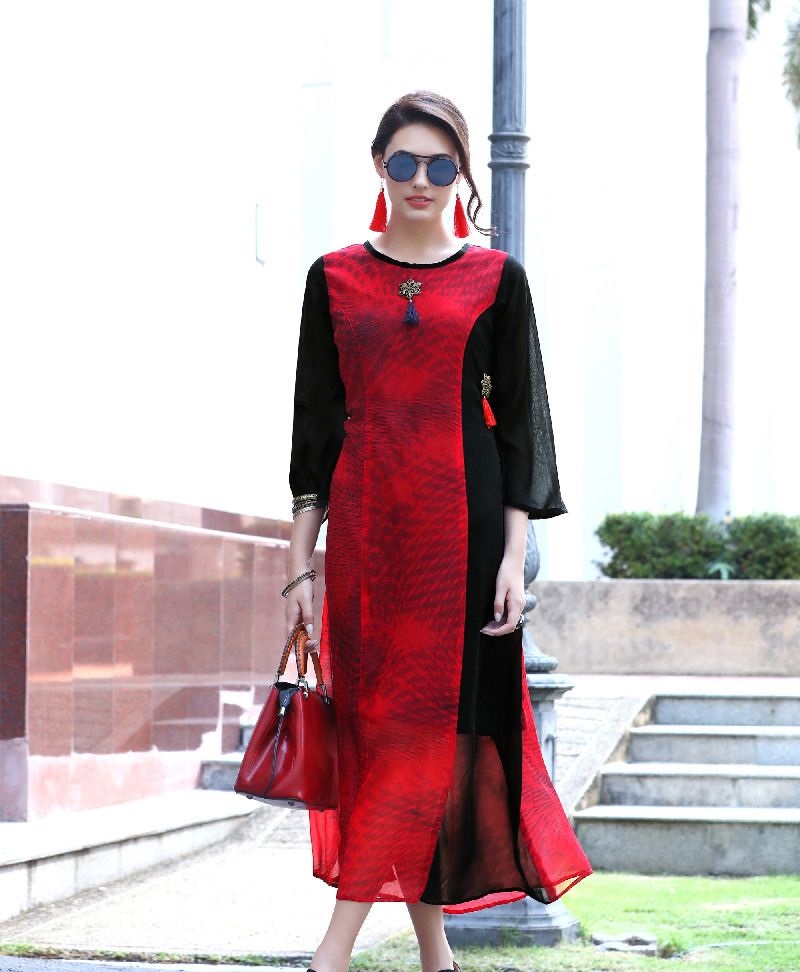 The kurta dress is beautiful to look at. The black panels on the side also have buttons with tassels. The sheer Georgette bell sleeves add more detailing and beauty to this piece. The lining has been kept till the knees and the see through hemline makes it more glamorous. It can be layered with leggings, straight pants and like a dress just like the model is in the picture.
So, these are the beautiful latest inspiration of red and black combination of kurta and kurtis for women. These designer kurtas can be replicated easily and the designs are also simple yet unique. Which is the one that you love the most?