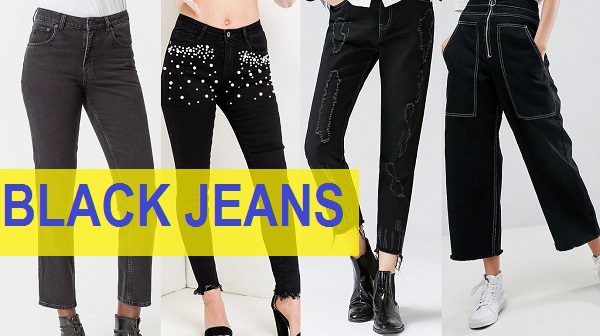 The regular jeans are blue in colour and that's what the original denims are. But Black jeans or black denims are also very popular amongst men and women. Out of the so many designs of black jeans, we picked up the ones that are unique and have that charm. There can be so many designs of jeans like torn jeans, printed jeans, rugged jeans or even the varied length and fit. There can be like from boot cut, to flared, high waisted, tight fitted or slim fitted.
Latest and Modern Black Jeans for Women
1. High Waisted Black Jeans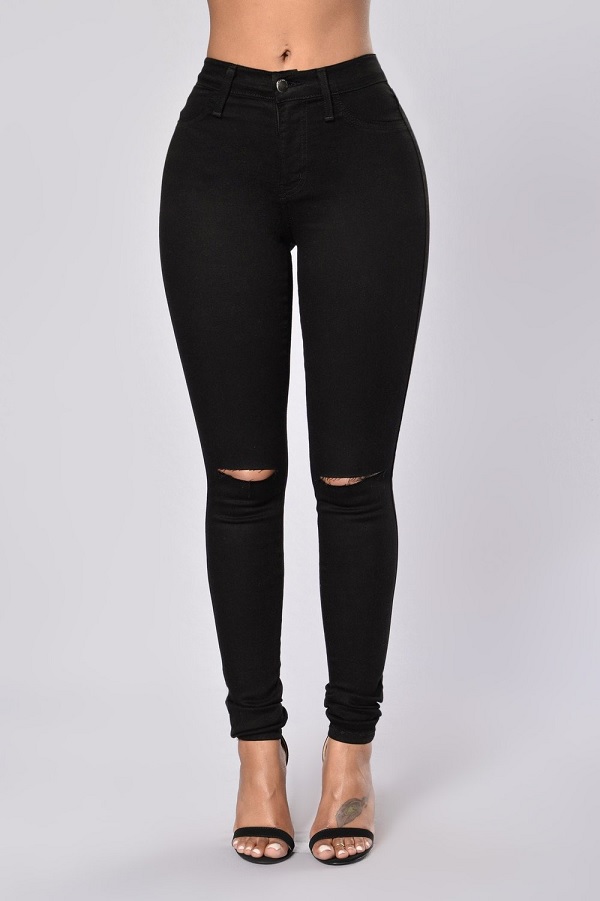 High-waisted Black jeans arrived or torn from the knees. They are not ankle fitted but have got extra gatherings at the bottom on the ankle. These are high waisted and extremely slim fit jeans that you can pair with your regular t-shirt tops or the shirts. These look the best when worn with the boots or pumps.
2. Slim fit Black Jeans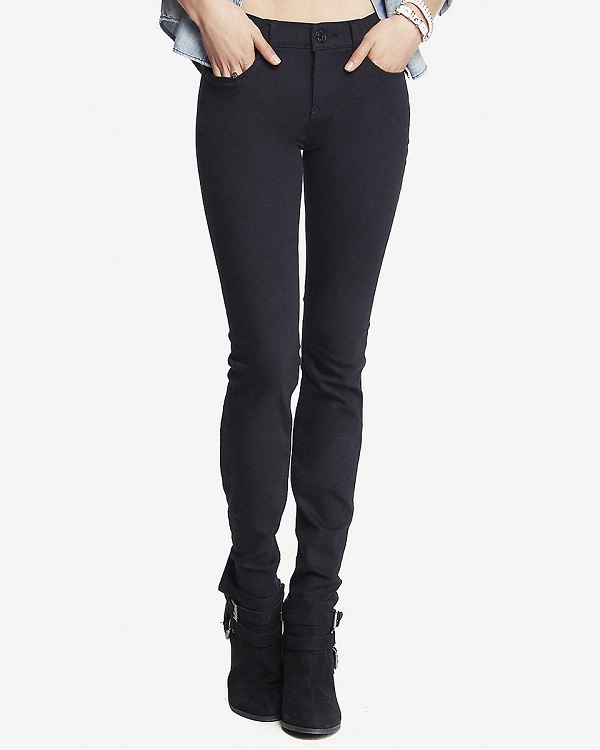 These are slim fit jeans which are extremely simple yet have that elegance in them. They are not extremely high waisted but are regular that most of the women prefer. They are also not ankle fit jeans but have got some gathering at the bottom. These are good for women who are extremely slim or have well toned legs. This can be paired with high heels like stilettos or even the high heeled boots. These can be worn along with the jacket, t-shirts and your regular tops.
3. Folded Black Jeans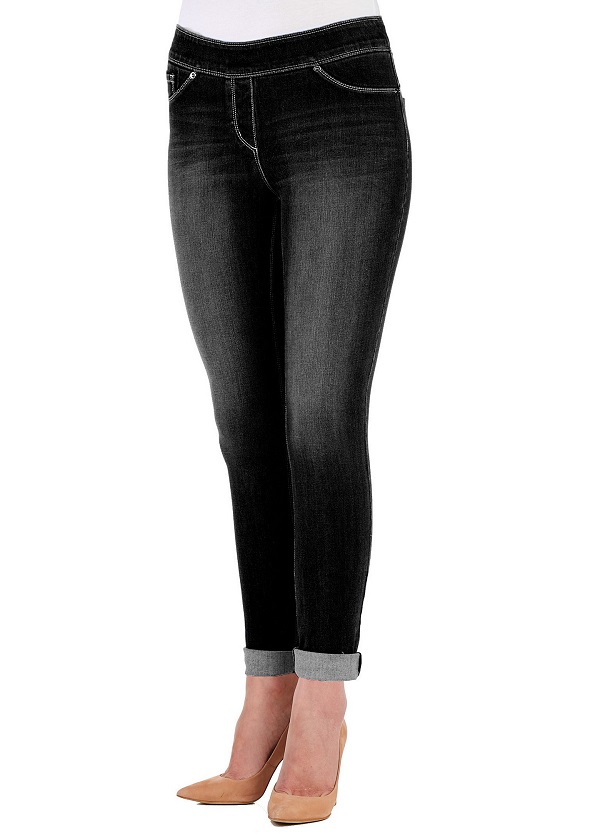 The pair of Black jeans folded from the bottom and can be paired with your favorite canvas shoes or high heels. They are washed from the thigh area and look really trendy and fancy.
4. Grey Black Jeans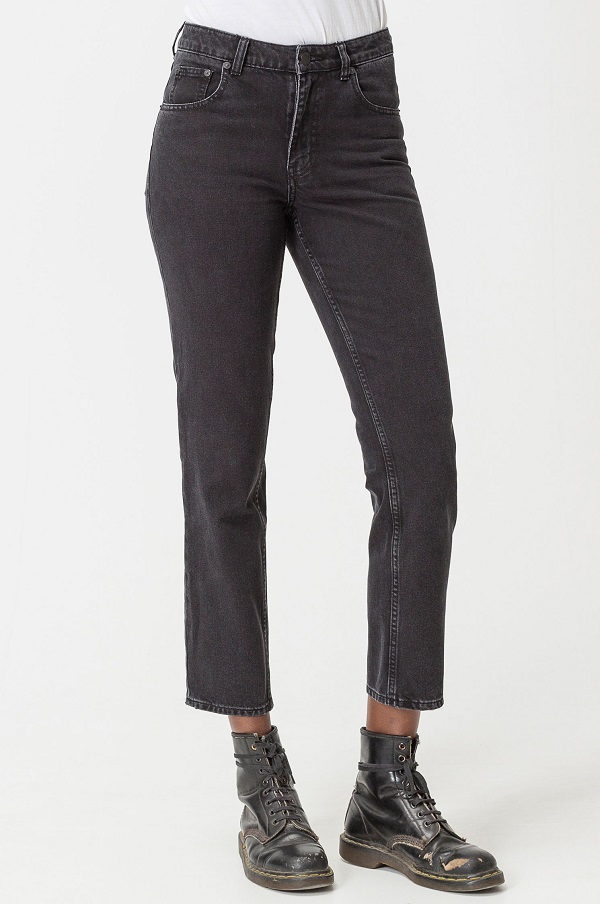 Or not the regular Black jeans but have that grey field with these are above ankle jeans which can be worn with flats, sandals or even with the closed toe shoes.
5. Rugged Black Jeans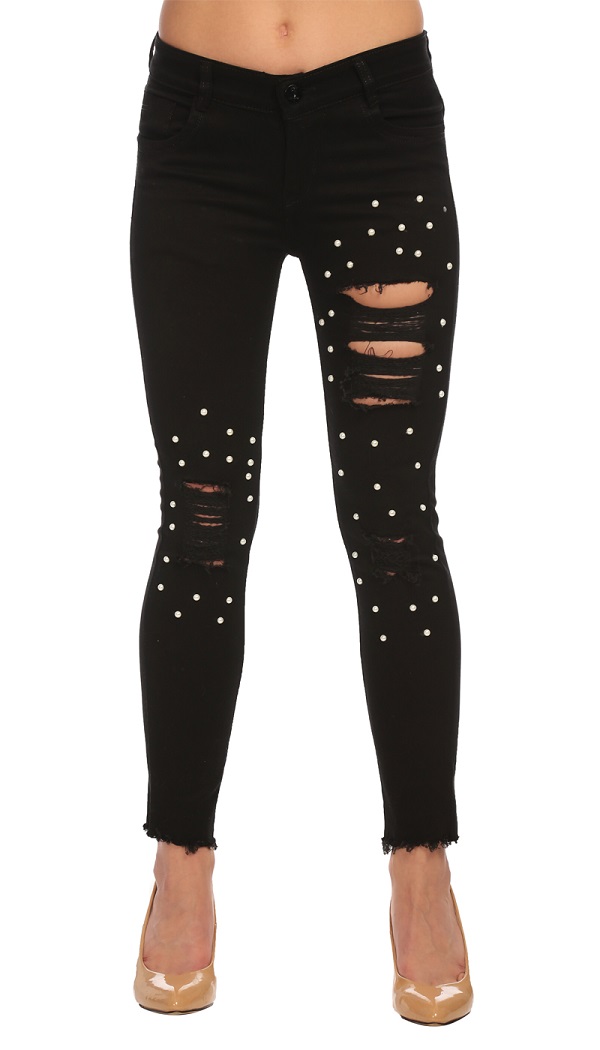 Don't you think these jeans are extremely attractive and would definitely make head turn? The torn and rugged areas over the thigh and knee part is prominent that has been made even more eye catching with the use of Pearl beads. Even the bottom has been distressed with threads showing off. These extremely attractive looking black jeans that can be paired with a nice white t-shirt or even with a crop top. The footwear that would go with these black jeans would be pumps, sandals, and derby shoes. Even the loafers would look lovely with this pair of jeans.
6. Embellished Black Jeans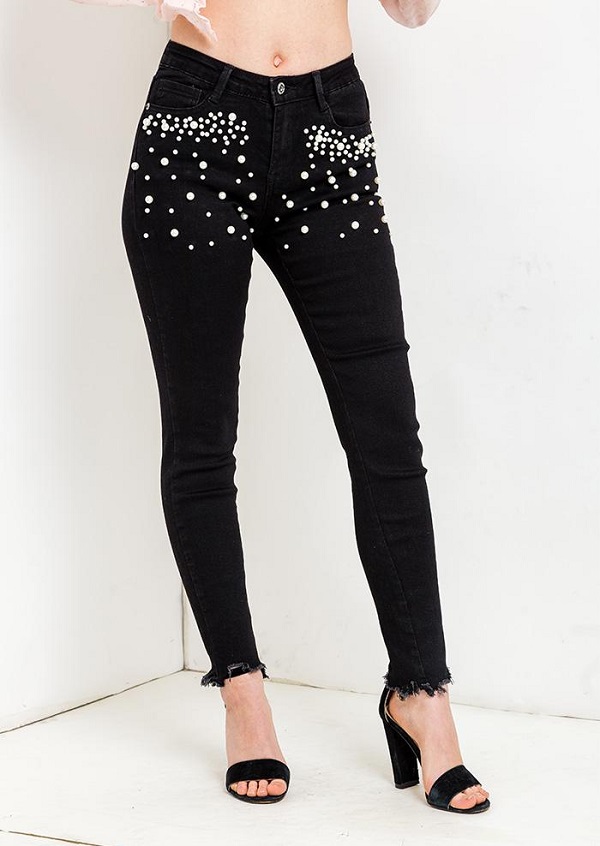 If you like to flaunt embellished jeans then, this pair of black jeans is for you. The beads and pearls are strategically placed over the upper thigh and below the pockets. The bottom part has rugged look. These are slim fit jeans and would look better girls with toned legs. This can be worn with the sandals, wedges or the loafers. You can pair a beautiful crop top, a spaghetti top with a light shrug or even with a simple white T-shirt and a denim jacket.
7. Beaded Black Jeans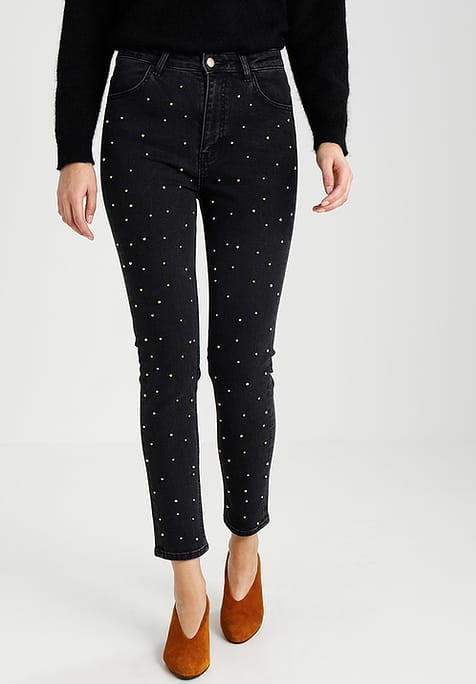 Yet another option for beaded jeans is this one. The jeans have beads scattered all over. This makes it look like a polka dotted jeans but these are actually pearl beads. You can yourself create something like this. These are above ankle jeans that can be paired with a Cardigan, crop top and quirky T-Shirts. You can pair your regular sandals, pumps with these.
8. Boot cut Black Jeans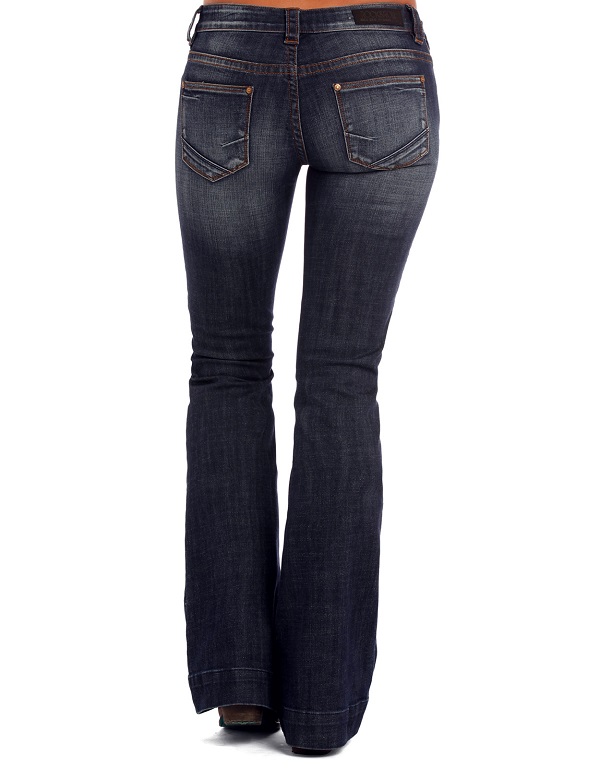 The boot cut Black jeans are very much in trend these days. These can be paired with wedges, high heels or even boots. The jeans are low rise and can be teamed up with short tops, cold shoulder tops etc.
9. Cropped Black Jeans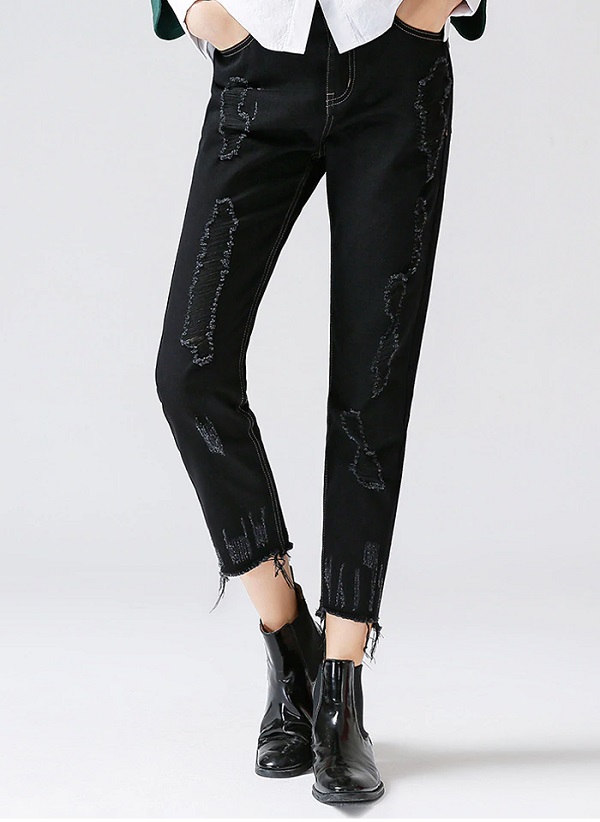 Black jeans are not only but has been made extremely stylish and trendy looking. They are not extremely slim fit but are suitable for everyday wear or college. The threaded ankle makes it fancier.
10. Black Jeans with Big Pockets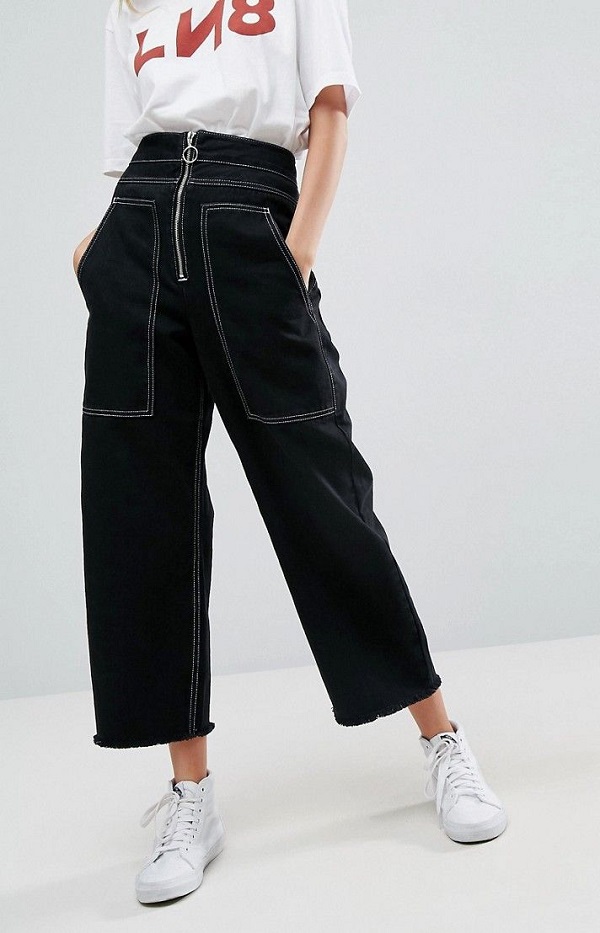 The big pockets on the sides makes it unisex. The contrasting coloured stitching thread looks good and adds dimension. The above ankle bottoms are not slim fit but are quite loose. There are no buttons but there is a Centre zipper. These are high rise and hence can be paired with short tops regular t-shirts shirts and high neck sweaters and cardigans.
So these are the latest black jeans designs which are very unique and have attractive looking designs.