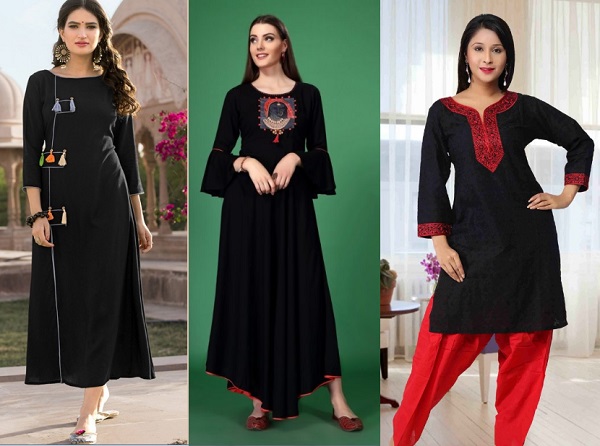 Black is an extremely graceful color that looks good on most of the skin complexion or should we say on all the skin colors. We have created this image post on black kurta for women. Looks as elegant and classy and it can be teamed up with either the same color or the bottom of contrasting colors. Celebrities have time and again so nice how much they love black as a color. And when your skin complexion has become tan or you look darker during summers black can help you look fair and glowing. It is also to be noted that black is a color that absorbs heat therefore is good for winter season.
Modern and Latest Black Kurta Designs For Women
1. Boat Neck Black Kurta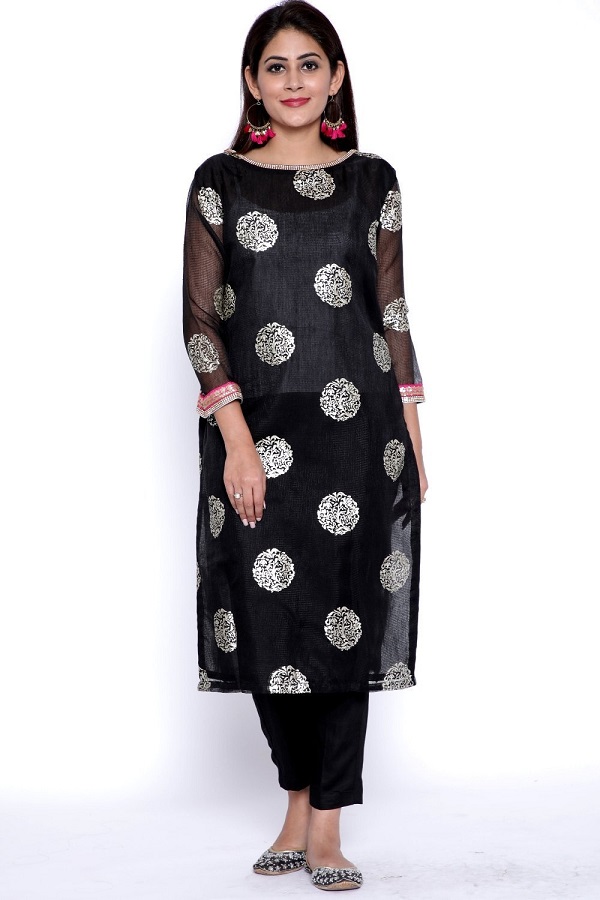 Black kurta with boat neck is an absolutely stunning piece of clothing. It has gold circular prints all over and has sequins on the neckline and cuffs. Pink color piping or border has been used on the cuffs that make it more attractive. The sheer fabric of this kurta makes it even more pretty. You can wear an inner of same color or a different color along with this kurta.
2. Simple Black Kurta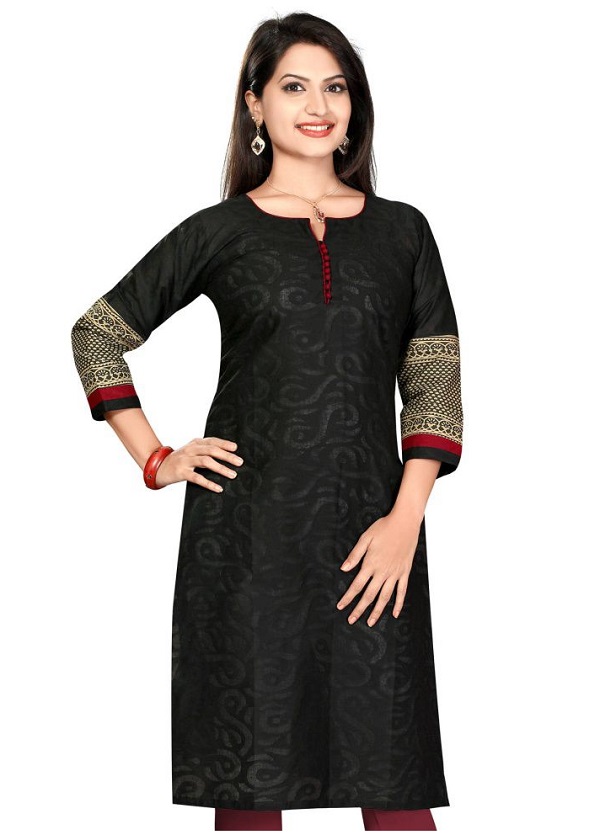 This next black kurta is a printed kurta with red potli buttons on the neckline. The neckline has red border piping along with the three fourth sleeves. It can be paired with leggings or the usual salwar.
3. Cold shoulder Black Kurta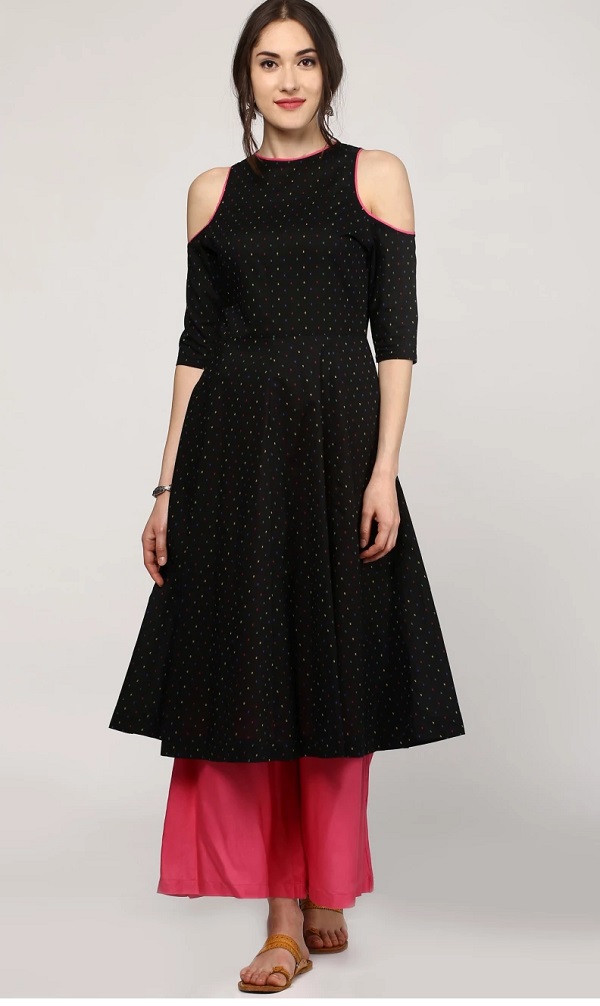 This dotted black kurta is an absolute beauty. The three fourth sleeves have cold shoulders with a high up round neck. The flare is also sufficient to make your waist look thinner. A kurta with cold shoulders like this is a must have this season. Cold shoulder design is currently is very much in trend therefore you must experiment with that.
4. Simple Black Kurta Style
The simple and subtle kurta has a gold print under the neckline. The round neckline is high therefore, while wearing this you will not feel uncomfortable or conscious. The bell sleeves have got metallic lining that adds more to its beauty. It is a long kurta which goes below the knees and hence can be paired with a skirt, leggings, salwar and even the palazzos.
The short-sleeved kurta has an upper printed bust part and black colored fabric is used on the bottom. You will not feel anything conscious while wearing this. It can be paired with black white or even yellow bottoms.
5. Grey and Black Kurta Design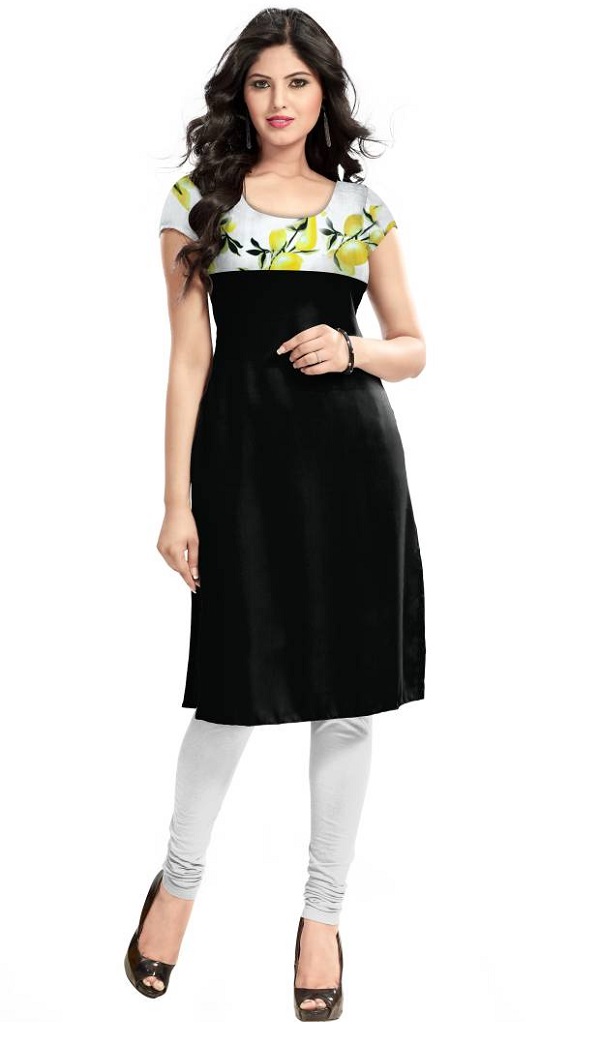 The A line long kurta is more like a kurta dress. Half of the kurta is of grey and white fabric while the other half is of plain black fabric. The round neck has three buttons in the centre and has three fourth sleeves. The same grey fabric has been used at the end of the sleeves. You can wear leggings or palazzos with this kurta or it can also be flaunted as a kurta dress.
6. Anarkali Black Kurta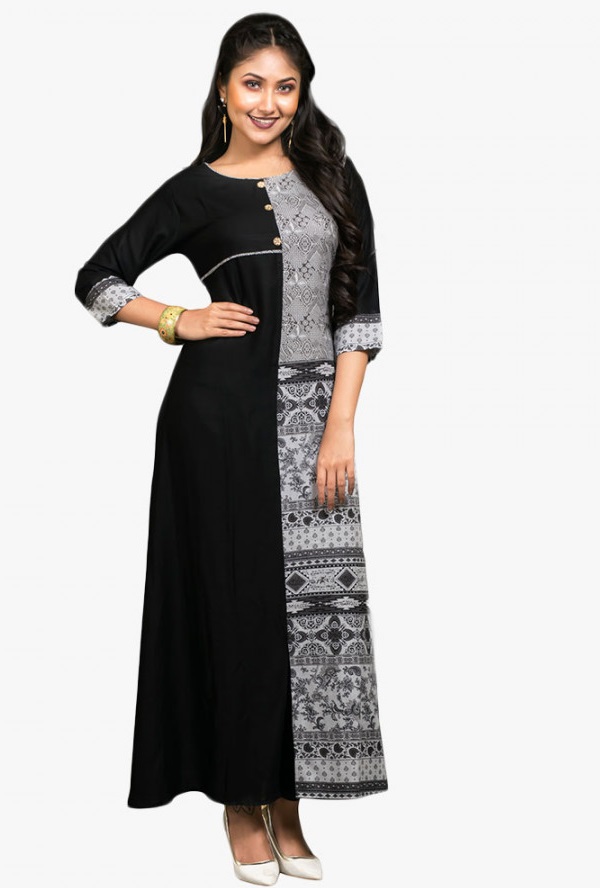 This is one of the best plain kurta designs with lace or Gotta Patti work. The Gotta Patti lace at the hemline makes it more contemporary and beautiful. As you can the hemline is not even but it is high up from the front centre. The lace at the hemline adds charm and so does the work on the neck. The anarkali Kurta in black is a sure shot clothing for Indian festivals.
7. Long Back Black Kurta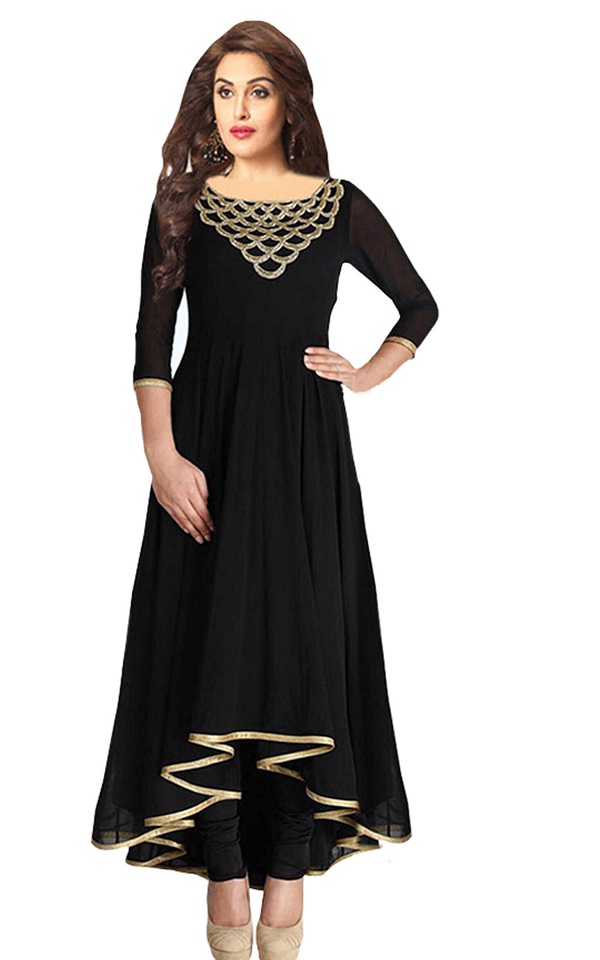 You must have seen a lot of kurtas with the bigger back part. Yes this is one of them. The kurta is more like a tuning from the front and has a longer back piece. The sheer georgette cloth makes this more delicate. If you would like to experiment with the basic designs of black kurta then do try this one.
8. Check Printed Black Kurta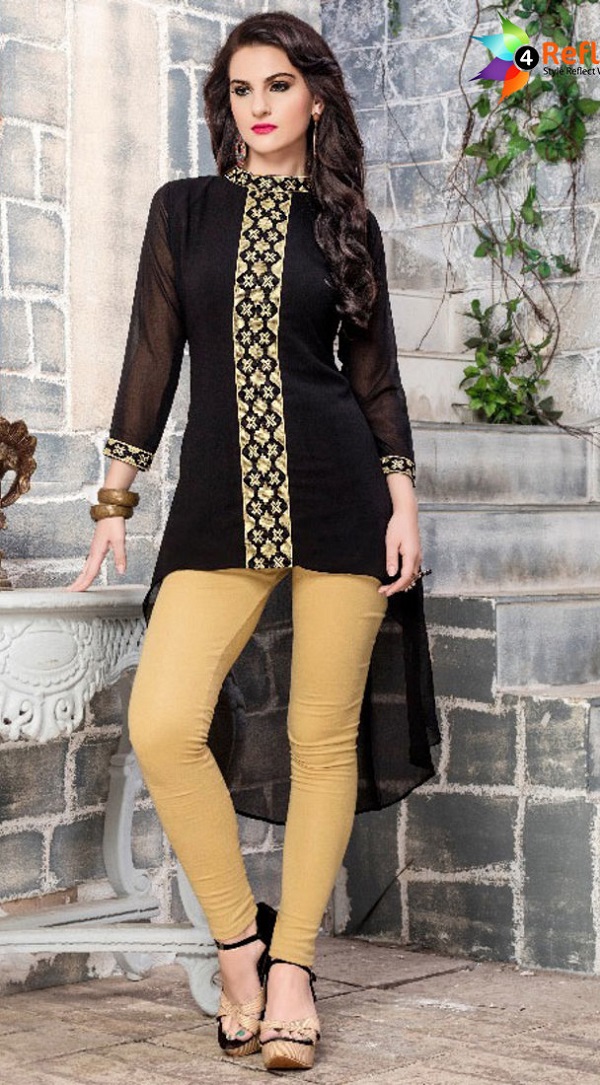 This design is quite unique and has got out-pockets on the front part the long kurta has rounded edges. The chequered print is also beautiful this kurta can be worn for office and college. It can be teamed up with palazzos of the same color and it would look ravishing.
9. Black and Red Satin Kurta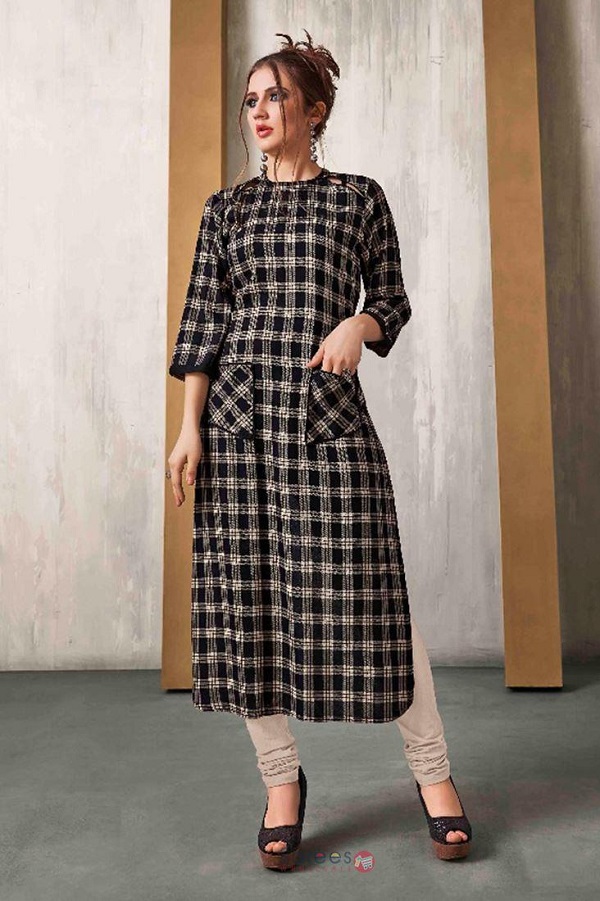 The black Satin kurta has a red panel in between which is printed. It comes with three fourth sleeves and a pocket. It is a long kurta that has Mandarin collar. It looks really nice and has that festive feel to it.
10. Tasseled Kurta in Black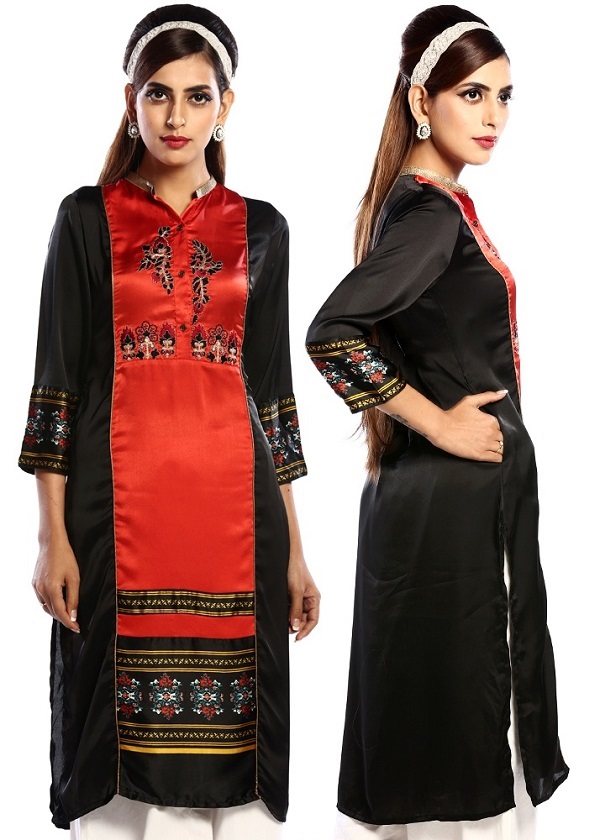 Design of kurta is absolutely beautiful. It is a design that married women, young girls and even the mature women confront. It comes with a Boat neck and three fourth sleeves it is not an angrakha kurta but yet the designing is like that on the site you can see the tassels with buttons. The A-line kurta is below the knees and hence is a long kurta. You can wear it like that as a dress or can team up a palazzos or black leggings.
11. Net Black Kurta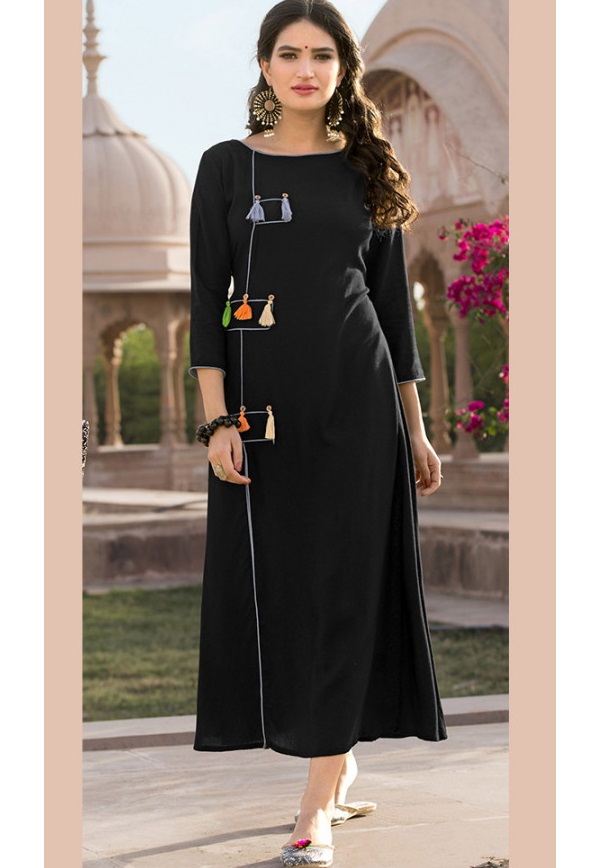 The net kurta is an absolute beauty the kurta has off shoulder inner over the long net kurti. It can be worn with leggings, palazzo and the skirt like shown in the picture.
12. Stylish Black Kurta with Puff Sleeves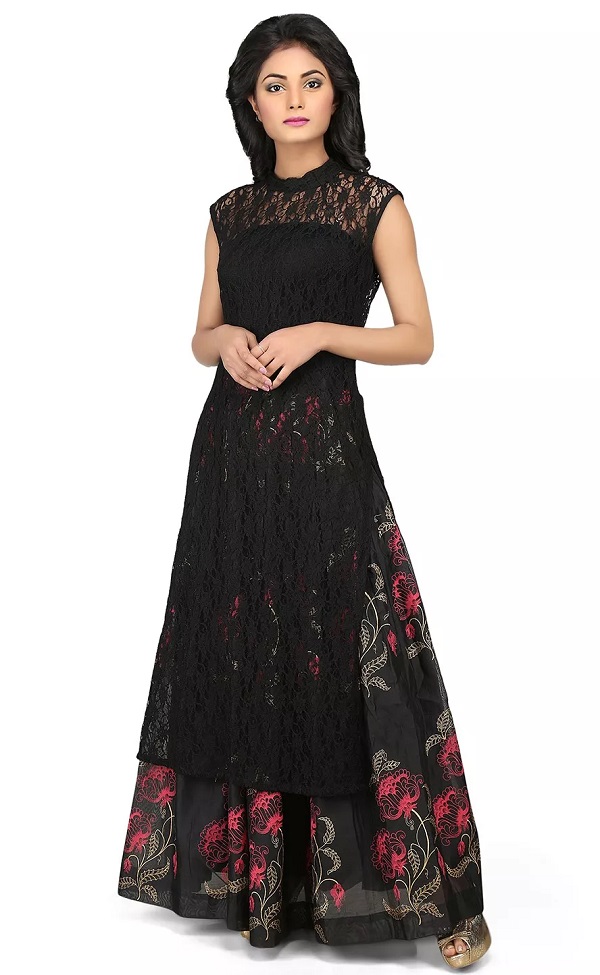 If you would like to experiment with something new then this black kurti design is for you it can be paired with straight pants. The keyhole neckline with high neck makes it look more chic and polished. It has a slit in the centre and the three fourth sleeves has gatherings on the upper part. It is a long kurti but as the front design is notched up, it comes across as a front slit type of kurti design.
13. Embroidered Black Kurti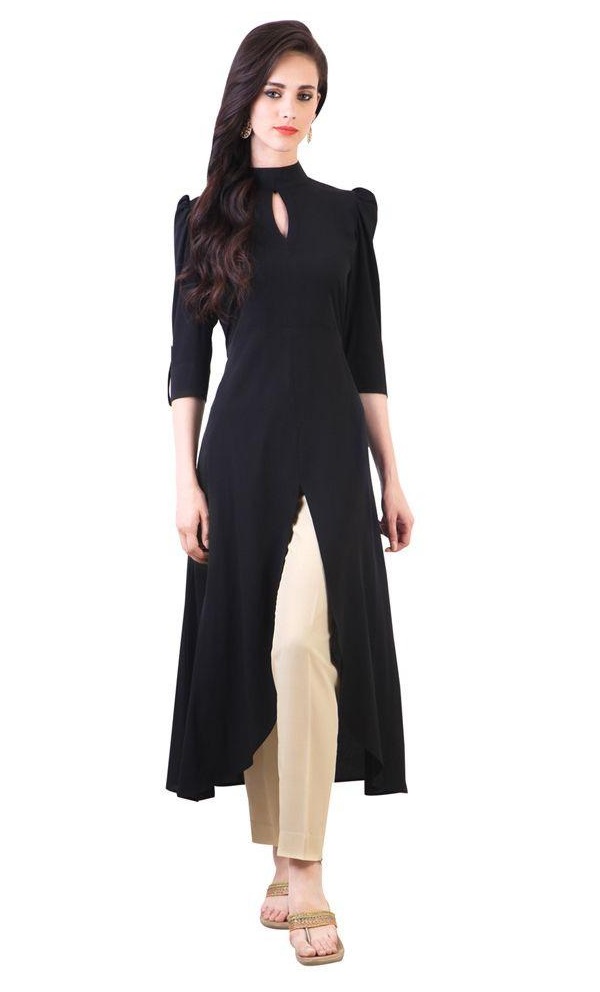 This next long kurti design and black is absolutely stunning. It is A-line kurti with an embroidered panel in between. It has got pockets on either sides and comes with short sleeves. The boat neck makes it more comfortable and it is a festival kurti that women can use.
14. Black Kurta with cape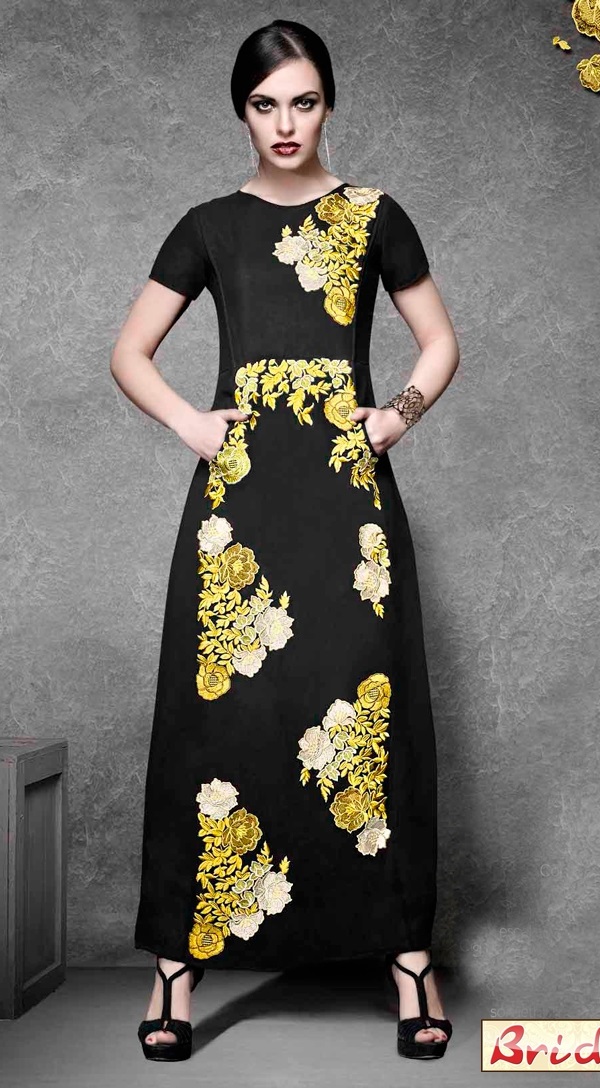 If you like black kurta with the cape then this is it the kurta is more like a dress or a maxi dress. It is teamed up with an attached cape with gold detailing. It is a festival kurti that can be wear for Indian festivals and also for weddings.
So these are the best black kurti designs for women. Which is the one that you like?