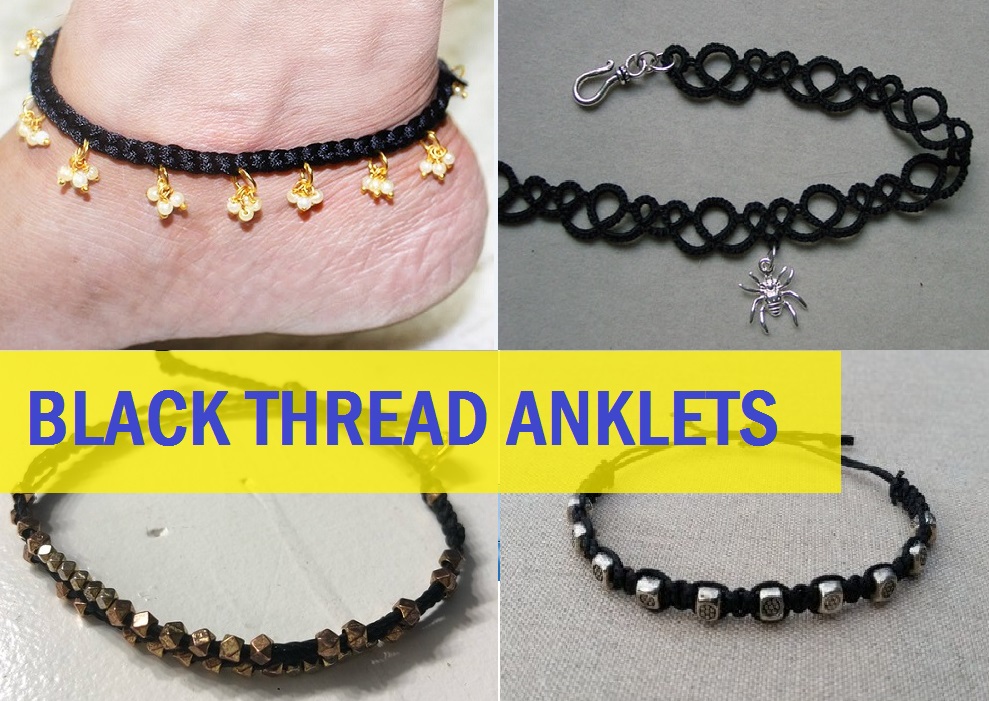 Black thread anklet are getting really popular amongst modern girls and young girls. There are so many designs to look at while looking for these thread anklets. Girls anklets looks extremely beautiful when worn on the feet. It amplifies the beauty of your feet. Not just girls, even boys are flaunting these thread anklets. These anklets can be as simple as just the black nylon, cotton or leather thread. Or they can be adorned with charms, different beads, embellishments, clamps and sequins. So, which are those black thread anklets that you would like to use. I have also linked from where you can buy thee online.
By the way, these are the daily use piece of jewelry that many girls and boys wear daily. While you are on a beach these anklets are extremely lovely to flaunt. You can also make them at home. The procedure is quite simple you can make it at home. The regular black thick threads and plated braided twisted. You can also mix them to create a design and add beads to them to make these prettier.
Here, we have compiled a collection of beautiful black thread anklets that are popular and available in the market easily.
Why black thread anklets?
Just like the necklaces, these anklets are also daily wear jewelery piece. The thread used like the nylon cotton or even leather strings forms an essential part of these anklets. The best thing is that while you wear them, even during the summer season, you are not going to have any sort of irritation or redness. Not just for style and fashion these thread anklets are also very comfortable to wear.
Best Thread Anklet Designs for Men and Women
Thread Anklet with Metal Charm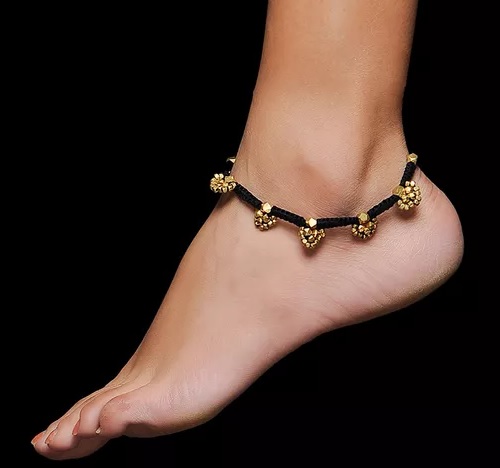 This is made with a thick interwoven black thread. It has got metallic charms separated by some distance. It would looks beautiful on the women's feet. Exuding the traditional charm, this is one of the best threaded anklets in black color. The golden shade charms look extremely beautiful.
Beaded Black Thread Anklet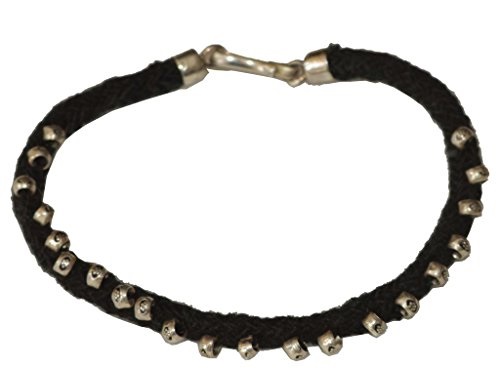 If you like silver beads, then this is the anklet that you would surely go for. The metallic silver beads put inside that woven black cord makes it cute anklet for girls. The main thread is a twisted braided cord. It is not as same but is moderately thick to be visible on your feet. Girls of all age group would love a design like this.
Delicate Threaded Anklet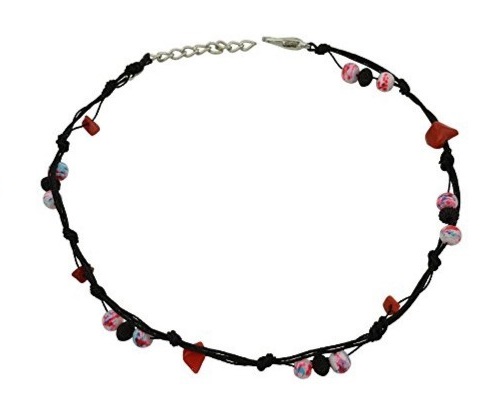 This design is a very modern and contemporary looking. It has three rows of thin black cord knotted at equal distance. And inside that space, stones and beads of multiple colors are used. Such designs are really popular amongst many celebrities. You can also try design like this in metallic beads. This is a very interesting and simple design to replicate at home.
Tibetan Black Thread Anklet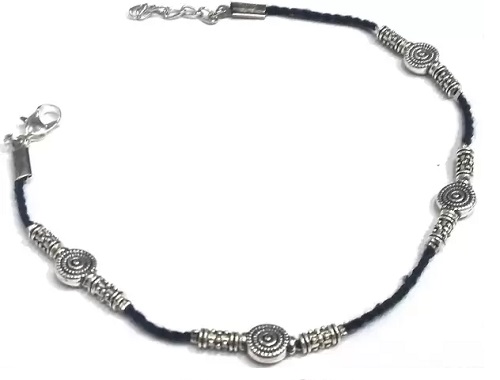 Don't you feel this design like the unique Tibetan jewelery which is very traditional in appeal. The design is one of the best designs for girls. The metallic motifs terms and connectors in between gives very pretty young and why wishes message to this design. You can wear it with your maxis, dresses, short dresses and even with the beach wear.
Anklet with Spider Charm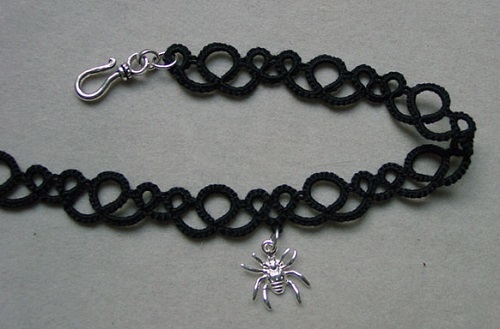 This next anklet is extremely pretty and simplistic. The inter-woven curvy design with a spider charm is very quirky and modern. This is just perfect to team up with any dress that you wear for your college as well. This design is mostly seen in one leg anklets.
Braided Anklet with Loreals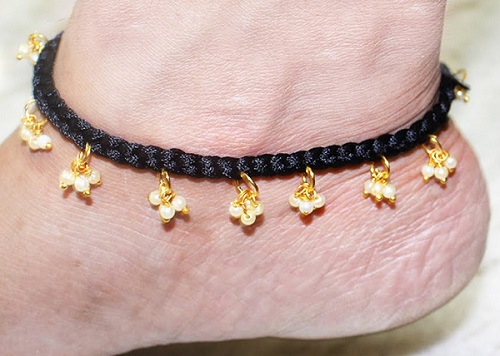 This anklet design has very ethnic feel to it. Those tiny loreals reminds us of the traditional Payal and anklets that Indian women wear. The braided black thread gives sturdiness and beauty. At times, women like to wear a black thread on their feet. So this is a good way to incorporate tiny beads in that simple thread. You too can try it at home if you have similar looking charms.
Interwoven Black Thread Anklet Design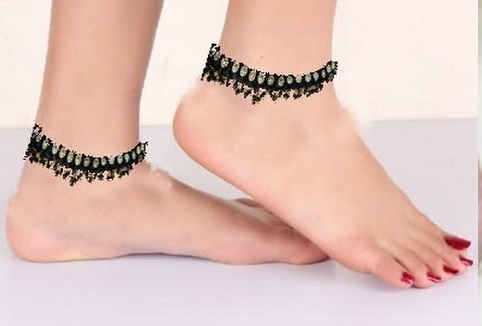 This design is quite interesting with intricately woven black thread with beads and Loreals. I am like this for your ethnic wears like salwar kameez as well.
Simple Buttoned Unisex Anklets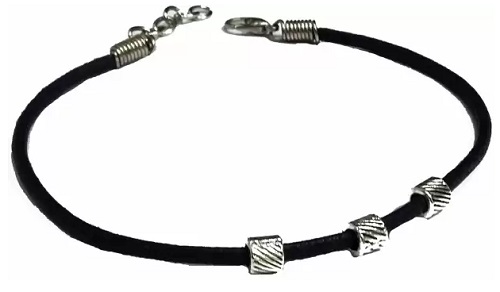 The thick thread has hollow metallic buttons. It is a very unisex design which is modern at the same time. It is suitable for everyday use. This can be worn on both the feet and just one leg. It is sturdy and is a design that lasts longer.
Tribal Black Thread Anklet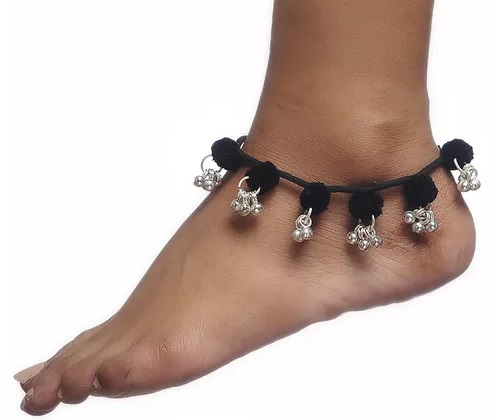 This cute anklet has that tribal appeal to it. Black thread has multiple Pom poms and we need that black pom pom there are trinklets and beads which are silver in color. It would look good on both Indian and western wear.
Unisex Anklet with Metallic Beads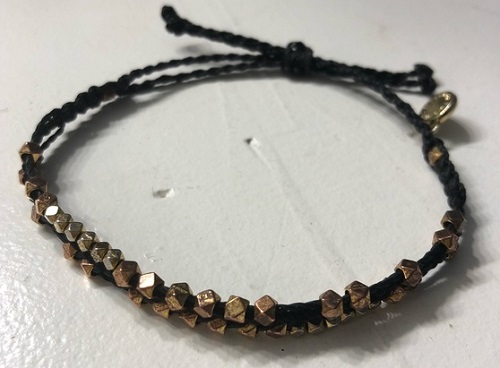 Anklet design is perfect for men and women. The black cord is closely knitted and has an adjustable length. It has multifaceted metallic beads at specific interval. It is an everyday accessory.
Big Beaded Black Anklet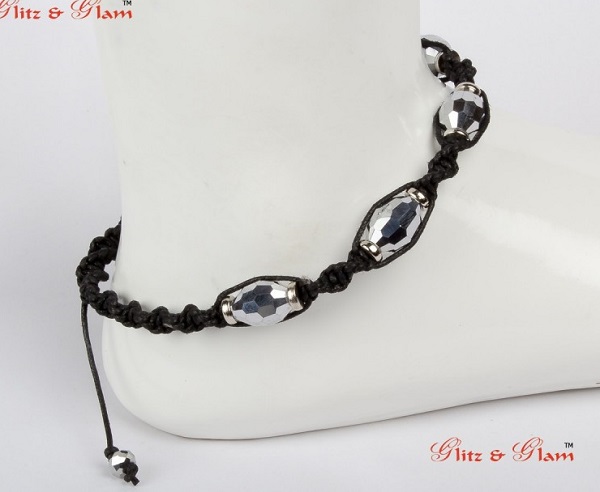 This anklet has beautiful multiple beads in between. The closely knit anklet has a beautiful pattern. And in that pattern there are big oval shaped Bead woven. This is also as an adjustable design.
Black Anklet with Metallic Chain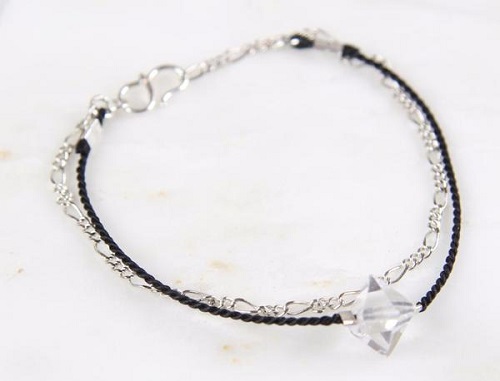 This design is pretty and is suitable for daily wear. It is got twisted black chord with a metal chain. This simplistic design is suitable for teenage girls as well. You can wear it with your jeans or dresses.
Beaded Black Thread Design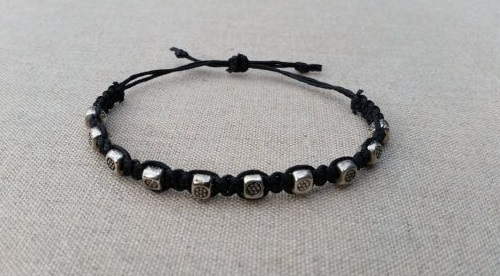 This design has hollow metallic beads in them. Looks really pretty.
Multiple Layered anklet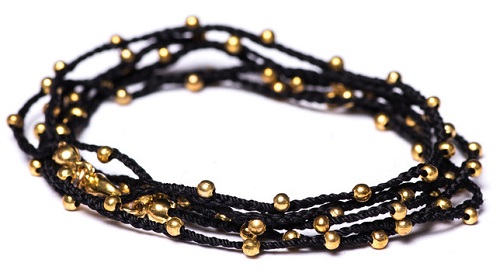 This very simple yet is breathtakingly delicate. It will certainly accentuate for style factor.
Most of these anklets are available online at affordable prices. You can check the complete collection HERE
These are the best black thread anklet designs for girls. Have you tried anything similar?