Hand mangalsutra or bracelet mangalsutra are getting in trend. While a lot of women who cannot wear mangalsutra daily around their neck, can easily wear their mangalsutras as a bracelet. In fact this entire trend has gained popularity in over the last 2 to 3 years. So if you are looking for the latest design of hand bracelet style mangalsutra pattern then here we have compiled the images of the beautiful bracelet mangalsutra patterns which are very much in trend.
Latest Bracelet or Hand Mangalsutra Designs
1. Double Chain Style Bracelet Mangalsutra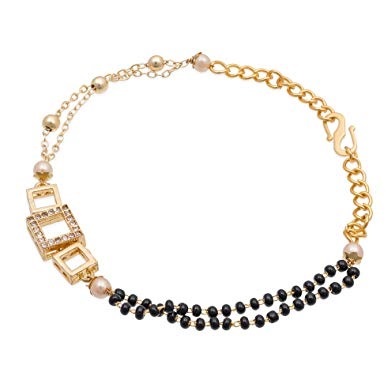 This hand mangalsutra design has black beaded double chain style on one of the sides and on the other side there are gold beaded delicate chain that contains Pearl beads. The centre is made in square shapes. It looks really like a Bracelet and a mangalsutra. So, it can serve to purpose for you to make your hands look beautiful and as a jewellery and mangalsutra also. This very interesting design is must try if you love hand mangalsutra patterns.
2. Solitaire Style Hand Mangalsutra Pattern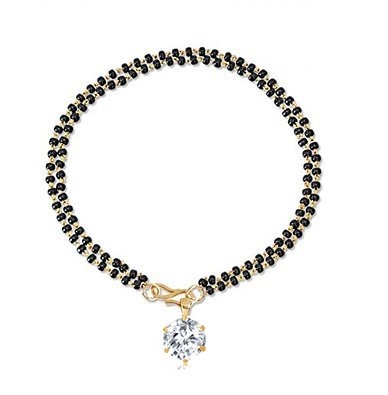 Women who like designs shall go for this Solitaire mangalsutra pattern. Here a single Solitaire is used with a double black beaded chain. This mangalsutra pattern is stylish and very simple.
3. Pearl and gold bead mangalsutra design for hands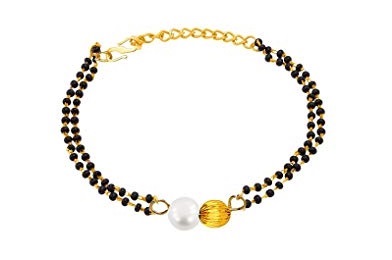 The same design is seen here however instead of the solitaire, a gold and pearl bead is added to the centre part. This is so beautiful and simple that it can be made in 5 grams of gold only.
4. Professional Hand Mangalsutra Style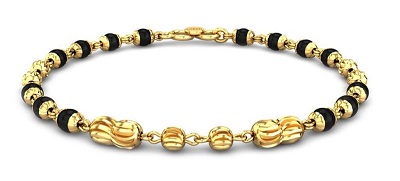 When you like thick chain mangalsutra pattern for your hands, this bracelet hand mangalsutra has gold black beads. The design is sturdy and is not as delicate as the other designs and would be able to long last. One can wear it on daily basis and it would work the purpose as a mangalsutra and as a pearl beaded bracelet.
5. Delicate latest style of mangalsutra for hands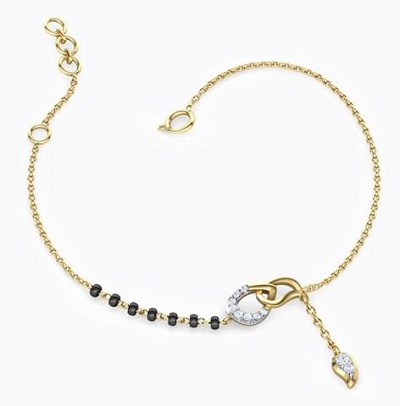 This thin and delicate chain bracelet style mangalsutra has a beautiful design of loops that resembles leaf. A dangling stone studded leaf is also used that dangles over your wrist. This extremely beautiful style is suitable for women who are younger or for the newly married women who like pretty designs but just the simple design.
6. Hand bracelet style mangalsutra with dangling pendent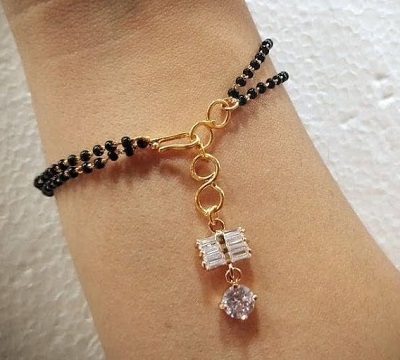 If you would like to experiment a bit then the diamonds or stones in different shapes can do the work. Double chain black beaded style hand mangalsutra has the dangling Diamond stones added to the loops only. This is very delicate and beautiful and the adjustable circular loops make it easier for you to wear it and you can losen it up according to your wrist size.
7. Latest hand mangalsutra design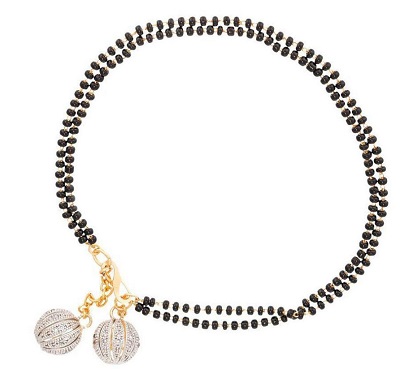 The floral pattern this double black beaded chained hand mangalsutra pattern looks really pretty and stunning. This design can be replicated with around 5 to 6 grams of gold only.
8. Double chain bracelet mangalsutra for hands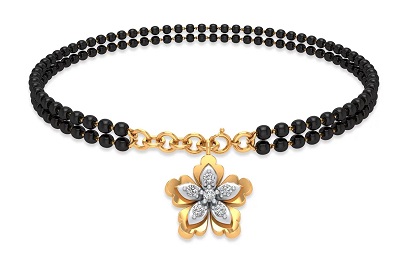 With two dangling chains, this design is really beautiful as this has got two balls which are stone studded and for durability double black beaded chains used that forms the bracelet chain part.
9. Light weight Mangalsutra for hands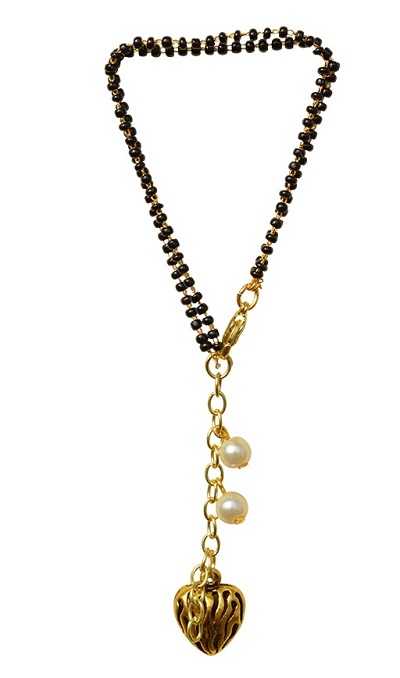 This hand mangalsutra design is really amazingly beautiful. For woman who likes such patterns is perfect. It has that charm and delicate feel.
10. Designer mangalsutra pattern with beads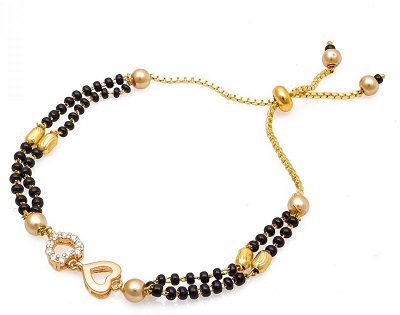 If you like a bit extra than the delicate mangalsutra design, this bracelet design of mangalsutra is highly stunning. It is made with bigger gold beads with black beads in between. The entire design bears heart shape in solid gold and with stone studded gold base. The design is very unique innovative and super stylish. For younger bride, this is a must have hand mangalsutra pattern.
11. Heart mangalsutra for hand design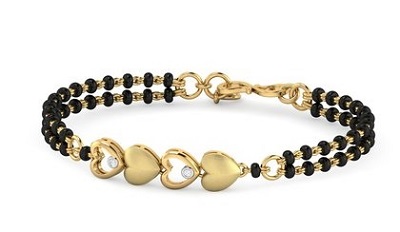 It's the best bracelet style mangalsutra pattern that we have seen. With beautiful hearts tagged one over the another, this has double black beaded chain for extra sturdiness and durability. The class is given to make it loose or tied around your waist.
12. Kundan Bracelet Style Mangalsutra Design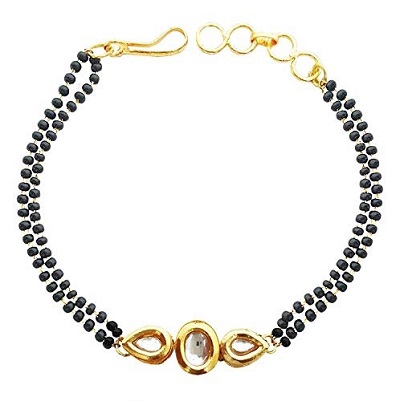 If you like kundan, this Kundan and gold bracelet mangalsutra pattern is perfect for you. This can be replicated in 5 to 6 grams of gold and has beautiful pattern that would be loved by younger bride.
13. Latest Diamond Hand Mangalsutra Style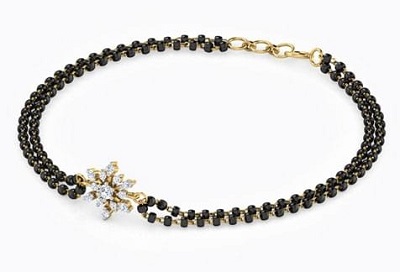 If you just got married and would like to have a bracelet mangalsutra pattern than this Diamond hand bracelet mangalsutra pattern is appropriate. Here the centerpiece is a floral shape which is studded with small diamonds. The beautiful pattern of this mangalsutra makes it one of the best patterns for hand mangalaustra design.
14. Swastik Shape Mangalsutra Pattern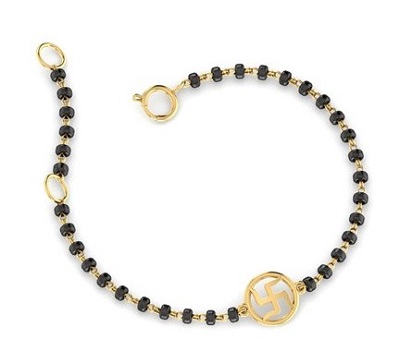 Swastik shape in between of this is very religious kind of mangalsutra pattern with only a single black beaded chain. This can also serve the purpose if you like such designs.
15. Floral Shape Hand Mangalsutra Design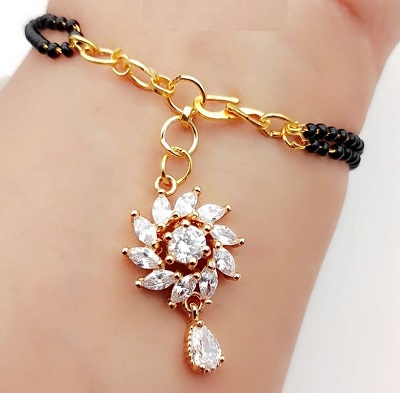 While keeping the bracelet black beaded chain really simple, the highlight is the floral stone studded part. This mangalsutra pattern is really innovative and interesting.